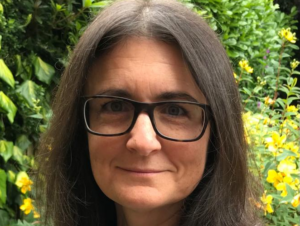 Manchester Evening News editor Sarah Lester has "high ambitions" for the 155-year-old regional newspaper brand, in a similar way to how the New York Times has expanded beyond its once-local remit.
Key to this is producing a mixture of both local and national content well, with separate teams making sure they "don't fail at the core" – that core being serving Greater Manchester residents. In an interview with Press Gazette, Lester explained why "there's nothing wrong" with doing non-local content and gave a passionate defence of her team against "clickbait" accusations from some critics.
Lester has worked at the MEN since 1997, including ten years leading the title's transition to a digital-first model, but took charge in July last year. Now she is hoping to position the brand as the "national of the North" doing a mixture of local, regional and national content and using its "unique" relationship with the region.
"We do it from a different perspective from other nationals because of where we sit in the country," she explained, "as in we're looking down to London and everyone else is looking this way – except the other regionals of course."
Lester added: "The New York Times started life as local brand… I have high ambitions for the MEN."
The Manchester Arena bombing in 2017 was a milestone for people starting to see the MEN "as more than just a very strong Manchester brand," she suggested, following its quick decision to only report verified information that saw it cited by many international news brands.
Lester added: "In the way that I will read a piece of journalism sometimes from really good brands in America, or really good brands elsewhere in the country because it's good journalism even if it's about an area I don't know, we need to be known for that and we need to be known as the place to go to make a difference and for strong coverage of breaking news," as well as original journalism, courts and council coverage, and representing Greater Manchester in Westminster.
In the 1960s the MEN had a daily print circulation of around 480,000. In 2004 (the earliest data available on ABC) that had reached 139,959, and in the second half of last year it had fallen to 11,726 (it also ended free copies due to print costs in this time).
However, the MEN has simultaneously grown to become the largest regional news brand in the UK by online audience, and for the past year has consistently been in the top ten of all news brands in the UK according to industry standard metric Ipsos iris. In January it was the eighth biggest, growing by 5% year-on-year to reach 18 million people – 36% of the UK – with 105 million page views.
To help the MEN's continued scaling up it has separate teams producing local (the more substantial team) and national content, while the newspaper is now put together from website-first content by a separate team of print sub-editors. The national online team looks after everything from national news to search content, TV, shopping, property and more, and Lester believes this separation is how you "make sure you don't diminish the core purpose" of the title.
In January, the MEN reached 59% of the Manchester city population and 36% of the North West region each month (as defined by ITV's TV area), according to Ipsos iris.
"If people come to the MEN, they should be able to get everything they want," she said. "They should be able to get local coverage of the local town halls but they should also be able to get whatever the latest national content is as well or whatever thing people were talking about – and we're in a unique position to do that."
A similar trend is shown among the MEN's large football audience. Lester said that, particularly around Manchester United, there is a global audience that wants different things to local fans who may enjoy content around the experience of football in the city and life around the stadiums.
'I'm not going to apologise' for publishing TV and showbiz content
But the perceived proportion of local vs non-local content can cause debates. In recent months and years websites published by Reach, including the MEN, have been accused of publishing "pure clickbait trash" by the founder of local newsletter the Manchester Mill who claimed some of its stories were "purely about tricking readers" into clicking, and of taking an approach that compromises quality by MPs on the DCMS Committee. A report on the BBC Radio 4 Today programme aired the claim the MEN is "just rammed with clickbait and sensationalism" without challenge and the broadcaster later apologised.
Addressing these types of criticisms, Lester first said it is important to define what clickbait means – stories with misleading headlines that don't deliver what is promised, leaving readers disappointed.
Lester said: "We don't do that and no Reach publications do that. But what we find is that people tend to use clickbait to refer to content they don't like or they don't think the MEN should be covering."
TV, showbiz and shopping content are often the genres people deem the MEN should not be covering, she says, although the paper always carried this type of content in print. Reach says showbiz currently makes up about 5% of the MEN's output.
"The thing is that a lot of people do like that content and there's a touch of snobbery and elitist behaviour about it, there really is, and I dare say there's a touch of sexism about it. I've never understood why it's okay to write about men kicking a ball around a lot but not about Coronation Street or not about some celebrity who's changed their look or about television, showbiz, or fashion. Why is that not okay?" Lester asked, although she stressed she is aware this is a "massive generalisation" and she does not mean that football is only for men and showbiz is only for women.
"But fashion and shopping and telly is predominantly a female area and most criticism I get tends to be from blokes, to be honest."
Lester went on: "I'm not going to apologise. It takes great skill to write that television content. You can write rubbish TV content and good TV content. But it's like being a court reporter. I couldn't send the TV writer to court and I couldn't get a court reporter to write about telly. It's a real skill to do it properly with authority and really know your subject and know your audience and we should hold it with great respect, and I certainly do – and that's coming from a really hard news background.
"If this was all we did then I'd take the criticism, but it's not all we do and I think our critics are extremely selective in the content that they highlight."
Lester acknowledged they don't "get everything right" but said the MEN publishes a couple of hundred pieces every day – meaning it does "more of everything" and reaches more people than ever before, and "sometimes something isn't absolutely perfect" despite going through strict processes."
Lester defended her journalists, saying that people who "throw arrows don't realise... that they are hurting individuals who are trying their very best to cover the city". The MEN has more than 50 journalists not including its football, print and social media teams.
Overall Lester is keen to continue the type of original journalism she most wants the MEN to be known for – for example, Stephen Topping's investigation (for which he won scoop of the year at the Regional Press Awards last week) into the death of two-year-old Awaab Ishak due to mould in his social housing that led to the title launching a campaign alongside the charity Shelter for Awaab's Law.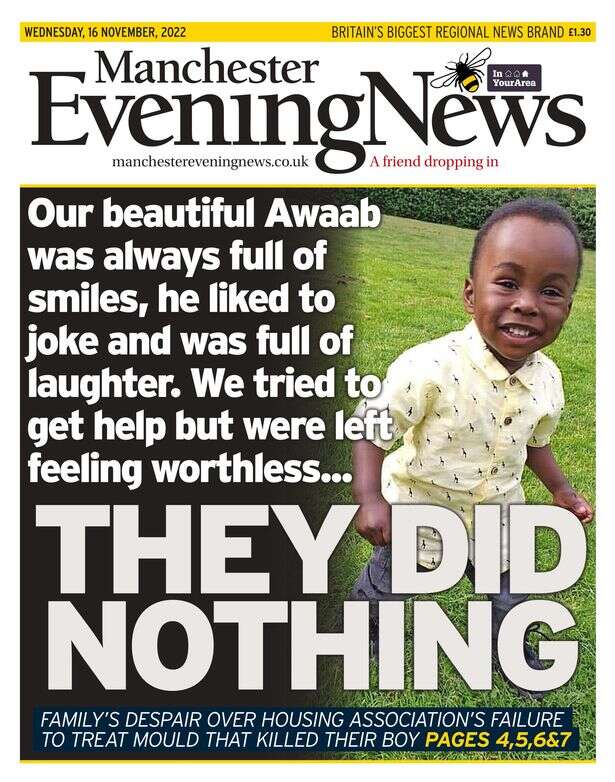 Reach chief executive Jim Mullen praised the campaign in his full-year results call with investors last week, saying the law change recently announced by Housing Secretary Michael Gove to make landlords responsible for damp social housing "would never have happened without the Manchester Evening News, which broke the original story and remained relentless in the pursuit of a change in social housing protections".
Lester said: "My main focus has always been and always will be on original journalism... We need to do the serious stuff I mentioned but we also need to be entertaining, we need to tell people where to go, we need to be opinionated – a bit arsey, a bit Manc basically and there's nothing wrong with that if it's in a careful way because we all live here, we know the area."
Features won't work in digital? Yes, they do
One audience development project highlighted by Lester is the MEN's introduction about 18 months ago of a workflow designed to produce content for Fridays to Mondays that gives the website the feel of a weekend supplement.
The MEN's specialist journalists, and general reporters on a rota, produce a range of content in advance from long-form news features to articles around food, property, places to visit, true crime, health, pub quizzes and more.
"I think that ten years ago, 15 years ago, people thought this feature stuff wouldn't translate to digital, but it does," Lester said. "It gets really well read. So we're looking at building a habit and just showing off our city but also not shying away from where there are challenges here as well. That is a work in progress but it's done really well."
Similarly, Lester said, people used to say regional politics stories would not be well-read online. "Nonsense," she said, adding: "What you have to work out is how do you headline something."
The MEN is also taking part in the Reach-wide experiment linked to the Curiously social media brand aimed at 16 to 34-year-olds. A small team is seconded within the MEN to work on it and Lester said they are looking at both how to put traditional MEN content out on platforms like Tiktok and what new content they could create that might attract the next generation of its readers. For example, it was this team that first told the newsroom about the viral hit drink Prime: "It's that kind of zeitgeist content that somebody as old as me isn't going to know about," Lester said.
The MEN believes it could already be the biggest regional publisher in Europe on Tiktok with 108,000 followers and 2.2 million likes. Lester said breaking news, a traditional staple of MEN output, has done "surprisingly well" for them on the platform. She added that the Curiously project is "in its infancy but an area of focus for us. I think we'll see that influence the newsroom."
The MEN is also currently experimenting with what it can offer that people might pay for in its app. The premium membership costs £1.99 per month and includes an ad-free experience, curated daily and weekly digests, the ability to listen to articles, and exclusive offers.
And titles across Reach are contributing to its customer value strategy – its target to sign readers up to things like newsletters and surveys to collect their data and improve digital revenue yields. Currently the publisher has 12.7 million registered users across the UK.
The MEN already has several newsletters but Lester said it continues to be a "growth area". Reach revealed last week that 141,000 people are signed up to receive Manchester United news.
Lester pointed to The Mancunian Way, a daily newsletter led by reporter Beth Abbit (who won the feature writer award at last week's Regional Press Awards) that acts as a news digest for Manchester and can be serious one day and chatty and light the next, often shedding light on the newsgathering experience of the major stories in Q&As with the journalists concerned.
Lester said: "We need to use more of what our USP is, which is that we're here. We're on the ground... there literally won't be a day where we're not talking to somebody and they're not telling us either what's happened or what their concerns are."
In the short term, she acknowledged these are "challenging times for the economy" with many headwinds, particularly hitting print and advertising revenues, but she said she feels "more confident now than I perhaps did... when I could just see a line going down of audience and now it's a line going up.
"So as long as we can remain relevant, useful, entertaining, and trusted... then we will be sustainable, but it won't be without its challenges."
Email pged@pressgazette.co.uk to point out mistakes, provide story tips or send in a letter for publication on our "Letters Page" blog