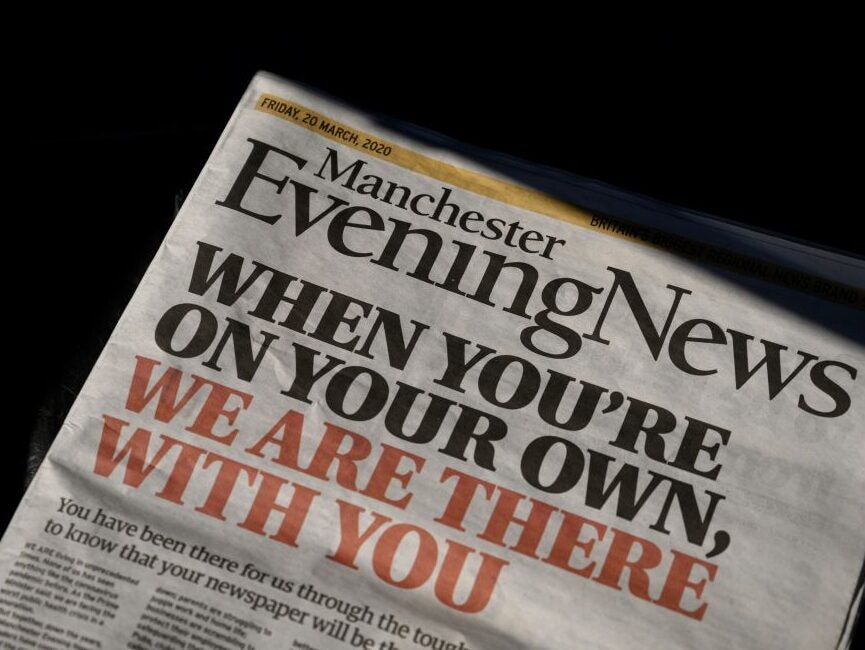 MPs have accused the UK's biggest local news publishers of "compromising the quality" of their journalism in a new report on the sustainability of local journalism.
The DCMS Committee report suggested several means of support that, it said, were necessary to end the "damaging decline" of the sector.
The committee's acting chairman, Conservative MP Damian Green, said: "With the shift towards online readership swallowing up traditional print revenues, many local newspapers which have served their communities for years have struggled to keep their heads above water.
"While hundreds have already folded, those that remain are faced with a lack of resources to conduct quality journalism, forcing them into a downward spiral of decline, as readership and therefore revenues continue to fall further."
Among the new or beefed-up support mechanisms recommended by the report were a "long-term public interest news fund with a remit to support innovation" to follow on from the now-ended Future News Pilot Fund, a review of requirements for where statutory notices must be placed so that revenue is more accessible to new and digital players, and for local news publishers to be allowed to more easily benefit from charitable status or philanthropic giving.
The expansion of the scope of the BBC-funded local democracy reporter service to have more audio and video content and make it easier for a wider range of news providers to access content produced by the scheme was also recommended.
The report claimed that existing support to the regional news sector tends to be unevenly distributed towards the bigger players in the regional news market: "Our inquiry has found that existing support for local journalism tends to go to the largest, multi-title news publishers."
It said this "disproportionate share" can be "to the detriment of smaller publishers and those entering the market", adding: "This may be stifling much-needed innovation that could benefit the sector as a whole."
For example, Nub News chief executive Karl Hancock told the inquiry: "The business model is broken and something drastic has to happen. At the moment, I am not asking the Government for money; I am asking for a level playing field. If they are going to give out money in funding public advertising, public noticing, let that money be evenly spread."
The report recommended that the Government conducts an audit of public money that supports the local news sector and an analysis of whether this can be distributed "more fairly".
Reach and Newsquest hit back at 'quality' claims
Referring to Reach, Newsquest and National World (formerly Johnston Press/JPI Media), the report continued: "The local news market is highly concentrated, with the largest three publishers owning more than two-thirds of all local newspaper titles.
"Consolidation within the sector has ensured the survival of many titles but we recommend the Government works to ensure that more support for local journalism reaches smaller publishers, many of whom are driving innovation that could help sustain the sector as a whole."
[Read more: Who owns UK local news media? Print and digital consolidation charted]
The report acknowledged that consolidation in the sector – for example, Newsquest's purchase of Archant in 2022 – has "ensured the survival of titles that otherwise would have closed".
"But we are concerned that some of the approaches of the largest publishers appear to be compromising the quality the local journalism produced by their titles," it went on, deeming this elsewhere as "reducing" the quality.
Among the concerns raised about the largest publishers during the inquiry were page view targets, low salaries, the closing of offices and merging titles to be run by staff with less knowledge of a local area, and a strategy at many titles to produce a large amount of content to maximise digital advertising revenues.
The publishers disagreed with the report's characterisation of the quality of their journalism and Newsquest in fact called for more advertising support from the Government to the local news sector.
Newsquest's chief executive Henry Faure Walker said in a statement to Press Gazette: "That's simply not the case. Newsquest publishes 30% of local news titles in the UK but receives only 17% of the Local Democracy Reporters (LDRS) funding. And when it comes to other types of support, our understanding is that smaller publishers get disproportionately more per title than larger publishers – and to be clear, we have no issues with that.
"We're also very proud of the quality of our local journalism. Newsquest reporters produce quality which underpins our successful digital subscriptions strategy.
"In our view, the best way the Government can support local news publishing in the UK is through much greater advertising support, which should be a win-win: Local news brands reach almost 75% of the population each month, but last year received less than 3% of Government advertising."
David Higgerson, chief digital publisher at Reach, said in a statement: "We welcome the committee's support for providing a fairer model between platforms and publishers through the Digital Markets Unit, which is critical to the development of a vibrant local publishing sector in the future. This is the most pressing issue facing our industry, for both large and small publishers. 
"We also welcome the committee's opposition to the BBC's plans to ramp up its direct competition to local news publishers online at the expense of its local radio services. 
"However we are concerned about the unfounded comments on the quality of local journalism and a somewhat puritan view of public interest journalism. Journalism can only be a force for good if people actually engage with it.
"At Reach, we are proud to employ over 1,000 local journalists all around the country, who care passionately about their areas. And while the digital age has changed the industry forever, in many ways our journalists' job remains the same – to engage people with a mix of stories, some serious, some light-hearted, but all relevant and interesting to the local audience. Our data tells us that in fact we have become better at this than ever, with more of our audience reading public interest stories, as well as many pieces on other topics. 
"It is essential the Government keeps supporting local news providers such as Reach's local titles, who between them reach over 40 million in print and online."
Maria Breslin, editor of the Liverpool Echo which is one of Reach's biggest sites, appeared before the DCMS Committee in July and told MPs that accusations of clickbait were "snobbery" In response to the report, she said she agreed with many of its conclusions but she was "disappointed that its writers chose to stick with a lazy and perhaps even harmful judgement about the quality of local news. 
"The Echo continues to sit at the heart of our community, read by almost half of all adults in Liverpool every month, and to tell the stories that our readers both want and need – whether that's leading the way with coverage on the tragic shooting of Olivia Pratt-Korbel, embracing Lunar New Year and celebrating with Liverpool's Chinese community or going behind the scenes on the Coronation Street set."
Innovation in independent local news sector praised
The report praised innovations in several smaller independent local publishers. For example, the British Journalism Award-winning Bristol Cable's paid membership scheme, Manchester Mill and its paying Substack subscribers that have taken it into profit, Nub News' sponsorship and partnership-based advertising with local businesses in its hyperlocal areas, and London publisher Social Spider CIC's combination of print and online advertising, membership donations, and consultancy work for other independent local new publishers.
A common theme among successful independent publishers was a "reader first" approach, producing content with a high degree of relevance to the local community, creating a loyal audience willing to pay and more attractive to local business partners, the report said.
However even the publishers held up as examples of good practice are "extremely vulnerable," as Bristol Cable co-founder Adam Cantwell-Corn told the committee.
The report said: "Despite the collapse in revenues and the immense challenges facing those titles remaining in the market, there are many encouraging examples of innovation by local news publishers. These demonstrate that, provided the right support is given, the sector can be revived and can have a sustainable future."
The DCMS Committee report also addressed the role of the Duopoly, Google and Facebook, and their imbalance of power with publishers.
It said the upcoming Digital Markets, Competition and Consumer Bill, which is due to create a code of conduct for the platforms' relationships with publishers, will be "vital in redressing the unbalanced relationship between the large digital platforms and local news publishers".
But it added: "There should be clear and explicit provisions for ensuring smaller publishers are fairly remunerated," noting that in Australia the equivalent legislation initially led to Google and Facebook reaching deals with larger publishers and leaving out smaller companies.
The Public Interest News Foundation, a journalism charity that promotes public interest news in the UK, said it was "thrilled" by the recommendations in the report.
Executive director Jonathan Heawood said: "We are particularly glad to see the committee's acknowledgement of the crucial role played by small, independent news publishers. These publishers must be fairly remunerated by the big tech platforms if they are to thrive in the digital economy. They must also be able to access public funding and philanthropic support as the committee recommends."
A number of independent publishers were also pleased with the report. Bristol Cable communications lead Eliz Mizon said a public interest news fund would mean they "could do so much more for the people of Bristol and beyond" while Manchester Mill founder Joshi Herrmann said it could lead to "many more start-up publications".
Social Spider CIC managing director David Floyd said: "Across the UK, corporate newspaper groups receive millions of pounds of public funding through local and central government advertising, whilst independent local publishers are left out in the cold.
"The committee is right to say that this funding should be audited and allocated fairly across the sector."
Email pged@pressgazette.co.uk to point out mistakes, provide story tips or send in a letter for publication on our "Letters Page" blog