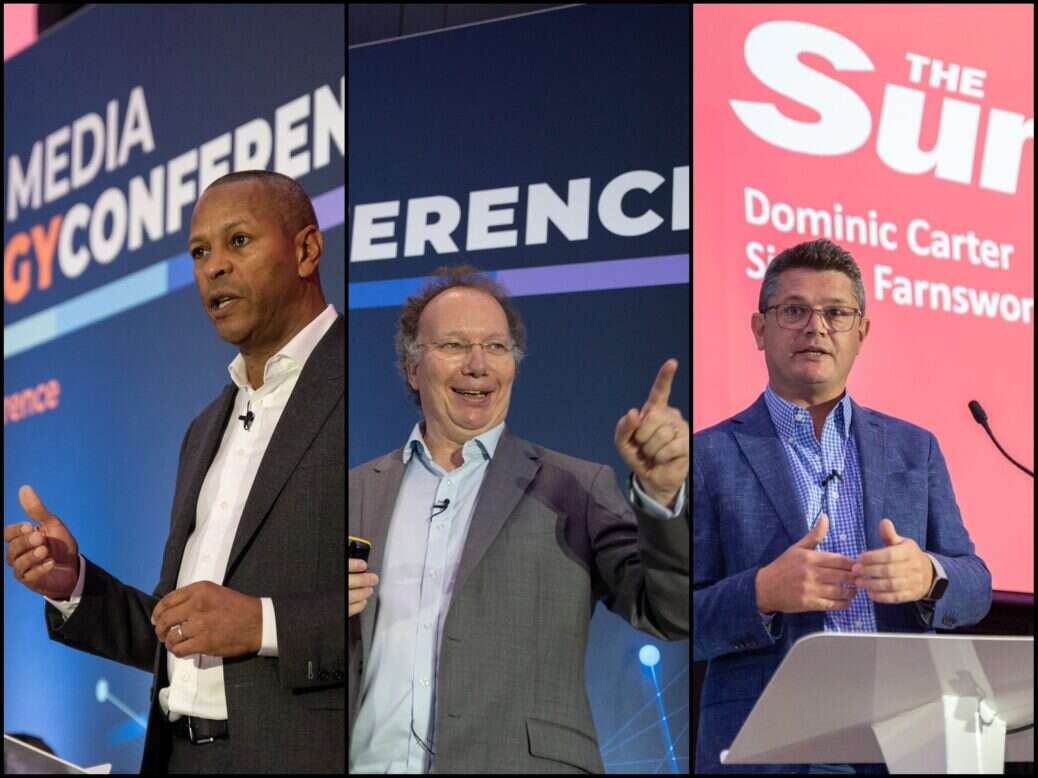 The Daily Mail's digital subscription product Mail+ has become a "substantial" revenue stream for the publisher.
Daily Mail product director Simon Regan-Edwards told Press Gazette's Future of Media Technology Conference how Mail+ has more than doubled its subscriber base in three years despite Mail Online offering the same content for free.
Meanwhile The Sun is said to be "very profitable and growing" at an operational level with further plans to diversify revenue streams and expand overseas – not just in the US where it is already seeing payoff.
The Sun's EVP, publisher Dominic Carter and News UK EVP, chief technology officer Simon Farnsworth spoke about the ways they cut investment in some parts of their technology stack and boosted it in others to move toward what they say is a "bright future" for the business.
Daily Mail's Simon Regan-Edwards: How Mail+ built 'substantial' revenue stream
Simon Regan-Edwards told the conference that Mail+, which launched in 2013 as an iPad product, had picked up some 40,000 subscribers by the beginning of the pandemic in 2020. But growth subsequently accelerated: he said today the Mail has at about "160,000 subs, with 90,000 digital". (Mail print subscribers get access to Mail+ as part of their subscription.)
"What became interesting over [the years following the pandemic's start] was that readership didn't go away once they experienced digital – many of those people stayed with us." This held even after the price of Mail+ increased to £12.99, Regan-Edwards said.
He described the Mail+ revenue stream as "substantial".
"And this is in a world where we've got a free-to-air model in Mail Online that has all that same content. So people are paying for a digital experience." 
Regan-Edwards attributed some of Mail+'s success to its being "a digital replica" of the print Daily Mail.
"We used to have a product that wasn't a digital replica," he said. But reader research conducted by the publisher found "people loved a digital replica" – which Regan-Edwards said "I couldn't quite believe".
Beyond the news, another aspect of the print paper which Mail+ preserves is puzzles. He disclosed that "90% of our puzzle players – who are about a third of people who read [Mail+] – have a 30-day streak, which is a phenomenal streak". (Press Gazette has written previously about how The New York Times boosted reader engagement and retention with its games vertical.)
However Mail+ does have some features which are not staples of the daily print Mail. In recent years, Mail+ has added a podcast feature and "tools and services – or finders, as we call them…
"We've got a recipe finder, a TV finder and, coming [last] weekend, a university finder. So we've got tools that enhance the lives of our customers."
The app – developed by Twipe – also incorporates a "listen to article" feature – which Regan-Edwards said used to use a voice actor, but "was not listened to very much".
It has since switched to using synthetic audio – "which I'm going to say is not very good. I don't think people should listen to it.
"But it is being used. And that is a data point for us – that actually there is some interest in this and we should put some effort into that… You've got such great synthetic voices [now] and I think that's an area that we have underused."
Regan-Edwards said the primary metric the Mail+ team focused on was engagement – in particular, how many different days a week users were coming to the app.
"We have a hugely engaged audience, where 55% of people use it seven days a week… But we will segment that also by the type of user – so are they new subscribers, or long-term subscribers?" 
Regan-Edwards also spoke about the unusual structure of his team, which includes internal and external staff (from CMS provider, and conference sponsor, Glide Publishing Platform).
"We created what I call this cross-functional, co-located working team…
"That idea is: take different people from different parts of the organisation, create that team structure where they, ideally, are co-located…
"So the Glide team is kind of part of our team, and we have stand-ups with them, with the developers. That mixture of those people who are remote and those people who are internal is blurred, and they all become part of the same team…
"I so believe in this model that I think it's the only way you can properly organise your working teams."
[Read more (partner content): How the Daily Mail built an audience of 150,000+ digital subscribers]
News UK's Simon Farnsworth: More tech isn't always better
Farnsworth, who has been in the CTO role at News UK for a year, said his tenure so far has been characterised by the technology he threw out.
"When I first joined, there was an awful lot of tech being developed in News UK for tech's sake. And I came along and [said] well – what's the point of that?"
Farnsworth said "simplification" now underpinned much of News UK's technology strategy. When he arrived, News UK was running approximately "650 software applications with 500 engineers. You go: 'That's nuts. There's no way we can support that many applications.'
"So we've had a ruthless drive to actually kick technology out. We're now I think 550, and we've got to aim to get down to 400.
"Why? Because we were working around too much technology debt. It was slowing us down."
Farnsworth said the company had gone from delivering 72% of its initiatives each quarter to 83%.
There were some technology areas the business had invested in, however: among them a first-party data platform, a video platform and core web vitals for website user experience.
[Read more: Independent set to hit four million online registrations after pivot to first-party data collection]
On the video platform, Farnsworth said News UK was "capturing content, storing content, editing content, distributing content with a very, very clearly aligned metadata strategy.
"The metadata of all our video aligns completely with our text and our images. That then drives the SEO platforms because we have one centralised data structure, which is really, really important."
Core web vitals relate to "the performance of your site – how fast the page loads", he said. Aspects of a website including the number and size of advertisements, videos and pictures on its pages can impact how highly it ranks in Google's search results.
Farnsworth said the company had a "squad' focused on core web vitals for a year and a half, and claimed as a result "we're now number one in core vitals".
As well as that, he said that "everything in the business goes into" News UK's first-party data platform, named Nucleus.
"We drive so much out of that platform, in terms of driving significant revenues, in terms of linking the content performance to the first-party data – [i.e.] what are our consumers doing? So that when we go to ad agencies, we've got a really sophisticated pitch which is driven by data."
Farnsworth said he has not seen any negatives from ditching parts of News UK's tech stack.
"You've just got to make strategic choices," he said. "As part of that, we've got to get more out of the vendors that we already have. Because the notion of us at News UK becoming a software development house is pretty ludicrous given our scale [versus] Meta's or Google's or Amazon…
"So far we've only seen benefits. We've cut our cloud costs by a number of million [pounds] by doing it. And also everyone in the tech team has completely bought in – we did have a very complex stack to start with. So it was a bit of a slam-dunk for us."
Farnsworth attributed some of the company's strength to its "very diversified ad tech strategy".
"We're on multiple trading desks, we're not on single trading desks… And we've worked very hard to address the whole market, not parts of the market."
He also said Ozone, the publisher-led advertising network which also counts Reach, The Guardian and The Telegraph as members, was "really important. Not only for our own revenues, but also levers when you're negotiating with [the large tech platforms]".
The Sun publisher Dominic Carter: 'At an operating level' The Sun is 'very profitable'
Like Farnsworth, The Sun's publisher Dominic Carter said that when he took up his role 15 months ago "we were trying to do too many things".
"The first thing we did was to cut back on the number of things that we were doing in the organisation – to set a vision that was clear for everyone about where we're going, and understanding the consumers that we have.
"Which are communities: sports fans, football fans, people that love celebrity gossip, people that love our lifestyle content, people that love our news content."
[Read more: 'What attention recession?' Sun publisher Dominic Carter says the future is bright]
He said simplification had allowed The Sun "to do things that many others still haven't done in the publishing industry".
He gave as an example "using data to get rid of content recommendation engines.
"Because we knew that they were making a much healthier margin on our business, through our business, than we believed we could make ourselves. And using digital personalisation at scale, we managed to work out that we could out-monetise the content recommendation engines.
"And this plays into keeping people in your domain, keeping people in your environment and getting them to consume more stories. And that's been really important for us as we've grown over the last 12, 15 months."
Nonetheless, he said: "If incredible stories don't get read, they're not incredible stories. So you've got to distribute your content and get it in front of people in whatever format they want."
One way he said The Sun was addressing distribution and engagement was through its video strategy: "We've built, now, a subscription level of over four million subscribers to The Sun's [Youtube] channel. It's an important part for us, but so is our distribution on the various other platforms as well, whether it's Snap[chat] or Tiktok."
Video, he said, "is a really fundamental part of what I talked about in terms of building for the future.
"Because video is something that travels and is universal around the world and you can actually expand your business quite rapidly once you've got all the backend in place that allows you a catalogue that others can dip into." 
Asked whether The Sun was turning a profit, Carter said: "At an operating level, The Sun is a very profitable business and growing." The Sun recorded pre-tax losses of £127.2m in the year to July 2022, the most recent figures available, but is made £15m after one off-costs like legal fees and resutructuring.
Carter said the tabloid's next goal is to diversify its revenue streams and expand overseas – hinting that The Sun's international ambitions do not stop at The Sun US, which launched in 2020 and was highly commended for its audience growth at Press Gazette's Future of Media Awards last week.
"There's a lot more room for us in the US and there's a lot more room for us in other territories around the world."
He suggested that bingo, which he said had "always been part of The Sun", might be one of the company's exports.
"Bingo is now a digital product, not a card-based product as it used to be 30 years ago. So taking that business international is obviously another opportunity for us, as well as developing new things that I can't tell you."
He said: "The future for us is really bright. We're very, very confident about where we're going."
Email pged@pressgazette.co.uk to point out mistakes, provide story tips or send in a letter for publication on our "Letters Page" blog