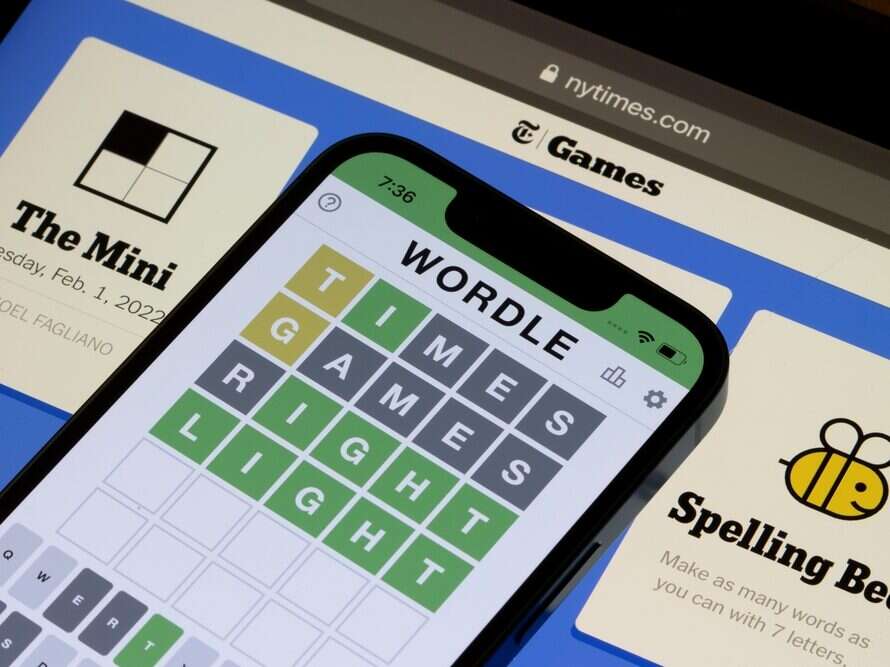 The New York Times has the most paying subscribers of any English-language publisher, boasting some 9.6 million people buying access.
But they're not all there for the Gray Lady's reporting. More than a tenth of those subscribers are paying for access to the Times' games offering – with no news included.
The New York Times' head of games, Jonathan Knight, told Press Gazette's podcast that the publisher's investment in games creates a valuable funnel for bringing in subscribers.
But it's more complicated than sticking a sudoku on the website. The NYT has editors exclusively assigned to curating its game offering, and the publication puts great effort into keeping its community socially engaged with the puzzles.
Why does The New York Times have a games subscription?
Jonathan Knight has an unusual background for a New York Times executive. He was senior leader for The Sims franchise at Electronic Arts, overseeing the release of The Sims 2; he was creative director and senior producer for The Simpsons Game and he has been SVP of games at Zynga, overseeing casual gaming successes like Farmville and Words With Friends.
Why did The New York Times hire such a storied gaming professional?
"Our stated strategy is to be the essential subscription for curious people seeking to understand and engage with the world," Knight said. "And news is at the centre of what we do.
"But increasingly, it's this kind of constellation of products that surround the news – with the news being the sun in that analogy – and what we're really finding is that we can just bring a lot more value to our subscribers, and engage them and retain them over longer periods of time, when we offer a suite of products."
Games have long been used by news brands to offer more value to readers: the Sunday Express became the first British newspaper to feature a crossword 99 years ago. But whereas under that model a puzzler was still buying the news product, today more than a million people subscribe to The New York Times' games-only offer.
The NYT charges that offer at $5 a month (£3 in the UK) or $40 (£25) for a full year, and Knight said games-only is "an important audience for us". But the Games offering also helps keep conventional news audiences with the Times. 
Knight said: "What we're seeing is that for subscribers, specifically if a subscriber is engaged with both news and games on a given week, they just have a much higher likelihood of retaining over a long period of time than news-only subscribers – and frankly, than pretty much any other combination of products in our offering."
Those other products are Cooking, sports journalism site The Athletic and product review service Wirecutter. Each is available as a subscription in its own right, and The New York Times says each of them except Wirecutter has more than a million standalone subscribers.
But they're also available together as a bundle, which The New York Times is currently promoting through an introductory discount offer. At time of writing, an all access subscription could be bought at $4 every four weeks (£2 in the UK) for the first year, down from the sticker price of $25 a month (or £12). 
Knight said that even after those introductory offers elapse, the company was satisfied with the proportion of users sticking around. 
"They're a great way for people to get introduced into games, to try them out, see if they like it at a low price. And, yeah, we're pretty pleased with the way that funnel works."
The NYT's games have long had a following, with a crossword-only subscription first launching in 1997. But its website added tens of millions of users all at once when, in January 2021, it bought Wordle.
Enter Wordle
Wordle is a simple puzzle game that gives players six attempts to guess a five-letter word which changes each day. Its intuitive gameplay, combined with a mechanism that let users share their performance on social media without spoiling the answer, helped Wordle to viral fame at the end of 2021.
The puzzle was quickly acquired by the NYT for a price "in the low seven figures", becoming the ninth game in the paper's stable. Like the Times' Mini Crossword and Spelling Bee puzzles, Wordle does not require a Times subscription to access.
"At the moment, we're pretty focused on driving people to create New York Times accounts so that they can capture their stats and streaks," Knight said.
Would Wordle ever go behind a paywall?
"I mean, you never say never with these things. I always get myself into a little bit of trouble with my hesitation around that question. If you were to ask me about the Mini or Spelling Bee or any other game, I'd give the same answer. It's hard to predict the future."
In the meantime, the company has begun building out an editorial offering around its games.
"This month we're going to be launching something called the Wordle Review, which is like a daily forum on our gameplay vertical on nytimes.com where people can go after they solve the Wordle and engage with the community, talk about the previous day's word."
The site already has a forum for Spelling Bee, which Knight said gets "over 1,000 comments a day" and is one of the most-trafficked pages on The New York Times' website.
Sociality is an important aspect of The New York Times' commercial strategy with puzzles, Knight said. "We want our puzzle games to have only one solution – we're all working toward that solution, you get this sort of rush of accomplishment when you find it, and then you put it down, and you come back the next day for the next puzzle."
Not all fun and games
The New York Times is not the only news provider investing in games. Last year The Sunday Telegraph revamped its weekend print package to add what it said was "Britain's biggest weekly puzzles section", and this week The Telegraph launched a new dedicated puzzles app. The Guardian, a generally unpaywalled digital product, offers a paid puzzle app that costs £3.49 a month.
In the US at least, Knight felt The New York Times was "out in front" of its competitors.
"The Washington Post, LA Times, The New Yorker – they've all got great puzzle offerings. But none of them are taking the approach that we're taking, with a portfolio of really high-quality, human-created, edited puzzles across different types with games like Spelling Bee and Wordle, and so forth. So we're pretty far out in front there."
(However, he added "for the record" that The Telegraph's puzzle offering was "pretty impressive… We've been watching pretty closely what The Telegraph's doing".)
Knight described the human element of The New York Times' puzzle creation and curation as "our superpower, basically".
"We have hundreds of submissions a month coming in from the puzzle constructor community at large. And what happens is that those puzzles come in and then there's a very rigorous editorial review process to choose the best puzzles."
Knight said the Times had "been putting a lot of effort in the last few years in particular into modernising that editorial process – like making our puzzles more broadly representative, more inclusive, more relevant.
"We've expanded the editorial team to be a lot more diverse, we have launched a diverse constructor fellowship where five or six crossword constructors apply to the fellowship every year, and they're selected and they're paired with a mentor who works with them, and their puzzles ultimately get published."
That The New York Times would run a fellowship to diversify what kind of people make crossword puzzles may raise eyebrows among some of the paper's critics, but it has a commercial logic.
Knight said: "When you solve a crossword puzzle, you've got clues. And just to use a common example, for a long time, there [were] just a lot of 1930s baseball player clues in there.
"And for a certain type of audience, a certain demographic, they're gonna remember that – 'oh, yeah, I know who was a pitcher for the Yankees in 1933'. But as we expand our audience, as we grow, that's just not a super relevant clue."
The New York Times' Games vertical has in the past been the subject of criticism, however. It has twice been accused of running crosswords shaped like swastikas (the second occasion coinciding with the first day of Hannukah). And in May it attempted to remove the word "fetus" from the Wordle word list (with only partial success) shortly after a Supreme Court draft ruling was leaked, revealing Roe v Wade was to be overturned.
"We want our puzzles to be a diversion from the news, we don't want them to be the news," Knight said. "And we work very hard to make sure that that's the case."
Wordle should be able to avoid such gaffes in future: in November the Times appointed Tracy Bennett as a dedicated editor for the game. Part of her job, she has said, is to remove words with derogatory second meanings when she curates the word list.
On which topic, Press Gazette asked what word Knight, the game master himself, begins his Wordle games with.
"I tend to cycle through start words. I get bored and then I sort of pick another one and then stick with that for a while. At the moment I'm on stare – S, T, A, R, E. And it's quite effective. I would say that I normally would have moved on by now, but it's working so well that I'm sticking with it.
"The most popular starting word, the one that the most people start with at least, is 'adieu'. Four vowels. I will tell you it is not the most effective starting word, but it is the most used starting word."
The most effective: "Least."
Email pged@pressgazette.co.uk to point out mistakes, provide story tips or send in a letter for publication on our "Letters Page" blog