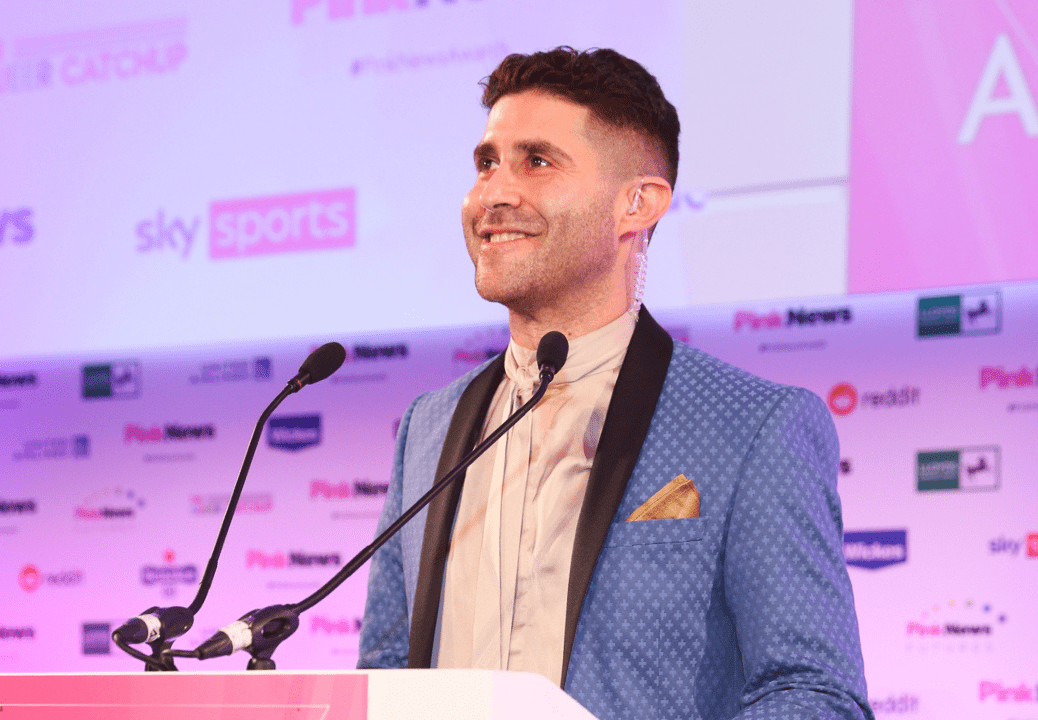 LGBTQ+-led brand Pink News has carried out a "significant" transformation to its business in the past year, away from a heavy reliance on the social media platforms for revenue and towards direct partnerships.
In 2022, around 80% of Pink News' revenue came from social media monetised ads through its video content watched on the platforms, and the majority of that was from Snapchat, founder and chief executive Benjamin Cohen told Press Gazette.
This year, that revenue stream has dropped to under half of the total. "That's where we want it to be," Cohen explained. "It's happened a bit quicker than planned for two reasons."
This year Pink News is earning less money from social media similarly to other publishers, with Facebook's move away from news in the main feed and its end to Instant Articles which provided additional monetisation. The publisher has also seen a decline on Snapchat due to increased competition with more partners and influencers all posting in one feed.
But it is also making more than expected from direct partnership revenue, which Cohen described as "so much better because it's within your control and you also can forecast better because you know what you've sold in advance".
Creating branded content also allows them to better make the most of their audience growth on platforms like Tiktok and Instagram, which do not offer the same revenue sharing opportunities as Facebook and Snapchat.
"There's a lot of audience growth on platforms that aren't sharing revenue with us like Instagram and Tiktok and in order to monetise that we have to make the sales ourselves and that has caused quite a significant shift in the way that the business operates," Cohen said.
One of the disadvantages of partnerships revenue is the longer timescale involved and impact on cashflow: "You might be talking to them in January, they might agree to the sale in March, the campaign's delivered in July, they pay you in December," as Cohen put it.
But he added that ultimately with this method "you have a much more substantial business than doing it when you're totally reliant on third parties, or you're pretty much reliant on third parties, and your only kind of lever you can pull is what content you create.
"But now it's like what content we create? How's our audience developed? What partnerships do we sell? How do we deliver those partnerships? How do they perform in comparison to other partners that they might be working with? And that helps us build a bigger business.
"But it's been a tough period, but a necessary period of transition for the company."
Investment readies Pink News for 'growth potential'
In 2021, Pink News reported profit of £2m. Last year's figure has not yet been finalised but it is said to be well into the seven figures, although lower than 2021 due, Cohen said, to "significant" investment – which is ongoing this year. Areas of investment include the Pink News app and tech platform, understanding the potential of AI, and building the partnerships team.
The content team is now at 41 people, with 76 employees in total, up from 60 one year ago and 30 in 2021.
[Read more: Pink News tackles news avoidance with positive news filter]
Cohen said he expected that the company will finish 2023 by breaking even or in profit and added that "taking the pain" this year "allows us to be in a much better position next year to take advantage of all of the growth potential".
This is why they are looking at raising some company capital for Pink News, which it has never done before: "We've done pretty well… but we want to speed up the growth rate at a faster rate than we're able to do at the moment," Cohen said. Revenue for 2022 was £10.3m.
He said the ongoing disruption in the media industry – citing the closure of Buzzfeed News, bankruptcy of Vice and upcoming change of ownership at The Telegraph – is an opportunity for Pink News.
"We just need to make sure that we have the infrastructure and the team which we've been spending this year building, and then we need to make sure we have the cashflow and the capital to allow us to get there, but I'm really confident that we will be able to take advantage of the opportunities that lie ahead."
One partnership example Cohen mentioned was a campaign sold through the ad agency Dentsu for Heineken around Pink News' coverage of the Eurovision Song Contest. Heineken was not a sponsor of Eurovision but "wanted to be part of a moment", Cohen said. Pink News did polling with its UK audience, discovered cider was disproportionately popular with them and that they are interested in low or no alcohol beverages.
The resulting pitch centred on the low alcohol, low calorie brand Strongbow Ultra, with a kit also including goodies tied to Eurovision and Pride to be won by 500 people. Pink News pitched that they would get Heineken 1,000 entries – instead, they ended up with 20 to 30 times that. Cohen said: "It generated us good partnership revenue, it was our first at-home activation, and hopefully will lead to bigger and better campaigns with them in the future."
Another partnership campaign was for dating app Hinge, which sponsored three episodes of the Pink News Snapchat show This is Life, which features inspirational real-life stories, and other content on Instagram and Tiktok. Cohen said this "again massively overperformed on the number of views that we had estimated that they were going to get and also massively overperformed on engagement".
Cohen said there is a "big opportunity" for Pink News on both sides of the Atlantic in partnerships "but for us to try and do everything all at the same time is tricky and hard".
The publisher has therefore partnered with My Code, the largest seller of diverse advertising in the US, as its exclusive integrated media sales partner in that market, meaning it will sell branded content on Pink News' behalf. Pink News' own team is then able to concentrate on ramping up sales in the UK and Europe.
Pink News also has a separate partnership in the US with LGBTQ-owned Q Digital, which sells display advertising on the publisher's website by offering it as part of a package to brands and agencies.
Cohen said Pink News is also in discussions with other UK-based media around potentially pitching for campaigns together so, for example, they can join together with a brand that has a bigger website audience but less social video inventory and both benefit.
Pink News viewers like hard news on Tiktok
Another opportunity, Pink News believes, is Tiktok – where it has grown its following from about 93,000 in August last year to more than 522,000. Depending on the news cycle, it has been getting up to 60 million views during a month.
In his last interview with Press Gazette one year ago, Cohen said he remained unconvinced by Tiktok, citing factors like the lack of direct revenue sharing and the questions posed by its Chinese ownership structure.
But he has since changed his mind, with Pink News making a conscious effort to put something out on the platform every day since February. Its Tiktok follower count is now higher than the likes of The Independent, The Telegraph, The New York Times and The Guardian, with Cohen noting it also has a total like count (26.4 million) that punches above its weight. For comparison GB News, which has 665,000 followers, has 13.2 million likes in total.
Different types of content and packages work well on different platforms: Pink News has discovered, for example, that its hard news content works well on Tiktok whereas showbiz, entertainment news and lifestyle do better on Snapchat.
The brand's first experiments to discover what worked on Tiktok took place around the Conservative leadership changes last year, with videos about Liz Truss and, later, Rishi Sunak's stances on issues affecting LGBTQ+ people – such as their answers to the question "is a trans woman a woman?" – reaching 1.9 million and 2.7 million views respectively.
Cohen said: "So that was three million people who were consuming content that was quite in-depth, political content and it showed us that serious hard news can work."
His concerns about Tiktok's ownership were assuaged by the platform's chief executive Shou Zi Chew's appearance before the US Congress in March.
Cohen said the US politicians "didn't understand the internet or the platform that they were trying to ask questions about" while most of the privacy concerns they were raising "also apply to Meta".
"There's concerns because of the foreign and the unclear nature of the distinctions between the Chinese state and the platform but I actually thought he did, I would say, more than a good job of explaining the belief in the free press and of all of the platforms that we operate on, it seems for us to be the freest," adding that it has the "least restrictions for reporting" and "really prompt" responses when it finds something against its policies, alongside fewer "false positives" of news content being wrongly flagged.
Ways it could be improved, he said, include a function for publishers to holistically manage comments and flag abusive users. Pink News has an ongoing issue with people commenting on months-old videos with homophobic and racist messages and other users blaming the publisher for allowing them to be there.
"There isn't a good enough process for us as a partner of someone like Tiktok to be able to flag all those users. It has to be done quite individually going through each video… as we scale up production and output on that platform, that's a concern.
"But what we do see is it's where the audience is… the algorithm will just also find the right audience in a way that I'm not sure that any of the other social platforms really have."
Pink News has discovered a "really wide" age range of users on Tiktok, contrary to other platforms which tend to have a clear dominant user group. For Pink News, these are: Gen Z on Snapchat, millennials on Instagram, older millennials up to baby boomers on Facebook, and over-65s on Apple News.
Cohen said there were several reasons why Pink News is doing well on Tiktok compared to many large legacy publishers. "I think we're doing it better because we are specialists in vertical video journalism, for sure, and we built that specialism on Snap.
"But also because I think we're creating content that resonates with the new majority," which he defined as people "who are defined by what they believe, rather than necessarily who they are".
"We believe that new majority is going to become the largest consumer group and the largest voting bloc in both the US, UK, France, Germany and other developed economies. And I think that a lot of that audience don't see themselves in the content produced by some of the legacy media."
The next steps for Pink News on Tiktok, which claims to have one of the biggest short-form video teams at a UK publisher, include being able to be more reactive and compete better with the likes of Mail Online on, for example, Met Gala content.
It will also benefit from the publisher's plan to move towards having a 24/7 newsroom, publishing earlier and later and with full staffing over the weekend instead of just scheduled written content during those times. Recruitment in the US and Australia will take place to help enable this.
Loss of Google 'link juice' during .com change
The shift in the business at Pink News has also been taking place against a backdrop of its move to a .com URL, which happened in December, after 17 years as a .co.uk brand.
Cohen said "there were a lot of sleepless nights" – in particular because Google took some time to index the new URL and old Pink News backlinks. It also did not index on Google News at first, but Cohen praised the platform for being responsive and sorting that issue in a day or two.
Of the "link juice", meaning the value passed to a website by Google through backlinks, Cohen said: "It eventually came and it's performing better on Google than it was before and audience growth in the US is quite significant. But there was a period in the end of the last year, beginning of this year, which was really scary because we weren't getting indexed."
Cohen added that traffic from Bing still "hasn't really recovered" but because usage of Google is so much higher, its growth has now offset the losses on its Microsoft-owned rival.
"Having done it, it was the right thing to do, but it was a challenge," Cohen said.
Email pged@pressgazette.co.uk to point out mistakes, provide story tips or send in a letter for publication on our "Letters Page" blog