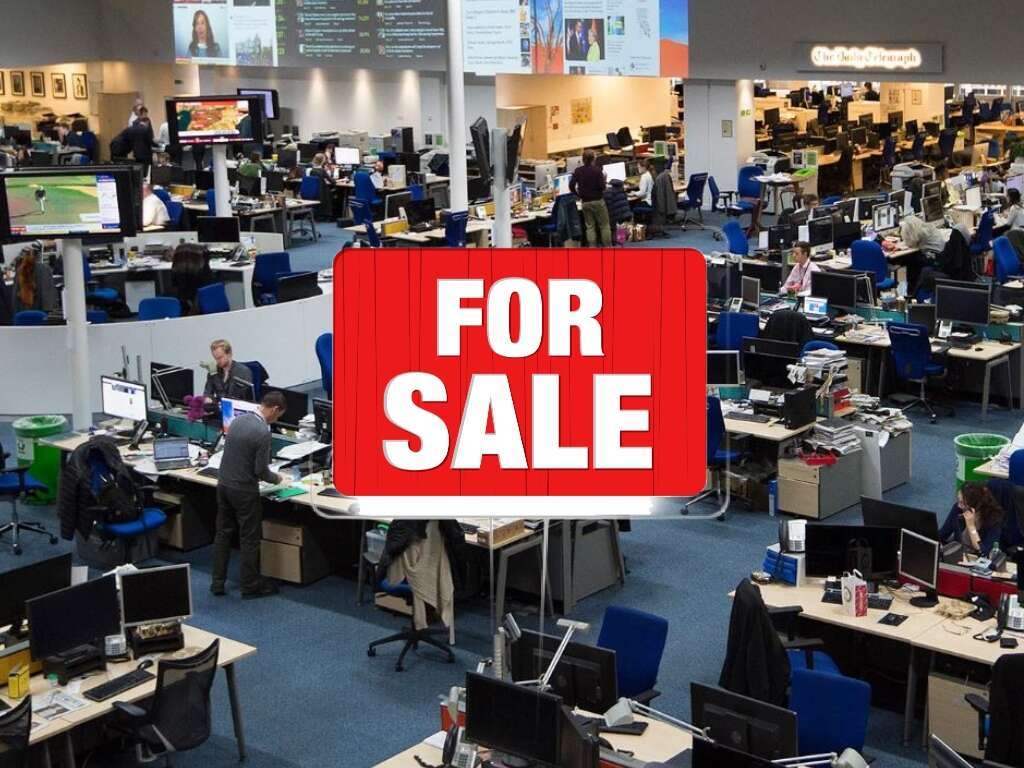 Not two decades after they last changed hands, The Telegraph and Spectator are once again on the auction block.
Telegraph Media Group and The Spectator have been reliable cash generators under the Barclay family – but unserviceable debt in the rest of their empire appears to have brought the repossessors to Telegraph towers (or those of its Bermuda parent company).
Below, Press Gazette rounds up what we know about the Telegraph receivership, how the Barclay family got here and what we can expect next.
Who are the Barclay family?
The Daily Telegraph, Sunday Telegraph and Spectator last went up for auction in 2004, during a corporate restructure that was triggered when widespread fraud was uncovered at Hollinger, the business run by British-Canadian press baron Conrad Black. (Black was eventually sentenced to six and a half to eight years in prison.)
The winning £665m bid was submitted by twin brothers Frederick and David Barclay, a pair of publicity-shy retail and shipping businessmen. David Barclay died in January 2021.
Part of their reputation for secrecy was based in the complex corporate structure through which they controlled their businesses, which at various points have also included delivery firm Yodel, retailer Littlewoods, the Ritz hotel and the already-defunct Woolworths brand.
Telegraph Media Group, which owns the Daily and Sunday Telegraphs as well as telegraph.co.uk, is owned by Press Acquisitions Limited. Press Acquisitions, in turn, is owned by Jersey-based May Corporation, a subsidiary of Bermuda-based B.UK.
Why are The Telegraph and The Spectator up for sale?
Businesses registered in both Jersey and Bermuda are held to less stringent financial disclosure rules than companies in the UK, which makes it difficult to place what exactly has gone wrong in the Barclay empire. But Tuesday's report in The Times was not the first time the Barclays' financial troubles fell into view. 
In December 2012 the Barclay brothers took out a £242m loan from HSBC to support Yodel, whose pre-tax losses in the year ending June 2013 stood at £112m. That loan was later linked to Telegraph chief political commentator Peter Oborne's decision to quit the paper, accusing his employer of granting HSBC favourable coverage at a sensitive moment (something The Telegraph strongly denied).
In August last year a barrister representing the surviving Barclay twin in his divorce told a judge that Frederick is "massively in default" and no plan existed as to how he would pay Lady Barclay the £100m a court awarded her following their separation.
And this week it emerged that Lloyds Banking Group had in 2008 inherited debts owed by the Barclay brothers to lender HBOS. Those debts, according to reporting by The Telegraph and Financial Times, now stand in the region of £1bn.
Having reportedly already written down the debt repeatedly, and with debt restructuring talks not progressing, Lloyds appears to have resolved this week that the only way to recover some of the loans is through receivership and a sale.
On Wednesday, Lloyds appointed management consultants Alix Partners to seize Bermuda-based B.UK. The receivers removed David Barclay's sons Aidan and Howard from Telegraph Media Group's board and put in two non-executive directors who will represent Lloyds.
There have been some reports a sale could still be averted. Sky News reported on Thursday that the Barclay family had submitted an offer to Lloyds to allow them to write off some of their debts. And The Times reported the same day: "Lloyds Bank appears to have left the door open to continuing the status quo with the Barclay family at the helm. The receiver's statement said the 'bank remains willing to continue discussions' with the group that indirectly owns the Telegraph."
Why has Telegraph Media Group's owner gone into receivership?
Jeremy Whiteson, a restructuring and insolvency partner at city law firm Fladgate, described the receivership as "an unusual step by the banks involved". 
Whiteson explained that a bank holding a "qualifying floating charge" – the ability to take ownership of an asset in the event of a default – would typically be able to appoint administrators. However, neither Telegraph Media Group nor its parent companies have been put into administration, despite the banks holding "the usual armoury of fixed and floating charges over TMG".
Floating charges are used by banks to secure a loan against an asset that changes in quantity or value, for example a fluctuating inventory or a bundle of shares. If the debtor defaults, the floating charge "crystallises" into a fixed charge attached to the relevant asset, which stops the debtor from being able to sell the asset on. The Barclay creditors, however, have not used this option.
"There are a few possible explanations," Whiteson said. "No existing security is shown for Spectator (1828) [The Spectator's corporate owner] – and so the banks could not so easily appoint administrators to that company."
In addition, while there are fixed and floating charges shown on TMG's Companies House filings, those filings only cover the period up to January 2022 – so it is possible those charges have since been satisfied.
"The banks may also be worried about the damage to value that appointing administrators to TMG may have," Whiteson said.
However, "even if the banks are unable to easily appoint administrators, further formal insolvency or rescue procedures could be expected.
"If the banks have withdrawn its facilities [long-term loan disbursements], and the company is unable to meet its debt, directors would be exposed to claims that they were acting in breach of their duties by continuing to trade, and the company would be exposed to hostile creditor actions where creditors were entitled to accelerate their debts.
"Directors of the trading companies may well, therefore, be considering appointing administrators or entering a moratorium to create a breathing space and so permit a business sale to be concluded."
Was Telegraph Media Group a good investment for the Barclays?
Despite the extent of the Barclay family's debt, The Telegraph and Spectator have both been profitable for almost the entirety of the past two decades.
Telegraph Media Group delivered an operating profit before tax of £29.6m in 2021 on turnover of £245m. The Spectator turned over £20.3m the same year and returned a £2.9m profit before tax.
The Telegraph, in particular, has repeatedly returned eight-figure profits to the Barclays, and the two companies have together only produced a loss after tax three times since 2004. 
Companies House filings indicate that since they bought The Telegraph and Spectator, the two companies have cumulatively generated £431.4m in post-tax profit for the Barclay family.
The Bank of England's inflation calculator indicates that £665m in 2004 would be worth approximately £1.1bn today, suggesting that (with hindsight) the Barclays may have overpaid at the time, as the investment is some way short of being paid back.
Something that may dent the value of The Telegraph in the eyes of an investor, however, is its ongoing reliance on print - a revenue stream that is in long-term decline.
In its 2021 accounts Telegraph Media Group reported turnover from circulation - i.e. distributed copies of the Daily and Sunday Telegraph - as £59.6m. Print subscriptions and print advertising generated £68.6m and £40.7m, respectively, meaning print sources accounted for £168.9m of the Telegraph's £245m turnover that year. Digital and other revenues combined amounted to only £76.1m, approximately 31% of the total.
The company has been moving briskly to address this challenge, aggressively marketing heavily discounted digital subscriptions and thereby doubling total subscriptions in five years from 363,000 to 750,000. That puts The Telegraph just outside the top ten on Press Gazette's 100k Club ranking of the largest subscription news businesses in the English language. And in March the company bought the Chelsea Magazine Company, adding 2.5 million monthly magazine readers to its audience.
But with print still accounting for so much of turnover, a buyer would be making a long-term bet on a digital transformation at The Telegraph which is yet to fully manifest. And while print may be a steady source of income, circulations have been consistently dropping: The Telegraph stopped reporting circulation figures to ABC in December 2019, when the Daily Telegraph was distributing 317,817 copies daily and the Sunday Telegraph 248,288.
Nonetheless, Telegraph chief executive Nick Hugh assured staff in an email on Wednesday that TMG's hearty commercial performance meant they had no reason to be alarmed.
"There's obviously not much I can say at the moment but I want to assure you all that this is a successful, profitable business, on course to hit one million subscriptions this year," he wrote.
"I don't anticipate any operational or staff changes. On the contrary, I am confident we will continue to grow and prosper."
[Read more: The print decline is funding a digital future]
How much is Telegraph Media Group worth?
Telegraph Media Group's book value - its assets minus its debts - as of 2 January 2022 was £184.3m. The Spectator's was £16.7m.
Sky News reported on Wednesday that the receivers are targeting £600m for the titles. Media analyst Ian Whittaker, meanwhile, put the figure at £500m.
He told Press Gazette that £600m felt "high... but not nuts".
Whittaker wrote on Linkedin that he arrived at the £500m figure because it is 12.5 times the company's most recent listed earnings before interest, taxation, debt and amortisation (EBITDA). He felt the 12.5 times figure was "a solid multiple" for valuing a media operation like The Telegraph. The same workings applied to The Spectator would produce a valuation of approximately £35m.
There have been some other recent newspaper sales in the UK that add context. Daily Mail proprietor Lord Rothermere took Mail parent company DMGT private in 2021 in a deal that valued the paper at £850m including debt. Previously, DMGT had bought the i in November 2019 for £49.6m and the New Scientist in March 2021 for £70m.
In early 2018 Trinity Mirror - now named Reach - bought the Daily Express and Daily Star, as well as their Sunday sister papers, for £200m.
David Montgomery's National World acquired much of the former Johnston Press for £10.2m, although the only national daily within that group was The Scotsman, which does not distribute UK-wide.
Late in 2022 National World explored - then abandoned - a takeover bid for Reach. The latter company, which is the UK's largest local news publisher, has a market capitalisation of approximately £240m.
And Nikkei bought the FT Group for £844m in 2015.
Who might buy the Telegraph?
The buyer most frequently being mooted for Telegraph Media Group is DMGT.
The Financial Times, Times and Telegraph have all mentioned the Mail publisher as a possible buyer, and DMGT was among the bidders who lost out to the Barclay brothers in 2004. DMGT was then, as now, led by Jonathan Harmsworth.
Whittaker wrote that the "synergies" to be found between the DMGT operation and The Telegraph made it the most obvious bidder: "It already runs the Telegraph's advertising revenues side (which is a big plus), its audience profile is similar in age and social demographic to the Telegraph, its political stances would be aligned (and would create a media powerhouse on the political right), would probably be interested in taking all the assets and, not least, is likely to see the Telegraph's subscription focus as potentially bringing lessons for the Mail titles (or at least some of them)."
Other names have recurred in chatter over possible bidders.
Axel Springer: The German publishing powerhouse was another failed bidder for The Telegraph back in 2004, but has since expanded to take over Insider and Politico. The Times reports Axel Springer "is believed to have already looked through the books", and The Telegraph also mentioned the company as a prospect.
Will Lewis: The News Movement chief executive is a former Telegraph editor, and that same paper has reported he is "expected to enter the process with private backing" (backing described by The Times as "Middle Eastern financing").
Saudi Arabia or Qatar: Alternatively, Gulf rivals Qatar and Saudi Arabia have both been suggested in The Telegraph and Times as possible bidders. Both governments have invested in media operations, with Al Jazeera and Arab News notable examples. A Saudi national, Sultan Mohamed Abuljadayel, also owns a 30% stake in The Independent and Evening Standard, although they deny a government connection.
Mediahuis: Suggested as a prospective bidder by The Telegraph but described as a "long shot" by The Times, Belgian-headquartered Mediahuis expanded into Ireland in 2019 when it acquired Independent News and Media for €145.6m.
Paul Marshall: An investor and funder associated with GB News and Unherd, Paul Marshall has been raised as a possible buyer by both The Times and Telegraph.
And a variety of other possible buyers have received at least one mention, among them (with source of report in brackets): banker Peter Cruddas (The Times); billionaire Michael Spencer (The Times); another billionaire, Sir Jim Ratcliffe - who is currently otherwise engaged bidding for Manchester United (The Times); National World founder David Montgomery (The Times); magazine giant Future (The Times); magazine and audio publisher Bauer (The Times); Czech energy tycoon Daniel Křetínský (Financial Times); and Rupert Murdoch himself - although the Financial Times reckons he would only be interested in The Spectator.
Email pged@pressgazette.co.uk to point out mistakes, provide story tips or send in a letter for publication on our "Letters Page" blog