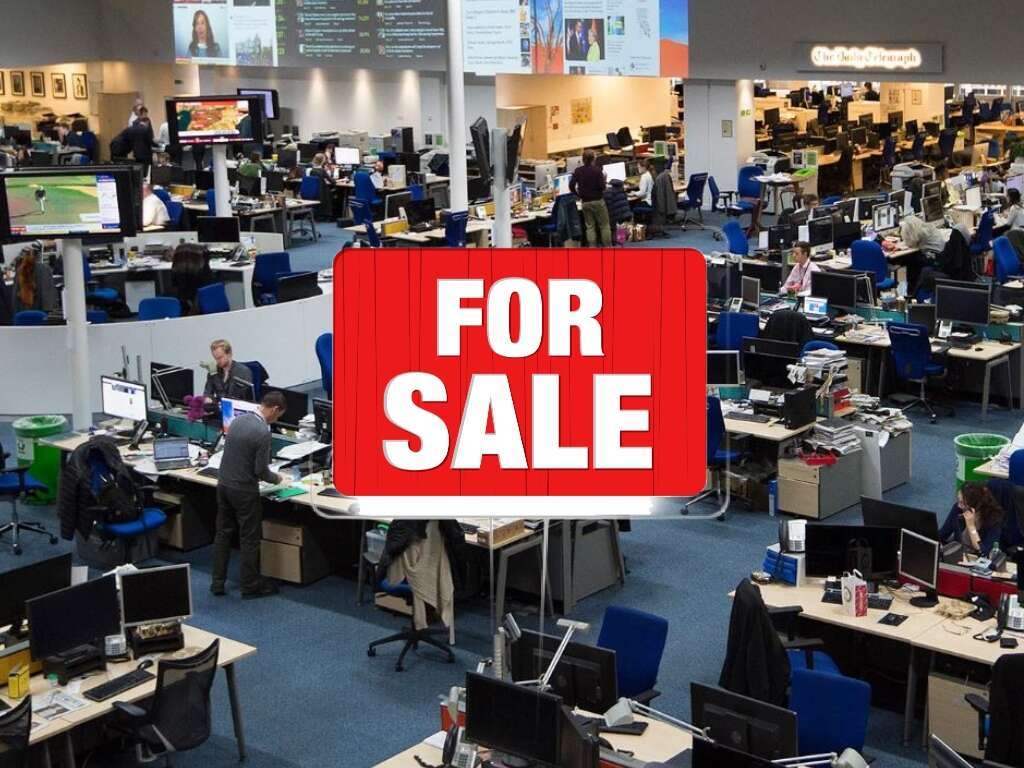 The formal sale process for Telegraph Media Group and The Spectator – both profitable businesses – began on Friday 20 October.
Several well-known media figures have expressed an interest in taking part in the auction for the media brands, including bosses behind the Daily Mail, GB News and The News Movement – as well as The Telegraph's most recent owners themselves.
The starting gun was fired in June when Lloyds Banking Group seized The Telegraph and The Spectator from the Barclay family, who owed around £1bn in outstanding debt.
When will The Telegraph be sold?
The current value of The Telegraph has been put at around £600m. Since the process began, its latest financial results have been published, indicating growing profit and revenues.
Telegraph Media Group reported turnover for 2022 up 4% year-on-year to £254.2m and profit before tax up 32% to £39m. The publisher, including recent acquisition Chelsea Magazine Company, has also reached the milestone of one million subscriptions.
The Spectator, meanwhile, saw revenues rise by 2% to £20.8m in 2022. Operating profit dropped 10% to £2.6m which editor Fraser Nelson said could be put down to investment in the US, Australia and sister fine art magazine Apollo. The Spectator currently has a team of 37 journalists.
UK subscriptions sat at an average of 93,000 in 2022, down from a peak of more than 100,000 during the Covid-19 lockdown. There were also 9,390 subscriptions for the Australia edition and 15,000 to the US-based Spectator World.
The auction process for both the Telegraph and Spectator titles, which is being organised by Goldman Sachs, was initially expected to begin in September but finally officially launched on Friday 20 October.
Lloyds is said to want a quick sale to ensure it is concluded before the next general election, which is expected to be held at some point in 2024.
One well-placed source said they believed the whole sale process would take six months (from the time Lloyds took control) meaning it is likely to be concluded this year.
Press Gazette will update the following story as bids are confirmed or discarded, or new information comes to light.
Any of the people or businesses mentioned could bid individually or jointly, or not at all.
Who wants to buy The Telegraph or The Spectator?
Former Telegraph owners the Barclay family
Unhappy with the titles being taken away from them, the Barclay family are hoping to regain control of the Telegraph and Spectator brands with backing from investors based in Abu Dhabi.
Their separate initial offer, thought to be in the region of £500m to £600m, was quickly rejected. But they have since tabled a £1.2bn bid to repay all of the debt they owe Lloyds with backing from investors in the UAE.
On Monday 20 November, Abu Dhabi-backed investment fund RedBird IMI, led by ex-CNN president Jeff Zucker as chief executive, said it expected to take control of The Telegraph and The Spectator after agreeing loans to repay the Barclays' debts.
It said: "RedBird IMI, a joint venture between RedBird Capital of the US and International Media Investments of Abu Dhabi, has reached an agreement to provide a package of loans to the Barclay family allowing them to pay off their debt to Lloyds Bank in full and bring the Telegraph and Spectator out of receivership.
"RedBird IMI will provide a loan to the value of £600 million, secured against the Telegraph and Spectator.
"Additionally, International Media Investments will provide a loan of a similar amount secured against other Barclay family businesses and commercial interests.
"Under the terms of this agreement, RedBird IMI has an option to convert the loan secured against the Telegraph and Spectator into equity, and intends to exercise this option at an early opportunity."
The Telegraph has reported that Manchester City owner Sheikh Mansour bin Zayed, deputy prime minister of the UAE, is involved in the deal.
Asked at a Lunch with the FT at the start of November whether he was in the mix for a Telegraph bid, Zucker said: "I'm not going to talk about that." However he also said he was "absolutely interested in news and information, start-ups or established [companies] but it has to make economic sense".
The potential involvement of such a large portion of UAE money has resulted in a group of Conservative MPs writing to Culture Secretary Lucy Frazer and Deputy Prime Minister Oliver Dowden urging "close scrutiny" of the deal. In a letter first revealed by Bloomberg, they wrote: "Material influence over a quality national newspaper being passed to a foreign ruler at any time should raise concerns, but given the current geopolitical context, such a deal must be investigated."
The Barclay brothers Sir David and Sir Frederick bought the Telegraph and Spectator titles from Conrad Black in 2004 for £665m – around £1.1bn today when inflation is taken into account.
Sir David died in January 2021 and Sir Frederick is now aged 88, but at the time of Lloyds repossessing Telegraph Media Group in June Sir David's sons Aidan and Howard sat on the board.
Lord Rothermere's DMGT
Lord Rothermere's DMGT, which owns the Mail, Metro, i and New Scientist titles, confirmed in August it was considering a bid for the Telegraph alongside investors – but has since decided to go it alone.
It has since explained the two potential benefits of a takeover: learning from The Telegraph's subscriptions business and the potential of growing it in the US.
A spokesperson said: "The Rothermere family has a unique record as a custodian of newspapers, and since Lord Rothermere took DMGT private, its focus as a consumer news business puts it in an ideal position to provide the resources, management expertise and long-term decisions the Telegraph needs for its journalism to thrive.
"The Telegraph's success in building a subscription model will help us reinforce the strength of our existing business."
They added: "We do believe there is a strong potential to scale the Telegraph abroad, particularly in the US, just as we have very successfully done with the Mail."
Rothermere took DMGT private at the end of 2021, with him and his family paying close to £1.6bn for the part of the company they did not already own.
DMGT initially held talks with Middle Eastern investors, though emphasising it would only do a deal if it kept economic and editorial control. But it later decided to pursue the bid alone.
In a rare interview with The Times, Rothermere explained why: "We went down the road of talking to people both in the Middle East and in the US. In the end I just thought to myself, 'You know, it's just too difficult.'
"If you're in bed with a financial investor, their normal term time frame is three to five years, they want to know how they're going to make more money over that period. I think a lot of the fruits are going to be born over a much longer period of time."
Rothermere described The Telegraph as "a great brand, it also attracts great journalists. And after all, that's what a news organisation is", adding: "The Telegraph is one of the great newspapers of the world. It is impossible for me just to walk by."
And he said existing parts of DMGT could learn from its subscriptions business: "I think we can carry on being mostly advertising, but we can also build a premium subscription product as well."
The size of DMGT's existing empire could mean a challenge from the Competition and Markets Authority if it attempts to buy the Telegraph titles.
Press Gazette analysis earlier this year showed that if DMGT bought The Daily Telegraph, it would control more than 50% of the daily national newspaper market in the UK.
A takeover of the Sunday Telegraph would take it to about 32% of the Sunday market - less than the 40% controlled by News UK incorporating The Sun on Sunday and The Sunday Times.
Rothermere told The Times: "I have faith that the CMA is going to look at this in a proper way and I don't really want to front-run their answers or make them feel in any way that I'm trying to influence their judgment." But he emphasised the independence given to his editors at the Mail, i and Metro titles, saying: "Do I want to get involved? No I don't. I genuinely don't. It is not my remit." i editor Oly Duff told Press Gazette last month Rothermere was "known for letting editors edit".
Rothermere previously expressed an interest in buying The Telegraph in 2004 and said of that time: "It was a complex transaction. In the end the Barclays bought it and paid a higher price than I was willing to pay anyway."
David Montgomery's National World
Former Local World/Trinity Mirror boss Montgomery re-entered the market at the start of 2021 when he bought the former JPI Media newspaper titles through new company National World Plc.
Amid ongoing dissatisfaction from existing National World staff over pay and redundancies which has led to three days of strike action, Montgomery is now considering expanding the company further by putting in a bid for The Telegraph.
The company confirmed its interest in August, telling investors: "National World notes media speculation that it is a possible participant in the sale process surrounding Telegraph Media Group and its associated titles.
"As the Company has previously announced, its growth strategy is rooted in actively exploring opportunities to build its business through acquisitions and implementing its new operating model for owned assets.
"The Board continues to evaluate accretive opportunities to grow the business and will consider participating in a sale process for Telegraph Media Group as and when such a process formally commences. There can be no certainty that an acquisition will take place nor as to the terms of such an acquisition."
Sky News has now reported that Montgomery is "close to appointing Cavendish Capital Markets and Peel Hunt to help raise the financing" to buy both Telegraph titles. The firms would work alongside "Rothschild, which is providing corporate finance advice to Mr Montgomery, and Dowgate Securities, its existing broker".
GB News investor Sir Paul Marshall
Sir Paul Marshall, the co-founder of hedge fund Marshall Wace, is said to be leading a planned bid for The Telegraph.
The Telegraph has reported Sir Paul is working with the investment bank Moelis on the potential bid and is holding discussions with US billionaire and hedge fund founder Ken Griffin, one of the world's richest men, to potentially take part in a consortium.
Griffin is a donor to the Republican Party in the US - although he did not contribute to Donald Trump's 2016 campaign - and any potential involvement in The Telegraph would be his first personal entry into a media business. It would be in a personal capacity and not through his hedge fund Citadel, the FT reported.
Sir Paul has been an investor in GB News in a personal capacity since before its launch in 2021. He has since renewed his investment, saying he was proud that the broadcaster is providing a space for "genuinely independent thinking, insightful discussion, and impartial analysis" but not "groupthink".
Politically, he is known for donating to the Vote Leave campaign ahead of the 2016 Brexit referendum. The Telegraph also declared for Leave and, according to Press Gazette's 'Brexitometer', was the third most biased national newspaper towards Brexit behind the Daily Express and Daily Mail.
Sir Paul is also a financial backer of Unherd, the news site set up by former Times columnist Tim Montgomerie in 2017 that says its aims are "to push back against the herd mentality with new and bold thinking, and to provide a platform for otherwise unheard ideas, people and places".
Unherd says it is not aligned to any political party and its media pack shows a split among its audience of 34% right of centre, 29% centrist, and 21% left of centre.
Axel Springer
Update: Axel Springer has pulled out of the running, according to the FT on 17 November, after deciding it was not willing to pay the likely £600m price tag.
German publisher Axel Springer has registered its interest to buy The Telegraph titles with Goldman Sachs ahead of the upcoming auction, according to Sky News.
The publisher previously attempted to buy The Telegraph in the 2004 race that was ultimately won by the Barclays.
Axel Springer was founded by the publisher of the same name in 1946 with ambitions to create the biggest newspaper publisher in Europe. Its biggest German titles include Bild and Die Welt but it is now active in 40 countries and major acquisitions have included Insider in 2015 and Politico in 2021. It also created curated news app Upday as part of a strategic partnership with Samsung, on whose phones the app appears.
Ex-Telegraph editor William Lewis
Update: Lewis looks less likely to follow through with his proposal to buy The Telegraph after being appointed chief executive and publisher of The Washington Post at the start of November.
Ex-Telegraph editor Sir William Lewis told Bloomberg he has lined up funding to take over his former employer.
He said in an interview: "I love the Telegraph. It's a fantastic journalistic organisation. I would be really interested in trying to find a way to buy it. We have the support to do it," although he added that the title "needs a digital product and services refresh".
Lewis did not share who was involved or how much funding they had offered, saying only he had received "significant expressions of interest from a wide range of potential backers".
He added that he would not unilaterally reject Middle Eastern support, but that there are currently no Saudi Arabian business partners involved.
Lewis edited The Daily Telegraph between 2006 and 2009 and led a major period of its digital transformation.
He is now chief executive and co-founder of The News Movement, a social-led start-up focusing on reaching Gen Z audiences, alongside former BBC editorial director Kamal Ahmed who is editor-in-chief. Lewis said the aim is for it to be profitable by the end of 2024.
Lewis was knighted in former prime minister Boris Johnson's resignation honours list this year. He was described as a political adviser to Johnson and was recognised for "political and public office".
Ex-Le Monde investor Daniel Křetínský
Czech billionaire businessman Daniel Křetínský is interested in taking part in the auction process for The Telegraph, according to the Financial Times, although he has previously said he prefers to invest in media "that is in need of some sort of support... it is not in our DNA to fight for trophies".
The FT suggested that he may not seek control but may want to take part in a bid led by someone else as a minority stakeholder.
Křetínský is the biggest shareholder in Royal Mail and second biggest in Sainsbury's, and he also owns a number of other significant stakes including in German wholesaler Metro and French supermarket Casino.
Until this month Křetínský held a stake for five years in French daily newspaper Le Monde which he has now sold to French billionaire Xavier Niel in a deal worth around €50m.
Rupert Murdoch's News Corp
Multiple reports have claimed Rupert Murdoch wants to buy The Spectator, potentially to expand it further in the US where it first launched a dedicated offering in 2018 and where it could align with right-leaning News Corp brands like Fox News and the New York Post.
Murdoch has announced his intention to step down as chairman of News Corporation in November but the potential purchase could be his last major act.
The Guardian spoke to a source with knowledge of the sale discussions who said: "People still think Murdoch is the frontrunner and can outbid everyone else. He's got so much cash, it's a trophy prize he's always wanted. You can see it like the end of his career."
Since the auction process began, The Telegraph reported that Murdoch has lined up to bid for the newspaper - not just The Spectator as previously claimed.
Ex-Mail Online boss Martin Clarke
According to The New European's Mandrake column, former Mail Online editor-in-chief and DMG Media publisher Martin Clarke is hoping to put together a consortium to make a bid - likely with a focus on maximising The Telegraph's potential digital growth.
Clarke left Mail Online, which he led for 12 years, in February 2022 to "pursue new challenges" but has since kept a low profile.
Email pged@pressgazette.co.uk to point out mistakes, provide story tips or send in a letter for publication on our "Letters Page" blog