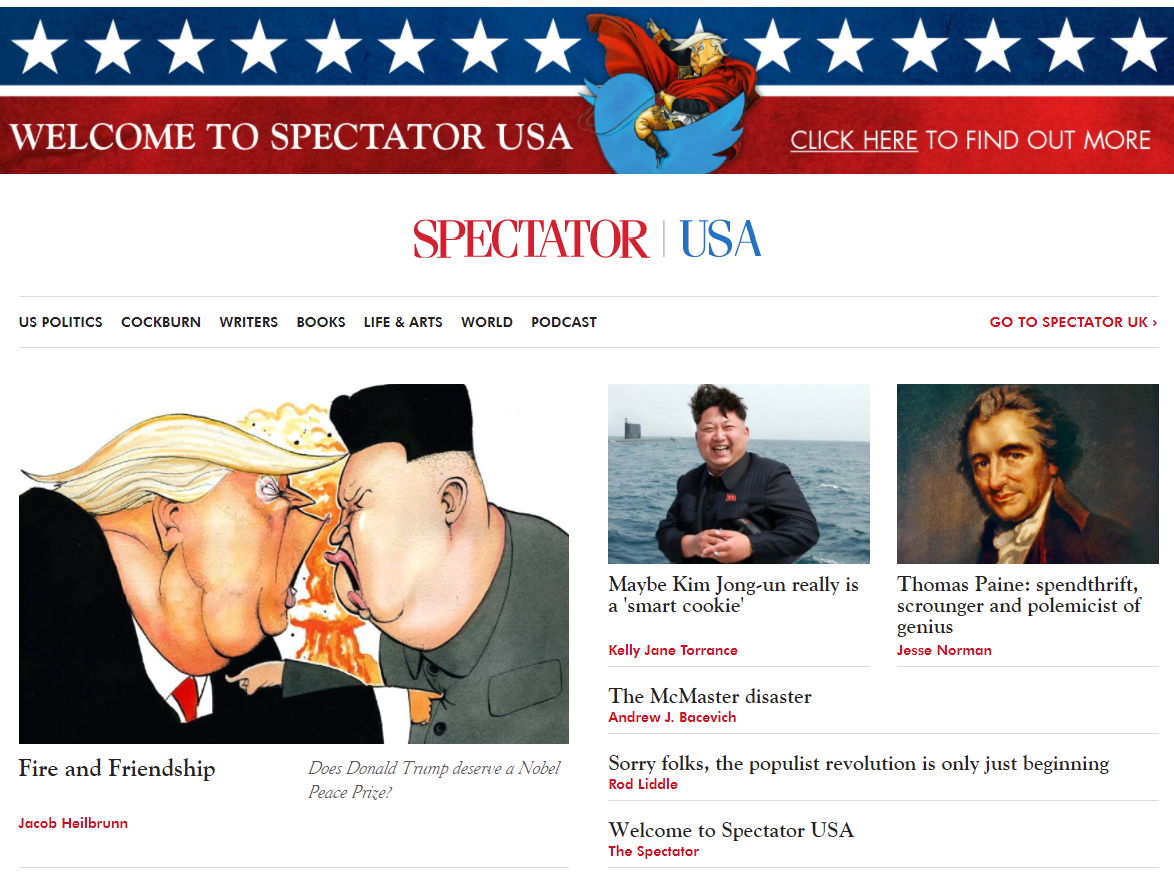 The Spectator has today launched a new website aimed at readers in the US which it says offers a "genuine opportunity" to reach into America – but will remain neutral on President Donald Trump.
The website will produce new content from American writers covering politics, culture and life in the US, and offer the best articles from the UK Spectator on world affairs.
Freddy Gray, USA editor and deputy editor of The Spectator, told Press Gazette: "I'm terrifically excited. I think there is a genuine opportunity for us to reach into America.
"The idea is it's a US site which will do not just US content but also present the British Spectator to a US audience."
Gray added that much of The Spectator's content already works well and has a good reputation with the US audience.
Alongside its new writers, the site will feature a blog called Cockburn, a cousin to Steerpike in Britain, which will "indulge in mischief, mayhem and gossip".
The Spectator USA will be run from the magazine's London office and has been introduced online-only as a soft launch, but Gray said the team will "ramp it up" as the year goes on.
Whether they will publish a US magazine remains to be seen.
The idea, which Gray says has been about a year in the making, comes as Donald Trump "made the world go mad". But The Spectator USA promises not to side with or against the controversial White House incumbent.
In a piece on the Spectator USA website, headlined "Welcome to Spectator USA", Gray wrote: "The Spectator is pro-America and pro-Americans, though we aren't anyone's poodle.
"At a time when the 45th President often appears to have made the world go mad, we promise not to be crazily for or crazily against the Donald.
"We promise always to see that the world is far bigger than politics. Spectator USA will, like its mothership, look at all things. We will find life amusing, and we will never confuse the serious with the dull."
The editorial also promised to do "more of the same" of the "sharpest, funniest and best-written journalism" the Spectator has produced over its 190-year history.
The weekly news magazine's total circulation figure (combining its print and digital editions and excluding Australia) for the six months to the end of 2017 was 85,172 – up 7 per cent year-on-year. However, this total does include 13,952 print and digital bundle subscribers who are counted twice by ABC.
Spectator editor Fraser Nelson said in a blog post that digital has "led to a renaissance of print".
He wrote: "The website brings millions of people to The Spectator and they can read two articles a week before being invited to subscribe for full access. When they do, the vast majority choose our print and digital package."
Email pged@pressgazette.co.uk to point out mistakes, provide story tips or send in a letter for publication on our "Letters Page" blog