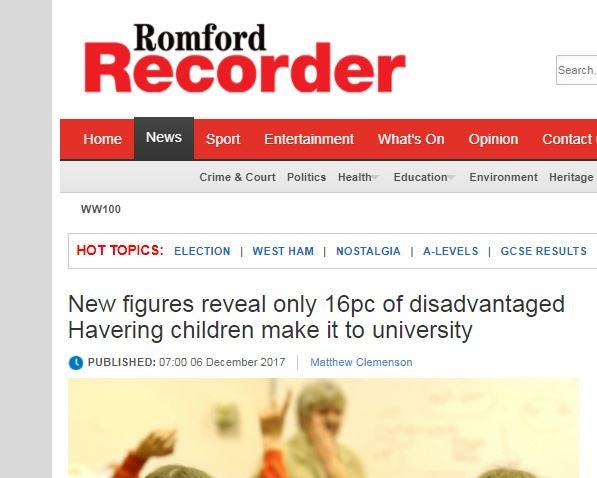 The first robot-generated stories produced by Press Association have appeared in print in what is claimed to be a world-first for journalism.
RADAR – the automated news service set up by PA (the Press Association) and Urbs Media – has begun trialling computer-generateddata-driven content. The project is funded by a €700,000 grant from Google's Digital News Initiative.
The plan is for the project to create 30,000 localised stories a month from data using Natural Language Generation software to write them automatically.
Press Association said: "RADAR has at its heart a team of reporters finding interesting stories in open data sets, then writing these stories and crafting NLG templates to localise them for hundreds of markets. The project builds out from this core to develop advanced database and distribution tools."
A closed pilot began at the end of November, involving 35 regional titles from 14 publishing groups including Archant, Independent News and Media, Iliffe Media, Johnston Press, Newsquest, Midland News Association and Trinity Mirror.
Multiple versions of four stories were distributed in the first week of copy testing. The first focussed on trends in birth registrations across the UK, specifically how many children were registered by married, cohabiting or single parents, based on figures from the Office of National Statistics.
This was followed by stories on cancelled operations across England extracted from NHS data, a breakdown on social mobility and life chances for disadvantaged children based on data from the government's Social Mobility Commission, and localised Department of Transport data on average A Road delays.
Press Association said that stories have already appeared in 20 daily and weekly titles, both online and in print.
Gary Rogers, editor-in-chief at Urbs Media, said: "We believe these are the first automated local news stories published in established news brands anywhere in the world.
"We're delighted to be up and running with a great user group who are already helping to steer our thinking on the topics and style of the stories we generate."
Press Association editor Pete Clifton said: "I'm pleased to see our customers actively engaging with the content. Their feedback is providing us with valuable insights as we scale up production to reach our target of 30,000 stories each month for a much broader user base."
Links to PA's first robot-authored news stories follow.
Births story publications:
https://www.expressandstar.com/news/local-hubs/wolverhampton/2017/11/29/majority-of-new-mothers-in-wolverhampton-are-unmarried/
https://www.southwalesargus.co.uk/news/15696111.Majority_of_Newport_mums_giving_birth_are_unmarried__figures_suggest/
https://www.warringtonguardian.co.uk/news/15697099.New_parents_in_Warrington_less_likely_to_be_married_than_average_UK_couple/
https://www.bournemouthecho.co.uk/newS/15699717.Most_babies_are_still_born_to_married_parents_in_Bournemouth__figures_reveal/
https://www.wscountytimes.co.uk/news/data-reveals-if-mum-and-dad-are-the-marrying-type-in-horsham-1-8274341
https://www.herefordtimes.com/news/15694398.Number_of_unmarried_mothers_in_Herefordshire_increases/
https://www.newsshopper.co.uk/news/15700216.Quarter_of_Lewisham_babies_born_into_single_parent_households_____birth_stats_reveal_state_of_families_in_SE_London/
https://www.northumberlandgazette.co.uk/news/more-new-mums-in-northumberland-are-unmarried-than-married-stats-reveal-1-8892389
https://www.bathchronicle.co.uk/news/bath-news/married-mums-still-make-up-876416
https://www.kentlive.news/news/kent-news/two-thirds-babies-were-born-879420
Email pged@pressgazette.co.uk to point out mistakes, provide story tips or send in a letter for publication on our "Letters Page" blog