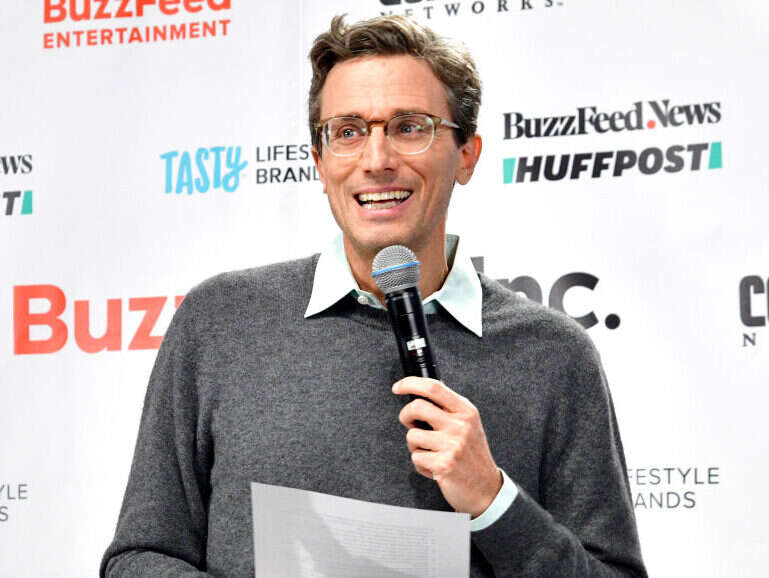 AI content on Buzzfeed often sees above-average engagement and time spent compared to posts created entirely by humans or less interactive pages, the publisher has said.
The AI formats are proving useful in meeting the publisher's aim to drive more direct traffic to Buzzfeed properties, as major tech platforms like Facebook are sending less traffic back to digital publishers. This marks a major shift from its previous successes and reliance on going viral across social media, although the company says it still does this too.
Buzzfeed chief executive and founder Jonah Peretti told investors this week: "We have prioritised resources aimed at growing engagement on our owned-and-operated properties through new AI-powered content formats.
"In doing so, we are reducing our dependence on the major tech platforms and leaning into our rare combination of voice and scale in a fragmented media environment."
Peretti also said changes to the major platforms "continue to impact audience traffic to our content" so they are "laser-focused on our strategy to drive traffic directly".
Buzzfeed doubled its output of AI-assisted content between Q1 and Q2 and expects to continue ramping up at a similar rate in Q3, Peretti said. The media's experimentation with generative AI mostly began this year following ChatGPT's November launch.
Peretti also put AI at the centre of Buzzfeed's brand identity, describing it as "pop culture, entertainment and curating the best of the internet using AI to shift content delivery and distribution".
Buzzfeed's experiments with AI so far have focused on adding "personalisation, customisation and interactivity" to its content, as Peretti explained in the company's earnings call on Tuesday for the three months ending on 30 June.
Although Buzzfeed quizzes were already interactive, they are now "infinitely interactive", Peretti said. Buzzfeed's AI-driven quizzes, which launched in February, are dubbed 'Infinity Quizzes'.
The brand then expanded into chatbot games, such as one that allows users to see if they could make it as an influencer without getting cancelled, and a guessing game where the chatbot invites users to guess which fictional character it is that day.
Peretti said users "really loved" these formats and that they "spend two, three more times interacting with a chatbot game than with a static piece of content".
Finally, Buzzfeed has begun using "AI-assisted imagery". For example, a piece that used Midjourney to imagine what Barbie's dreamhouse would look like in each US state saw more than one million views and, according to Peretti, went viral on Tiktok and Instagram Reels.
That story contains a footnote stating "This post was enhanced using AI-powered creativity tools", while the pictures are all credited to Midjourney and the author. Peretti said these tools allowed the publisher "to participate in big cultural moments" like the release of the Barbie movie in July.
"Those are examples of new things we can do to enhance our product, make our product more vibrant, more personal, and have really worked well with our audience," he said.
'We still have to build out for scale'
Peretti said the new AI formats are proving "deeply engaging", saying: "When we look at individual pieces of AI content, we see increased engagement, more time spent, and AI-inspired image posts that have gone viral across Buzzfeed.com, Instagram and Tiktok."
He added that views and time spent with Buzzfeed's AI content both increased three-fold between Q1 and Q2 "driven by higher content output, and the new content is also driving higher engagement quarter-over-quarter.
"Our top 20 AI articles published in Q2 generated more than twice the time spent when compared with our top 20 AI articles in Q1."
This will prove useful as, overall, Buzzfeed's results showed time spent across its properties fell by 9% year-on-year in the second quarter to 96 million hours. This figure includes Buzzfeed's owned and operated platforms (including Huffpost) as well as Youtube and Apple News but excludes platforms like Facebook, Instagram, Tiktok, Snapchat and Twitter, which the publisher says now offer minimal advertising capabilities.
Peretti added: "It's still pretty early and I feel like we've figured out how to bake some good cakes, but we still have to build out the bakery that can scale this and make more content experiences like this widely distributed across our network."
Buzzfeed AI content creation 'more efficient and more scalable'
The AI content is also keeping clients happy, Buzzfeed told investors. On the earnings call, Buzzfeed president Marcela Martin said that two infinity quizzes made in partnership with mattress brand Serta – a bedtime story generator and a dream interpreter – saw "above average time spent compared to non-AI formats, and audience clickthrough rate and engagement rate both exceeded the client's expectations".
Content revenues, which come from client deals involving the likes of branded quizzes, Instagram takeovers and sponsored content were down 22% year-on-year in Q2 to $31.5m. However, investors were told there is about a six-month gap between the start of customer engagement and a campaign being executed, meaning the full impact of the new AI tools will not yet be seen.
Of the cost benefits of using AI, Peretti said programmers and sales teams are able to be more efficient. He did not reference any impact on journalists or jobs.
"I think when you look at both AI and creators, it's helping us build a content creation model that can be more efficient and more scalable than the more traditional models in media," he said.
"It is a long road and we're seeing a lot of early success, but we're building this for a longer time horizon because we feel strongly that this is where media is headed and there's a lot of ways to enhance the product that we're building to delight our users more and also to find more efficiencies where we can have much more output with the same amount of labour by having co-pilots and other tools that give our people superpowers to be able to make more, create more, do more, and serve our clients better and serve our audience better because of these AI tools that are assisting them."
Buzzfeed Q2 results for 2023: Investors are doubtful
Buzzfeed saw its revenues for Q2 fall by 27% year-on-year to $77.9m, with a net loss of $27.8m (compared to a loss of $23.6m last year) and an adjusted earnings loss before interest, taxation, depreciation and amortisation of $0.1m (compared to an adjusted EBITDA of $2.1m in Q2 2022).
At the time of writing, investors appeared unimpressed with the latest figures announced on Tuesday. The Buzzfeed share price had fallen 18% to 53 cents giving the company a valuation of $74m (versus a $1.5bn valuation in June 2021 ahead of its public listing).
In April Buzzfeed closed its news division, Buzzfeed News, with Peretti saying tech platforms had been unwilling to invest to help the award-winning brand survive.
Chief financial officer Felicia DellaFortuna said they had been able to mitigate "nearly all" of the lower revenue year-on-year with the "successful execution" of the cost actions announced in April – the month Buzzfeed News closed and 15% of all staff were laid off – explaining why they could break even on EBITDA.
This week, Huffpost, Buzzfeed's remaining news brand, was described as having the aim of boosting its "destination" news content to grow its direct, front-page audience.
Buzzfeed also owns youth entertainment company Complex and food content brand Tasty, both of which are also using AI tools. For example, Tasty has an AI-powered "chefbot" called Botatouille while Complex created an AI-powered "digital art experience" with drinks company Sprite to celebrate 50 years of hip-hop.
---
Buzzfeed's AI quizzes road-tested
The last time I took a Buzzfeed quiz was at the age of 11 to find my Hogwarts houses (it was Ravenclaw). Since then, AI-enriched quizzes have flooded the site so I gathered some fellow interns and started quizzing – writes Amy Jenkins.
"This AI Quiz Will Design Your Dream Prom Dress" and "This AI Quiz Will Design A Perfect Wedding Dress for You"
Buzzy (Buzzfeed's AI author robot) can get the colour, fabric and length right (blue, tulle and floor-length) but doesn't quite understand that an empire line dress isn't a ball gown and a sweetheart neckline doesn't mean a strapless bodice. Plus I'm pretty sure it uses the same pictures for both quizzes.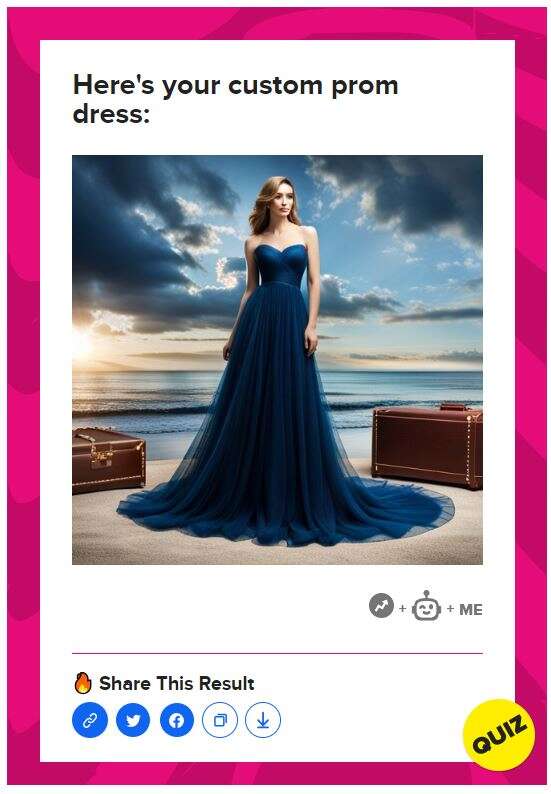 "The Canadian City, Car And Job You Should Have Will Be Determined By This AI Quiz"
We did this quiz twice. Both cars were orange. But after saying we excelled in PE at school (we didn't) and wanted to live in the prairies, working as a survival fitness instructor probably wasn't too bad a suggestion.
"This AI Quiz Will Make You Up a Nickname"
We cannot comment from laughter. The names Buzzy comes up with are truly ridiculous and seem to have no relation to our responses.
"I Asked An AI To Be A Pastry Chef And Make You A Wedding Cake — Here's What It Looks Like"
We asked Buzzy for a fruity white cake, without a cake topper suitable for a rustic wedding. The cake designed was brown. With a cake topper. In the shape of hats. As one of my fellow interns commented: "It could be decorated with fruit. That makes more sense."
"This AI quiz will design you your perfect soulmate"
After we typed the name of an obscure celebrity for our celebrity crush (Tim) Buzzy stopped working. The singularity (our singleness?) was worse than they thought.
Email pged@pressgazette.co.uk to point out mistakes, provide story tips or send in a letter for publication on our "Letters Page" blog