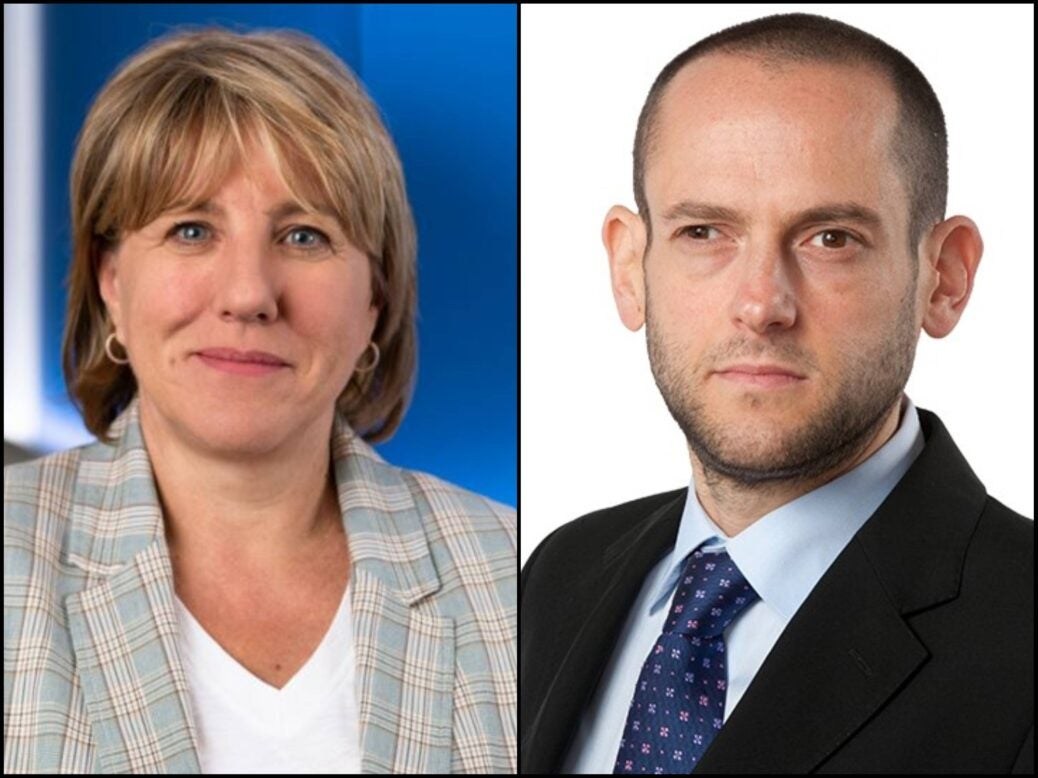 After a non-stop "incredible year of news" in 2022, bosses at Sky News are hoping for space to show off the fruits of recent investment with more off-diary, original journalism in 2023.
Last year saw the start of Russia's full-scale invasion in Ukraine, months of Partygate stories, Boris Johnson's resignation, a Conservative leadership race, the Lionesses' win at the Euros, the appointment of Liz Truss as prime minister, the death of the Queen after 70 years on the throne, Truss' resignation after 45 days and Rishi Sunak moving into Number 10.
Sky News that ended the year by being awarded News Provider of the Year at Press Gazette's British Journalism Awards, something director of content Cristina Nicolotti Squires described as a "great reward for what was an incredible year of news".
"In my 35 years in this business, I don't think I can look back on a year that was quite as busy," she told Press Gazette's Future of Media Explained podcast.
The British Journalism Awards judges praised Sky News for continuing its "brave record when it comes to chronicling the wars of the 21st century" in Ukraine, and for also leading the way on coverage of the cost of living crisis, Partygate and climate.
Sky's own data shows it up year-on-year on all platforms, averaging a combined 9.9 million users per day across the year, a growth of 13% compared to 2021.
Sky News was the tenth biggest TV channel in the UK based on daily reach while on its website and app it recorded 40 million monthly users, up 8% year-on-year. Podcasts grew by 43% to more than 15 million listens over the curse of the year.
The numbers, Nicolotti Squires and director of newsgathering Jonathan Levy said, show how strong appetite has been – and cast doubt on claims of growing news avoidance.
Almost three-quarters (72%) of news leaders surveyed for the Reuters Institute for the Study of Journalism's Journalism, Media, and Technology Trends and Predictions 2023 report expressed concern over consumers turning away from the news, while the Institute's Digital News Report last year found the number of people in the UK actively avoiding the news had doubled since 2017, going from 24% to 46%.
But Nicolotti Squires suggested this growth was shown in surveys rather than actual data, adding: "We can all say 'Oh, I don't like watching the news' and then we're all drawn to it. It's a bit like people who slow down at car crashes. They would never admit to it, but they still slow down and take a look…
"The news exploded last year and so did our audiences, so I'm not really sure about news avoidance. When big stuff happens, people want to find out about it. They may say they want to shy away from it, but I've not seen that from my own experience."
The pair both agreed that the changing way people find their news is more pertinent, with a growing number who may go to Sky News' Tiktok account rather than switch on the TV channel.
Levy said: "Nothing in the past year, which has been the most momentous year of news that many of us can remember, suggests that people want to avoid it, but they do want to get it at the time and on the device and on the screen that they want to at that moment in time.
"So I think it's more a case of making sure you're serving the audiences and the consumers wherever they are. I think that's much more of a thing to grapple with than potential news avoidance."
Appetite has been particularly strong around the Ukraine war, which Nicolotti Squires described as a story people were "really, really engaged in – more than perhaps I had estimated".
She was "quite surprised" by how strong interest in it remains even almost a year on from Russia's invasion – with only the odd dip when editorial resources have gone into major stories elsewhere, such as the ten days of mourning for the Queen.
Sky News has had journalists in Ukraine every day since the war began and continues to run a live blog each day, which often appears in the website's most-read list.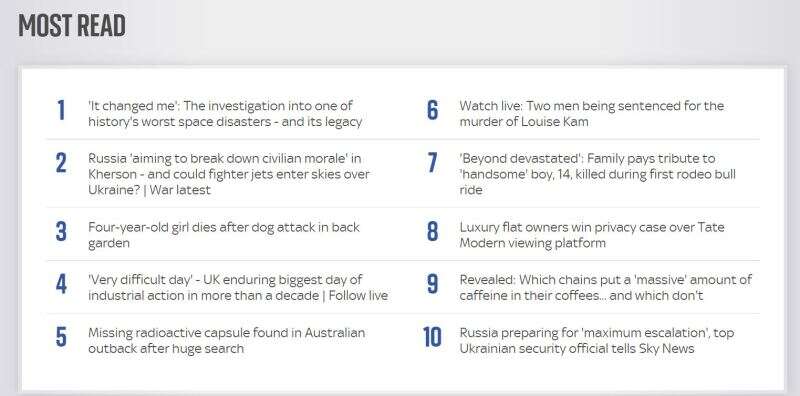 Another example of what has worked well, especially on Youtube Nicolotti Squires said, are the explainers, often using maps, by the broadcaster's security and defence analyst Professor Michael Clarke. Meanwhile, the podcast Ukraine War Diaries, featuring regular audio missives from people living in Ukraine, has received several million downloads.
Sky News journalists made headlines themselves just days after the war began when chief correspondent Stuart Ramsay and his team were ambushed and shot at.
Levy said that although the welfare of all the Sky News journalists on the ground was the most important consideration in the aftermath, the broadcaster decided to maintain a "continuing commitment" to being there as it was "absolutely vital" as a news organisation to be on the ground. It was "very obvious" that Ukraine was the story that required the "most attention and resources" last year, he said.
"It is a hugely vital story of our times," Levy added. "It's war in Europe. Even saying it feels unbelievable, even nearly a year in, to think that a European country was invaded. And the scenes and the implications of that are so considerable – that's what news organisations like ours are there to do."
"The commitment to eyewitness journalism on a story like Ukraine does separate some news organisations from others," Levy continued. "We're one of a handful of news organisations in the UK that have made that commitment."
Ukraine also stimulated fast growth on Sky News' Tiktok page, with a "massive increase" in followers at the start of the invasion. Sky News went from 81,600 followers at the end of January 2022 to 3.4 million today. Nicolotti Squires recalled that in the first four or five days of the war alone the account went from about 500,000 followers to more than one million.
She said: "We are one of the fastest-growing news brands on Tiktok and that was driven by mainly young people's interest in that war in Ukraine."
She was surprised by just how fast their rate of growth was but not that the broadcaster found an audience on the platform, saying young people "all know that an awful lot of what's on social media is either fake news or made up, or not necessarily accurate, and they want to find sources of trusted information".
Sky News made the decision not to hire new young faces to host its Tiktok content as some other publishers have done, instead betting that young audiences wanted the expertise of its established journalists such as political editor Beth Rigby, economic and data editor Ed Conway and science correspondent Thomas Moore.
Nicolotti Squires said it was unnecessary to "hire a young, funky person to give you a Tiktok version of the news" and that the broadcaster had instead stayed "true to our values".
Elsewhere, digital investment has gone into areas such as podcasting, which has grown from a couple of people five years ago to about 20 now, as well as data and forensics journalism, use of which Nicolotti Squires said had become "part of being a modern news organisation".
Shortly before the Covid-19 pandemic began, Sky News hired a data journalist to see what they could add to their existing output and, Nicolotti Squires said, quickly found there was a whole world of stories they could get that they weren't tapping into – while they could also add important context to many other news events such as NHS waiting times.
The demand for data during the pandemic then led to the decision to invest in a data and forensics unit, the latter part of which involves the use of open-source intelligence, for example satellite imagery of Ukraine or phone footage of the fatal Halloween crush in Seoul.
Nicolotti Squires said it has been a "really powerful new form of journalism for us" while Levy added that it "helps people understand what's going on in a way that was never possible" even five years ago.
Nicolotti Squires noted that Sky News is "very fortunate" to have "strong backers" in Sky and parent company Comcast, which pledged to maintain funding for the news brand for ten years when it bought all of the broadcaster in 2018.
"So our finances are enabling us to invest in our journalism rather than contract, which I think sadly is the case in lots of other areas," she said.
Meanwhile, as well as investing in some of its specialist correspondents over the past few years such as its business and economics, home affairs and science teams, Sky News has modernised and evolved some of the roles – for example with the addition of data to Conway's economics title in 2021 and the appointment of Sky News' first dedicated climate change correspondent in 2019.
Levy said: "I think, as well as different functions that relate to platforms and newsgathering practices and production practices, you've also got to constantly be evolving and refreshing what your journalistic focus is as well. You don't stand still there either because as the world changes, you need to be looking at different bits of it in different ways."
Recently Sky News' specialist journalists have been focusing on making sense of the world, including the pandemic, political tumult and climate crisis, but Levy predicted a different rhythm for 2023.
"It's going to be a question of aiming their firepower at coming up with stuff that they know that's going on and bringing that to the fore on the basis there may be slightly less stuff to react to, and that's good. Journalism should be about finding out new stuff.
"It should be a proactive activity, not merely a reactive one. So that's exciting. But it's a little bit of an adjustment from how it was last year for sure."
Similarly, Nicolotti Squires predicted that they will "have to work a bit harder for our audiences" in 2023, saying they cannot assume so many tumultuous events will be "falling into our lap" – even though many of the major news events of 2022 could not have been predicted at the start of the year, while the idea of the Covid-19 pandemic was barely mentioned in January 2020.
She added that this different pace would be "good because it gives you more opportunity to put your resources on original journalism". "We've got all these new people tasting Sky News for the first time – how do we keep them interested in going?"
Levy said Sky News has made a "good start" on this idea with its recent collaboration with Tortoise on the Westminster Accounts project, which included the creation of an interactive tool for people to explore how much their MPs are earning outside their public salary and where it has come from.
"We've got some very exciting stuff coming up looking at the NHS and we've invested very heavily in original journalism, and I hope in 2023 we'll see the fruits of that investment."
Email pged@pressgazette.co.uk to point out mistakes, provide story tips or send in a letter for publication on our "Letters Page" blog