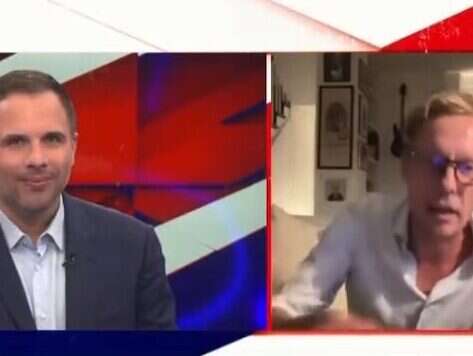 Update 4, 4/10/23: GB News has fired Laurence Fox and Calvin Robinson and said its investigation into Dan Wootton is ongoing.
The broadcaster said in a statement: "Laurence Fox and Calvin Robinson were both suspended last week pending internal investigations that have now concluded. As of today, GB News has ended its employment relationship with Laurence Fox and Calvin Robinson.
"The internal investigation into Dan Wootton continues."
Update 3, 29/9/23: GB News presenter Calvin Robinson has been suspended from the channel after posting his support for Dan Wootton.
Robinson wrote: "We failed as a community to stand up for Mark Steyn," referring to the presenter who quit earlier this year after claiming the channel wanted to make him personally liable for Ofcom fines relating to his show.
"If we let them do the same to Dan, it's over. The channel will be on borrowed time, we will all be the next in the firing line."
He added: "Our bosses are scared. Afraid of Ofcom, afraid of the woke mob, and afraid they're going to run out of money unless they manage to sort this advertising problem out."
Update 2, 29/9/23: GB News chief executive Angelos Frangopoulos has said he was "appalled" by Laurence Fox's comments about a female journalist, adding they were "not in keeping" with the broadcaster's values.
"That comment should not have gone to air and that should have properly challenged quite frankly," he told the BBC Radio 4 Today programme on Friday of Fox's question "who would want to shag that?"
Frangopoulos said the comments about Joe journalist Ava Evans "did not reflect what we believe is appropriate conversation as a media company, as a part of the national conversation, it really is an apology, it was just really inappropriate."
He said Fox often "sail[s] close to the wind" but this "was way past the limits of acceptance".
He added that GB News has a "process to follow" but he expects the internal investigation to be "resolved very quickly".
Fox has now told Evans in a video posted online: "I'm sorry for demeaning you in that way." He said he expected to be sacked on Friday.
Update 1, 28/9/23: Broadcast regulator Ofcom has opened an investigation around rules on offence into the programme that led to GB News suspending its presenters Dan Wootton and Laurence Fox (see the full story below).
Ofcom said it has received about 7,300 complaints over Tuesday's edition of Dan Wootton Tonight, in which Fox made comments about a female journalist's appearance and Wootton appeared to laugh along.
The regulator is investigating the GB News programme in relation to Rule 2.3 in the harm and offence section of the Broadcasting Code, which states that "broadcasters must ensure that material which may cause offence is justified by the context". This type of material can include, it says, "offensive language, violence, sex, sexual violence, humiliation, distress, violation of human dignity, discriminatory treatment or language".
Ofcom's chief executive Dame Melanie Dawes said on Thursday: "Over the last few days there has been speculation and commentary about our role as the independent broadcast regulator. These are important issues and I wanted to be clear about our rules.
"Parliament sets objectives on how the broadcast sector should be regulated. We set and enforce rules to achieve these objectives.
"Contrary to some claims, these rules remain unchanged.
"They are designed to protect audiences from offensive and harmful material, and to uphold the integrity of broadcast news and current affairs programming, while always ensuring that freedom of expression is front and centre in every decision we take. This is highly valued by audiences and central to our democracy.
"The decisions we take, always based on facts and evidence once a programme has aired, are vital if we are to protect our vibrant media landscape. We continue to apply and enforce these rules without fear or favour."
Also on Thursday, Mail Online terminated Wootton's contract. It had already paused his column in August following the publication of allegations against him, which he denies, in Byline Times.
Original story 28/9/23: GB News has suspended both Laurence Fox and Dan Wootton over "totally unacceptable" comments made by Fox about a female journalist during Wootton's show on Tuesday.
Ofcom is assessing complaints over the comments and GB News has also said it would apologise over the exchange.
Fox made a series of remarks about Ava Evans, the political correspondent for online news site Joe, during Dan Wootton Tonight on Tuesday.
The comments included describing her as a "little woman" and saying: "We don't need these sort of feminist 4.0" who, he said, are "pathetic and embarrassing", adding: "Who would want to shag that?"
Wootton has since apologised for his part in the exchange, but Fox has said he stands by "every word I said".
GB News first suspended Fox but on Wednesday afternoon also took Wootton off-air, despite his promise to address what had happened on his next show.
The broadcaster said: "GB News has suspended Dan Wootton following comments made on his programme by Laurence Fox last night. This follows our decision earlier today to formally suspend Mr Fox. We are conducting a full investigation."
What did Laurence Fox and Dan Wootton say on GB News?
Evans, a former producer at LBC, shared a clip of the comments on X, formerly known as Twitter, with the caption: "Laurence Fox just did a whole speech on GB News on why men apparently won't shag me?" which has been viewed more than five million times as of Wednesday morning.
In a follow-up tweet to her nearly 100,000 followers she added that the footage made her feel "physically sick".
During Tuesday night's discussion on GB News, the strapline on the screen read: "Smirking Face of Disdain", with the text under it reading: 'Hard-left commentator slammed for shrugging off male suicide crisis'.
The discussion came after Evans appeared on the BBC's Politics Live on Monday and discussed the virtues of a minister for men versus a minister for mental health with comedian Geoff Norcott.
An online write-up of that exchange now appears to have been taken down from the GB News website. Google search results indicate an article published on Tuesday with the headline: "BBC fury over 'disgusting' guest as woman smirks at man…" but this link now takes readers to a 404 "Sorry, we can't find the page you are looking for" message.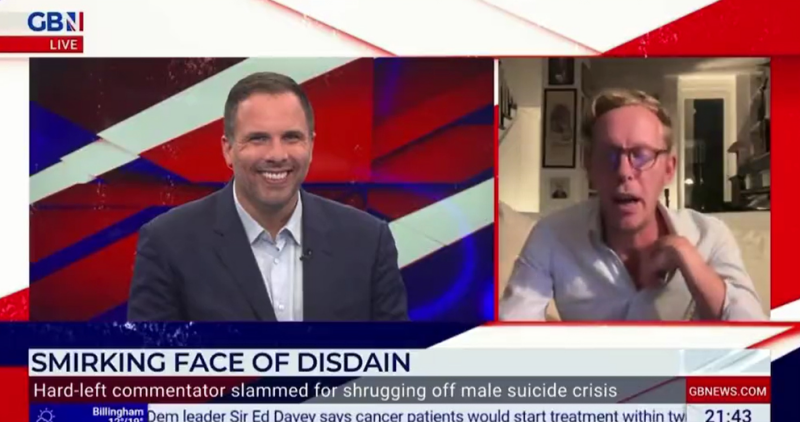 Fox, whose acting credits include Gosford Park and Elizabeth: The Golden Age, told Wootton: "We're past the watershed so I can say this: show me a single self-respecting man that would like to climb into bed with that woman, ever, ever, who wasn't an incel?" Incel is a shortened version of the phrase "involuntary celibate", a sub-culture of men who sometimes develop aggressive views towards women who do not want to have sex with them.
Fox continued: "That little woman has been fed, spoon-fed oppression day after day after day… starting with the lie of the gender wage gap, and she's sat there and I'm going, if I met you in a bar and that was like sentence three, chances of me just walking away are just huge.
"We need powerful strong amazing women who make great points for themselves, we don't need these sort of feminist 4.0… they're pathetic and embarrassing. Who would want to shag that?"
Laughing, Wootton replied: "Well, look, she, I'm just going to provide a touch of balance from her because she did actually respond to this earlier today, saying that she regretted her comments but she didn't apologise."
Wootton, a former executive editor at The Sun, added: "And she's a very beautiful woman, Laurence, very beautiful woman."
Appearing on Jeremy Vine's Channel 5 show on Wednesday morning, Evans said she was "really hurt" by the comments and "shocked that it went out".
She also said: "I'm actually a journalist rather than a commentator and I'd much rather be judged or asked about my work than have people talking about my body."
Laurence Fox comments 'unjustifiable and indefensible'
Tuesday night's comments drew a strong reaction on X, with Conservative peer Daniel Finkelstein writing: "Oh my God this is truly appalling. Even for the two individuals involved this was a new low."
MPs Lee Anderson, Sir Jacob Rees-Mogg, Esther McVey and Philip Davies are among the Tories who host shows on GB News.
Davies condemned the comments in a statement to PA Media, saying: "Laurence Fox's disgraceful remarks were completely unacceptable, unjustifiable and indefensible."
Another GB News presenter, deputy political editor Tom Harwood, described it as a "shameful display" and said he "would have thought" the channel's investigation "can be very swift and very decisive". GB News presenters and journalists including Mark Dolan, Olivia Utley, Cameron Walker and Emily Carver have also condemned Fox's comments.
In a statement on Wednesday morning, GB News said: "GB News has formally suspended Laurence Fox while we continue our investigation into comments he made on the channel last night.
"Mr Fox's suspension is effective immediately and he has been taken off air. We will be apologising formally to Ms Evans today."
The broadcaster said in a previous statement that it was launching an investigation: "Comments made tonight on GB News by Laurence Fox were totally unacceptable.
"What he said does not reflect our values and we apologise unreservedly for the comments and the offence they have caused.
"We have launched an investigation and will be apologising to the individual involved."
Laurence Fox says don't expect 'grovelling apology'
Ofcom has since said it has received a number of complaints about the broadcast.
"We are assessing these complaints against our broadcast rules and will publish the outcome as quickly as possible," it said on Wednesday morning.
In a lengthy statement, Fox defended his right to free speech. He said: "First of all, don't take a pop at @danwootton for something I said. That's not fair.
"Secondly. I stand by every word of what I said. If a woman wants to go on television and belittle male suicide, she is totally within her rights to do so and not apologise, just as I am totally within my rights to say that I wouldn't want to shag a hyper offended 4th wave feminist and not apologise, just as people are totally within their rights to be offended by my stating I would run a mile in the opposite direction from women like her, should our paths cross in a bar.
"It's called free speech… "So if you are expecting a grovelling apology, I suggest you don't hold your breath. I won't ever apologise to the mob."
In response to his suspension, Fox said contributors do a pre-interview before going on-air "so they knew exactly what I intended to say".
As well as appearing as a contributor on other GB News shows, Fox hosts a programme at 8pm on Fridays in which it is promised he will discuss the issues of the day "with his unique and outgoing style".
Dan Wootton regrets 'unfortunate lapse in judgment'
Wootton did apologise for his part in the exchange, saying on Tuesday night: "I apologise for what was said during the course of my show and should have done this immediately on air. This is not what our channel is about."
He later added: "I want to reiterate my regret over last night's exchange with Laurence on GB News. Having looked at the footage, I can see how inappropriate my reaction to his totally unacceptable remarks appears to be and want to be clear that I was in no way amused by the comments.
"I reacted as I did out of shock and surprise in an off-guard moment while working out how to respond as he continued to speak by searching for tweets @AvaSantina had sent earlier in the day while having them read out in my ear at the same time. However, I should have intervened immediately to challenge offensive and misogynistic remarks.
"I apologise unreservedly for what was a very unfortunate lapse in judgment on my part under the intense pressure of a bizarre exchange. I know I should have done better. I'm devastated that I let down the team and our supportive GBN family.
"We seek to tackle the issue and not the person, which I intend to stress again on air tonight."
Wootton is currently facing a series of serious allegations after reporting by journalists for Byline Times. He has denied any criminal wrongdoing and GB News chief executive Angelos Frangopoulous said last week that none of the allegations have been "admitted or proved by an independent body. GB News continues to monitor the situation."
Fox, who was previously married to actress Billie Piper, founded the Reclaim Party in October 2020 after an appearance on the BBC's Question Time earlier that year, which the actor said resulted in him being "cancelled from a 21-year acting career".
According to its website, the party exists to challenge "woke orthodoxy" and promote "freedom of speech", which it views as being "under grave peril".
Email pged@pressgazette.co.uk to point out mistakes, provide story tips or send in a letter for publication on our "Letters Page" blog