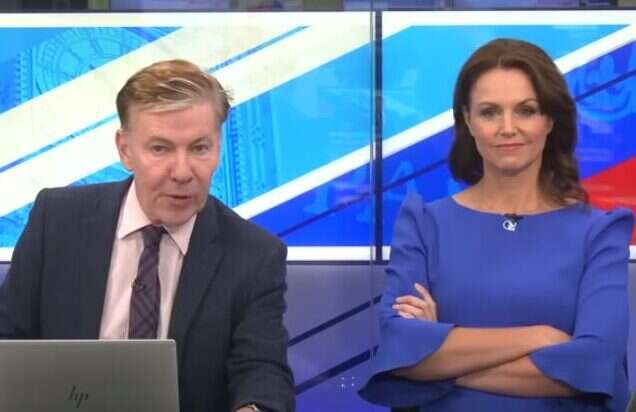 Note: Updated on 21 September to add responses from GB News CEO Angelos Frangopoulous.
GB News presenter Bev Turner's vocal support for Russell Brand before she fronted coverage of the allegations against him potentially "undermines any perception of due impartiality in the broadcasting", the chair of the Culture, Media and Sport Committee has warned.
Dame Caroline Dinenage wrote to GB News chief executive Angelos Frangopoulos on Tuesday to ask what discussions had taken place with his presenters "on their responsibilities on due impartiality and professionalism".
Turner posted her support for Brand on Twitter on Saturday night after he published a video denying unspecified allegations but before The Times, Sunday Times and Channel 4 Dispatches released their reporting alleging he committed serious sexual assaults. Turner said he was a "hero" and blamed "establishment media" who "don't know what to do with the fact that you have six million subscribers and generate autonomous, knowing and original content".
She also said: "You are welcome on my GB News show anytime."
[Read more: GB News suspends Laurence Fox after tirade against female journalist on Dan Wootton show]
Turner presents Britain's Newsroom at 9.30am on weekdays with Daily Mail columnist Andrew Pierce. On Monday, he took her to task over her tweet on-air, calling her "shameful".
Despite Pierce adding a different perspective to the broadcast, Dinenage shared concerns Turner's posts may have undermined the ability of the programme to meet Ofcom's due impartiality requirements.
Referring to GB News presenters who "opted to use their social media platforms to defend Russell Brand against accusations of rape and sexual assault", Dinenage wrote: "While GB News is not responsible for this content, it is concerning that Beverley Turner, who described Mr Brand as 'a hero' and invited him to appear on her show, subsequently fronted GB News's coverage of the allegations regarding Mr Brand on the morning of 18 September.
"During that broadcast, Ms Turner announced that 'if he'd offered to come on this morning, we'd've had him, let's be honest'.
"While Ms Turner was challenged on her comments at length by her co-presenter, Andrew Pierce, we remain concerned that having a presenter so clearly supporting an individual who is the subject of intense media coverage, including seeking their appearance on the show, undermines any perception of due impartiality in the broadcasting."
Turner subsequently claimed in a tweet that Pierce had blindsided her on the show, saying she was unprepared for a "personal onslaught". But Pierce responded: "I'm afraid this is just not true. Bev Turner was told in explicit terms I would challenge on air her deeply offensive defence of Russell Brand who she describes as her 'hero'. I've been overwhelmed with supportive messages for calling her out." Turner has also since published a 2,000-word article on the GB News website asking whether Brand is being subjected to a "media witch-hunt".
In her letter to Frangopoulos, Dinenage continued: "We would be grateful if you could set out your discussions with GB News presenters on their responsibilities on due impartiality and professionalism when seeking to front coverage of news events, and any actions you intend to take in response to these issues."
In his reply, Frangopoulos said GB News had approached the Brand story "in exactly the same manner as we would any other matter of public interest. We provided a wide range of views and allowed our presenters to debate the matter fully. This is what is required by Ofcom regulations.
"GB News' coverage has displayed the very essence of due impartiality with two presenters exercising their right to free speech by having a robust conversation with opposing views.
"At GB News, we value due process and we do not consider that it is our place to presume the outcome of any investigation or judicial proceedings."
Frangopoulos also said more generally: "Free speech is an important part of our culture at GB News and we seek to engage in robust debate between strongly held opposing views, some of which can be controversial. We deliver due impartiality by presenting multiple sides of debates across many topics.
"Whilst it is important to us that presenters can debate matters openly, we maintain strict codes in order to comply with obligations of due impartiality and professionalism."
GB News questioned about investigations into presenter Dan Wootton
The letter also questioned Frangopoulos about the fact Dan Wootton has continued to present on GB News following serious allegations made against him earlier this summer, as first reported by Byline Times. Wootton denies any criminal wrongdoing.
Dinenage noted that The Sun's editor Victoria Newton previously confirmed to the committee that the paper appointed legal firm Kingsley Napley to investigate the allegations against Wootton, some of which coincided with his time at the tabloid.
And Mail Online subsequently suspended Wootton's column while the allegations are investigated.
The MP also noted that Wootton was able to address the allegations against him on his GB News show on 18 July, saying that although he has made "errors of judgment in the past" the "criminal allegations being made against me are simply untrue".
Dinenage wrote: "It is vital that viewers have faith in the media especially in the case of news brands, where truthfulness and accuracy are key. It is also vital that those working in and with the media can be confident that they are working in a safe environment.
"We would, therefore, be grateful if you could set out to us what, if any, investigations or processes have been undertaken since the recent complaints about Mr Wootton were publicly raised, and details of the policies and procedures available to staff at GB News in the event they seek to raise issues about the conduct of individuals or the culture at the organisation."
Frangopoulos said in reply that none of the allegations against Wootton have been "admitted or proved by an independent body. GB News continues to monitor the situation."
He added: "Were a formal complaint to be raised by a member of our staff, then GB News would, of course, take appropriate steps."
Dinenage also wrote to BBC director-general Tim Davie and Channel 4 chief executive Alex Mahon to urge transparency around their investigations into Brand's behaviour while working for the broadcasters.
Email pged@pressgazette.co.uk to point out mistakes, provide story tips or send in a letter for publication on our "Letters Page" blog