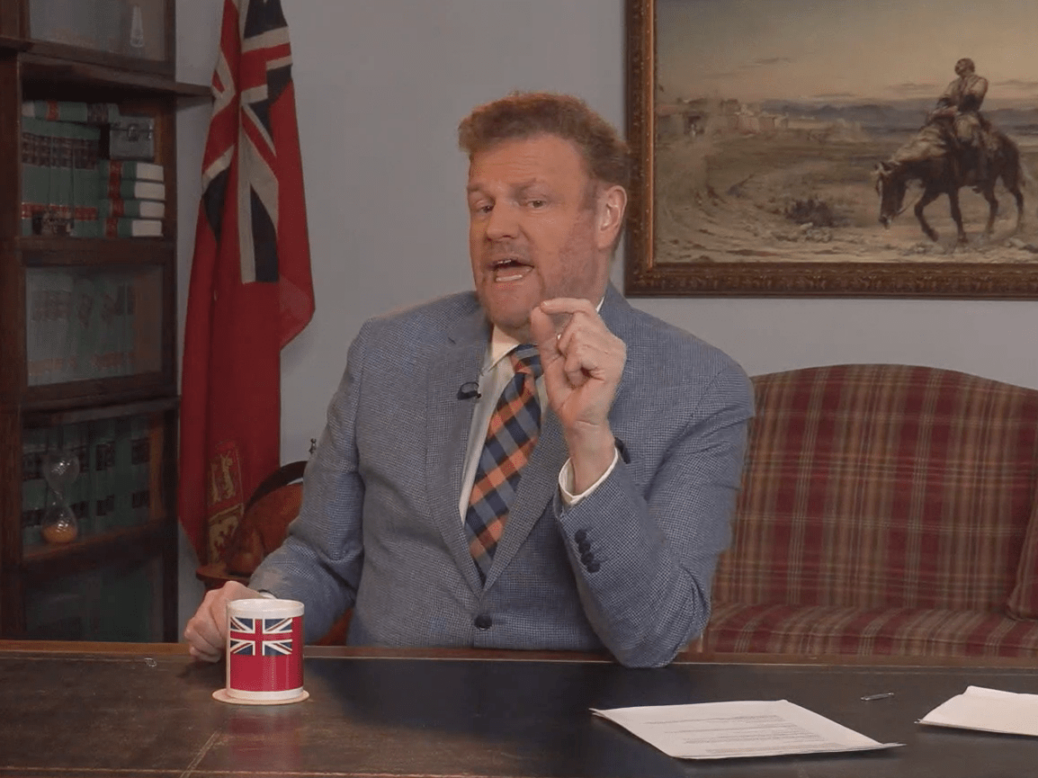 GB News presenter Mark Steyn has left the channel amid a dispute over contract terms that could have made him personally liable for Ofcom fines.
The telecoms regulator currently has two investigations open into GB News, both relating to claims around the safety of Covid-19 vaccines made on The Mark Steyn Show, which aired at 8pm on Mondays to Thursdays.
UPDATE: GB News broke Ofcom rules with Mark Steyn's misleading Covid-19 comments
No fines have been levied against the broadcaster at present, nor any adverse rulings made against the television channel. (GB News Radio did breach a broadcast rule in March 2022 when it failed to give a full list of candidates standing in a by-election.)
Press Gazette understands Steyn has to date been presenting for GB News in a freelance capacity, and had been in negotiations for a permanent contract.
However, it appears the channel has struggled to get Steyn to comply with Ofcom's requirements under the Broadcasting Code.
In a video published to his website on Monday, Steyn referred to an instance in which, ten minutes before going on air, he had a back and forth with the channel's editorial compliance officer that ended with him calling them "Ofcom's bitch".
Steyn has been off-air for two months following a heart attack. In his Monday video he said: "We're gonna do a new edition of The Mark Steyn Show this week, assuming my occluded ventricles are up to it. But it won't be on GB News."
Steyn said he had been due to return from medical leave but GB News chief executive Angelos Frangopolous proposed to change the terms of his contract, "which would be stressful, but you know, I've had two heart attacks, so I laugh at stress. I scoff at stress. You don't stress me out… you'll have to do better than this."
Steyn complained the new clauses asserted GB News would have editorial control over his show and that the programme must incorporate Ofcom "regulatory input". They would also require Steyn and his show staff to attend regulatory compliance training sessions, which he referred to as "re-education classes".
One clause Steyn read out said: "For the avoidance of doubt, as the Ofcom licence holder, GB News has editorial responsibility for The Mark Steyn Show and all content produced for GB News by the presenter and the US producers. Therefore, the parties agree that GB News' editorial decisions shall prevail."
Another said: "To the extent that the presenter and/or the US producers do not incorporate Ofcom regulatory input into an edition of the programme, this shall be considered a material breach of this agreement, and the Mark Steyn Company shall indemnify GB News for any and all direct loss, liability, costs, including reasonable legal costs, damages, or expenses that it suffers as a result of any regulatory breach."
It is unusual for a publisher to ask a staff member to accept the costs of a regulatory or legal sanction. It is unclear from the language in the clause whether Steyn would have automatically had to accept liability for the fines or if GB News was reserving the right to pass him costs.
Steyn said in the video: "I'm on the hook there for Ofcom fines – but, and this is the important point, I don't have any say in our defence against an Ofcom complaint. That's all done by GB News. So Ofcom's bitch, as I call the compliance officer, will be making the weedy, wimpy defence to Ofcom, and then I'm the one who has to pay the £40,000 fine or whatever it is."
Steyn went on to say "Ofcom is making a big move to take over the planet at the moment" in connection with the Online Safety Bill.
Asked about Steyn's accusations, a GB News spokesperson said: "GB News takes Ofcom compliance extremely seriously. All our presenters are expected to comply fully with the Broadcast Code and there are no exceptions.
"This does not impinge on our ability to ask tough questions, express strong opinions, and debate the issues that matter to the people of Britain."
Email pged@pressgazette.co.uk to point out mistakes, provide story tips or send in a letter for publication on our "Letters Page" blog