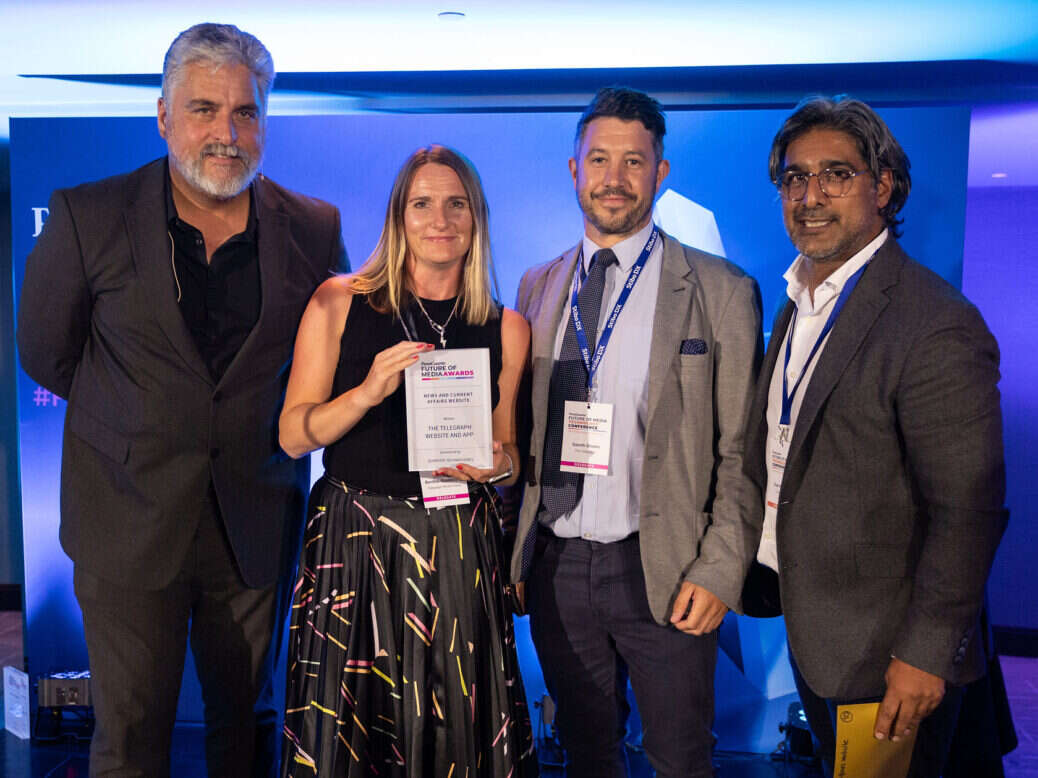 When Telegraph.co.uk won the News and Current Affairs Website prize this year at Press Gazette's Future of Media Awards event, judges commended the publisher for producing a site "impressively laid out by user needs, not newsroom priorities".
Not long after Telegraph Media Group hit one million subscribers, Press Gazette spoke with its deputy editor (publishing) Catherine Bentley-Gouldstone (pictured above, second from left) about how the newspaper clinched its prize using striking visuals and close attention to data.
[Read more: Telegraph Media Group hits one million subscriptions]
Bentley-Gouldstone, who oversees the Telegraph's homepage, print and digital production, said the win was not the result of any recent change – but rather a "programme of transformation" that began four to five years ago and is now "bearing fruit on a day in, day out level that therefore leads to a consistency of our offering".
She said the strategic change had been a shift to "thinking digitally" – which she contrasted with the widely-adopted strategy of being "digital-first".
She explained: "What I mean by that is we're not commissioning, we're not producing, we're not publishing for print and then putting it online. We are commissioning and publishing for online and then putting it in print."
Bentley-Gouldstone, who was previously the print Telegraph's chief sub-editor, said that when a publisher begins thinking "digitally as the default – not digital-first, but digital as the default – it completely changes your commissioning and your publishing".
She said that while "the paper is super important to us", the "digital-default" approach was "much more involved than thinking in terms of word counts or spreads and how much space you've got".
"At the very beginning of commissioning we will be thinking about what the headline might be. What elements might be in [the article]? Will it need an autoplay video? Does it need a graphic? Does that graphic need to be interactive and searchable, [for example] where people can put in a postcode and find data or whatever? Will it need an illustration at the top because it's not something that naturally lends itself to a main picture?"
Asked whether she felt Telegraph.co.uk had a more multimedia-heavy approach to publishing than its competitors, Bentley-Gouldstone said it was "one of the key areas of difference with us – that we are thinking of, I like to call it, 360 journalism".
Some of the things the website had done were "really ambitious", she said, for example a 3D rendering of Westminster Abbey created for the King's coronation and its agenda-setting series exposing Matt Hancock's pandemic Whatsapp messages.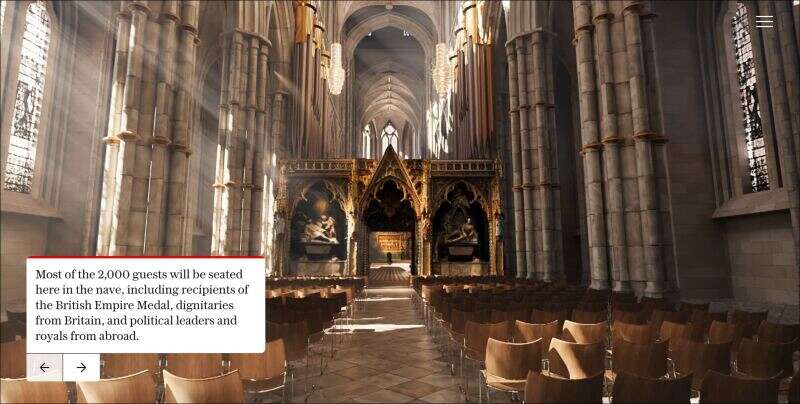 She added that "Ukraine has been one of the great successes for The Telegraph over the past couple of years. There isn't a better example of our digital offering."
She cited as an example a "Weapons of Ukraine" piece the website had published, in which a reader can "search for a weapon, and it shows it in action, it gives you the graphic, it spins around 360 degrees, it gives you the spec on it. And all of those elements – they sit as one piece, but they can be put into any article individually over time".
Bentley-Gouldstone said The Telegraph hadn't seen the same tail-off in audience interest over the war in Ukraine that other publishers had. Press Gazette has spoken previously to The Telegraph's associate defence editor Dominic Nicholls about the publisher's daily podcast Ukraine: The Latest, which Bentley-Gouldstone said had developed "a huge international following".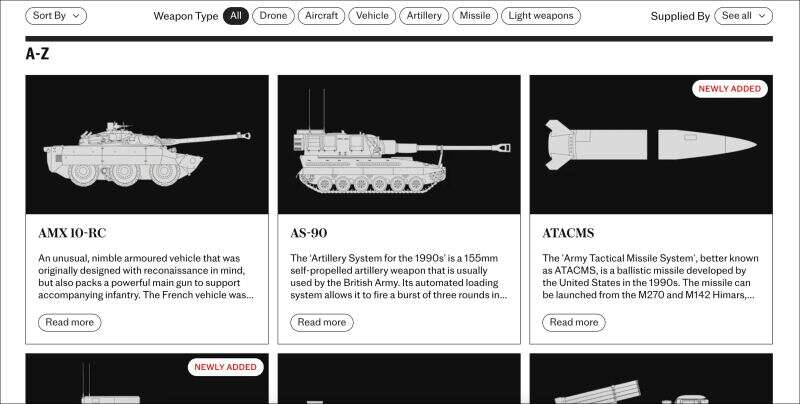 Asked about the hours involved in these visual projects, Bentley-Gouldstone said: "We spent a lot of time creating tools to make it as easy as it can be – reusable elements that we can add in again. 
"When we produced The Lockdown Files the visual stories team spent, I would say, nearly six weeks working out how to represent these tens of thousands of words from chat messages, how to recreate them to look like they did on a mobile phone.
"And that was a whole piece of development work for them for, obviously, a big project. But that technology and that tool is now available for us to use anytime we want to do it. 
"The more ambitious you are, the more you can then bring things in on a daily basis."
Bentley-Gouldstone said The Telegraph had spent the last two to three years investing in the infrastructure that goes into a digital article.
"You're not just talking about a writer, a newsdesk, a sub and the design of a page. You're talking about a graphics designer. You might need a visual storyteller who can animate a graphic. You might need a video desk, a picture desk, you need somebody who can turn it into autoplay video."
But she added that The Telegraph was cautious not to put too much visual furniture into its stories.
"We try to use them in a really intelligent way so they don't get in the way of reading the words… We've moved in the last few years to being quite clean in our presentation." 
Bentley-Gouldstone said that Telegraph readers "aren't afraid" of long blocks of text: "They're a highly-intelligent, engaged readership and they value the elegance of the publishing." 
Telegraph.co.uk editors spend 'an awful lot of time' looking at data
Bentley-Gouldstone said close attention to audience metrics underpinned the presentation of the site.
"We use data really effectively here," she explained – for example, assessing how stories perform by their times of publication, when people read them, how readers react to notifications, and the effects of tinkering with the volumes of content put out by different sections.
"So it's not just what's the content of it – it's when we publish it, how we publish it [and] which platforms are we targeting."
She said The Telegraph had "used our data to work out the reader touch points", learning the areas that did well for The Telegraph include royals, cancel culture and the war in Ukraine. Image and headline testing, as well, had revealed that Telegraph readers "tend to like very strong headlines".
Asked what else they had learned about their readers, Bentley-Gouldstone said: "We have readers who will only ever read the edition app [which provides a digital rendering of the day's print edition]," but others "who will read that and then jump over and check in with the latest version of the app a couple of times a day [the app also provides a version of the website homepage].
"There are others who will come to the [website] front page five times a day," Bentley-Gouldstone said, and "we have a fairly loyal readership first thing in the morning – Telegraph readers get up quite early in the morning. Lots of them read the letters page as the very first thing they go to".
It has "quite a healthy audience" of people who check in at lunchtime, as well, and "a very strong period" between 8pm and 10pm, when readers are highly-engaged – but demographically, the audience for the app and website are similar.
"We've played around quite a lot with how we've structured the app," she said. "We've just increased the length of it again to give more depth to it so that people can scroll for longer down it."
The addition of a puzzles tab "added extra value to it", she said. Puzzles having been an area of investment for the paper in recent years.
"I think we've made a really enjoyable place to while away half an hour," Bentley-Gouldstone said. "I think that's the key to it – if we want to be successful in a digital world, we've got to make sure that our app is enjoyable, and to our readers and subscribers [the app] is essential."
Bentley-Gouldstone also credited a focus on data for the website's success in increasing dwell times.
"​​We spend an awful lot of time across the newsroom floor looking in that sort of granular detail at our articles… When you publish a story in print, the minute that story is published that is the end of its life. It's done, that's the story done. 
"But online, the minute a story is published, that's the beginning of its life, and your options to amplify that story and make sure that it's discovered by a reader and read is enormous."
If readers aren't getting as far down a story as they would like, she said, Telegraph.co.uk editors will consider and tweak aspects like the placement, number and type of images in the article, the social channels it's been distributed on and where on the homepage or app it sits.
How Telegraph.co.uk finds – and retains – new paying readers
In August Telegraph Media Group passed one million subscriptions, assisted in part by its acquisition earlier this year of the Chelsea Magazine Company. The Telegraph has around 640,000 digital subscribers and according to Ipsos iris data it is the ninth most popular news website among UK readers with a monthly audience of 14.3m.
Asked about the role search engine optimisation played in finding new readers for Telegraph.co.uk, Bentley-Gouldstone said that while "there always are more readers to find… we have, I think, a healthy attitude towards [SEO] – which is it's there to advise us, not to lead us".
When a news story is breaking, she said, the SEO team are immediately consulted for advice on how a story should be presented.
But she added: "We do view it through the prism of the fact that we're going to ask people to pay for our journalism, and if we produce something that's the same as everybody else's – why are they going to pay for it?"
"If we were just chasing page views, that wouldn't work, would it?"
In common with numerous paywalled publishers, The Telegraph has made extensive use of discounted introductory offers. The risk with such an approach is that readers may cancel, or "churn", once they graduate onto higher pricing.
Asked how Telegraph.co.uk was approaching churn, Bentley-Gouldstone said that "it doesn't matter what business you're in – people subscribe for something that they think is going to offer good value, is going to repeatedly interest them and is going to be the same every month…
"That's the same whether you subscribe to a beauty box or a food delivery box. If you're brought in on something and it's great for the first few months, [but] then by month three you're thinking 'I'm never going to eat any of these veggies in this veggie box' – you're gonna cancel it."
She added: "It's about breadth, and it's depth, and it's consistency of execution that makes people think that the reason they've been tempted in isn't some sort of loss leader, but that it is actually a true representation of the value of something that they'll get through The Telegraph."
Bentley-Gouldstone said, for example, that Telegraph.co.uk will try to ensure a reader who comes in on a politics article is shown "our comment pieces, and [led] to the letters page where they might find people with similar views, and think, 'Okay, these are my type of people'". Or they might instead be led toward "a really interesting feature that they can graze on" or the site's recently-relaunched money section.
But it's also useful, she said, to get as long a time as possible to prove your value to a new reader.
"Annual subscriptions are always great," Bentley-Gouldstone said, "because then we get 12 months to really prove to them that this has been worth it.
"When people come in on a month[ly subscription] it's quite hard, if you don't get them to come every day, to get them to really see the full value."
Email pged@pressgazette.co.uk to point out mistakes, provide story tips or send in a letter for publication on our "Letters Page" blog