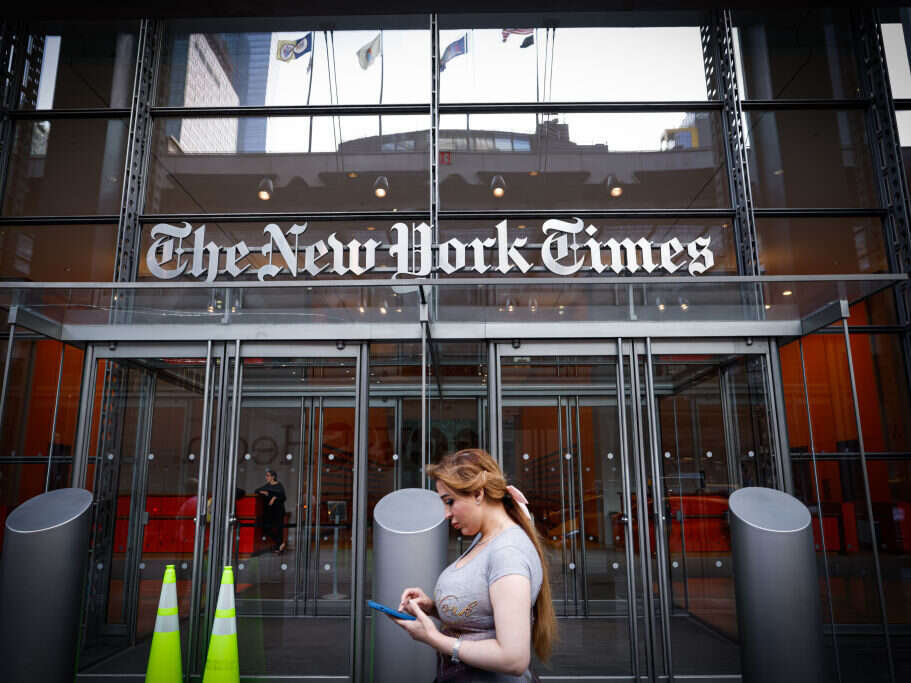 If you don't like the word "bundle", don't listen in on a New York Times earnings call.
In prepared remarks for the Q2 investor call last week, NYT Co. chief executive Meredith Kopit Levien said "bundle" 15 times – relatively restrained compared to the 46 times the term came up in the same call three months earlier.
The US paper of record is enjoying a period as one of the most commercially successful consumer news businesses in the English-speaking world.
Closing in on ten million subscribers, it has the most paying digital customers of any publisher. It returned an operating profit of $55.8m in the second quarter of 2023 and a full-year operating profit of $256.6m in 2022. The company's share price ended the day of the Q2 earnings call up more than 7% to $44, three times greater than its value in 2016.
And according to New York Times executives, a key driver of the company's revenue growth at present is "the bundle".
So, Press Gazette took a deeper look at the Gray Lady's commercial strategy to understand how the publisher hopes to use a multi-product package to drive growth – and why, if you want to buy a news-only subscription to the NYT, you're going to have to work for it.
What is The New York Times bundle?
What New York Times executives call "the bundle" is a subscription package marketed to consumers as "All Access".
All Access gets a subscriber past the paywall for all five NYT consumer products: news, games, cooking, product review service Wirecutter and sports news site The Athletic.
The All Access subscription is heavily marketed across New York Times properties at a steep discount: a US reader can pick it up for $4 a month for the first year (£2 a month in the UK), down from the typical price of $25 (or £12). After the first year the subscription graduates to full price.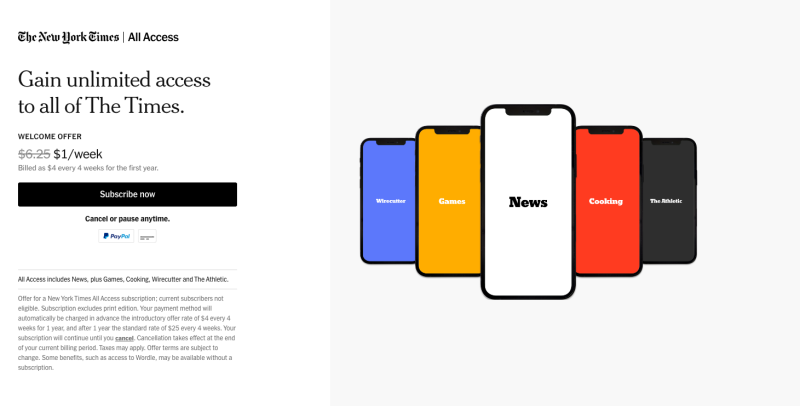 It has now been more than a year since the NYT began its campaign to push the bundle, and it appears those subscribers are not cancelling once exposed to the higher prices.
Subscription revenue in Q2 grew slightly faster year-on-year than total revenues did, rising 6.8% versus 6.3%. Across Q2, subscriptions accounted for 69.3% of the company's turnover while digital subscriptions specifically made up 45.7%.
In its Q2 earnings release, the NYT said subscription revenue had grown "primarily due to the larger number of subscribers who are paying higher prices, growth in the number of subscribers to the company's digital-only products and subscribers who have upgraded to the bundle".
More than a million NYT subscribers began paying higher rates during the quarter – "primarily a result of subscribers whose introductory promotional prices have graduated to higher prices and the implementation of price increases on tenured subscribers for our digital news and games subscribers".
Kopit Levien indicated to The New York Times Company investors that growth in subscriber revenue was set to continue. More than half the Times' new digital subscribers in Q2 signed up to the All Access bundle, and some 500,000 subscribers will graduate to higher pricing before the end of the year.
"The high levels of engagement we see with early tenure bundle subscribers give us confidence that we'll be able to continue stepping up subscribers to higher prices as their tenure increases," she said.
[Read more: How games are powering online subscriptions at The New York Times]
What's so good about the bundle, though?
The most obvious reason that The New York Times would want to push the bundle is that it's the most expensive consumer product it offers. 
But Kopit Levien explained to investors in May that the bundle has other benefits for the company: "Strong uptake of the bundle is a positive signal of revenue growth potential, because the average bundle subscriber engages more, pays more and retains better than the average single-product subscriber."
On the same call, Roland Caputo, then the company's chief financial officer, explained why the company wanted to see people upgrading from the news-only subscription to the bundled one.
"You don't see an increase in total subscribers from that – you have a switch from one category to the other," Caputo said. "We like that! We like the bundle subscribers – they retain better, we think they'll have a longer life with the company [and] they'll ultimately pay more. So that should be a positive contributor, both to ARPU [average revenue per user] in the near and long term, and also to lifetime value."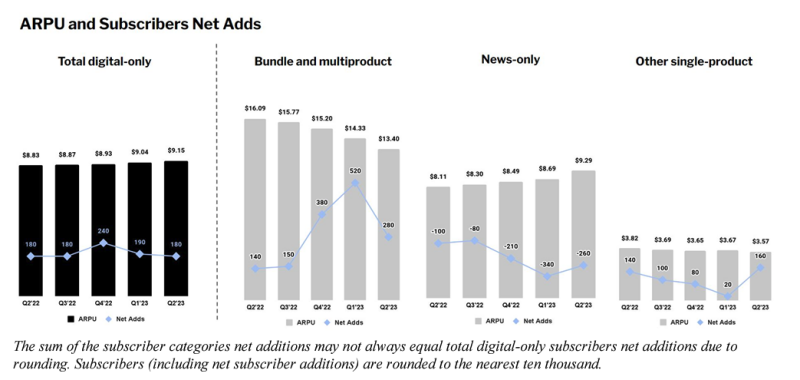 This is illustrated in the company's Q2 earnings report. In the last quarter, monthly ARPU for subscribers signed up to more than one product was $13.40. For news-only subscribers that figure was $9.29, and for other single-product subscribers it was $3.57.
ARPU on news-only subscribers has been rising over the past five quarters however, presumably because of price rises and subscriptions graduating onto full price. The ARPU for multiproduct subscribers has been dropping over the same period – possibly reflecting how many NYT customers are signed up to a discounted offer.
Kopit Levien also touted the Times' diversification across the five product areas as a key way that the publication is combatting the decline in social media referral traffic.
"We anticipated ecosystem change. We've got a really good track record of evolving around it. And we now have this wide product set that gives value to people in lots of different ways. 
"Sports journalism, recipes, shopping advice, games – those all attract audiences in different ways. Four of our five products are also destinations. We've got a very big registration model, lots of emails and lots of ways to be in touch with people.
"So I would say: we're feeling the pressure from the referral sources, but we're also doing a lot of work in the short-term to counteract that. But also, to build the audience funnels for each product, which is really meant to be the medium and long term game on counteracting that."
[Read more: How Facebook referrals to publishers have plummeted]
In the future there will be no news subscriptions… only The Bundle
The company is so intent on pushing the bundle that it appears to have dropped promotional pricing on most of its other products in a bid to guide consumers to the All Access subscription.
Single-product subscriptions to the New York Times games and cooking sections (both $5/£3 a month) were previously offered at half price for a year, but anyone signing up now has to pay full price – which is more expensive than the discounted bundle.  
More significantly, it no longer appears to be possible – or simple, at least – for a new subscriber to purchase a news-only digital subscription at all. The company took the news-only subscription option out of its subscription page in early June, meaning readers who want access to the Times' journalism have little choice but to buy the bundle.
A New York Times spokesperson told Press Gazette that "we still sell news-only subscriptions but are not currently actively promoting it online". However, a customer service representative who we spoke to through the Times' chatline said news-only "is no longer being offered as a single subscription".
When told about the spokesperson's comment, the representative suggested a telephone operator might be able to apply the subscription manually – so while technically possible, the NYT is evidently steering consumers well away from news-only subscriptions.
Standalone subscriptions to The Athletic, however, remain both available and discounted – a UK reader can purchase access for £1.99 a month for the first year, down from the full price of £7.99.
Kopit Levien said in May that the company's main goal for The Athletic at present is "strong audience growth", in part because once it has "a really wide audience who come to use every day… they get to know the whole of the Times as they do that". Nonetheless, at only £0.12 more costly a year, a reader might well be inclined to opt for the All Access bundle over a discounted Athletic subscription.
It isn't just first-time subscribers the company is trying to get onto the bundle either. Kopit Levien said on the May earnings call that the company had begun "rolling out price increases for tenured non-bundle news and games subscribers towards the end of [Q1], and we are pleased with the early results.
"We expect this component of the playbook to increase digital ARPU in Q2 and beyond, while driving even more people to the bundle as its relative price becomes more attractive."
In the US, news-only subscriptions are set to rise from $17 to $20 while games-only and cooking-only will go from $5 to $6.
And in Q1 the company graduated some 500,000 news-only subscribers to higher prices. The author of this article can attest to that: I'm still on a grandfathered news-only subscription, and once I hit the one-year mark my sub went from £2 a month to £4.
Today, the NYT is trying to seduce me up to the bundle – offering a half-price All Access subscription for six months. Wherever I go on nytimes.com, I am haunted by a pop-up beseeching me to complete my Times experience for only 50p a week more (see below).
But for now, alas, I remain a drag on ARPU. Sorry, Meredith.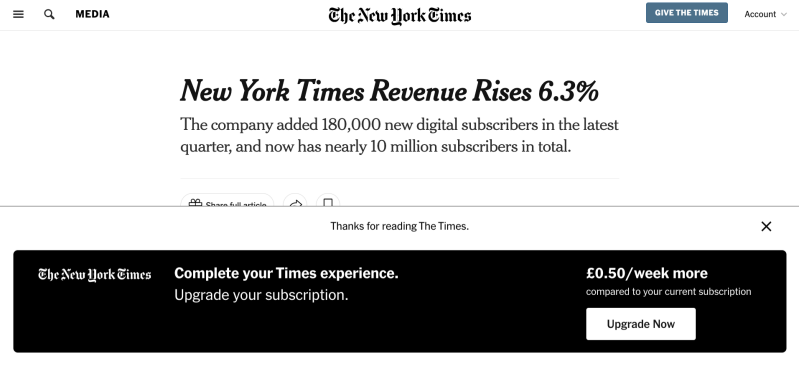 Email pged@pressgazette.co.uk to point out mistakes, provide story tips or send in a letter for publication on our "Letters Page" blog