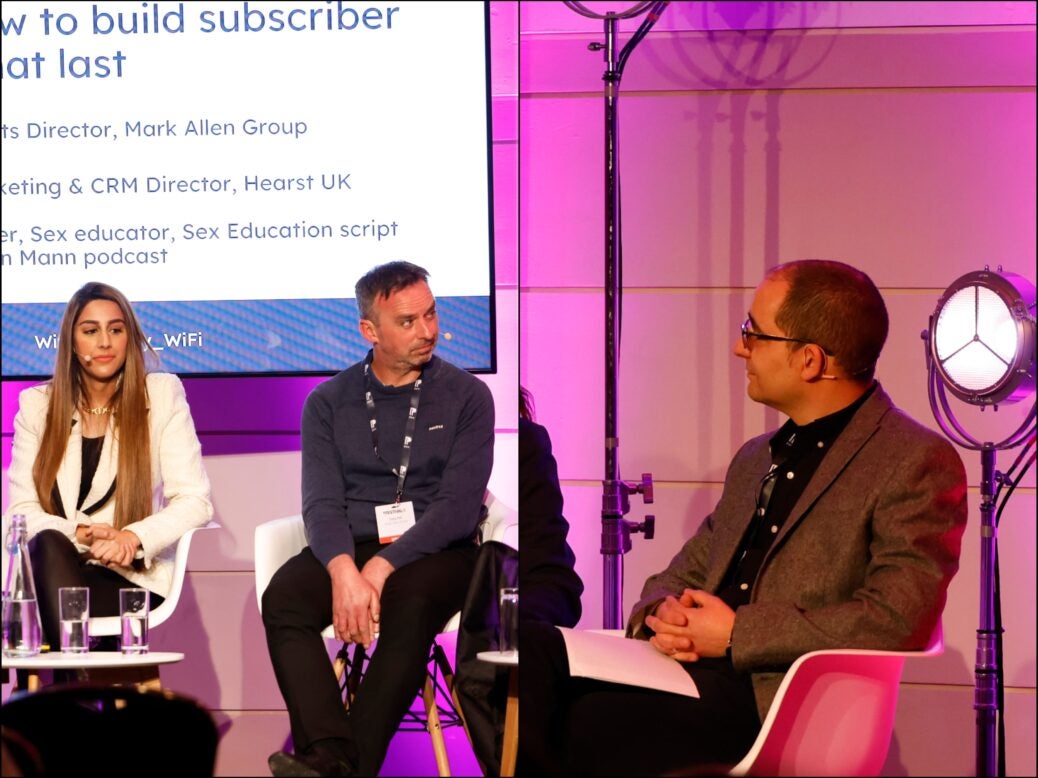 "Friendly friction", personal phone calls and positive reinforcement are among the subscriber retention techniques advocated by marketing and retention bosses at Immediate Media, Hearst and Mark Allen Group.
Subscriber retention was a key theme of last week's PPA Festival in London, coming up in multiple sessions – indicating a shift in focus from growing subscribers particularly during the Covid-19 pandemic, to keeping them on the books.
Ed Garcia, head of retention at Immediate Media, revealed that Gardeners' World Premium, launched under a year ago, has unlocked new ways of engaging with print subscribers other than waiting in the dark to see if they will renew at the end of their contract.
Gardeners' World Premium offers exclusive digital content including expert advice from the likes of Monty Don and Alan Titchmarsh, a monthly Q&A, ad-free podcasts, videos, newsletters, discounts and competitions.
It costs £4.99 per month – but the brand has offered premium online access for free to all of its print subscribers.
Referring to an example real-life subscriber named John, Garcia said: "The objectives were first of all to add value to those print magazine subscribers… but then, more importantly, we're using it as a way to try and engage with these subscribers.
"So we don't know whether John's sitting there going from cover to cover in the magazine, but we can see whether he goes online… the next objective was to use that data to then personalise our relationship with John, to personalise how we communicate with him, what content we get him to engage with that we think is relevant to him – and then ultimately all we're trying to do is increase our retention."
Garcia revealed 90,000 print subscribers to Gardeners' World have now unlocked their free access to Gardeners' World Premium – saying that means half of the magazine's print subscribers have now engaged with it online.
Those who have unlocked their online access renew nine percentage points higher than those who have not – making it worth £234,000 per year in subscription revenue, he said.
Showing the size of the renewal bump, Garcia said there is a 74% renewal rate for those print subscribers who have unlocked the digital access but have not interacted any further with its content.
He said that is "still pretty good" but "jumps up" further to a 92% renewal rate for those who have logged into premium within the last month and a 96% renewal rate for those who have logged in 15 or more times in the past three months.
"Even within that nine percentage point increase there's still a lot we can do to improve retention based on the frequency and recency of their engagement with us," he said.
Garcia added: "Now we've got a way of predicting whether John is going to renew or not – we don't have to sit back and just wait to see what happens. We can basically see his engagement, see what content he's looking at, see if he's expanding his content… and we can predict based on that whether he's likely to cancel his subscription."
The brand can respond to signals that someone is not likely to retain by sending personalised newsletters and other communications, for example to get them excited for the arrival of the next print magazine but point them towards specific online content they may like in the meantime.
Immediate Media has launched something similar on other brands including offering BBC History and History Revealed subscribers access to History Extra, again a "standalone digital subscription product in its own right".
Radio Times subscribers get free access to the Radio Times app and to its puzzles site. Garcia said this ties in to Immediate's mission to give people what they want, as Radio Times readers love puzzles: "I guarantee you that we've got somebody who's completed 50 crosswords in the last month. They're not going to cancel… what are they going to do with their free time? If they stop doing puzzles, then I'm in contact with them to check they're okay."
How Hearst stops one in three subscription cancellations
At a later panel Seema Kumari, senior director of consumer marketing and CRM at Hearst UK which publishes the likes of Elle, Cosmopolitan, Country Living, Good Housekeeping and Men's Health, revealed the publisher's latest data shows it has managed to stop 32% of people who planned to cancel a subscription from doing so – acknowledging the figure "seems too good to be true".
She advocated the use of a "really simple" pop-up when people try to cancel online, suggesting it is a method of introducing "friendly friction" to the process.
Kumari said: "There's nothing more annoying than having to struggle to cancel a subscription or a membership and straight away that negativity is associated with the brand once that happens, you've lost that customer. So my theory is keep it simple, allow as many options as possible, but actually once that customer's on the journey, that's when the friendly friction starts.
"And I don't mean hide the call to action button or just make it impossible to cancel. It's about using really subtle forms of behavioural psychology… to try and reinforce the benefits of why that customer is a subscriber in the first place."
For example, she suggested using "positive reinforcement" – not just at the cancellation stage but sooner, for example on the anniversary of signing up for a newsletter – which may include telling people how many newsletters they have opened and how many stories they have read. "People love this stuff," Kumari said.
She related it to Amazon's audiobook offering Audible, where she has been a customer for seven years and tried to cancel about four times but always been won over by the offer of a free credit worth £7.99.
"Going back to friendly friction – I think their cancellation journey is brilliant and also how they write to me not to sell me about 20 books that I haven't listened to, but they tell me about how long I've been listening, and the genres, and my peak day… I love this," she said. "They're telling me about my usage in positive reinforcement."
Tony Hill, marketing and events director at Mark Allen Group, also praised Spotify's Wrapped feature, which gives users their stats each December on what songs, artists, genres and more they have been listening to the most that year.
Speaking at the same panel, Hill said: "More and more of our readers are now converting online and using our online products and you can see what they're doing. Let's play back to them all of this stuff they're doing… [it's] habit forming, can we say to them every single Wednesday you receive this newsletter and you read it and these are the articles you've been clicking on?
"I think giving back to our audience what they've consumed is a really good way of making sure you get that renewal."
Talking to people is most effective strategy
Hill also advocated for simply picking up the phone to subscribers for a chat as they approach their renewal date.
"Talking to people, actually, is probably one of the best things to do," he said, "because we're kind of hidden behind this digital boom of sending emails, sending reminders, in the past sending letters.
"Something that we've been using more recently is the telephone. Picking up the telephone and talking to our customers."
He said the conversation usually will not focus on whether or not the subscriber is going to renew but instead may be a chat about the weather for Farmers Weekly subscribers or dentistry for The Dentist.
He said: "They want to talk to us because we're like them and actually the call is a reminder for them. Quite often they're like 'thanks for the call, I'll get round to doing that now' and I guess the only thing is there's always a disconnect – they don't do it straight away that minute but in the coming days they'll go back and think I'm going to renew that."
Tracking links often show the person goes on to renew from an old letter sent months ago that has been sitting on their desk that whole time.
Hill mentioned the Farmers Weekly exclusive that made newspaper headlines last month when it revealed a food manufacturer had been passing off foreign pork as British and mixing rotten meat in with fresh product.
He said despite its widespread pick-up and interest, the story had not led directly to an uplift in sales but that it is one part of proving the value of the brand to subscribers and potential readers.
"Did our subscriptions go up on the back of that story, did we suddenly sell loads more copies on the newsstand? No, we didn't," he said. "The content we produce has to be consistent, we have to continue to break stories, continue to give information that's relevant, and then in time – you have to be patient – I'm sure those subscriptions will come through [and there will be] an increase in sales."
Hearst's Kumari also reassured publishers over the requirements being brought by the Digital Markets, Competition and Consumers Bill that will require them to inform subscribers before a trial period is up or before their contract is set to auto-renew.
She said that when she first heard about the plan "I admit there was a slight 'oh shit' moment – what is going to happen to our subscription base?
"But I think like with any legislation there's doom and gloom but then you turn it around and I think GDPR is a perfect example. We all thought the world was going to be over but it's probably the best thing that happened – it's given us all a bit of a shake-up and refocus on engagement rather than vanity metrics.
"So it could be a concern, but I think personally I'm less worried now. I think as long as you believe in your product, you communicate that value exchange and the benefits and… when customers do cancel there's a comprehensive plan all triggered, all set up in the back end to try and win those people back, then I don't think there's… anything to worry about."
Email pged@pressgazette.co.uk to point out mistakes, provide story tips or send in a letter for publication on our "Letters Page" blog