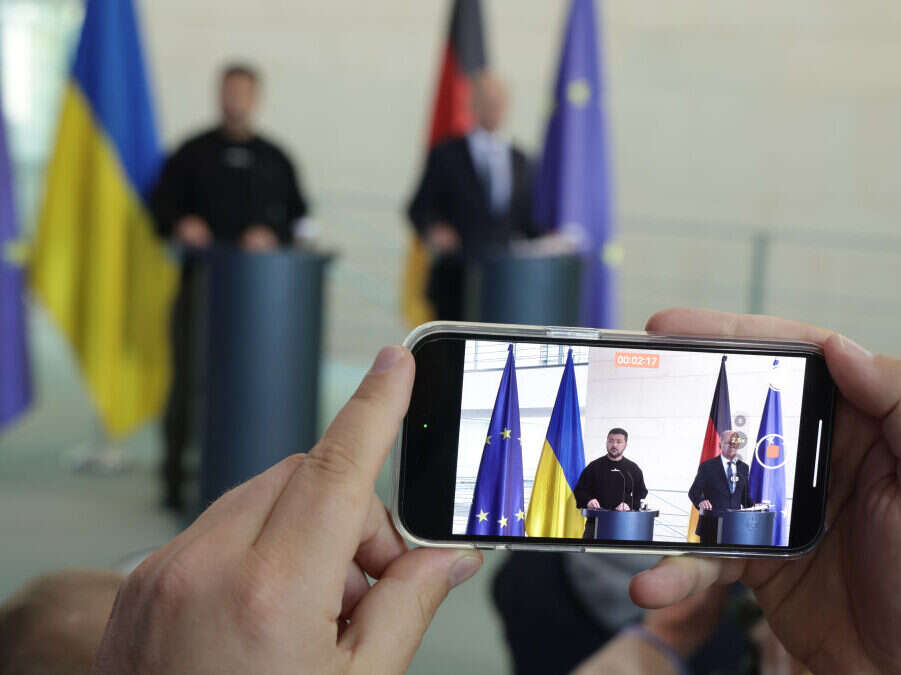 The past year has seen an increase in grant funding, some reported self-censorship and a "pivot to video" among Ukraine's local media, according to a survey of the country's regional publishers.
Research by Ukraine's Media Development Foundation suggests the country's local journalism is on a firmer financial footing this year than the spring that followed the Russian invasion.
And it finds the beleaguered country's regional newsrooms have actually grown markedly – but nonetheless report shortages of staff and funding as their most pressing concerns.
The fourth annual "State of Local News in Ukraine" report collects the results of questionnaires completed by 44 newsrooms, 39 of them regional media organisations and five of them national. Those questionnaires were supplemented by ten interviews focusing on news outlets located nearer to the war's frontlines.
The Media Development Foundation said collectively the organisations polled employ "548 specialists", a term that covers journalists, editors, designers, SEO and social media staff, as well as more commercially-oriented employees for example sales managers and accountants.
Some 64% of responding newsrooms said they have more employees now than before the war, while 27% reported having fewer. Television media, the report found, tend to have been more likely to shrink than their text-based counterparts, who have tended to grow.
The respondents collectively hired 109 workers in the year preceding their answers, implying an approximately 25% growth.
Half the media outlets surveyed said grant funding had increased by more than 50% since the last survey in spring 2022, shortly after Russia began invading. Grant funding decreased at only one newsroom and stayed the same for 22% of respondents.
The report said that at many of the organisations surveyed, "the focus has shifted from organising sales departments to establishing grants management teams".
Lack of funding and staff wellbeing are main challenges
Some 43% of respondents said they had at least one employee serving in the Ukrainian armed forces, and that "losing key employees has impacted 18.2% of media organisations, with their responsibilities being distributed among current staff members". Reporters and social media staff, the report found, were the employees apparently in shortest supply.
The report suggested that there had been an increased adoption among local newsrooms of risk assessment and mitigation strategies, as well as attempts to acquire equipment to offset the risk of power outages.
The most common management challenges identified by respondents to the questionnaires was a lack of funding and maintaining wellbeing and motivation among staff, with each issue being cited by 23% of newsrooms.
Some 45% of responding newsrooms said their budget was sufficient to sustain them over the subsequent three months; 11% felt they had funding for the next year, and 18% the next six months. Just over a quarter said their finances would only see them through only the next month – a modest improvement on 2022's report, when that figure stood at 23%.
But the report said: "Comparatively fewer respondents have plans for the post-conflict period, with many prioritising rest over further work. Presently, the number of editorial teams feeling 'normal' is equal to those feeling 'bad'."
Nearly half of respondents (44%) said they receive financial support from readers, which the report said most often came "through Patreon, and less often through Paypal, bank details, banks, membership subscriptions or Youtube sponsorships".
Four-fifths of newsrooms said they publish exclusively in Ukrainian. Some 10% apiece said they offer either both Ukrainian and Russian or both Ukrainian and English. In contrast, in 2022 a fifth of respondents said they published in Russian, and in 2021 a quarter.
Self-censorship an increasing trend?
The report also identified a theme of "self-censorship" among local media, but did not gauge its extent – explicitly referring to only one respondent who it said had "admitted to deliberately strengthening self-censorship within the editorial team for the sake of 'doing no harm.'"
But the report went on to imply there was a broader trend: "A typical manifestation of self-censorship in local media involves a reluctance to independently raise topics that could potentially displease local military administrations…
"Local editorial teams often accept formal letters from authorities without insisting on meaningful answers, rationalising this as a wartime-specific practice. In turn, authorities exploit this fact and manipulate the media to their advantage, thereby reducing the likelihood of public disclosure of topics they find undesirable."
[Ukraine war: Without local media, no one would have heard the cries for help]
With regard to content trends, the report identifies "a clear desire and effort among editorial teams to create more video content", saying 52% of respondents articulated this goal. That figure last year stood at 38%.
The survey also identified a growing podcasting trend, with three newsrooms starting audio shows in the past year and seven describing interest in doing so.
Email pged@pressgazette.co.uk to point out mistakes, provide story tips or send in a letter for publication on our "Letters Page" blog