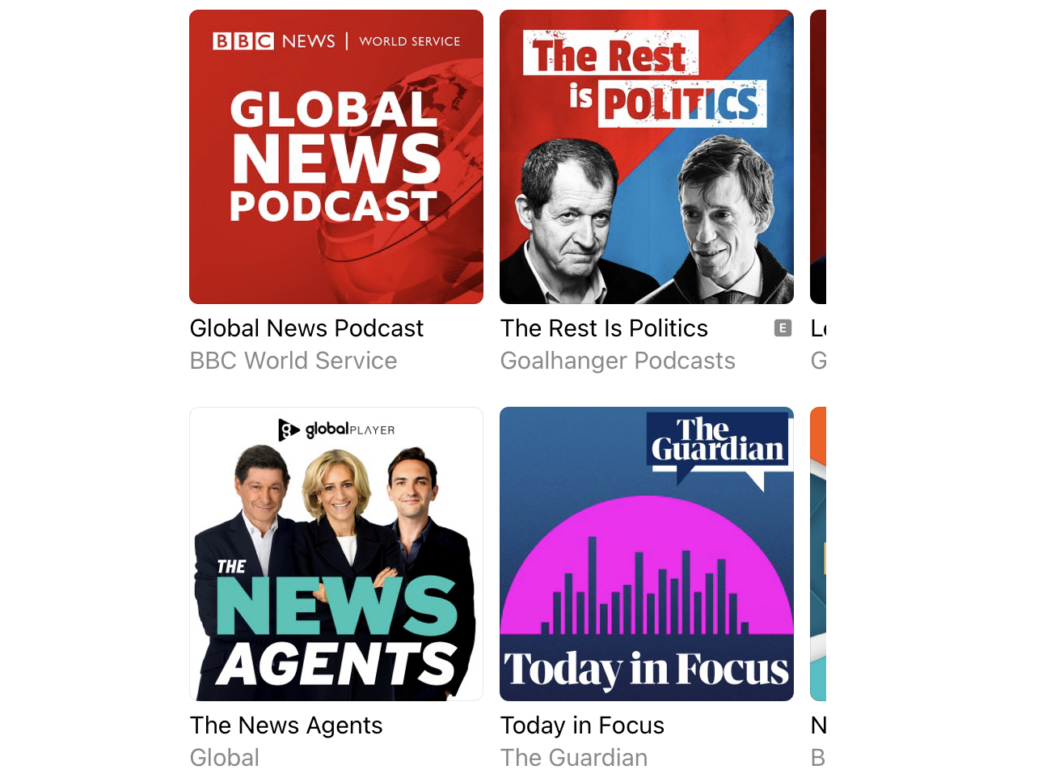 Five publishers in the UK became "probably the most influential" in the podcasting ecosystem by investing enough to overcome the "chicken-egg situation" that stops many news organisations from putting the money in.
The Guardian, Times, Economist, Financial Times and Tortoise took podcasting "really seriously", investing in audio teams and strategies, and it has paid off, according to Acast's partnerships manager who works with publishers in the UK.
The five publishers are now joining together for the UK's first Publishers in Podcasting consortium, coordinated by Acast, through which they will share best practice, expertise and experience. Their first meeting is being held today (Thursday) and they will continue to meet every six months with smaller working groups catching up in between. If it works, the consortium will be expanded first to other UK publishers and then, later, globally.
Alexandra Fuller, senior partnerships manager at Acast, told Press Gazette: "Although podcasting is a very established medium, it's still new enough for people to really benefit and feel great about sharing experience because sometimes it does feel like a little bit of an experiment in what's working and what's not working."
Fuller said the publishers taking part, who she described as "probably the most influential" in the UK news podcast market, had done several things to help themselves stand out.
Noting that The Guardian claims to have invented the term "podcasting" in 2004, Fuller said: "I think part of it is, and only a small part, is that a lot of them started early. They were very early adopters… so they've been going for a really long time. But when I say that's only a small part, that's because we also have Tortoise Media, who have fast become one of the most influential voices in podcasting…
"So I'd say there's a part of that but I also think the string that pulls them all together is how seriously they take podcasting. Podcasting can be a bit of a chicken-egg situation where you need the money to be invested before you see any return so it's quite tricky for a lot of publishers because they don't see any return so they can't invest anymore on it and it goes round.
"But these publishers who have taken it really seriously and have whole audio divisions and strategies and teams dedicated to podcasting have just really come out to be the most influential voices in podcasting and have such large audiences and also podcasts are a great funnel for the rest of their brands, so I think it's really paid off all their investment and also seeing podcasts as a different medium to the rest of their business. So even those who have been quite prolific in radio treating podcasting different to radio and realising why it's different."
Daily podcasts were 'quite a risk' – but paid off
Fuller continued: "Another thing that they've all been doing is innovating. So especially with Tortoise, they're always trying new things, and I think not being afraid of trying new formats, reaching new audiences, I think that's another common thread." Tortoise last year revealed that its audio team had become profitable within its first 12 months.
She gave the examples of The Guardian (describing Today in Focus launched in November 2018 as a "trailblazer"), The Economist (with The Intelligence from January 2019) and The Times (with Stories of Our Times from March 2020) all trying out daily podcasts "really early on, which is quite a risk because it's a lot of time and investment trying to turn around a daily podcast, especially at the high quality that they churn them out at, but it was that testing and innovation which made them succeed." The FT (FT News Briefing, launched in October 2018) and Tortoise (Sensemaker Daily, from January 2021) also have daily news podcasts among their stables.
At the consortium, Fuller said, the publishers may want to discuss best practice in areas like audience growth on Instagram or for using Youtube for video podcasts.
"The podcasting industry is obviously constantly changing," Fuller said. "There's new players there every day, there's always new opportunities, whether that's subscription products or Youtube or all these new things that come out that everybody's really trying to understand.
"We tend to get the same questions from all the different publishers around the same time when news comes out, and we were just thinking why aren't we pooling all this information together, especially because a lot of the publishers are at different timelines in their journey as well. So, for instance, News Broadcasting [The Times, Talksport, Talkradio, The Sun and Virgin] use Youtube a lot, whereas somebody like The Guardian doesn't, so we just thought there's so much information sharing that could be going on here that we haven't really capitalised on."
Fuller said among the shared topics being discussed by publishers at the moment are how to get more people into podcasting, how to get a wider range of ages into podcasting, especially for Gen Z and the over-55s, and how to monetise podcasts including converting listeners to subscribers and vice versa.
Speaking about reaching new audiences, she said: "We've seen a lot of growth there already, but it's just capitalising on that and getting as many people in as possible and publishers are the perfect people to do that because you have those audiences as well whether that's in actual physical copy of newspapers or digitally or on Tiktok, so they're in a great position to work together to increase podcast listening as a whole."
Monetisation: Diversification recommended
Acast usually works with publishers in areas including hosting, distributing, monetising, promoting and audience growth on a revenue share agreement taking a small cut of their advertising and sponsorships. It works to help news organisations and other creators to monetise their content in several ways.
"Something that we're always advising is to try and get publishers and creators or independent creators to diversify their revenue streams so they're not just reliant on one, especially in the advertising climate that we're in at the moment," Fuller said.
Traditional 30-second pre-recorded podcast adverts are still part of the mix, as are host-read sponsorship adverts – although Fuller noted publishers usually do these differently to protect the journalistic integrity of their hosts.
There is also branded content, which Fuller said is "a little bit less common with publishers, but it definitely still happens", as well as subscriptions – although these remain tricky at times due to the difficulty of transferring subscribers between a publisher's ecosystem and podcast app, for example.
Overall, Fuller said there is much more growth to come in the publishing podcast market: "I don't want to sound cringe, but I think we're only just started. I think we're definitely in a golden age in some ways, but I think we've got so far to go as well."
Acast works with almost every large publisher in the UK, including the likes of the New Statesman, Politico, Hearst, the New Scientist, Stylist and the Evening Standard (as well as Press Gazette's Future of Media Explained podcast).
Fuller cited Acast research that found growth of 18% in the platform's publisher listens over the last two years, while one in five listeners to news podcasts said the medium was their primary source of news.
She added: "I think it's just going to get more and more of the mass appeal. I mean, it already is a mass appeal but as I said to new audiences, new people coming into podcasting, older, younger, more diverse audiences as well.
"I think podcasting is a really great medium for different audiences because it can be whatever you want it to be, and there's so much out there and I think you're going to see different kinds of publishing houses and media networks getting involved as well. So I really think that it's going to keep on growing. I definitely don't think we've reached the zenith."
Email pged@pressgazette.co.uk to point out mistakes, provide story tips or send in a letter for publication on our "Letters Page" blog