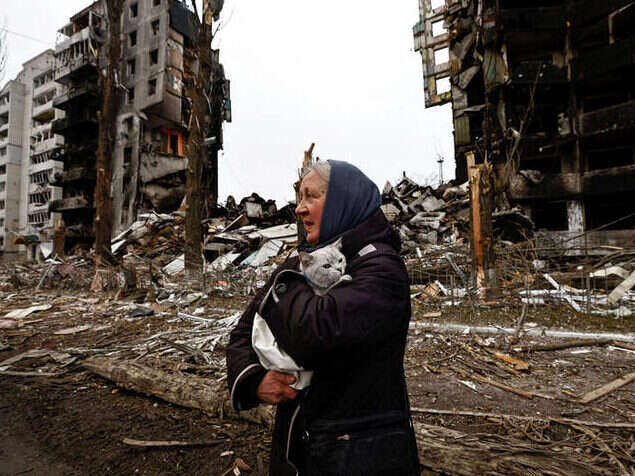 Since the Russian invasion of Ukraine in February 2022, the world has relied on photojournalists to illustrate the conflict and its impact on the people of Ukraine and Russia. Photography is a powerful medium to inform and educate, to bring to the world events and stories that they otherwise wouldn't see, and to preserve history.
The Russia-Ukraine war is the largest Europe has seen since World War II, more than 80 years prior. In the midst of the Second World War—at a time when there were threats of censorship and propaganda—Reuters established the Trust Principles to ensure independence, integrity and freedom from bias in the gathering and dissemination of news and information.
Just as in the 1940s, access to trusted and independent information is critical as the conflict between Russia and Ukraine rages on. While being affected by scenes of a conflict is inevitable, Reuters photojournalists on the ground aim to bring the conflict to life impartially, providing a window on both sides of the conflict. 
Their reflections and eyewitness accounts capture the experiences of Russians and Ukrainians swept up in a gruelling year of war. In their pictures, we see moments of shock, tragedy and deep loss. But we also see beauty, resilience, compassion and hope.
Reuters photojournalists on images from Ukraine:
Gleb Garanich
"It was the second day of Russia's full-scale invasion of Ukraine and Russian troops were closing in on Kyiv. I received information that in one of the districts of Kyiv there was a battle with Russian military or saboteurs, and we went there to check. The streets of Kyiv were empty, there was no exact information about what was happening, everyone was waiting for the capital to be stormed.
"When we were returning to the office, I saw how young servicemen of the Ukrainian National Guard had taken up positions on the bridge in central Kyiv and I managed to take a few pictures through the window of the car. It was very strange to see young servicemen, almost children, lying on the pavement with weapons. I was struck by this view."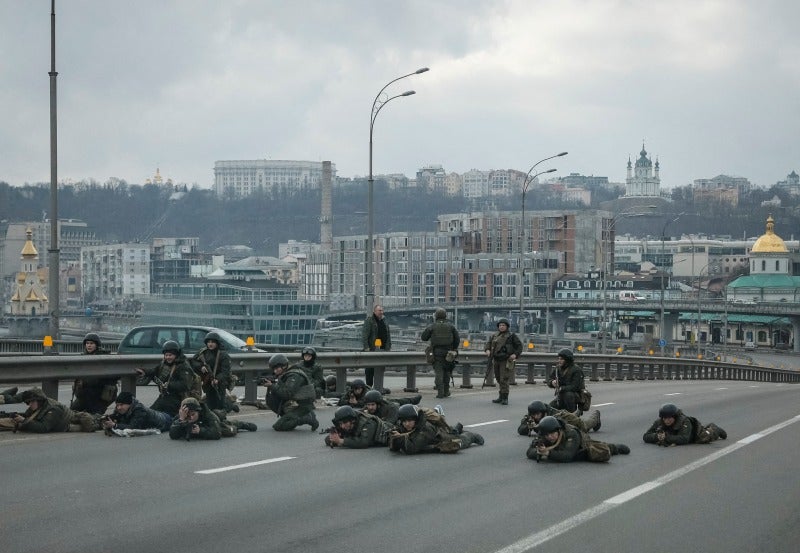 Clodagh Kilcoyne
"I spotted this woman sitting on a refugee transportation bus after she had crossed the border from Ukraine into Romania at the crossing of Siret.  She was quietly sitting on the bus with her eyes cast downwards onto the ground in a seemingly catatonic state.  Her gaze never lifted from the ground, just a single tear drop ran down her cheek.  Of all the images I shot on the border and in Ukraine on the front line, this is still the saddest one."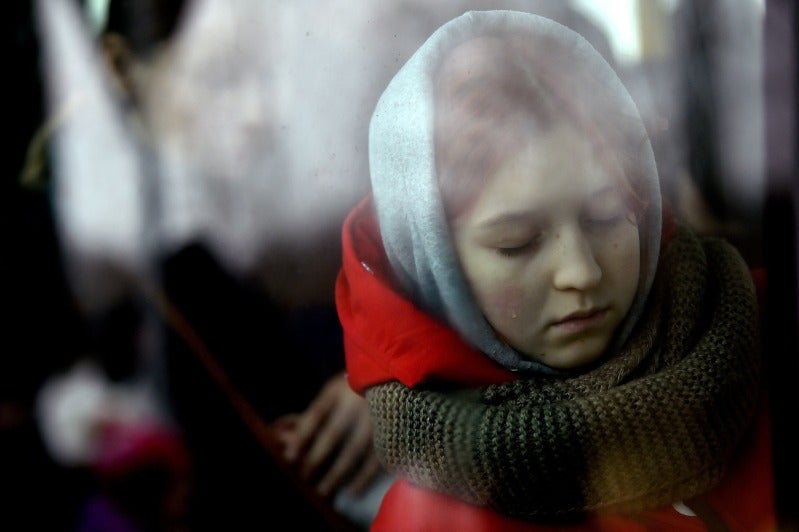 Zohra Bensemra
"When the Russians had pulled out from Bucha, I was far from thinking that I would have to walk through a street full of bodies. I was shaking. Each body represented a person who must have had a family that was waiting for he or she to get back home. I was drawn to the hand of the only woman's body and her nicely polished nails.  A heart design on one of her nails gave me an idea of what she was like – a woman who loved beauty and life."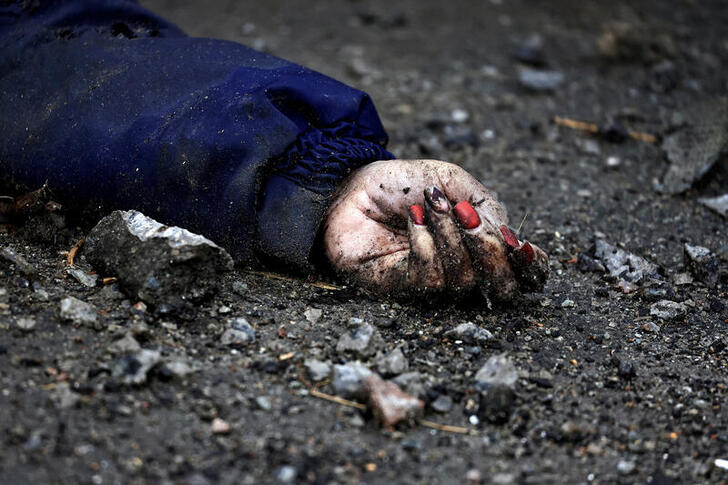 Zohra Bensemra
"The way this woman carried her kitten gave me the impression that she carried all her remaining worldly possessions with her – and that it could even be the main thing keeping her alive. Most elderly people had refused to leave their homes. This photo makes me feel the resilience of people living through conflict."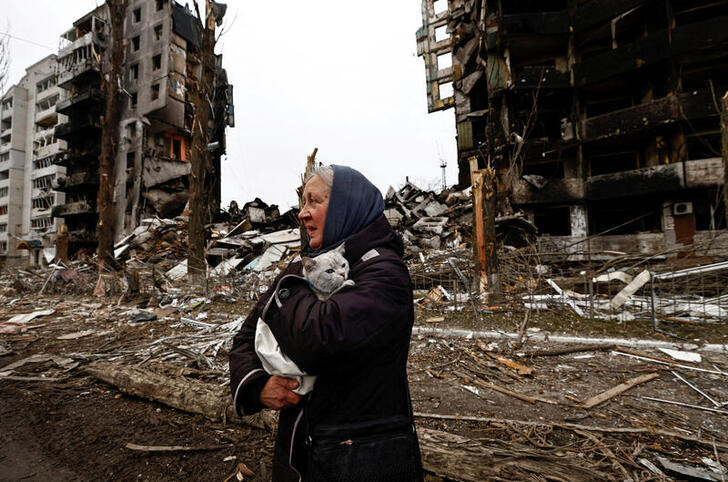 Alkis Konstantinidis
"After some time in Kharkiv, Ukraine, I knew the city rather well.  We heard news of another missile attack and within minutes arrived at a Soviet-era apartment complex.  As we drove into the complex, I caught a glimpse through my window of a woman exiting one of the buildings with a terrified expression. The woman was Yana Bachek, an English teacher. Her father, Victor Gubarev, a former driver, had been killed near his home by a shell fragment while he was out buying bread.  Minutes after the explosion, Yana rushed to him and mourned over his body, with her mother and partner next to her.  The ambulance crew had to hold her back as they carried her father's body away."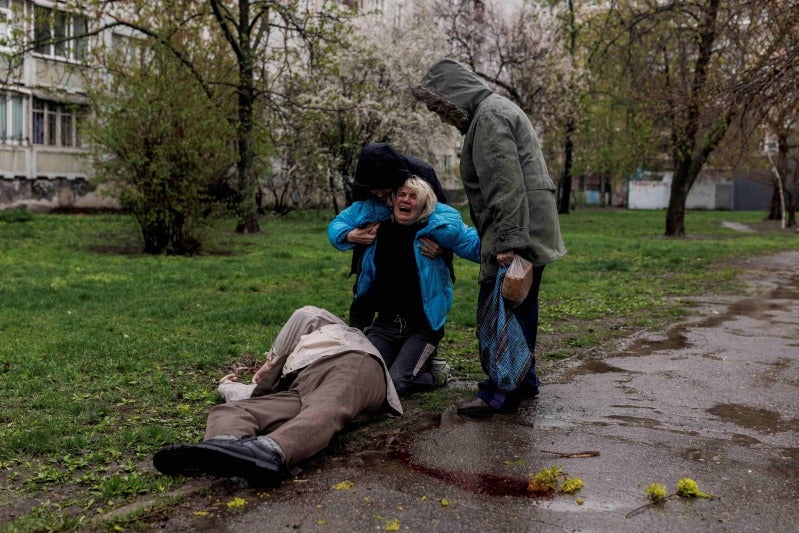 Shamil Zhumatov 
"Since Crimea had been annexed by Russia in 2014, local residents had been living under Russian national law.  As a result, men were drafted to join Russian military combat operations in Ukraine as part of President Putin's countrywide troop mobilization on 21 September 2022.
"Alexey Pavlishak's picture of this departure ceremony for drafted men was held in the naval city of Sevastopol.  According to Russian Orthodox tradition, the priest conducted a blessing ceremony, scattering holy water on the conscripts prior to their departure to army bases."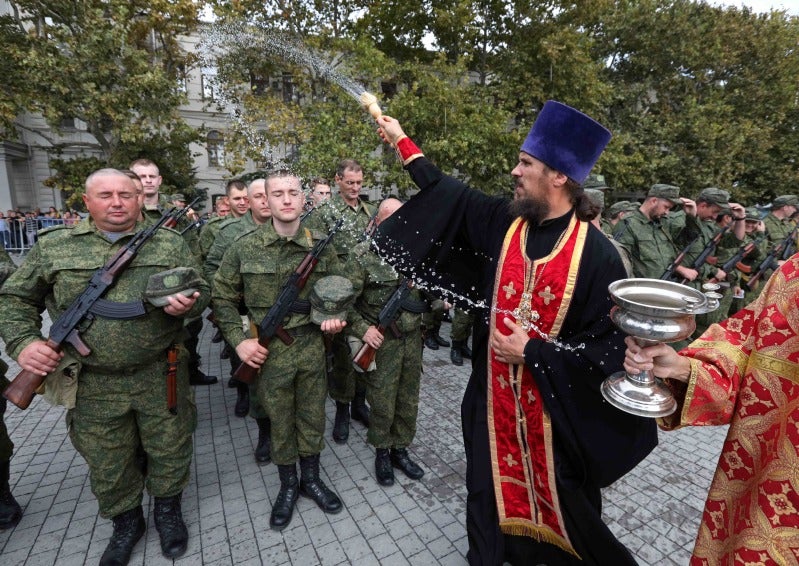 Alexander Ermechenko
"Our work in Russia consists of a lot of negotiations with military and civil officials. Sometimes you need to spend days or even weeks to get anywhere. Besides this, you are always in a hostile environment. Whether you're at home or at work, danger in the form of shelling, for example, persists everywhere.
"Mobilised Russians from different regions of the country were taking part in training in the Donetsk region.  One of the exercises was shooting rocket propelled grenades. I tried to find an unusual angle and as a result I captured a group of mobilised soldiers watching colleagues take part in the shooting."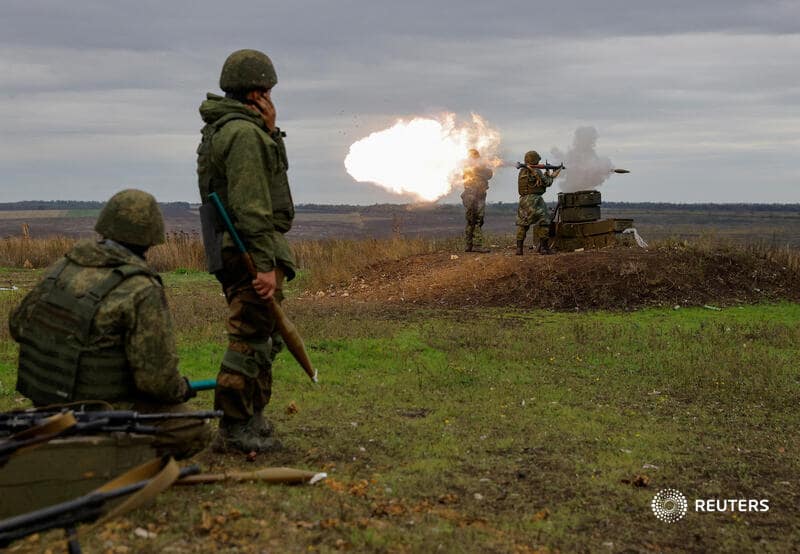 Valentyn Ogirenko
"On our way to Kherson, our team had to take a detour through the village of Kyselivka, retaken by Ukrainian forces two days earlier, because the main highway had been bombed by Russian troops previously.  Moving along one of these streets we saw two women holding bouquets of autumn flowers grown in their back yards. Nataliia Porkhun and her friend Valentyna Buhaiova were standing on that street all day, they stopped cars with Ukrainian soldiers to present flowers, hug and kiss them. They threw flowers on tanks and armored vehicles of the Ukrainian Army moving past.

"Nataliia Porkhun and other residents of the village were under Russian occupation for eight months and, as she told us, faced searches and threats from Russian soldiers.  However, they did not lose hope.  Removing tears on her face Nataliia told us: 'At last I can breathe the air of freedom again'.  That was a very emotional moment that touched our hearts as a whole team."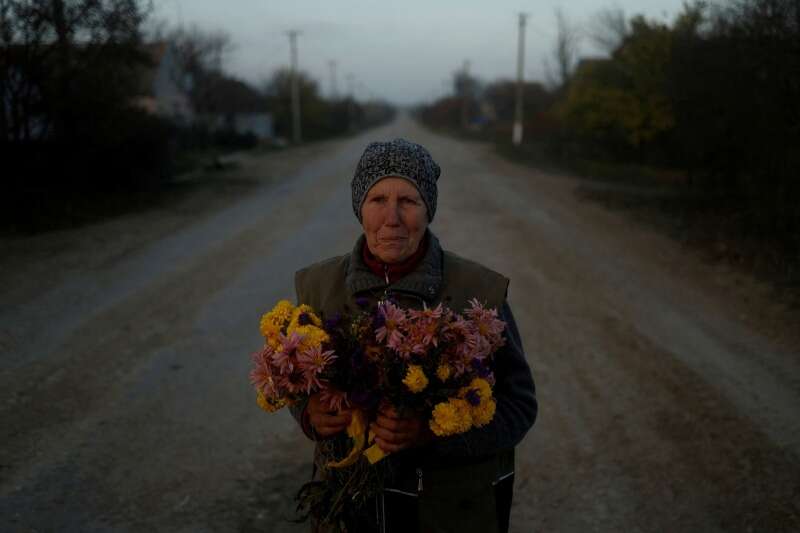 Clodagh Kilcoyne
"After covering many weeks of artillery and shelling, I witnessed the rescue of Kateryna Zelenska, who was pulled from the rubble of an apartment block in Dnipro, Ukraine. Trapped for eighteen hours, she was unable to signal for help as her sister revealed she is deaf. It then emerged that her husband and one year old child did not make it out of the rubble alive."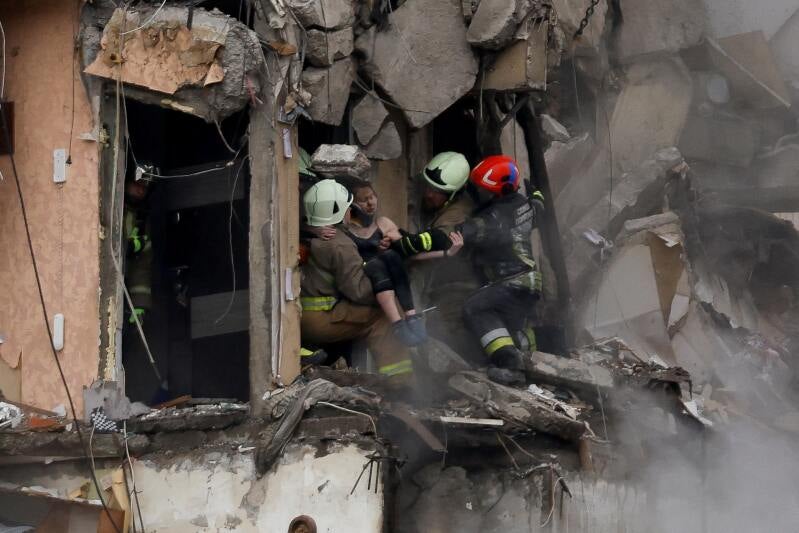 Email pged@pressgazette.co.uk to point out mistakes, provide story tips or send in a letter for publication on our "Letters Page" blog