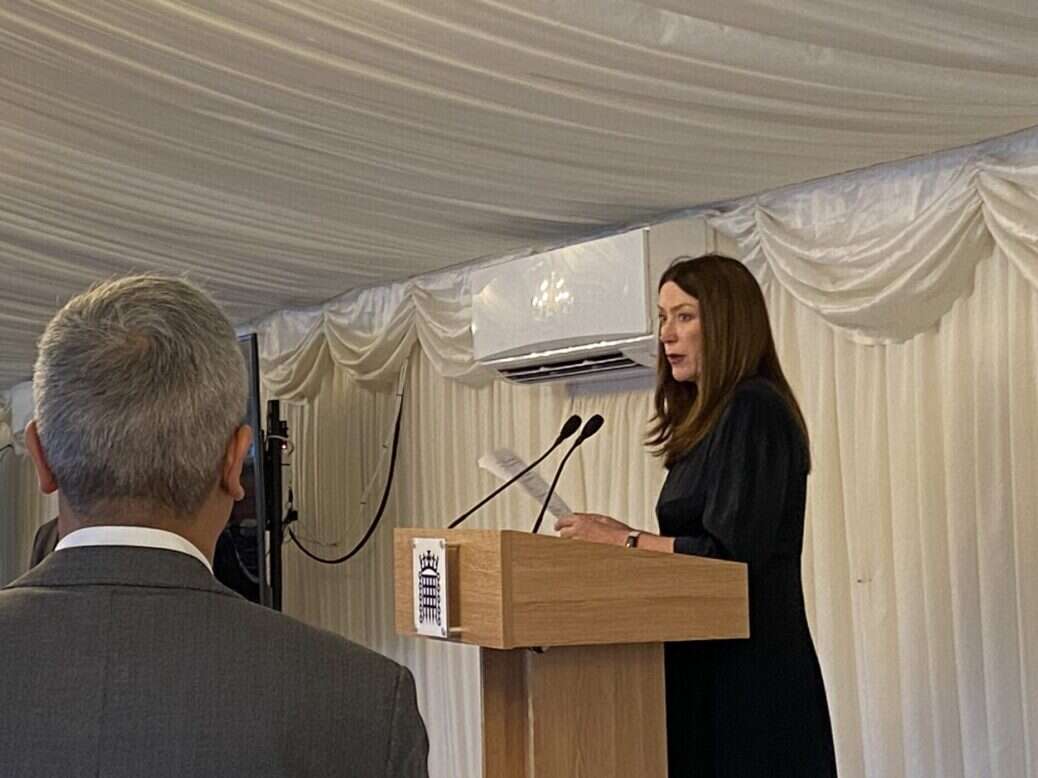 Sun editor Victoria Newton has warned of the "insidious creep of privacy laws" in a speech to the News Media Association on Tuesday.
Speaking at the Houses of Parliament for the NMA's annual "Journalism Matters" event, Newton also hailed recent investigations by both other publishers and The Sun itself, including its controversial reporting earlier this year into misconduct allegations against the BBC's Huw Edwards.
'We at The Sun will always fight hard for our right to publish'
Newton told attendees that despite "the brilliant work" of the press in recent years, "we all know that our free press is increasingly under threat" – in particular, from the "insidious creep of privacy laws used and abused by wealthy individuals".
Newton criticised "strategic lawsuits against public participation", or SLAPPs, which she described as "a tool used by wealthy individuals and corporations to intimidate and silence journalists".
"SLAPPs are a serious misuse of public resources and an abuse of our legal system…
"We at The Sun will always fight hard for our right to publish, and have run stories in the face of the most heavy-handed legal threats – such as reporting on the domestic abuse carried out by Johnny Depp, which we saw all the way through the courts in an extremely expensive litigation case.
"But the spiralling costs of such litigation means that stories and journalism in the public interest are under threat, which is why it is vital that the government, which speaks regularly of the importance of our free press, turns its fine words into action."
[Read more: Sun wins libel battle against Johnny Depp over 'wife beater' article]
Newton was one of numerous leading UK editors to call for a crackdown on SLAPPs in September.
As well as action on SLAPPs, Newton urged Culture Secretary Lucy Frazer, who spoke before Newton at the event, to promise the repeal of Section 40 of the Crime and Courts Act 2013 in the King's Speech scheduled for next week. 
Section 40 requires news publishers not signed up to a "Leveson-compliant" press regulator to pay both sides' costs in libel and privacy suits launched against them, even if they win.
Although formally passed into law, Section 40 has never been activated. The only Leveson-compliant regulator at present is Impress, which was designed with a low-cost arbitration feature intended to protect publishers from SLAPPs – but it does not regulate any of the UK's largest publishers, who argue Impress represents government meddling with the press.
When discussing the Johnny Depp libel trial Newton did not mention Dan Wootton, the former Sun journalist who was the other plaintiff in the case. Wootton recently became the subject of an investigation by both Sun parent company News UK and his more recent employer GB News over allegations he may have deceived colleagues at the News of the World into sending him nude images.
[Read more: GB News fires Laurence Fox and Calvin Robinson as Dan Wootton investigation continues]
BBC 'failed to properly investigate' Huw Edwards complaint
Acknowledging upcoming general elections in the US and UK, Newton said: "Nobody chronicles these history-making moments, or holds to account the rich and powerful, better than the British press, and I feel very lucky to be a part of that club."
The editor counted among her examples "the Mirror's award-winning Partygate investigation", "local BBC radio's dismantling of Liz Truss", and The Times, Sunday Times and Channel 4 Dispatches investigation into Russell Brand. She also cited The Sun's work on the ITV This Morning scandal and its scoop on Matt Hancock's lockdown-breaching affair.
She added: "More recently, following a Sun investigation, the BBC director-general Tim Davie had to launch an inquiry into how it failed to properly investigate a complaint made about Huw Edwards. That inquiry is ongoing."
In July The Sun reported that an unnamed BBC presenter, ultimately named as Huw Edwards, had paid a "young person" for explicit images. The report precipitated several days of intense speculation as to the presenter's identity and, once Edwards was named by his wife and the police indicated no crime had been committed, substantial debate as to whether The Sun's report had been in the public interest.
The Sun has maintained that the story picked up the plight of a family ignored by the BBC's oversight process, but commentators have speculated that Edwards may bring legal action against The Sun over the story. Last week The Sunday Telegraph reported that Davie had taken on direct oversight of the BBC's Executive Complaints Unit. 
[Read more: Former Times editor James Harding suggests Sun editor should resign]
'Protection of copyright is a paramount'
Newton also used her speech to call for government intervention to protect publisher copyright against generative AI.
"Innovation in the industry is vital – it's how we'll all grow our audiences and future-proof our newsrooms in a challenging market," she said. 
But in common with other publishing executives, Newton noted: "Large language models currently derive content from news publishers, taking all the benefits from sharing trusted, regulated journalism without any payments or, crucially, our permission.
"The protection of copyright is a paramount for content creators such as news publishers. When you have unsourced, unregulated media of any kind, you will see the effects, sometimes pernicious, of the bias of the inputter…
"Original journalism everywhere should be protected, as should the publishers that spend and invest in journalism – and make a special mention to our vital local newspapers, without whom court cases and local democracy would go unreported. These outlets should also be protected from the BBC's expansionist activities, which risk driving them out of the market."
[Read more: Sun editor and Liverpool fan Victoria Newton – Hillsborough 'The Truth' was 'biggest mistake in tabloid history']
Email pged@pressgazette.co.uk to point out mistakes, provide story tips or send in a letter for publication on our "Letters Page" blog