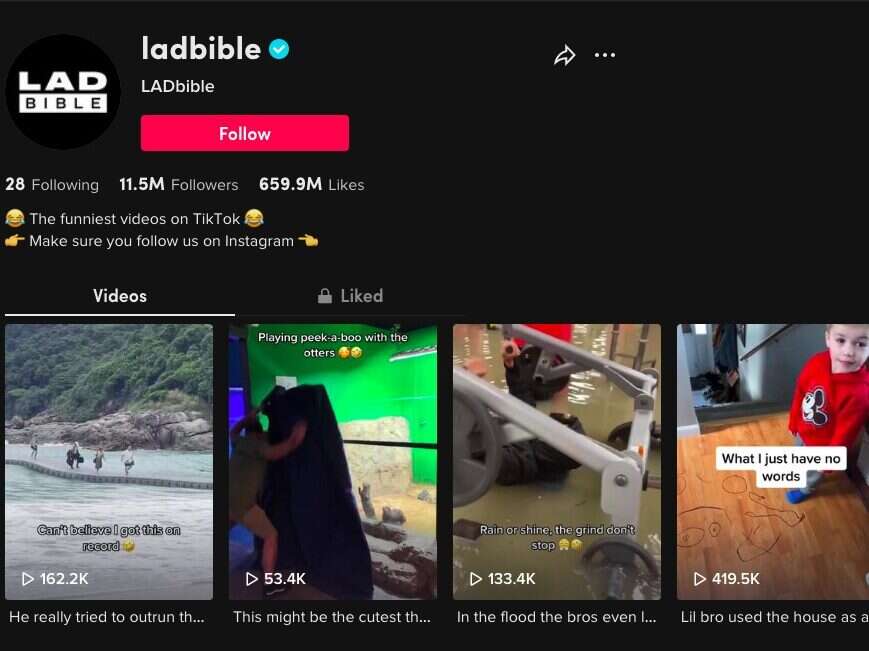 Since launching on Tiktok in 2019, Ladbible Group has grown to become the biggest news publisher on the platform, with almost 46 million followers across the group's accounts.
The company's biggest and best-known brand, Ladbible, currently counts 11.5 million followers on Tiktok – almost three times as many as the next biggest British newsbrand in Press Gazette's top 50 rankings according to a recent Press Gazette analysis.
Entertaining viral video content, much of it user-generated, helps the publisher build up its followings when accounts are first launched, says Rebecca Tyrrell, Ladbible's group Tiktok and Instagram lead.
"For the majority of our channels when we first launch them and we're really focusing on the growth, we focus a lot on user-generated content like viral videos because we know that's what is the most reliable and shareable and that's what really helps us to build up an audience," explains Tyrrell.
"But once we've got that audience there, it's then about feeding in more of the original content that we do elsewhere. That obviously helps in terms of the algorithm. We've got a bit of both and I think that's really what sets us apart."
The publisher has come a long way since 2012 when it began as a Facebook page posting quick, shareable user-generated content. But while light-hearted, amusing and downright bizarre stories are still key to its offering, harder news is also part of the mix. The publisher has recently delved into topics including the cost of living crisis and university tuition fees.
Understanding how to package its news content for Tiktok is key, says Tyrrell. 
"We don't really share straight news [on Tiktok] in the way we would on other platforms. So on Instagram and Facebook it's about getting the headline out as soon as possible but on Tiktok it's more thinking about the audience, why they're there and what they want from Tiktok," she says. 
Ladbible Group's female-focused brand Tyla, for example, has seen success posting Tiktok features tied into news stories. Following the Queen's death, Tyla posted a video of images of the Queen overlaid with "inspiring" facts about her life which Tyrrell says garnered over a million views.  
"It's constantly thinking about how can we cover news topics without necessarily just posting the news story. Similar to how we would do on Instagram, it's about focusing on the wider context around a news story and helping our audience to understand that," she says. 
Creating content for Tiktok is a newsroom-wide effort
The group's biggest Tiktok accounts, its eponymous Ladbible page and its sports-focused channel Sportbible (4.8 million followers), are the only two accounts that are each run by a dedicated Tiktok specialist.
Sportbible's following surged from less than one million at the start of 2022 when a dedicated Tiktok creative was brought in, to close to five million currently. Ladbible meanwhile has seen its following increase by over ten times since the company introduced someone to run the account in 2020.
Around 30 people across the group work on Tiktok including channel managers, producers, presenters and social editors tasked with sourcing viral videos and the publisher's Content Bible team which goes through the hundreds of videos submitted by its audience each day.
"We've definitely found that having someone work on the accounts full-time increases the following at a faster pace. It is possible, however, to build communities on Tiktok by marshalling resources from other platforms and departments," says Tyrrell. 
Overall, the group's portfolio of Tiktok accounts, which include its best-known brands such as Ladbible, Sportbible, Gamingbible, Tyla and Unilad as well as more niche categories such as Ladbible TV, have collectively grown their following 65% year-on-year from 29.8 million at the start of last year to 45.8 million currently. The group's video views, which along with growth and engagement is a key metric for publishers on the platform, are up from 2.5 billion in 2021 to 7.4 billion last year.
As with other publishers, being on top of significant news moments relevant to its audience has helped Ladbible Group grow its Tiktok presence.
"For Sportbible for example, the Euros or the World Cup last year really helped," says Tyrrell who explains that the publisher has a Ladculture team dedicated to making sure that Ladbible is tapped into the cultural events that are important to its audience.
In 'great position' for monetisation to start
Although Tiktok is one of the world's fastest-growing social networks, Facebook remains a huge priority for Ladbible Group and is still the biggest audience driver for its brands. Ladbible posts around 150 videos and 100 articles per day on its Facebook pages, where it has a following on Facebook of 160 million, according to data shared with Press Gazette by the publisher.
"[With Facebook we have] a strict schedule in terms of monetising and traffic. We have bigger teams on Facebook just because of the structure there and we know we can make money from that," says Tyrrell.
In contrast, there's still no direct way to monetise content on Tiktok. Ladbible currently posts between three and ten videos each day to the main Ladbible Tiktok account.
For many publishers however, including Ladbible, Tiktok is a key way to reach coveted younger audiences. According to the 2022 Reuters Institute Digital News Report, 68% of Tiktok users are aged between 18 and 34. Ladbible told Press Gazette last year that its group's brands collectively reach two-thirds of this demographic in the UK.
"For us, it's our target audience – Instagram and Tiktok both have such young audiences and are more Gen Z than the other platforms. So for us, it's just so important to be there so we can keep reaching those audience whether we're monetising it at the moment or not," says Tyrrell, who adds that some monetisation is already happening through brand partnerships.
While Tyrrell says the group's investment in the platform is currently more focused on "time rather than hiring an entire new team", Tiktok has become an increasingly important priority since 2019. The publisher, she says, is "waiting impatiently" for monetisation which is expected to be introduced this year. The publisher is also hopeful about future money-making potential from video on Instagram Reels and Youtube Shorts.
"We've already built up such big followings there that when the monetisation does get turned on, we're already in a great position to start making money," she says.
"As the platforms continue to make more money obviously it means we can bring in more talent to work on those platforms. But we've got so many people who are experts on all of them already that we're in quite a good position."
The publisher emphasises, however, that it has no plans to lessen investment in Facebook, where its audience is also expanding.
What makes a good Tiktok video?
While Ladbible's content naturally appeals to Tiktok's Gen Z audience, there are some key things that Tyrrell says have helped the publisher find success on the platform.
"The most important thing is just spending time on Tiktok and seeing what kind of content is doing well and getting an understanding of why. Was it because it used a trending sound or did it use the in-built filter features?" says Tyrrell. "The important thing is also to make it look native so it's like the content that people engage with from their friends and creators on Tiktok."
The publisher, says Tyrrell, also rarely posts the same video across different platforms, making sure that clips are customised to what works best on each platform. Text, for example, is one thing that works well on Tiktok in her view.
"Posting a video with no teaser of what the video is going to be about a lot of the time doesn't work," she says.
Email pged@pressgazette.co.uk to point out mistakes, provide story tips or send in a letter for publication on our "Letters Page" blog