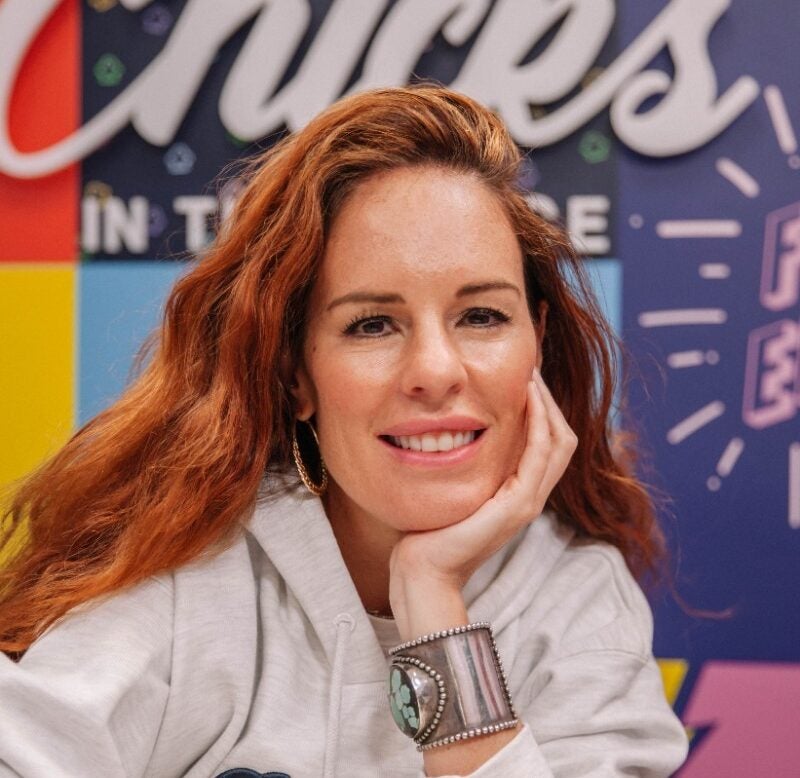 Digital news media outlets, especially those that have historically relied on social media traffic, are facing a reckoning.
Buzzfeed News has closed, as has Gawker. Vice has declared bankruptcy. Many others are having a tough time amid Facebook and Instagram owner Meta's pivot away from news and the rise of individual creators on platforms like Tiktok and Snapchat.
Barstool Sports is able to avoid the worst of the threats in some ways: it has not attempted to invest in expensive news journalism, instead focusing on its often brash or tongue-in-cheek sports and pop culture blogs, podcasts and video shows led by almost 100 creators and personalities.
It also benefits from a burgeoning sports betting business, with the major US regional casino operator Penn Entertainment licensing the brand for its sportsbook in 2020 when it first took out a 36% stake in Barstool. In February this year Penn bought out the rest of Barstool for $388m.
But Barstool Sports chief executive Erika Ayers has shared some lessons that could be useful for a wider group of publishers, including the importance of a diversified revenue mix and building brands that people care enough about to spend money on.
What is Barstool Sports?
Barstool Sports was founded in 2003 as a free newspaper by Dave Portnoy – himself a controversial and polarising media figure who remains a face of the brand known as El Presidente.
The company now puts out content through its website, which remains full of opinion-led, blog-style posts as well as videos that also dominate on its social media channels across Tiktok, Instagram, Facebook, Twitter, Youtube, Snapchat and more.
The brand's slogan is "by the common man, for the common man" with many of its formats made in an informal conversational style as if they were people chatting at a bar – although Portnoy has previously been forced to defend the site from claims of toxicity and misogyny.
Some of its best known brands include Pardon My Take, Spittin' Chiclets and Fore Play – which Ayers claimed are the number one sports, hockey and golf podcasts in the US respectively.
The main Barstool Sports brand also appears to comfortably be within the top ten biggest brands on Tiktok, with 29.1 million followers – behind Tiktok itself, Netflix, sports broadcaster ESPN, and football clubs Paris Saint-Germain and Real Madrid.
Its Tiktok accounts, according to Ayers, skew younger and more female than some of its other streams which generally hit the ages of 15 to 49 – the blog is older and more male, while men in their 20s are more likely to bet with the brand.
Building a media business 'when you're disintermediated by big platforms'
Ayers told Press Gazette's Future of Media Explained podcast the recent hard times at digital media publishers was a "huge cautionary tale" for those who "didn't build brands that meant something to people".
Although the likes of Buzzfeed and Vice "intimately understood the internet and understood how to generate eyeballs and attention", she said, they "were wooed by the Facebooks and they were wooed by Verizon and Go90 where they became production houses for consumption of content on other platforms and therefore they lost the audience and they didn't adapt enough".
Ayers added: "But there's also a huge amount of respect, which is they built, in their time, really big businesses with really bright futures and what it shows you is how hard it is to sustain a media business on the internet where you're disintermediated by big platforms."
Barstool Sports also has a major social media following for both its overall brand and individual shows – one of the first figures cited in the press release about the recent Penn acquisition was that it has "over 200 million loyal followers".
Asked how, therefore, Barstool will avoid making the same mistakes as other digital media outlets that are now struggling, Ayers first responded: "It's a good question. We'll probably fuck that up."
She continued: "It's hard, I worry about it all the time. There's no guarantee, there's no assurance that any brand or any creator is going to be as successful or more successful than they are today - mostly because they don't really control their own destiny, that's the reality of the situation.
"I think it all comes down to the product. It all comes down, in our case, to the content. It's all about the brand. It's all about the personalities who are creating that brand. It's all about the experience that we deliver to fans, whether that's in a T-shirt or that's in a podcast, or that's in a two-minute video clip.
"I think it if we stay focused on that and that alone, then we will be okay. Because if we keep that as our core and then we just adapt the distribution - maybe it's video, maybe it's audio, maybe it's long form, maybe it's short form, maybe it's live - we will be okay.
"It's really predicated on a couple things, which is: one, we have to understand distribution and we have to be able to adapt very quickly to hit that distribution, and two, the greatest amount of emphasis has to be around the brands and their audience. And that's really what I come to work to do every day."
Since Ayers joined as chief executive in 2016, she said, the company has grown from annual revenue of around $2m to more than $250m. She said they had "turned this thing into a rocket ship where it's a multimedia company and arguably one of the most influential lifestyle brands in the US".
In the time between Penn's 2020 part-acquisition and full buyout three years later, it said Barstool grew its audience by 194%, increased ad sales by 160%, and sold more than five million units including apparel, licensed products and accessories.
Commerce business is 'most direct indication of engagement'
Ayers, a former chief marketing officer at AOL, told Press Gazette the sale of merchandise has proved to be a "direct indication of engagement" and how much people care about the Barstool brands.
She said: "Media businesses can mask their success for a while through advertising, but I've really always found that the consumer business and the commerce business is most interesting because it's the most direct indication of engagement.
"Before I worked at Barstool Sports, I would buy Barstool Sports T-shirts because I thought they were funny. I liked what they said on them, and it was a sense of belonging to a brand that I believed in and that I liked.
"And that's what's exciting about the commerce business, is it's just an extension of how you feel about the brand. And you can build a really big business that way."
Alongside commerce, the revenue mix at Barstool Sports includes a "very healthy and strong" advertising business, licensing, pay-per-view games, and live events.
It even has a flavoured vodka brand, an example of what can come from having strong personalities: it came about during an ad read for drinks company New Amsterdam on Spittin' Chiclets when host and former NHL player Ryan Whitney revealed his enjoyment of vodka with strawberry lemonade. New Amsterdam then created Pink Whitney, which quickly blew up after its launch in September 2019.
"We're funny where we're one half a media company and one half a creator network and we straddle that," Ayers said. "That's partly I think what has made us so successful and has enabled us to be successful when other people haven't been."
Barstool Sports CEO values audience first, money later
Despite describing it as a "dark time for media" in which the role of the publisher is being "upended", Ayers also felt it is "tremendously exciting".
Barstool Sports was "early" on Tiktok compared to many other publishers, Ayers said. She explained: "Most media companies, at least in my experience, I think if they don't see a model to make money, they will not put content on the platform - and I don't believe in that. I'm actually the opposite.
"If we can find audience, we will go find audience and then we'll worry about making money second."
Revenue has followed, she said, having brought advertising to Tiktok two years ago before the platform even had an ad product, and launching shops at the first available opportunity this year.
"So we're trying to figure out how do we bring our whole business to Tiktok whether it's an ad business, whether it's promoting our pay-per-view business, we have an amateur boxing brand called Rough N' Rowdy, we promote that on Tiktok, or it's launching shops and putting our clothing and apparel or soft goods in a store that lives on Tiktok," Ayers said.
Freedom to act like a creator
One of the advantages of Tiktok, Ayers said, is they are "inviting anyone to act and be like a creator".
This compares to Facebook, Instagram and Snapchat which, she said, had previously wooed publishers and have now "walked away".
Ayers also addressed the state of play at Twitter under Elon Musk, saying: "Twitter is an incredible platform. It is also a toxic cesspool of dark darkness, so it'll be interesting to see what [new chief executive] Linda Yaccarino does with the platform.
"Does she make it more video? Does she create better ad products? Does she drive more conversion?
"I don't think Twitter is going to care if you're a media brand or you're a creator. I think Facebook will definitely care. Snapchat will care. I don't think Youtube will care, and I think Tiktok really right now is for creators more than anyone else, but they're inviting anyone to act and be like a creator."
To hear more from Barstool Sports CEO Erika Ayers, including her takes on podcasting, live video and generative AI, listen to the latest episode of Press Gazette's Future of Media Explained podcast:
Email pged@pressgazette.co.uk to point out mistakes, provide story tips or send in a letter for publication on our "Letters Page" blog