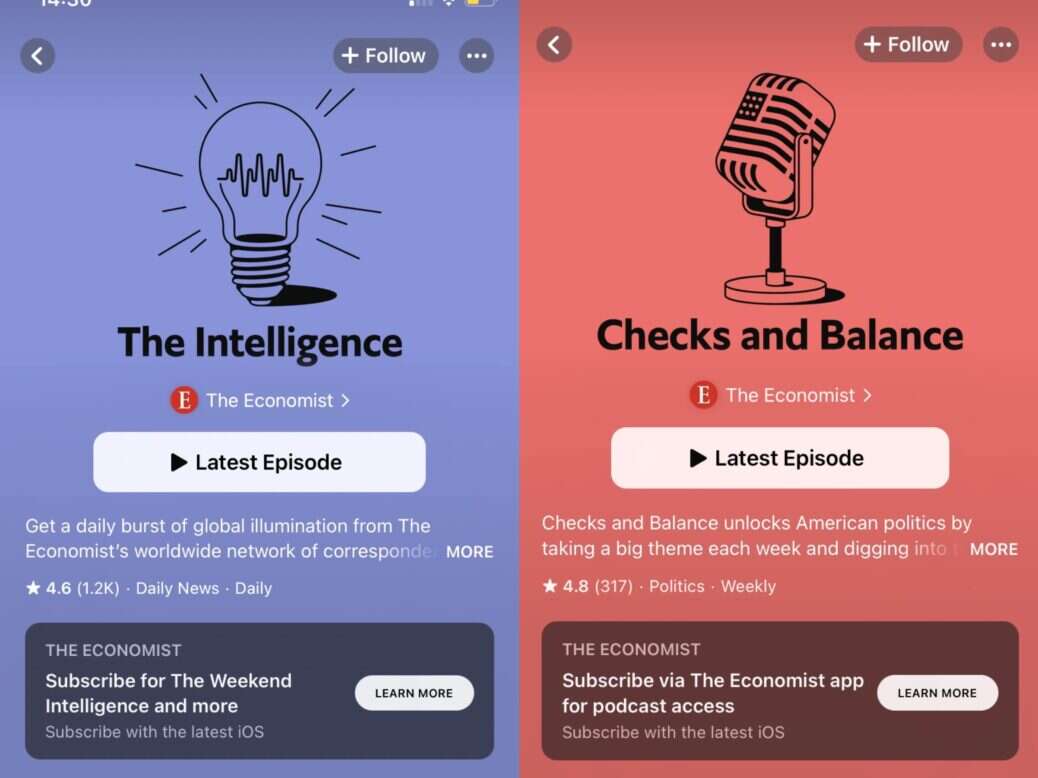 The Economist has launched a podcast subscription model that will see most of its audio shows sit behind a paywall.
The current affairs magazine's biggest podcast The Intelligence, which is released every weekday, will remain free while small numbers of episodes of other shows will be in front of the paywall to provide a sample to potential new listeners.
But ultimately The Economist is extending the principle of not giving its journalism away for free into the audio space for the first time.
One of the biggest barriers to paywalled podcasts is the fact that the majority of listeners come through Apple and Spotify.
The Economist's director of podcasts and US editor John Prideaux told Press Gazette: "One of the difficulties of having a subscription podcast business is that obviously most people don't listen on the platform that we own as the media company.
"You can listen to The Economist's podcasts on our app and it's super easy and the user experience is good, but the reality is almost all of our listeners listen either on Spotify or Apple podcasts."
He added: "You are effectively implementing a paywall on a platform you don't own, which is more complicated from a tech point of view, but we've come up with solution that works pretty well."
Subscribers are required to link their Economist accounts to their podcast app of choice. This process takes several steps but Prideaux said people appeared to be finding it straightforward so far and noted it only needs to be done once.
The Economist has been discussing the idea of a podcast paywall since the start of 2022. Prideaux told Press Gazette in May that year they were "going to start experimenting" with it but the tech would pose the biggest challenge as it is "obviously more complicated than putting a paywall on a website".
The launch powered by new in-house tech has coincided with an update by Apple that makes it easier for podcast users to connect their subscriptions from certain apps. The Times, Bloomberg, The Wall Street Journal and The Washington Post are also among the partners announced so far. Acast launched a similar product this summer.
Prideaux predicted that a subscription-based podcast strategy will become "increasingly common" following these tech changes.
"I can only speak for The Economist, but if you're trying to sell a subscription to a journalism product and also at the same time giving away lots of your journalism without charge – that's a strange thing to do and doesn't make a whole load of sense," he said. "But there's a problem whereby the better the podcasts get, the more you risk cannibalising your own business.
"And so I think that logic will take more people towards podcast subscriptions. But then I also wonder how many podcast subscriptions people will want to have – to take a TV analogy, I have a few but I don't have ten, and so this might be something that works for some people, but not for everyone."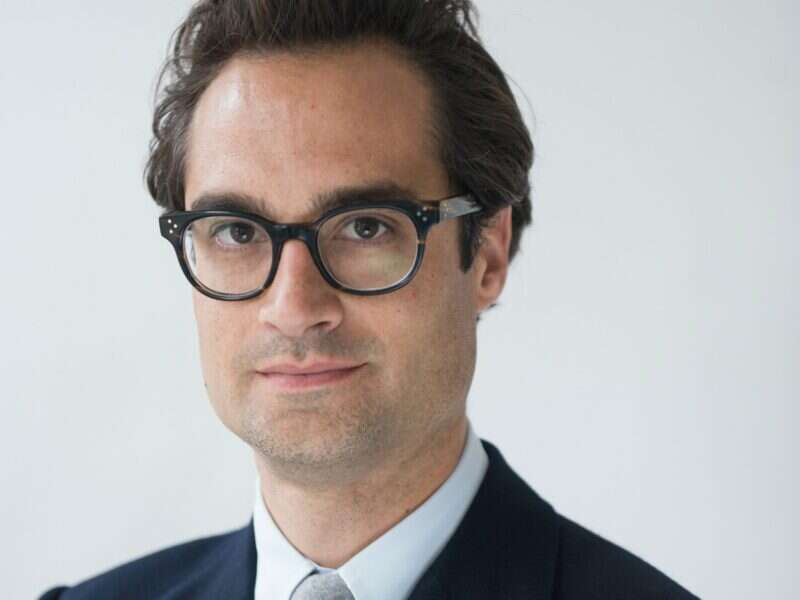 The Economist never gave its journalism away for free online as some publishers did or continue to do, Prideaux said, adding: "We've always been a company that relied on subscribers to fund the journalism that we do and that's partly I think why we have been able to do such a good job journalistically."
He did note however that podcasting "grew up as a free medium, whereas written journalism was initially a paid-for medium and then was free for a bit, and then went back to paid-for in many cases".
Advertising versus subscription revenue in podcasting
Eighteen months ago, Prideaux told Press Gazette The Economist's podcasts were paying for themselves with the advertising revenue they were bringing in. Going forward The Intelligence will continue to have ads and some of the subscriber-only shows will have sponsor messages at the start, but otherwise they hope to make up for the drop in ad revenue with subscribers.
Prideaux said The Economist, which is "built on independent journalism", did not want to go down the route of more lucrative host-read advertising in which the journalists at the helm of a podcast share their apparent recommendations for products.
"A lot of the podcast advertising marketing is that and… it's just so against our DNA at The Economist," he said. "That also leads us towards being a subscription business as well."
The Economist has launched a new podcast-only subscription, which it is offering for one month free and then £4.90 per month, or an annual price of £49 (a previous discounted price of £24.50 for the first year has ended).
The Economist's 996,059 digital subscribers and 473,312 print subscribers (figures from ABC for January to June this year) also get access without having to take out a further subscription.
'We're in a good moment'
The Economist's first new launch behind the paywall went live on Saturday: The Weekend Intelligence, which provides a long-form discussion of one issue each week.
Its weekly shows, including US politics podcast Checks and Balance co-hosted by Prideaux, China series Drum Tower and business and finance podcast Money Talks, have also gone behind the paywall this week as will special narrative series such as its new Boss Class show about management. However some early episodes of each show will sit outside the paywall to entice people in.
"That way we hope that we still there's still lots to listen to for people who are not going to take out a subscription," Prideaux said. "But for people who really like our stuff there's lots of really, really good podcasts that will be exclusive to them."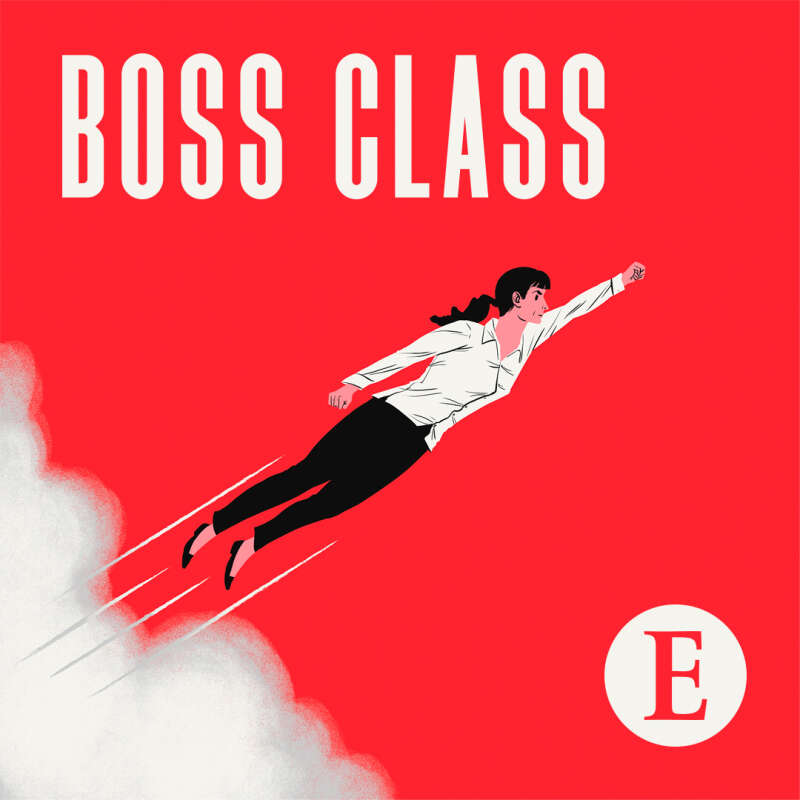 The only podcast that will be totally free, the weekday edition of The Intelligence, currently has 2.5 million unique listeners per month making it The Economist's most popular show.
Prideaux said The Economist has doubled its podcast audience in the past three years giving it a "position of strength to launch this subscription business from".
The shows are made by a podcast team of about 25 to 30 people – up to 10% of The Economist's approximately 300 editorial staff.
"We've managed to hoover up some really talented folks from elsewhere," Prideaux said. "I think we've built a reputation in the business for making really good stuff." The Economist won the best network or publisher award at the British Podcast Awards in September.
He added: "We're in a good moment where we have a business model that works and we're doing really good journalism and so as a result of that we're able to attract some really talented people who want to work with us which is great – and then hopefully raises the quality of what we do more…"
Email pged@pressgazette.co.uk to point out mistakes, provide story tips or send in a letter for publication on our "Letters Page" blog