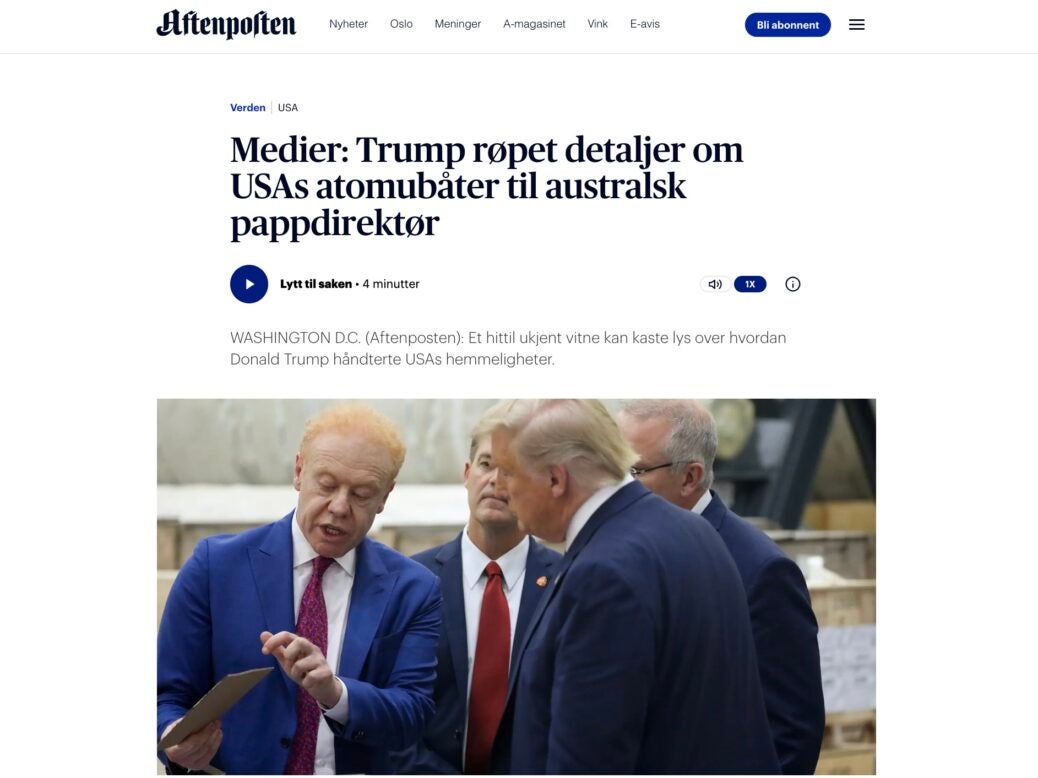 Norway's biggest daily newspaper has found that listeners to its AI-generated audio articles are on a par with its podcast listenership.
Aftenposten, Nordic publisher Schibsted's biggest subscription title with some 250,000 subscribers of which 165,000 are digital, launched a custom AI-generated voice this year after a successful pilot on its title for classrooms, Aftenposten Junior Skole.
The robot voice, which is based on that of Aftenposten podcast host Anne Lindholm, gives audiences the option to listen to individual articles.
Comparing the number of unique listeners of Aftenposten's podcasts with those who have used the AI-generated listen-to option on its text articles, the publisher found there was little difference between the two – with younger audiences in particular being drawn in by the audio option.
To train the voice, Lindholm recorded herself reading 2,000 articles, from which AI voice and audio publishing platform Beyondwords extracted 7,000 sentences to use in the AI model.
Large language models, including the text on which tools such as ChatGPT draw, have much more data available in English than in other languages, making the shift to audio AI trickier for non-English language publishers. Beyondwords therefore had to create a data set of proprietary voice data from the Schibsted newsroom.
"We needed a long-term relationship with the person behind the voice because we needed to train it for a long time," Aftenposten product manager for sound Lena Beate Hamborg Pedersen told Press Gazette.
She added that Aftenposten is "already recognised for audio and people listen to our podcasts so why not use one of these famous voices?"
Using a voice that audiences already recognised as a basis to train the robot voice made the transition from a real voice to an automated voice easier, said Karl Oskar Teien, who leads product and user experience for Schibsted's subscription titles.
"We see signs that people recognise the voice but to what extent that affects engagement directly, we haven't yet been able to successfully fully measure. But I think there's there's value to building on a sort of 'sonic' identity."
Teien said the publisher wanted to take advantage of a shift in user behaviour towards audio and other formats that allow audiences to multi-task. Playing on Aftenposten's historic strengths in audio was another.
The daily produces Norway's biggest news podcast Forklart, a daily 15-minute explainer of a key news story, as well as several politics podcasts with a strong following.
Research from the Reuters Institute for the Study of Journalism (RISJ) shows that news and information accounts for a high share of spoken word listening, making up 40% of spoken-word audio time in the US.
"We have a lot of paying subscribers that pay for access to that audio content," said Teien.
"As competition for screen time gets more and more intense, we asked ourselves where to play and where we can potentially provide the best experience and offer the best product." Under its current strategy, the publisher plans that by 2025 its audience will be offered full freedom of choice on how to consume Aftenposten's content.
A lot of younger users 'come to Aftenposten first through audio'
The brand is keen to get ahead of future trends. According to RISJ, even in countries where audiences generally prefer to read, younger generations are looking to other formats. In the UK, a majority of 18 to 24-year-olds still prefer text, but they are much less likely to want to read online news compared with older groups, and have a stronger preference to watch as well as listen.
"We asked ourselves what is likely to happen in the future and where are users likely to go and spend their time?" said Teien, adding that podcast listening growth is picking up again after flattening in recent years.
"If that trend increases then we want to be positioned not only in that place where we have thought about the existing user base, but also the future generations of users. When we speak to younger users a lot of them come to Aftenposten first through audio."
The average age of those listening to Aftenposten's audio articles is currently 42 years - ten years younger than its podcast audience. While still well above the highly coveted youth audience that the publisher, like many others, is trying to win over, it represents a notable shift.
"We know that the media habits and the habits in general that you have when you're young, you tend to bring them with you into adulthood," explained Hamborg Pedersen.
"When we started to look into younger people and their media habits we saw that having a product that offered everything in both audio and in writing could be a great opportunity for the future."
High completion rate for audio articles - but human voices higher than AI
Aftenposten is not the only publisher experimenting with AI voice. The Daily Mail's paid-for app Mail+ includes a "listen to article" feature using a synthetic voice. Daily Mail product director Simon Regan-Edwards told Press Gazette's Future of Media Technology conference in September that the audio was "not very good" but that they had learned there is regardless "some interest in this" and they "should put some effort into that".
In March Sky News rolled out an AI voice on its website allowing audiences to listen to articles read in a voice modelled on presenter Jayne Secker, while publishing platform Medium and the Australian Broadcasting Corporation are among others to have dipped into AI audio.
Although Schibsted only has a few months of data so far, figures suggest that the average completion rate of audio articles is 58% and that consumers who listened to articles tended to finish more of the article.
In an age when 13% of news readers cancel subscriptions due to too little time to read, this was very compelling and Schibstead has now commissioned custom AI voices across its Norwegian and Swedish brands.
[Read more: Swedish daily Aftonbladet finds people spend longer on articles with AI-generated summaries]
"Users generally churn because they find that they don't have enough time to consume the content that they're paying for," Teien said.
"So if we want to do something about our biggest challenge, which is users not engaging enough to feel like their subscription and their continued subscription is justified, we need to solve that problem by finding ways to help users get through more of the content they are paying for."
The brand has the ambition to blend audio-specific formats with audio formats that come from text to enable users to "potentially spend a whole day listening to Aftenposten".
Although Aftenposten has found that human-read audio has slightly higher completion rates than robot voices, AI can add audio to stories in seconds meaning it is the only way to add a listening option to fast-developing news stories. Despite this, Hamborg Pedersen said the publisher has not abandoned human-read journalism.
"People benefit from listening to real voices," she said. Alongside AI voices on news and other fast-moving content, Aftenposten plans to use human voices for longer or more in-depth stories such as investigations where the audio can provide an opportunity for the journalist to add additional context or personalise the story.
"In journalism it is really important to nurture the relationship between the media, the brand and the subscribers so I really think we should use real voices where it makes sense," Hamborg Pedersen said.
James MacLeod, co-founder and chief operating officer at Beyondwords believes AI voices may be a decade off from sounding as good as a human narrator, but he did say that the current rate of improvement is "faster than anything that could have been imagined five years ago".
Hamborg Pedersen said the biggest challenge and most time-consuming process for Aftenposten has been getting the model's pronunciation right, something which is more complicated for Nordic languages where small shifts in sound can dramatically alter a word's meaning.
Another challenge is adapting the audio article format to the way that younger users in particular like to consume content by "continuously" listening without having to always reach for the play button. The publisher is currently working on how best to suggest and curate articles in the way that platforms like Spotify offer a continuous listening experience.
"We believe that when we offer playlists we will get a more realistic picture of how popular this is because the young people that we talk to are not interested in listening to one article," said Hamborg Pedersen. "This is the bet on the future for reaching a younger audience but we are not offering the right packaging for them now."
Email pged@pressgazette.co.uk to point out mistakes, provide story tips or send in a letter for publication on our "Letters Page" blog