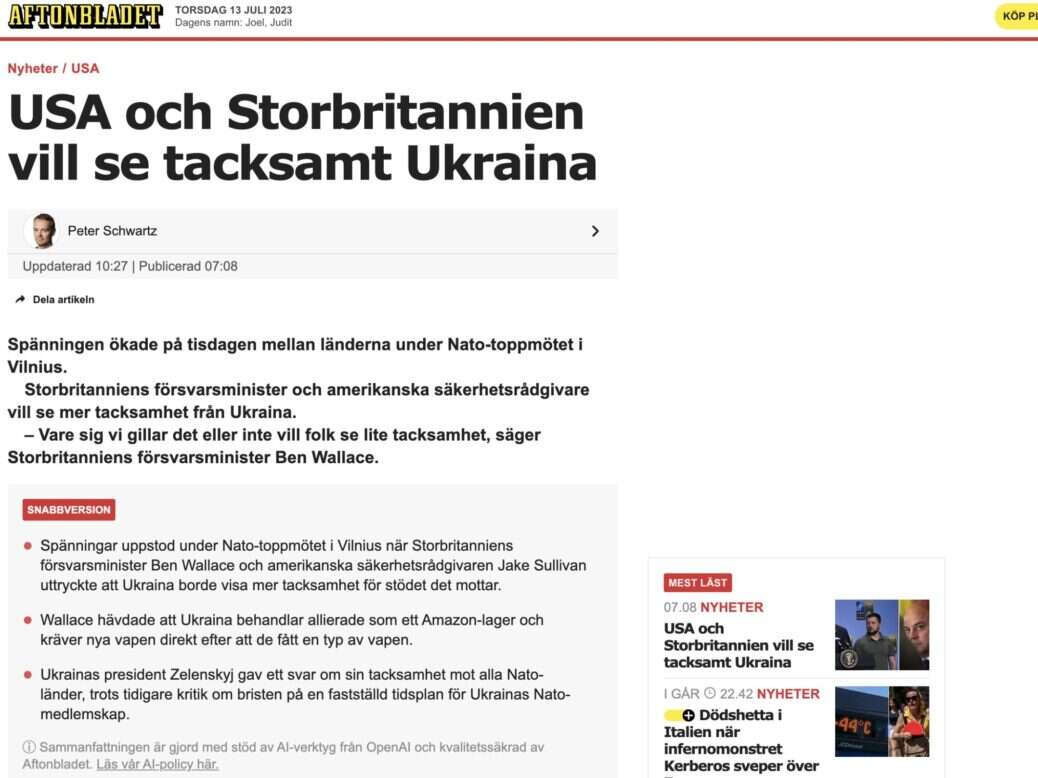 Sweden's biggest daily news outlet has discovered it can use generative AI tools to boost time spent on its articles, especially with younger audiences.
Aftonbladet began experimenting with ChatGPT in its newsroom at the start of the year with the goal of creating a tool to help it test out what generative AI could do.
The result was an AI-generated article summary that readers can choose to open within news articles. The initial results, deputy editor Martin Schori told Press Gazette, have been positive.
Unexpectedly, audiences spend longer reading articles that have summaries than those without. According to Schori, the findings surprised the newsroom, which initially thought the findings were a mistake.
Instead, Schori explained that since readers get a more general understanding of an article upfront, they are more likely to go on and read the whole text.
The summaries, called 'Snabbversions' (or 'quick versions' in English), use ChatGPT owner OpenAI's API and are integrated into Aftonbladet's CMS.
Snabbversions, which have already been rolled out into many of Aftonbladet's published news and sports articles, have also proven popular with the title's younger audience. Nearly 40% of younger readers opt to read the summaries.
ChatGPT in newsroom: Accuracy is good but not perfect
Schori said that initial high levels of accuracy led to Aftonbladet almost skipping the human verification step. (It is company policy that all AI-generated content for publication is checked by a human editor.)
However some mistakes began to creep into the AI-generated summaries that the publisher was not able to explain. For Schori, this showed the human verification step is crucial.
The error was obviously bad for the audience, said Schori, but it was particularly difficult internally as not everyone in the newsroom had been "crazy" about using gen AI.
While Schori leads a multi-team task force that draws on people from the technology, product and future lab teams to coordinate the AI experiments, others at the company – which is owned by Oslo-based publishing house Schibsted – have been more hesitant about its use.
Aftonbladet journalists encouraged to be at the 'forefront' of new tech
Despite ChatGPT's limitations – for example, it works better in English than in Swedish – Aftonbladet's policy on generative AI actively encourages journalists to experiment with the tech, for example in research, generating ideas and suggesting headlines.
The 200-strong newsroom runs workshops and training on the technology as their policy urges them to be at the forefront of new technology.
"I understand all the concerns and we obviously have a lot of concerns as well, but as a journalist I think our gut reaction should be 'okay, here is a new technology. What can we do with it?' Instead of 'who can we sue because they're stealing our content or they're training their models on our content'," said Schori.
He added: "Unfortunately, that's been a lot of the focus and that's important as well but it reminds me a bit of the print-to-digital transformation. We [the industry] just like seeing everything as a threat instead of an opportunity."
Not all publishers have been so keen to bring generative AI into day-to-day working processes. Most journalists, editors and news executives have been wary of the technology's limitations. These include hallucinations – made-up information or facts that were not in the original source material but appear in the summarised text – as well as the potential for misinformation and concerns over copyright.
The Guardian, for example, is experimenting with its teams to find out how generative AI technology could be useful, but it has so far decided not to deploy any of the tools in its production processes yet.
[Generative AI and The Guardian: 'What we do can't be reproduced synthetically']
AI's potential in creating multiple formats and reaching youth
While Aftonbladet's guidelines state that all published material generated by AI has to be reviewed by a human, for Schori the use of AI summaries serves a clear purpose for the title's newsroom and audience.
"For years we've been having discussions in the newsroom about how we have to offer our audience more alternatives on how to consume our news because now we decide that we have a story, but the only way you consume it is by reading [a certain number of characters] or a minute-and-a-half video or a ten-minute podcast," he said.
"We've been wanting to give our audience more alternatives and I think that, at least for now, that's probably one of the best ways that we can use AI in the future."
Schori added: "The reason why we didn't do [the summaries] before is because it would take too much time." He explains that even with the necessary step of human verification, generating a summary with AI takes under 30 seconds.
While the summaries are still in a test phase, Aftonbladet plans to use them as widely as possible this summer. "If the numbers are as good as they are now, instead of opting in, [readers] should just opt out of the summaries," said Schori.
Research from the Reuters Institute for the Study of Journalism and others has shown that part of the problem for newsrooms in retaining audiences – and attracting younger readers – is down to how news is presented. Last year's Digital News Report found that "young people like a range of formats and media, from text to video to audio, and are drawn to information that is curated for them. There will continue to be a place for text, video, audio, and still imagery – sometimes all in one piece of content."
Addressing the success of the AI-generated summaries with young people so far, Schori said: "Many of the problems that the media has in regard to reaching younger audiences are connected to the user experience, and that in some ways we are still doing news online like in print. Perhaps we can solve a lot of things with generative AI.
"Some people want to read a lot and some people just want to listen or they want to watch a video or maybe they want to read half an article, but then they are walking out of the bus and then they want to listen to the rest. With generative AI we could probably do that in a cheap and fairly easy way."
Aftonbladet: 'A very tech-oriented company'
The Swedish publisher has never been shy of adopting new technologies into its newsroom. Aftonbladet first started working with AI-powered robot journalists some seven years ago, although it no longer does so. It also uses AI to help personalise and segment its home page to audiences.
"We are definitely a very tech-oriented company, especially at Aftonbladet," said Schori, who believes the company has always been at the frontline of new newsroom tech developments. Parent company Schibsted also has a company-wide AI task force.
Aftonbladet's AI experiments have also included lighthearted features rolled out to its audiences. A chatbot of Sweden's first king, Gustav I, was launched to coincide with the country's 500th anniversary and readers were invited to submit questions to the bot, which was trained using history books and articles to help it learn the king's language.
The publisher also tested news stories "rapped" by an AI service at the suggestion of a focus group of ten young people. The idea, Schori said, was to "create some debate or discussion about how we really need to change the way we present the news" to younger audiences.
Aftonbladet also used AI to analyse thousands of hours of video from the far-right party Sweden Democrats' official propaganda channel.
The Swedish daily also plans to use generative AI to develop a text-to-speech tool based on one in use at another Schibsted title, Aftenposten in Norway. Aftenposten's tool uses a cloned voice based on one of its podcast hosts to present the newspaper's content to audiences who struggle to read due to issues like dyslexia or ADHD.
Schori said Aftonbladet hopes to develop a similar tool that will convert summaries of the day's essential articles into one daily summary to which audiences can listen.
"Our audience is going to like that because they want an overview of what are the most important things that have happened. So, I think that might be the next thing that we will work on," he said.
ChatGPT in the newsroom: 'Maybe you shouldn't just because you can'
Asked what the publisher has learned through its experiments with generative AI, Schori underlined that while "it's fun to see how people in the newsroom are experimenting and talking and coming up with great ideas", it is crucial to ensure that newsroom management is behind the change.
"As a business, we maybe need to bring in new competence in our boardrooms or executive rooms," he said. Newsroom executives at Aftonbladet are "supportive of" and "behind" the use of generative AI, but Schori remains unsure if everyone "knows what we can do and it's hard to take really important strategic decisions".
If the technology improves, Schori hopes it might also be used for rewriting text and for the writing of short stories, although he said that is "a long way off". He believes generative AI's capabilities are currently most useful for summarising and translating.
"I have not seen any widespread use yet of generative AI, but I hope that newspapers and publishers are really trying to figure out what we can do with it – not because it's cool, but because it creates value for us or for the audience," he said.
"Obviously what you're doing has to be of value for you or the audience. You can probably do a lot of cool stuff, but maybe you shouldn't just because you can."
Schori warned that while not everyone needs to be an expert in AI in a newsroom, journalists should at least be familiar with how to use the technology.
"Maybe you won't be replaced by AI as a journalist, but you might be replaced by a journalist who knows how to use AI," he said.
Email pged@pressgazette.co.uk to point out mistakes, provide story tips or send in a letter for publication on our "Letters Page" blog