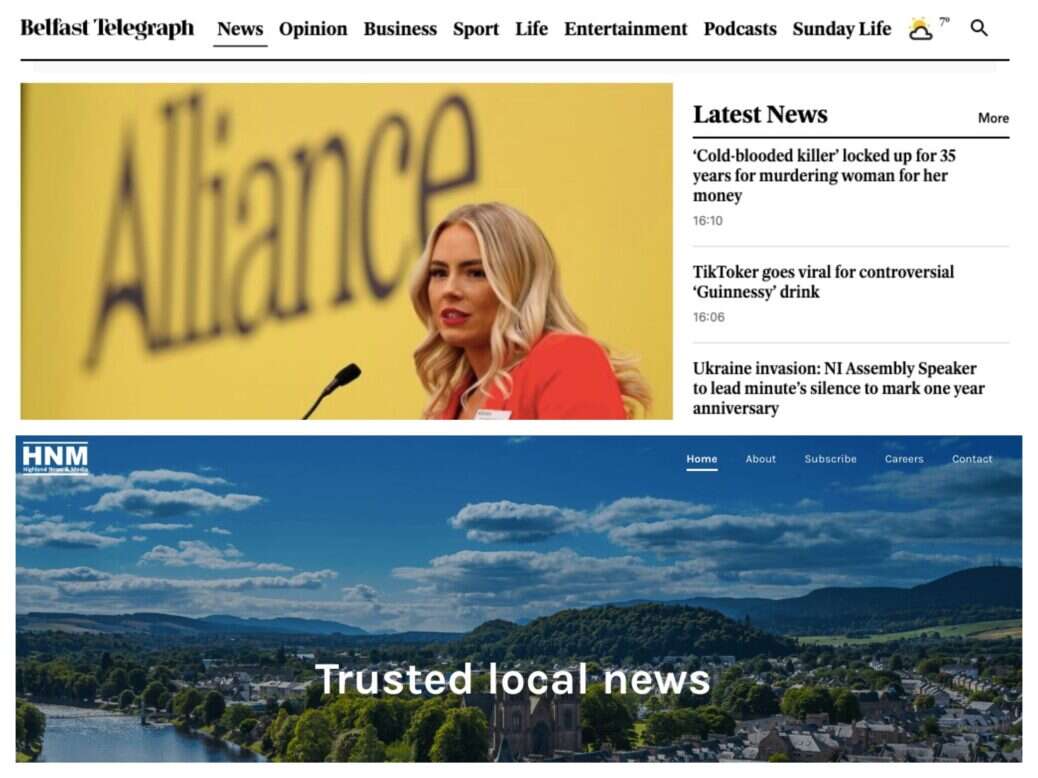 Successful paywalls in UK local news are a relative rarity. Coupled with the year-on-year fall in print circulation of local titles, the decline of the regional press usually makes for a depressing read.
A report last month from a DCMS Committee lamented the "damaging decline" of the sector following the shift of readers online, highlighting the situation of independent publishers in particular.
The committee's acting chairman, Conservative MP Damian Green, said: "While hundreds have already folded, those that remain are faced with a lack of resources to conduct quality journalism, forcing them into a downward spiral of decline, as readership and therefore revenues continue to fall further."
While large-scale consolidation in the local news sector has helped some titles survive, critics – among them the authors of the DCMS Committee report – say that the largest publishers have compromised quality. They argue that they have diluted their local focus in pursuit of the high number of online clicks essential to raise enough money from advertising, a claim that publishers such as Reach and Newsquest vehemently deny.
A few publishers however, are starting to see success through reader-focused revenue models.
DC Thomson, owner of Aberdeen-based Press and Journal and Dundee's The Courier currently counts 25,000 paid digital subscribers. The publisher attributes its success to shaking up its newsrooms to focus on specialist areas, more high-impact investigative work, and a focus on quality and engagement.
Manchester Mill, a Substack-based newsletter, has 1,600 paying subscribers two years after launch, bringing in some £130,000 a year in revenue.
Newsquest - the UK's second largest local publisher - last year reported that it had over 50,000 paying digital subscribers across its paywalled sites.
The availability of sufficiently good and, crucially, free local news from the BBC and the relatively small size of the UK local market are often cited to explain why UK local titles have not seen the success of their stateside peers, such as the Los Angeles Times which counts over 500,000 digital subscribers or the Boston Globe which has around 250,000.
Below Press Gazette speaks to two UK publishers who have bucked the trend and are starting to see success in attracting reader revenue: Highland News and Media in Scotland and the Belfast Telegraph in Northern Ireland.
Highland News and Media: investments in marketing
The small Scottish-based publisher, which is part-owned by Iliffe, has nine websites, one app and 18 print titles. Sixteen months since launching a digital paywall in September 2021 after participating in an FT Strategies workshop designed to help publishers looking to build up their digital subscriptions, Highland News and Media (HNM) has over 3,000 paid online subscribers.
"The work we've done with the FT Strategies team has been really valuable for us. It exposed us to other people in the industry and how they're taking on this challenge and we got a lot out of that," says Steve Barron, Highland News and Media's publishing director.
Those 3,000 subscribers equate to around 13% of the publisher's total print readers. HNM also, says Barron, has registered 60,000 users and has 29,000 people signed up to its email newsletters.
"We have proof of concept that we're on the right track but we need to almost double down our investment in our efforts to accelerate that acquisition rate," he says.
Barron believes that the future of the business is digital. In November last year the publisher ended print editions of its weekly Turriff, Inverurie and Ellon Advertisers in Aberdeenshire and incorporated several other titles to help push more resources into digital presence.
Print however, still represents around 80 to 85% of HNM's revenue.
"We're basing our future on a fully digital model but this is not ideological, so if print was still profitable in five years' time, we will absolutely still do it although print could look different", says Barron. "However, we recognise that the direction of travel is firmly towards digital and we need to make sure that our business is going in that direction as well."
Some 30% of the publisher's page views come from 3% of its audience, says Barron. "It's that 3% of our audience that we're really focused on converting because they are our brand lovers effectively."
Marketing is one major area of investment that has helped the small publisher reach 3,000 subscribers. HNM drew on support from local businesses to fund a position to help with marketing and its positioning among the community. A local enterprise also provided funding to help HNM buy the technology to launch an app.
"We have upskilled in terms of how sophisticated our marketing is, especially digital marketing, how we manage our audience and how we segment our audience. Those are challenges for small publishers. We only have 75 people in the business and we still have to focus on print as well," says Barron.
"We've invested more in marketing in the last two years than in probably the last few decades. The industry is notoriously bad for marketing and we tend to preach to the converted and market through our own titles, but we don't do much externally."
Barron estimates that around 60% of the group's digital subscribers were not regular readers of HNM's print papers, suggesting that it is attracting new audiences after going online.
Focus groups to understand local audiences
Investing in content and simply taking the leap in asking readers to pay, however, has been just as central. The publisher says Barron used focus groups and surveys to better understand what people who were reading its journalism - and perhaps more importantly those who were not - wanted.
"That's been a real learning exercise and that's feeding our strategy constantly," he says, adding that combining data with feedback from focus groups strongly suggests that stories which explore local issues deeply are among those that are most important to subscribers. Those stories are, however, not necessarily those that generate the most web traffic.
HNM operates in the UK's most sparsely-populated region - there are just eight inhabitants per square metre in the Highlands. To put that into context, Greater London's population density is over 5,600, while in Greater Manchester it is more than 4,000. Serving such a dispersed audience is challenging for subscription-based businesses.
"What we have found is the more rural the location, the harder it is to acquire subscribers in any meaningful amount," says Barron. "So it won't be any surprise to know that the majority of our subscribers are coming from the most urban areas in our patch."
That's why the publisher has yet to rule out different models for different areas its business serves.
"We're not ruling out any model and recognise that due to the diverse area we cover we will have to look at different models for each area. Already our paywall meter is set at different levels across our digital properties," he says. "There's no one-size-fits-all solution."
While it has taken the publisher less than 18 months to hit 3,000 paid readers, HNM says it is still iterating its business model which is "constantly evolving" through "evidence-focused" decisions.
"We are able to quickly prove or disprove hypotheses and either focus more on an area for development or rule it out all together. A good example is the experiments we have run around our email newsletters which have proven that our readers want to read everything in an email environment and not have to click through to a web page," he says.
Currently, HNM is aiming for 40,000 digital subscribers within five years.
"That might be 25,000 fully paid-up digital subscribers, and maybe 10,000 people who pay a pound a month for newsletter access and 5,000 who are giving us micro payments," he says.
Forty thousand is what Barron says is needed for HNM to have a "very good" business. It is also the number of print copies the publisher sold in the week before the first lockdown in 2020.
"So quite recently 40,000 people have valued our content enough to give us some cash for it. That's why we thought that's a reasonable number to go for," he says.
Sales strategies
While the publisher has not shied away from discounts and offers as part of its sales strategies, Barron says HNM "tries not to be on sale all the time".
A full-price "digital plus" subscription, which includes access to the website, e-edition of the paper and the app, costs just under £50 a year. Around six in ten (58%) of subscribers have decided to pay for a whole year up front, rather than take the month-to-month subscription for £5 a month, according to HNM.
And while around half of HNM's 3,000 subscribers have signed up in reaction to promotional offer and discounts, half have come on at full price, which Barron finds "encouraging" particularly as its churn rate is below 5%.
While paywalls remain uncommon in UK local news Barron believes that HNM is less breaking with the past - and instead returning to it.
"We're not doing anything different to what the whole industry did for 200 years. The business model was we write content and we asked people to pay for it. Then along came the internet and suddenly we stopped doing that and we started giving it away for free," he says. "For us, it's really getting back to that concept of you can trust us to produce really good journalism that's curated, well-sourced and that you can trust to be honest and accurate, and that's worth paying for."
Belfast Telegraph: providing content you cannot get elsewhere is 'fundamental to the paywall'
Despite a crowded market for paid-for local news in Northern Ireland, the Belfast Telegraph has amassed 8,500 paid digital subscribers since launching its digital paywall in May 2020 at the height of the first Covid lockdown.
"Some people thought that it was mad to launch at such an uncertain time," says Edward McCann, director of publishing at the Belfast Telegraph's parent company Mediahuis Ireland. "But we overachieved against our target in 2020 and by the middle of 2021 had over 4,000 subscribers."
The publisher's decision to launch a paywall was unsurprisingly motivated by the need to find a new revenue stream in the face of falling print sales. But a belief that its reporting was worth paying for was also a big motivating factor, says McCann.
"Covid, like for a lot of publishers, was a big news event for us and I think it showed the power of local news."
The Belfast Telegraph's role in reporting on politics
The Belfast Telegraph, which positions itself as a more neutral voice in Northern Ireland's contested political landscape, was able to capitalise on its audience's desire to know what was going on at a particularly confusing time due to disagreements between the main political parties in the Stormont over Northern Ireland's Covid policy.
"Politics is a unique selling point for the Belfast Telegraph," says McCann. He says that the Northern Ireland assembly elections in 2022 which resulted in Sinn Féin becoming the biggest party in the Assembly generated the publisher's highest ever post-paywall traffic figures. Page views hit nearly 900,000 on one of the days of the vote count- almost twice the daily nearly 500,000 page views the site typically saw in 2022, according to the publisher's own data.
Investing in its content
While the Belfast Telegraph's political reporting has helped it drive subscriptions, a conscious decision to invest in its journalism has also been key, according to McCann.
Unfortunately many local newsrooms find themselves in a catch-22 situation where declining resources make it hard to produce the kind of reporting worth paying for. The Belfast Telegraph, like family-owned DC Thomson however, could make the investment in content needed to make a paywall strategy pay off.
"We took a conscious decision at the time to invest in journalism and I suppose it's no coincidence that people are willing to pay for that," says McCann. "It maybe sounds simplistic, but if you want people to pay for journalism you have to invest in it and give them something worth paying for.
"For a lot of publishers that's difficult and we all know the challenges that they face but I think it's a balance that needs to be struck."
For the Belfast Telegraph those investments included attracting talent from rival titles such as Northern Ireland editor Sam McBride from the Belfast News Letter and Allison Morris, a well-known journalist from the Irish News. This has helped the Belfast Telegraph "provide the exclusive content that you're not going to get elsewhere that's fundamental to the paywall".
Over the last three years the publisher has also overhauled its newsrooms from what according to McCann was "effectively a print operation with a digital bolt-on" to an increasingly digital newsroom.
It was helped in this by hiring Eoin Brannigan of the Irish Daily Star as editor-in-chief at the time of the paywall launch.
"[Eoin] had the vision to see that quality journalism was what would ultimately make the difference. So in some ways it was back to journalistic basics like creating specialist roles in the newsroom," he says.
Critical to the transformation too was the creation of a six-strong audience team built with staff already at the Belfast Telegraph as well as new hires from UTV and Reach.
"Previously we had a newsroom which largely thought that digital was a job for the digital team. Now our newsdesks and production teams work to publish digital content and our audience team ensures that this content reaches the widest possible audience," says McCann.

Mediahuis backing
The sale of Belfast Telegraph's former owner Independent News and Media to Belgian publishing house Mediahuis in 2019 was also "transformational" for both the Belfast Telegraph and sister title south of the border, The Irish Independent, says McCann. Mediahuis owns a number of successful subscription businesses in Belgium and the Netherlands, including in local news.
"It's in the DNA of Mediahuis. They expect people to pay for journalism," says McCann, who says the Belfast Telegraph can draw on shared resources such as Mediahuis' content management system.
"So, for example, if De Standaard in Brussels developed a tool for digital storytelling this could be plugged in anywhere. We are also experimenting with hybrid paywalls," he says.
While the Belfast Telegraph initially put up a hard paywall, subscription fatigue across the industry has led the title to introducing offers such as 50% off a full subscription price.
"We are reactive. We're always looking at data and what the readers and our audience are saying," says McCann. Although subscriptions growth has been fairly steady, "when you lift open the bonnet, there's been a lot going on underneath that - constant change in strategy, constant adaptation" such as the experiment in hybrid paywalls.
While churn remains a concern, setting up a customer care team that works across Mediahuis Ireland's two subscription sites on the island of Ireland has been important in keeping the churn rate "on target".
While the Belfast Telegraph's medium term goal is for digital subscriptions to surpass print sales, there is no plan to get rid of the print edition which counts 4,000 subscribers, in the immediate future.
Asked if there is anything that the publisher would impart to other locals outlets looking to implement a paywall, McCann returns to content.
"Ultimately it's about having confidence in your journalism and investing in it because ultimately that's what people are paying for...all the other strategies are secondary to that."
Email pged@pressgazette.co.uk to point out mistakes, provide story tips or send in a letter for publication on our "Letters Page" blog