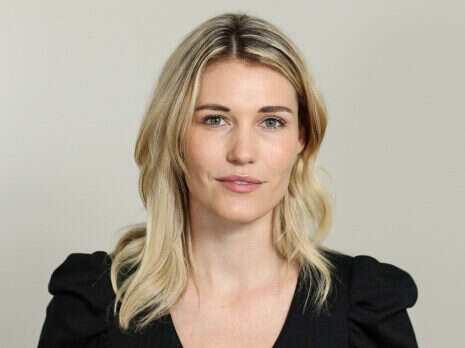 The chief executive of UK-based newsletter startup The Know understands "why people avoid the news" – but wants to entice them in with solutions journalism, issue-focused story selection and a dash of positive news.
The Know has 50,000 subscribers across its daily newsletter and a weekly Friday digest. Most of the subscribers are women, and most have signed up in the past year.
Boasting an open rate of 46% on the daily newsletter, Anderson Clark said the outlet's readership is growing at a rate of approximately 10% a month.
The Know has evolved from This Much I Know, founded by Emily Sheffield in 2018 with the assistance of startup accelerator Founders Factory before she became editor of the Evening Standard. At the time, the brand focused on simplifying the news largely through an app and its Instagram feed.
It evolved into a newsletter publisher hoping to combat news avoidance following the arrival of chief executive Lynn Anderson Clark, who had moved to Founders Factory after a year leading global partnerships at Tortoise Media and, before that, a decade working in finance, digital media and partnerships at NBC Universal in the US.
She told Press Gazette: "The Thomson Reuters Institute out of Oxford has a stat that says 46% of Brits have actively avoided the news sometime in the past year…
"That's the fact that gets me up in the morning. Because I understand why people avoid the news."
She said that at cocktail parties "my thing" is to ask people: "'How's your relationship with the news?'
"It's a weird question. I've never run into somebody that says: 'It's wonderful! Thank you for asking.' And we've got to change that. We've got to keep people informed and empowered.
"And literally, my husband is like: 'You can't ask people that at cocktail parties.'"
Explaining why she ditched The Know's app shortly after taking over, Anderson Clark noted that "the top apps people use are always social media and things that are useful", for example, fitness trackers.
"And news apps are actually quite low. So even when you think about incredible, big companies like the BBC and The Guardian, those apps are rarely in the top ten apps people use, because people are so invested in their own social media and things like that.
"And I felt, when I looked at that data like if the BBC and The Guardian… aren't breaking that upper echelon, I don't know if I'm going to be able to do that either." She did decide to keep Instagram as a "shop window" into the newsletter, however.
Fighting against 'human nature' in news readership
Anderson Clark attributed news avoidance to a negativity bias among consumers, saying people are more likely "to click on something that's a bit more salacious – and that's human nature".
The Know's answer to that impulse was "fighting against human nature, in a way… We read many, many sources. We'll read five, ten sources on a story, figure out where the middle is, where the facts are, stripping back the editorial[ising]. And we write about the issues that matter most to our audience."
The Know also uses a consistent structure. Each newsletter begins with what Anderson Clark called "the cheer-me-up" – a positive news story, for example the birth of critically-endangered piglets at a zoo in Torquay.
"We're not a positive news outlet," Anderson Clark said. "That's not how I want to be characterised. But we do start there."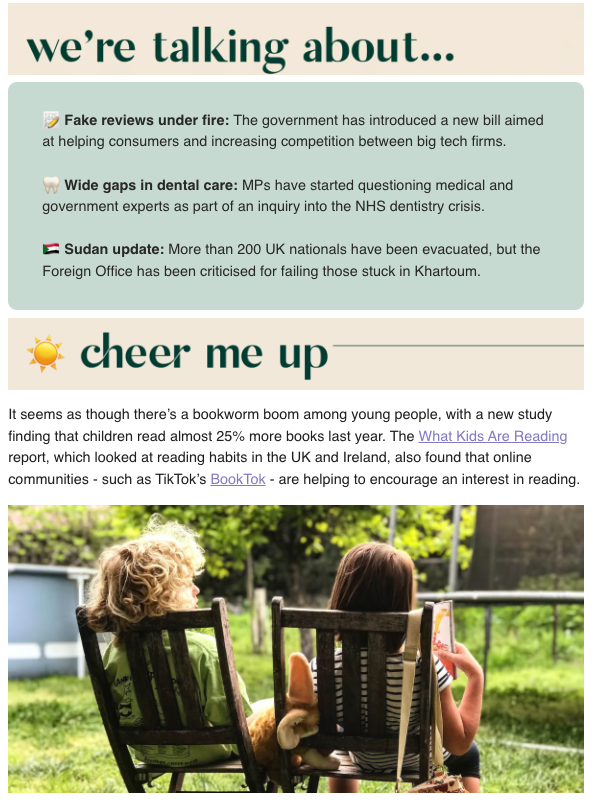 She said: "Oftentimes when I speak with our readers [the cheer-me-up is] their favourite bit – like a little treat. When they open it up, they know they're not just going into something terrible."
"Story one" is "the biggest story of the day" but although this might involve war or disasters, Anderson Clark said the aim is to focus on something that doesn't leave the reader despondent. She gave the example of the February earthquake that struck Syria and Turkey.
"All the news outlets were covering death counts, right? What we do is: of course, we have to understand the impact of the earthquake… But how we covered that story was: 'World rallies around Turkey to help.'
"Because the world absolutely mobilised… And it's the same story. You're still coming away informed about what happened, how it happened, but you're leaving with 'people are helping', and you can leave with that silver lining, rather than just the death toll kind of splashed across your face."
Story two is "generally something about topics that our readers would care about that might not be front page elsewhere", for example, women's health, mental health or sustainability. Anderson Clark said that audience research indicated 87% of The Know's readers donated time or money to a cause over the previous year.
Each newsletter also features a series of news-in-briefs, a news-themed trivia question and a "We're loving" feature, which suggests a product or service recommendation from one of The Know's six staff.
The formula appears to be working: Anderson Clark shared some of the "five to ten" supportive emails she said the outlet receives from readers each day.
"Your newsletter is a lovely way to get in the news without being overwhelmed. So thank you. ❤️", said one email.
Another said: "I've only been [reading] a short while but I really appreciate your approach, it's great. I actually find I engage with the news in a much healthier, more effective way based on the content of The Know. So thanks, I think you're doing a great job."
Long-term sponsorships will be 'crucial'
With 50,000 subscribers and an open rate of almost 50%, The Know is now likely reaching around 25,000 people – most of them young British women – on a typical weekday.
Anderson Clark said the newsletter's growth picked up in earnest in October. "It was ticking along, and then in October something happened. A lot of it's word of mouth – and we do have an incredible referral programme as well." 
The Know's editor, British Journalism Award-winner Kate Samuelson, similarly told Press Gazette in January that Cheapskate, the newsletter she launched with Georgia Weisz, had grown to 10,000 subscribers largely through word of mouth.
[Read more: How newsletter for thrifty Londoners built a 10,000 person audience by word of mouth]
The Know's referral programme, which launched in November, is another similarity. Whereas Cheapskate encourages sign-ups through weekly giveaways, The Know does it through a "referral rewards" scheme, awarding increasingly generous prizes the more friends a reader invites.
The Know is not yet breaking even, and for now, makes revenue mostly from "one-off sponsorships. We just partnered with Universal Studios, we just partnered this month with Bumble. So amazing brands, which we're super proud of, but I want to get away from one-off…
"Moving from these one-off, one month things to six months to a year is going to be crucial in the longevity and sustainability of our business," Anderson Clark said.
She added: "For me, information is power. And my goal is to get that information to as many people as possible."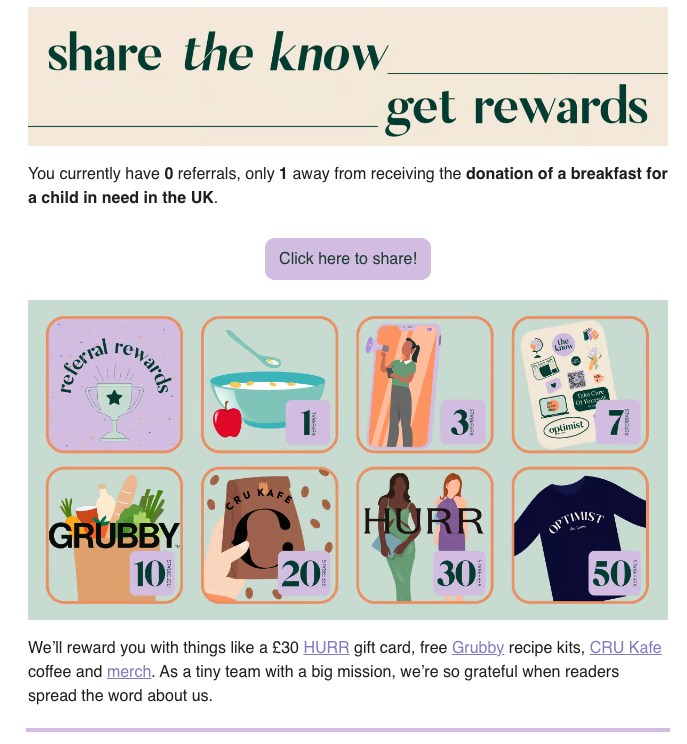 Email pged@pressgazette.co.uk to point out mistakes, provide story tips or send in a letter for publication on our "Letters Page" blog