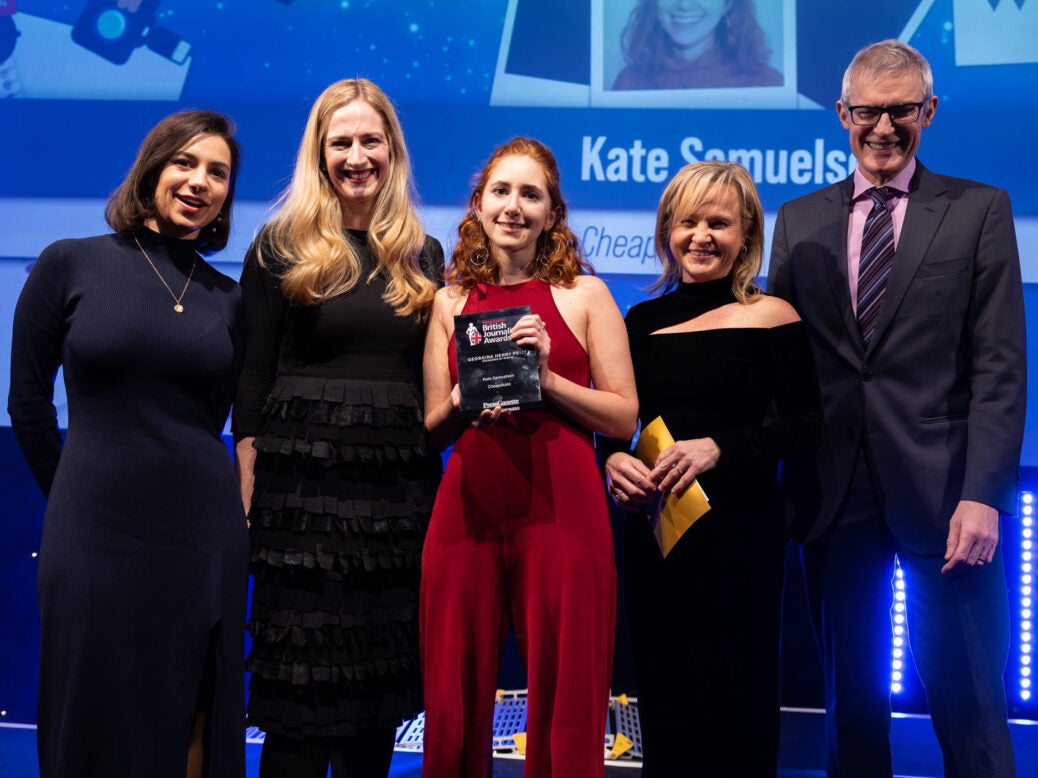 Last month at the British Journalism Awards free newsletter Cheapskate won Women in Journalism's Georgina Henry Award for digital innovation.
The publication runs on a simple premise: it wants to tell Londoners what free, good events are happening in the city each week.
And without paying to promote itself, that formula has seen Cheapskate build up 10,000 subscribers in less than four years.
What is Cheapskate?
Cheapskate co-founder Kate Samuelson, who will shortly be departing The Week to be editor-in-chief of newsletter start-up The Know, started Cheapskate with graphic designer Georgia Weisz in May 2019.
"Even though there were places like Time Out, there was nothing that focused on free events in particular," Samuelson told Press Gazette.
The newsletter goes out each Monday morning and lists two free events happening each day that week.
Samuelson said: "I absolutely love newsletters as a format. I think there's something so amazingly personal about them, the way that they just land in your inbox, but also they're quite an amazing medium because you're not at the whim of Instagram or Facebook changing its algorithms… With a newsletter, when you've got people's email addresses, that's it. And that's the beauty of it."
The events in the newsletter are curated by Samuelson and Weisz through a mix of vigilance, searching and PR pitches. Samuelson said that when Cheapskate was starting out, populating the newsletter required a great deal of scouring. But now: "There's so many to choose from. It's not like we have to scrape at the barrel. We really can be selective. So we pick the very best ones."
The pair won't promote anything in the newsletter which is sold out.
"I know they're free events," Samuelson said, "but often they won't have any tickets left. But it's really important for us that when the newsletter comes out on Monday, every event is still available for our subscribers to book."
Cheapskate's natural demographic is younger, broke Londoners. But Samuelson noted as well: "I think Cheapskate is sort of perfect for people that are going on first and second dates because of that low commitment element, as well as the no cost thing."
The power of word of mouth (and BBC local radio)
Cheapskate goes out to approximately 10,000 subscribers. Its growth is helped by being free, but it has hit five-figures just through word of mouth without any paid promotions.
"I do think if people really like your product, then they are more inclined to shout about it," Samuelson said. "And we also do put a lot of reminders in the newsletter asking people to tell their friends about it."
The promise of freebies has gone a long way to boosting sign-ups, too: Cheapskate runs a weekly free-to-enter competition.
"Sometimes we'll do things like give away a bottle of gin and stuff like that to our subscribers. And that's a good way of increasing our subscriber base because we'll get people to forward the email in order to enter."
They have also been helped out by BBC Radio London, who regularly invite Weisz and Samuelson on to talk about upcoming free events.
The newsletter does carry some paid placements at the bottom – for example, affiliate links for money off a Sainsbury's shop – and has run adverts for the likes of the Donmar Warehouse and the Mayor of London's "Thrive LDN" mental health initiative
But Samuelson and Weisz do not pay themselves, putting everything straight back into the venture. Samuelson said that after the Georgina Henry Award win, which comes with a £4,000 prize, she hopes to "do a bit more digital marketing and try and put some ads out on Instagram and Twitter and Facebook – because I know that there are so many more Londoners that we could be reaching".
Samuelson hopes for Cheapskate to one day make a profit – and span the globe.
"I would love to be devoting a couple of days a week at least to Cheapskate and getting it to a point where we're more of a sustainable business than we are at the moment.
"We have big plans. I don't think that Cheapskate should be limited to London. I don't see why we don't have, you know, Cheapskate Manchester, Cheapskate Bristol, Cheapskate Edinburgh. And then one day I'd love to have Cheapskate New York, Cheapskate Berlin. I feel like it's a model that could definitely expand elsewhere. So that's our kind of ultimate aim.
"But right now we're just concentrating on getting Cheapskate London as good as possible and getting our subscriber list as high as we can. And then we'll start thinking about expanding."
Georgina Henry Award win
Asked why she thought Cheapskate won the Georgina Henry Award, Samuelson said: "I know that other shortlisted entries were all really impressive and I genuinely was just so honoured to have been shortlisted within that category among those other businesses.
"But I think something that stood out to the judges was the fact that we've been working on it for a few years, and I felt like that helped them see that we're already serious about what we do."
And more people may now need a resource like Cheapskate amid the cost of living crisis.
"I think there's so much conversation at the moment, rightly, about people not being able to pay their heating bills and not being able to afford food, and that is really important," Samuelson said.
"But I think another part of that conversation that we often forget about, or maybe isn't given as much importance as it should, is the fact that people aren't able to access culture or do things. And that can be very isolating."
"I think what's great about Cheapskate is it's helping people, even in this current climate, even people who are struggling, realise that there's still stuff that they can be doing literally every night if they wanted to be, for free, in London."
Email pged@pressgazette.co.uk to point out mistakes, provide story tips or send in a letter for publication on our "Letters Page" blog