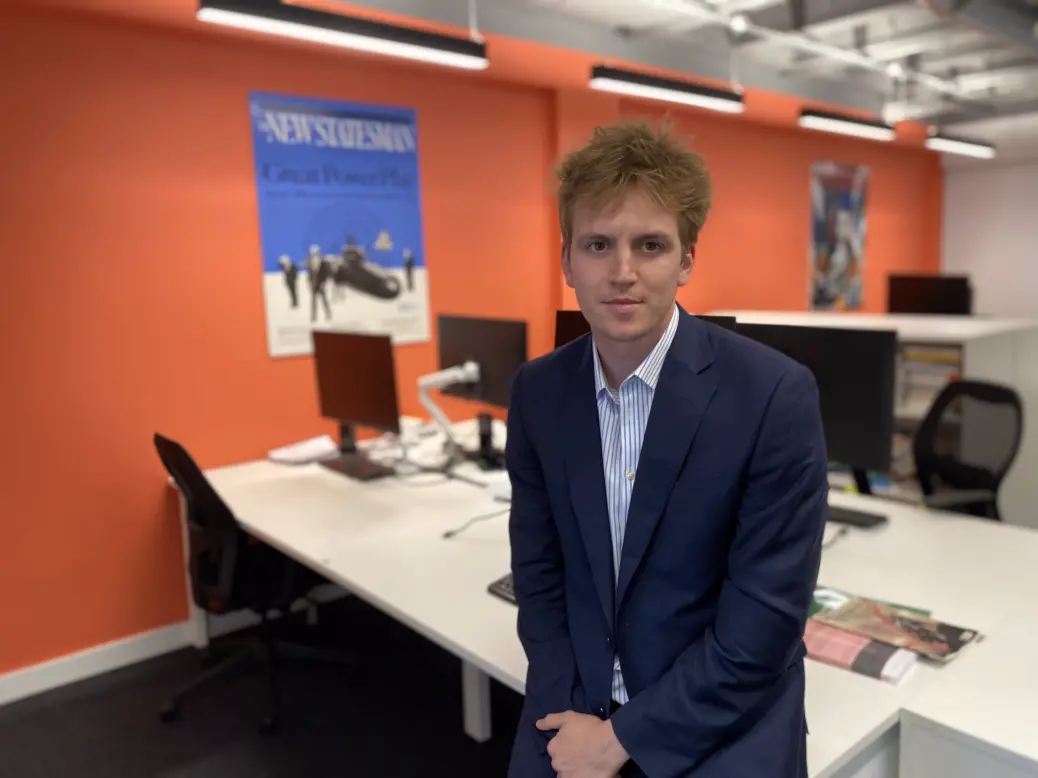 The New Statesman has abandoned its old WordPress-based newsletter platform and become the first major publisher to distribute its newsletters entirely through Substack.
The magazine's staff writer and head of newsletters, Harry Lambert, told Press Gazette the plan is to use the newsletters, which are currently free, to drive subscriptions. (Note: Press Gazette is part of the New Statesman Media Group.)
Lambert cited his own personal use of Substack, as well as its suite of back-end tools, as reasons the magazine chose the platform.
On social media, 'every piece has to find its audience afresh'
In common with other publishers, the New Statesman has long used newsletters as a way to establish a relationship with its audience unmediated by search and social media platforms.
By comparison, Lambert said that when a New Statesman article does well on X (formerly Twitter), there is no guarantee of retaining readers who had enjoyed it: "Every piece has to find its audience afresh."
The New Statesman's flagship politics newsletter Morning Call launched in 2016 and built up a loyal following under political editor Stephen Bush, who has since moved to write a competing, paid newsletter for the Financial Times. Morning Call is now written by political correspondent Freddie Hayward.
By the start of 2023, the New Statesman had numerous separate newsletters for economics, the environment, culture, politics and world news.
This was too many, the publisher decided this year. Lambert said: "Instead of having a whole buffet of different newsletters and cutting the brilliance up into little segments, we just decided to give [the audience] one that we thought they'd like on Saturday and have the power of a big audience through one newsletter."
That one newsletter is The Saturday Read, which launched on Substack in March and is edited by Lambert and New Statesman commissioning editor Will Lloyd. Comprising six to ten articles mostly from the magazine, Lambert described it as "the best writing across books, culture, ideas and politics".
In May, the magazine cut all its newsletters except The Saturday Read and Morning Call, which moved across to join it on Substack. "I like to think of it, perhaps grandiosely, as a newspaper operation," Lambert said.
"Because you've got your daily paper, which is Morning Call… and then you've got your big Saturday paper with The Saturday Read. And you know, it's God's day on a Sunday, everyone's resting."
Last week the New Statesman's policy vertical, Spotlight, made the hop over to Substack too – redubbing its Green Times newsletter, written by associate editor Jonny Ball, "The Green Transition". It has so far attracted more than 2,000 subscribers.
'What we're so pleased about is that people stick around'
The Saturday Read has amassed 156,000 free subscribers since launch and at time of publication it ranks 14th on Substack's leaderboard of free, politics-focused newsletters, ahead of 'Slow Boring', the newsletter by American pundit Matthew Yglesias that ranked on Press Gazette's list of the top-earning Substack newsletters earlier this year.
The New Statesman appears to be the largest legacy journalism organisation on Substack, and the platform confirmed to Press Gazette it is the only major publisher to host all of its newsletters there.
The Saturday Read's subscriber numbers have grown consistently since it launched, in large part because anyone registering for a free account on newstatesman.com is told that "by creating an account, you will receive access to three free articles a month and the Saturday Read newsletter".
"A crucial step change we made when we launched The Saturday Read is we realised the New Statesman every week collects quite a lot of emails from people who want to register on the website," Lambert said. "And so, we made The Saturday Read an auto-enrol newsletter for registrants."
He added that "the whole point was because it's only one email a week and it's on a Saturday – which is otherwise going to be quite a quiet day – we thought that wouldn't be too intrusive for registrants.
"And obviously, if you're registering, you're showing an interest in our content, and this is the best introduction to what the NS is doing each week."
Lambert said the auto-enrol subscribers "account for a lot of the growth" the newsletter has seen, but "what we're so pleased about is that people stick around, because they may well receive this email and then think it's rubbish and not come back in future weeks".
The newsletter is "pretty consistently" reaching between 70,000 and 80,000 opens on each edition, he said – although it is worth noting that measuring how many times an email has been opened is an imprecise science. This has been particularly true since 2021, when Apple introduced privacy protection measures that mean it caches all emails sent to Apple Mail users, making it appear to newsletter tracking metrics as though every one of those recipients has opened the email.
The Saturday Read's numbers do show an upwards trend, however, with the first edition receiving some 17,000 opens, according to Lambert, and the five editions preceding our interview in mid-August each on at least 75,000.
Morning Call currently gets some 20,000 opens per issue, Lambert said. In light of the competition from early morning politics newsletters at Politico, the FT, The Times and The Guardian, the NS decided to push its offering back to the late morning in order to provide "a great take on the essential news or politics of the day".
Newsletter drives 10% of Saturday's website traffic
Lambert said more than 100 people click the New Statesman's "subscribe" link on The Saturday Read each week – although he did not clarify whether all of those made it to the checkout and the magazine's previous newsletter setup did not track how many subscriptions they generated, meaning a before and after comparison is not possible.
The aim is to drive more magazine subscriptions directly through the Substack offering in future.
Many of The Saturday Read's readers hit the New Statesman website's paywall after three articles per month, for example, so Lambert suggested they could send out a paid version of the email in which all the links are free to read, at a cheaper price than a full subscription.
"We're still working out exactly how we can do that – partly it's technical. But the whole point of the newsletter was to engage people, and then hopefully encourage them to subscribe."
[Read more: How Substack has helped FT persuade readers to pay for email newsletters]
In the meantime, the newsletter continues to be monetised through sponsorships and advertising. And on Saturdays, some 10% of the New Statesman website's traffic is driven by the weekly newsletter.
But asked whether he often saw people sharing content from the Substack on social media, Lambert was ambivalent.
"I don't think people share that much, honestly, is the truth. I just think we're in a different era."
He quoted ex-New Statesman writer Helen Lewis who recently wrote: "Social media is no longer fun, nor even particularly social."
He also cited Instagram chief executive Adam Mosseri who recently revealed "all the growth in the last five years has been not in feeds or pictures, but in Reels and even more so in direct messages," as Lambert put it.
"In other words – I'm from the MSN generation, and we're almost going back to that. We communicate now through Whatsapp, through DMs. We're ever less social, I think.
"The newsletter kind of fits that era better than the performative social media era we were in before."
Email pged@pressgazette.co.uk to point out mistakes, provide story tips or send in a letter for publication on our "Letters Page" blog