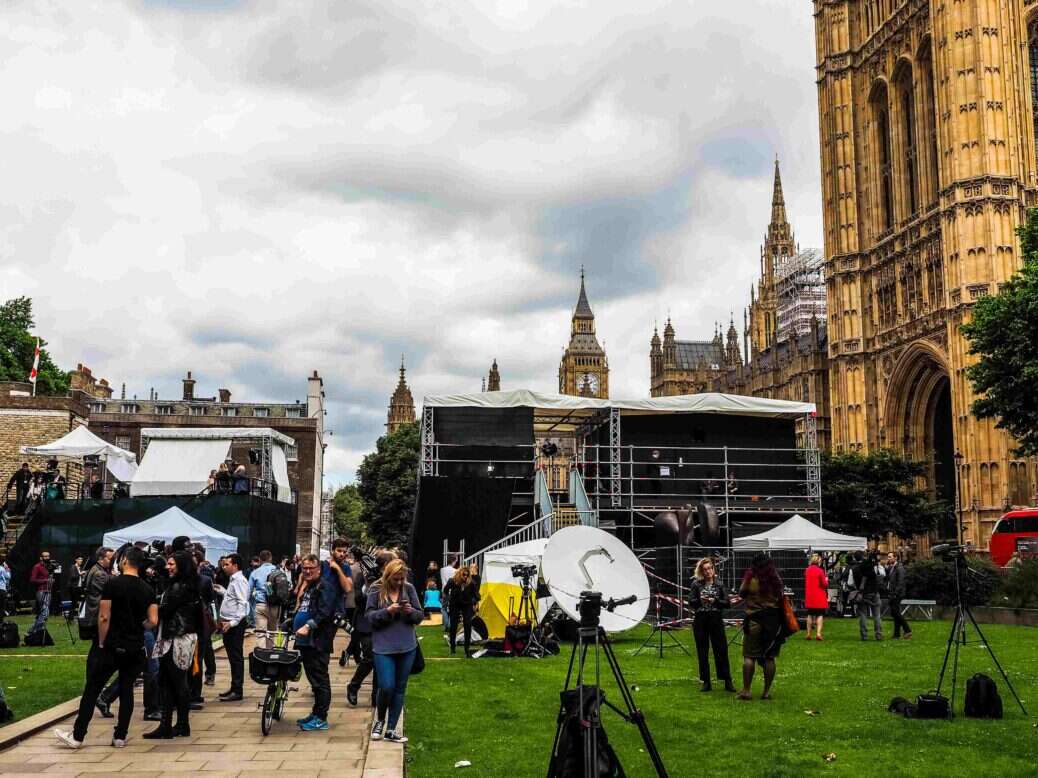 Of the 437 political journalists with passes that give them access to the Palace of Westminster, 76 have disclosed payments from outside sources.
The journalist with the most declared outside interests is Talkradio's political editor, Peter Cardwell.
His disclosures were made in the House of Commons register of journalists' interests, which exists so that the Palace of Westminster and the public can monitor potential conflicts of interest among the journalists who are granted access to parliament via a "Lobby pass". Any payment greater than £860 from within the current calendar year must be disclosed.
In October, 76 journalists disclosed 199 payments. Most of these fall in the following categories:
Journalists receive fees for their time if they do guest commentary on TV and radio shows
They often write books and receive royalties from their publishers
And writers often contribute columns to a variety of other media organisations.
Around a dozen journalists with lobby passes have declared payments from political organisations, law firms, industry PR and lobby groups, private businesses, and non-profit organisations with political aims.
"The number of wider interests they take, from various public affairs agencies, from other media organisations, it partly speaks to this kind of revolving-door phenomenon between politics, public affairs and journalism," said Tom Chivers, campaign coordinator for the Media Reform Coalition, a news industry watchdog group. 
Though it is worth noting that financial outside interests declared by journalists are tiny in comparison to those declared by MPs. A joint investigation by Tortoise and Sky News revealed in January this year that MPs had been paid £17m on top of their salaries since the previous election in December 2019.
Talkradio's Peter Cardwell has most outside interests
Talkradio political editor Peter Cardwell has a long career as a journalist and a political operative. He has worked for the Sunday Times, the BBC (including two stretches at Newsnight), Sky News, 5 News and Good Morning Britain.
Between 2016 and 2020 he worked for the government as a special adviser to the secretary of state for Northern Ireland, the home secretary, the secretary of state for housing, communities and local government, and finally to the Justice Secretary and Lord Chancellor. He served under prime ministers Theresa May and Boris Johnson before returning to journalism in 2021.
Cardwell disclosed that his current income sources other than Talkradio include:
Sovereign Strategy, a lobby group whose clients include various nation states and corporations. The company lists him as a "senior counsel," touting his career as a former government special adviser. Cardwell has a Sovereign Strategy email address.
Atticus Partners, a lobbying and PR group. The firm also lists Cardwell as a "senior counsel".
Jack Clyde Consulting Ltd, which Press Gazette understands is a payment vehicle for work carried out for the two lobbying firms. Its last set of accounts filed in June show it had net assets of £44,334, up from £17,643 the year before.
Home REIT, a property investment company with market cap of £300m, which lists Cardwell is a non-executive director. In its last annual accounts (for 2021) it said it paid Cardwell £32,077.
Cardwell is also represented by three speakers' agencies, Specialist Speakers, Gordon Poole, and JLA. He did not disclose them in his register of interests in October.
Cardwell declined to comment as did Sovereign Strategy, Atticus Partners and Home REIT.
Other political journalists with declared interests
LBC presenter Iain Dale reported 11 other sources of income in October and 12 in September. All of those were for book royalties and media appearance fees, except one: a payment for hosting a webinar in the Levelling Up Goals series for Fit for Purpose. That gig involved moderating a video panel about health and wellness with former MP Justine Greening, Patricia Davies, the CEO of the Shropshire Community Health NHS Trust, and Harry Hyman, the CEO of Primary Health Properties, a real estate investment trust.
Fit For Purpose is run by a group called This Is Purpose, which in turn is a trading name of Crowne Associates Ltd, a lobby group.
"I chaired seminars on levelling up and social mobility for Justine Greening. There was no lobbying involved," Dale told Press Gazette. "There is no conflict of interest at all and anyone with half a brain can see that. If you think chairing a series of events which promote social mobility and levelling up is a conflict of interests you have a very strange brain."
Of the BBC's 79 lobby journalists, only three reported financial payments from another source. One is also a visiting professor at the University of Leeds. Another writes occasional articles for The Church Times. 
Nicholas Watt, the political editor for BBC Newsnight, received money from Quinbrook Infrastructure Partners, an investment group in the renewable energy sector. Watt has received fees for making speeches at Quinbrook events twice in the last year.
"Nick Watt has complied with the House of Commons register and the BBC external register," a spokesperson for the BBC said.
Matt Chorley, a presenter for Times Radio and columnist for the Times, disclosed he was paid by Pinsent Masons, the law firm. "This is in relation to one webinar I took part in in January 2019, which from memory was about the general state of politics which I wrote about publicly every day," he told Press Gazette. "I obviously don't regard it as a conflict of interest."
Katy Balls, political editor of The Spectator, disclosed she was paid by the Pensions and Lifetime Savings Association, an industry group that represents pension investors, as a speaker.
Lucy Fisher, Whitehall editor of the Financial Times, was paid as a speaker by Dentons Global Advisors, the PR offshoot of the world's largest law firm. She also hosted an event for the Public Relations and Communications Association, the lobby group for PR agencies.
Paul Waugh, the chief political commentator for The i newspaper, listed the Associated British Insurers, an industry group representing the insurance industry, as a source of payment in connection with its annual conference.
Tom Harwood, the deputy political editor of GB News, also writes for CapX, an opinion aggregator site run by the Centre of Policy Studies, a conservative think tank. He denied he was conflicted. "I have in the past written for CapX, just as I have written for other publications such as the Telegraph and the Mail. That's why it's on my register of interests," he confirmed to Press Gazette. "I'm surprised that you think a journalist getting paid by a newspaper, magazine, or news website for their journalism is worthy of comment. It seems entirely bog standard to me."
Andrew Gimson, contributing editor to Conservative Home, disclosed payment from lobby group Lodestone Communications, where he is listed as an associate. Lodestone's clients include The Bourbon Alliance, Glennmont Partners (renewable energy), the British Poultry Council, Horizon Nuclear Power, and Young's Seafood Ltd.
Tony Grew, the founder of the parliamentary schedule tracking app Parly, listed Randall's Monitoring as an interest. Randall's clients include two lobby groups, the General Pharmaceutical Council and the Association of British Insurers. He is also a consultant for Palace Yard, a think tank founded by former House of Commons deputy speaker Natascha Engel which advises policymakers on complex issues.
​​Juliet Samuel, a columnist for The Times, is also a fellow at Policy Exchange, the conservative think tank.
Francis Elliott, the editor of The House magazine and a columnist for The i, disclosed that he previously worked as director of advocacy at Engage Britain – a job he left to return to journalism and join The House this year. Engage is a nonpartisan campaigning body that seeks greater public participation in government decisions. Its partners include IPPR, a progressive policy think tank, and the Centre for Public Impact (a unit of the Boston Consulting Group). "I don't think it is a conflict to be honest," Elliott told Press Gazette. "I was advocating for public participation in policymaking, and in what way would that have ever interfered with my journalism?"
Josiah Mortimer, chief reporter at Byline Times, worked for Campaign Collective, a social enterprise PR agency that represents non-profits and charities.
Peter Knowles is the Westminster correspondent for C-SPAN, the US-based cable TV network which broadcasts political talk and live debates and speeches. He disclosed work for the Westminster Foundation for Democracy, a public body sponsored by the UK Foreign Office that supports democratic institutions outside the UK. He also advised Pi Comms, a TV production agency whose clients are local and central government bodies that want their sessions broadcast on video. Pi Comms clients include the BBC, ITN, Intel, PaddyPower, and Randox.
"I'm entirely comfortable with that," Knowles told Press Gazette. The advice he has given to WFD and Pi was on how to best broadcast government proceedings in such a way as to increase democratic accountability, both in the UK and in foreign countries. "I'm quite proud to say that I have [worked on] potential projects to increase improve democratic accountability through parliamentary broadcasting in countries in the Maghreb and Eastern Europe, and the most recent piece I did with them, quite a long time ago, looking at disinformation and the impact of that in the Taiwanese media. They're concerned with improving democratic accountability."
Among  ITV's 35 lobby journalists, only Jasmine Cameron-Chileshe disclosed any other source of income, as a "paper reviewer/commentator, Sky News, BBC News and Times Radio" (which dated back to when she worked at the Financial Times).
Sky News has no third-party interests reported for its 30 Lobby journalists. Political correspondent Joe Pike left Sky in June of this year to join BBC Newsnight as insight and investigations editor. He listed one source from his Sky days, the publisher Biteback, which handled his book about the Scottish independence referendum.
Press Gazette contacted all of the journalists concerned for comment.
Email pged@pressgazette.co.uk to point out mistakes, provide story tips or send in a letter for publication on our "Letters Page" blog