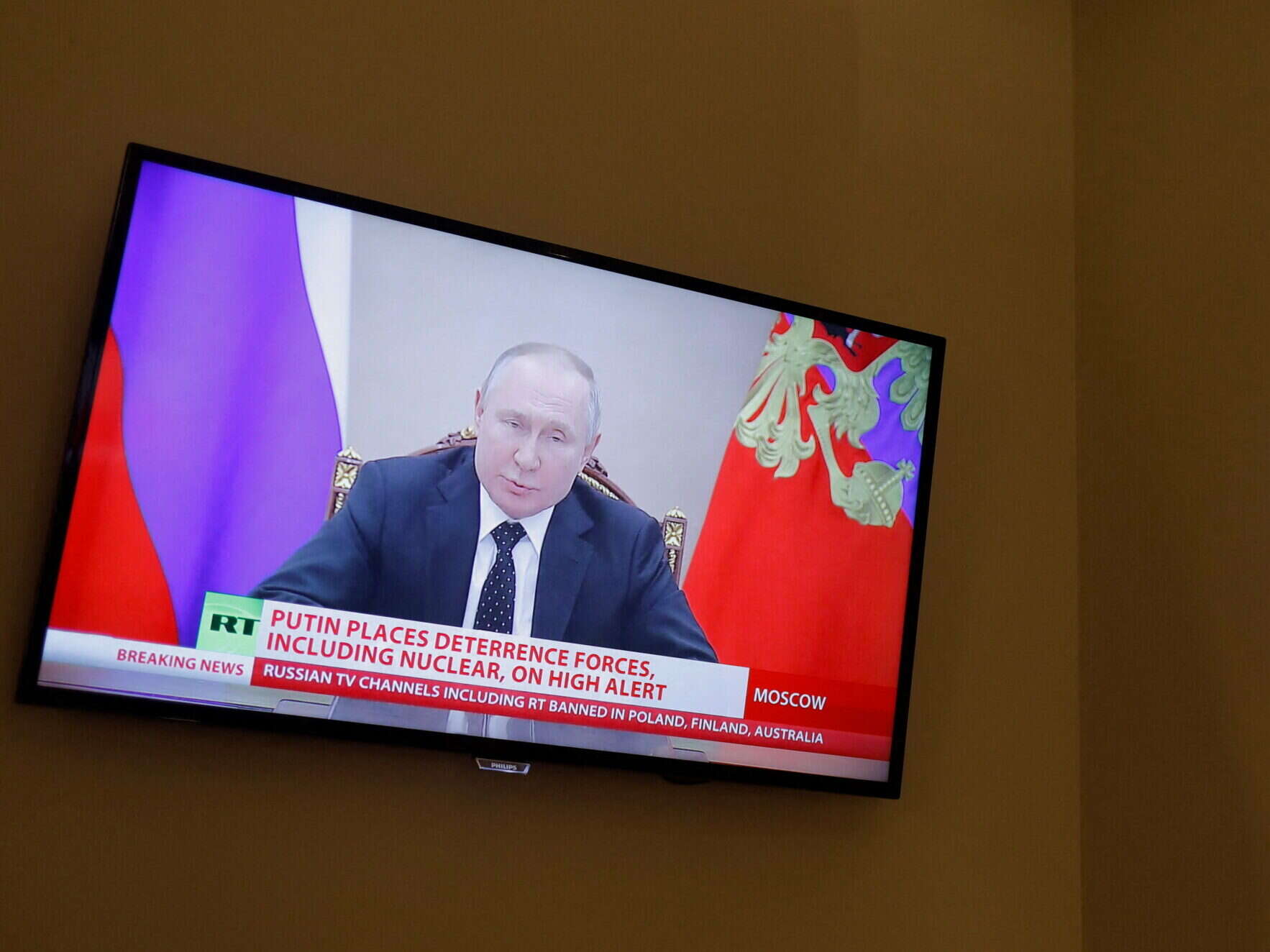 The Russian government has added more than a dozen journalists and media executives to its list of individuals banned from entering the country.
All of the newly-added media names are associated with either the BBC, Guardian News and Media or the Daily Telegraph.
The Russian foreign ministry said it was responding to "the aggressive anti-Russia policy pursued by Ldaondon" and that "work on expanding Russia's blacklist in response to Britain's actions is ongoing".
The 13 new additions join a group already including the likes of Guardian editor Kath Viner, Daily Mail editor Ted Verity, BBC director-general Tim Davie, and presenters Piers Morgan and Huw Edwards.
[From August last year: Russia declares war on UK journalists – 41 leading editors and reporters sanctioned]
The foreign ministry referred to the newly-banned group of journalists as "Russophobia-charged officials and correspondents" publishing "propaganda support for the Zelensky regime".
They include BBC News chief executive Deborah Turness, analysis editor Ros Atkins, disinformation correspondent Marianna Spring and two journalists working in the corporation's new "BBC Verify" effort.
In The Guardian group are the newsbrand's world affairs editor Julian Borger, chief reporter Daniel Boffey, columnist Emily Bell and both GNM's chairperson and its chief financial and operating officer.
The three Telegraph journalists added, Colin Freeman, Francis Dearnley and David Knowles, all work on the publisher's "Ukraine: the latest" podcast.
Dearnley, The Telegraph's assistant comment editor, said on Twitter he was "proud" to have been sanctioned.
Also appearing on Friday's list was Culture Secretary Lucy Frazer, who the Russian government said "actively lobbies to bar Russian athletes from international sports".
The Russian government said the journalists added were "implicated in fabricating fraudulent anti-Russia stories to be promoted in the media and in spreading false information about our country as they are trying to prevent and cut short attempts at impartial coverage of the developments in Ukraine and to exclude signs of dissent by using methods described by George Orwell in his novels 1984 and Animal Farm".
Asked by Semafor editor Ben Smith about his reaction to finding out he'd been banned, The Guardian's Borger said: "I felt a surge of pride at first, imagining my writing had unsettled the Kremlin, but when I saw the full list of names it looked more like they had been chosen almost at random, either by an algorithm or an intern in a hurry."
Indeed, one name on the list is The Telegraph's chief people officer Mark Musgrave. The list also includes a "Keith Freeman" – apparently a misspelling of Colin Freeman's name. The only article on telegraph.co.uk under the Keith Freeman byline is headlined "'The UK's patient zero was one of my hotel guests'" and was written by the chief operating officer of a network of short-stay apartments.
Full list of journalists and media executives newly banned from Russia:
BBC News chief executive Deborah Turness
BBC News disinformation correspondent Marianna Spring
BBC analysis editor Ros Atkins
BBC Verify data and investigative journalist Daniele Palumbo
BBC Verify journalist Jake Horton
Guardian News and Media chair Charles Gurassa
Guardian chief financial and operating officer Keith Underwood
Guardian columnist and Tow Center professor Emily Bell
Guardian world affairs editor Julian Borger
Guardian chief reporter Daniel Boffey
Telegraph head of audio development and Ukraine podcast presenter David Knowles
Telegraph chief people officer Mark Musgrave
Telegraph assistant comment editor Francis Dearnley
Former Sunday Telegraph chief foreign correspondent Colin Freeman
The previous list as published on Press Gazette is as follows:
Shaun Walker: Correspondent, The Guardian
Con Coughlin:  Columnist for the Daily Telegraph
Stuart Ramsay: Chief correspondent, Sky News
James Rothwell: Journalist for the Daily Telegraph
John Witherow: Editor-in-chief, The Times
Chris Evans: Editor-in-chief of the Daily Telegraph
Richard Sharp:  Chairman of the Board of Governors, BBC
Tim Davie: Director general and editor in chief, BBC
Kath Viner: Editor-in-chief, The Guardian
Clive Myrie: Presenter and foreign correspondent, BBC
Orla Guerin: Foreign correspondent, BBC
Nick Robinson: Today presenter, BBC
Paul Adams: Diplomatic correspondent, BBC
Nick Beake: Europe correspondent, BBC
Alex Thomson: Chief correspondent, Channel 4 News
Dan Rivers: Correspondent, ITV News
Peter Beaumont:  Reporter, The Guardian
Emma Graham-Harrison: Reporter, The Guardian
Sophy Ridge: Journalist and host,  Sky News
Cathy Newman: Journalist and host, Channel 4 News
Ted Verity: Editor-in-chief, Daily Mail
Christian Broughton: MD, The Independent
Larisa Brown: Defence editor,  The Times
Mark Galeotti: Political scientist and freelance journalist
Joe Barnes: Brussels correspondent, Daily Telegraph
Gideon Rachman: Columnist for the Financial Times
Luke Harding: Foreign correspondent, The Guardian
Dominic Lawson: Columnist for The Sunday Times and Daily Mail
Lawrence Freedman: Columnist for The Sunday Times
David Aaronovitch: columnist for The Times
Dan Sabbagh: Defence and security editor for The Guardian
James Crisp: Europe editor for The Daily Telegraph
David G Rose: Freelance
Caroline Wheeler: Political editor for The Sunday Times
John Ryley: Head of Sky News
Jonathon Munro: Head of BBC News
Edward Carr: Deputy editor of The Economist
Jerome Starkey: Defence and Ukraine correspondent for The Sun
Robert Peston: Political editor for ITV News
Piers Morgan: Presenter at TalkTV
Huw Edwards: Presenter for BBC News at Ten.
Email pged@pressgazette.co.uk to point out mistakes, provide story tips or send in a letter for publication on our "Letters Page" blog