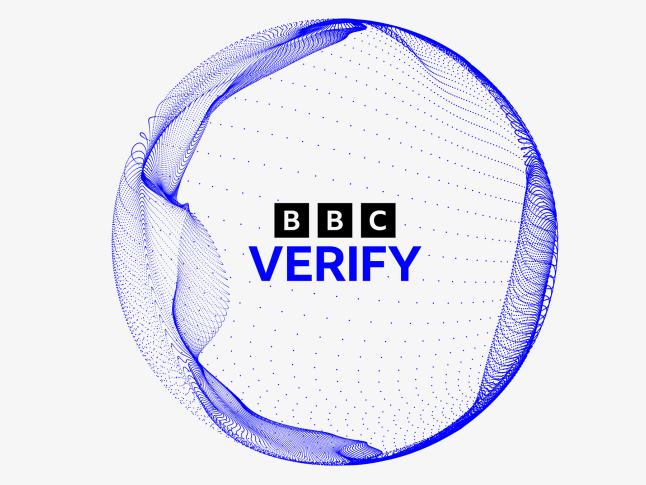 BBC News has unveiled BBC Verify, a brand aiming to build audience trust by showing how its journalists know what they are reporting is true.
The BBC says Verify will be "a team of investigative journalists, a brand and also a physical area in the BBC newsroom in London".
BBC News chief executive Deborah Turness first revealed plans for the new team at the Sir Harry Summit in London last week when she said BBC Verify would be a "new brand within our brand" that would "pull back the curtain" on BBC journalists' work to produce "radical transparency".
What is BBC Verify?
Announcing BBC Verify on Wednesday, the corporation said it will "showcase the advanced editorial tools and techniques BBC News journalists are using to investigate, source and verify information, video, and images".
The "highly specialised team" will "share the evidence of their work with their audiences", using capabilities that "go beyond conventional newsroom techniques".
The BBC Verify team will consist of "around 60 journalists" and pull together the following existing teams which already carry out open-source investigative (OSINT), fact-checking and verification work:
The User Generated Content (UGC) team
World Service Disinformation Team
Monitoring Disinformation Team
Data and Analysis, including analysis editor Ros Atkins and disinformation correspondent Marianna Spring.
BBC Monitoring assistant editor Olga Robinson tweeted: "My team will be part of BBC Verify – a new team of investigative journalists with years of experience in verification work and forensic journalism. Covering disinformation will still be an important part of our daily work too."
The BBC said Verify journalists "will regularly appear across BBC News content, including on the BBC News website live pages, radio and the BBC News channel.
"The team will work across a range of stories, from breaking news to analysis and visual journalism all the way to original investigations."
The BBC tends to rank highly for trust among news audiences, but has nonetheless suffered falls in recent years in common with other news organisations.
Turness told the Sir Harry Summit: "I see our currency as trust – and in a world of fake news and disinformation where consumers tell us they find it harder and harder to trust even brands like BBC when we tell them what we know, we've got to shift that and where we've got to invest is to invest in bringing investigative journalism into everyday news."
She said BBC News already carries out a lot of open source journalism and verification but "the audience doesn't actually know it because they don't see it".
BBC Verify will, she said, "pull back the curtain and even in our core content on our core, traditional broadcast platforms as well as digital live pages we're going to be talking about and showing more and more of that journalism to build that trust".
When will BBC Verify launch?
The corporation said BBC Verify branding and journalists would begin to appear in output in coming weeks.
Turness said in a statement: "News consumers have told us that the more they know about the work our journalists do, the more they will know they can trust our journalism. BBC Verify is transparency in action – fact-checking, verifying video, countering disinformation, analysing data and explaining complex stories in the pursuit of truth.
"This is our promise to consumers – we understand that their trust must be earned and we will show them how we are doing that each and every day."
Lindsay McCoy, currently deputy editor of the One, Six and Ten o'clock News will be BBC Verify's executive editor, commencing in the role "in the coming weeks".
BBC director of news content Richard Burgess said McCoy was "a widely respected, strong editorial leader and has played a big part in the success of the One, Six and 10 o'clock News".
Email pged@pressgazette.co.uk to point out mistakes, provide story tips or send in a letter for publication on our "Letters Page" blog