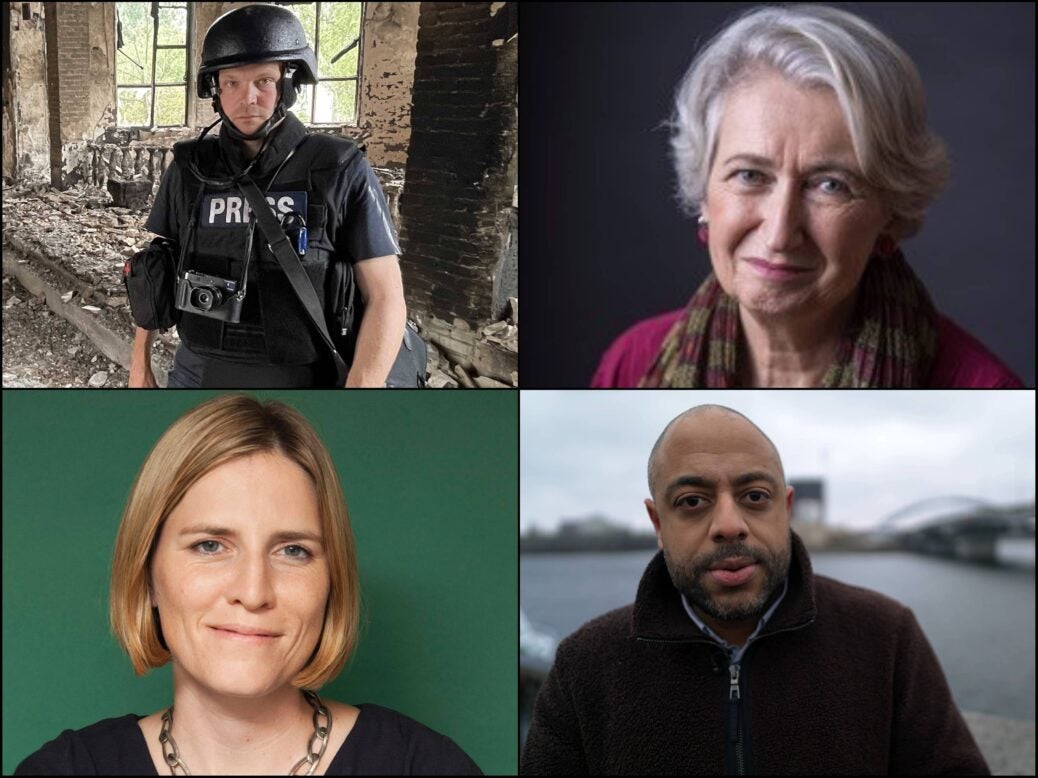 Standing in a muddy trench facing an invasion by Europe's largest army, Lindsey Hilsum's thoughts went to Siegfried Sasson and the other poetic chroniclers of the First World War.
For the Channel 4 News international editor and the hundreds of other UK journalists who have reported from Ukraine, the last year has been a foreign reporting assignment radically different from anything anyone has experienced in the modern era.
The scale of the weaponry, the use of online platforms like Telegram and Tiktok, and the impossibilities of embedding on the Russian side meant many new skills had to be learned, and quickly.
Hilsum said she and many other foreign correspondents had to grapple with a very different conflict to what they had been used to (such as the civil wars in Syria, Libya and Rwanda) in part because there was "such a large amount of heavy weaponry, heavy artillery and large numbers of tanks".
"This is a full-scale invasion by one of the largest armies in the world and where you have trench warfare," she said. "In December I was reporting from a muddy trench and I felt like I was reporting the Battle of the Somme in World War One, I was thinking about Siegfried Sassoon and Wilfred Owen and all those poets of World War One, and so that's what's very different about this war. It's physically more like World War One or World War Two in that sense of the terrain."
Man in chinos at frontline 'no longer appropriate'
As ITV News global security editor Rohit Kachroo put it: "The magnitude of this story compared to many others, as well as the proximity, are what made the Ukraine story feel so different to cover than some other conflicts.
"At the beginning, there was a lot of confusion, there was no definition of the frontline, there were no organised embedded facilities and, of course, when you step back from the frontline reporting it was part of a broader hybrid war which includes misinformation online and so the old-fashioned approach of the man in his chinos at the frontline telling us how dramatic it all feels is no longer appropriate for what we were dealing with."
And Emma Graham-Harrison, a senior international affairs correspondent at The Guardian and Observer, said: "The scale of the conflict was almost entirely unexpected by absolutely everybody."
She had arrived in Ukraine on 15 February, hoping to get to know the country, when the war began nine days later. This abruptness meant journalists were spread out across Ukraine, including in places that suddenly became the frontline. Graham-Harrison herself had been on a train to Mariupol, soon to be famous for the siege it was put under, that night.
"I decided that, for me personally, I wasn't comfortable being that close to the frontline," she said. "At the time, I was planning to meet a translator there and it was unclear whether I'd be able to meet her so I came back to Kyiv to cover the beginning of the war from there instead."
The start of the war was the scariest and most uncertain period for many, although The Sun's defence editor Jerome Starkey was among those to emphasise that these emotions were "tenfold" among Ukrainians themselves.
Being on the wrong end of Russian artillery
Nonetheless, Starkey, who has previously been Afghanistan and Africa correspondent for The Times, told Press Gazette: "I've been scared at many points – very notably on day one, and particularly for those first few days. It began to lessen, but that first period of the war was particularly fraught and nerve-wracking for a number of reasons."
He pointed out that no one could tell whether Putin's army would capture the entire country within hours or days, leaving open the possibility they "would either be caught up in that violence or find ourselves reporting from Russian-occupied Ukraine," he said.
[Read more: Antonia Cundy on freelancing in Ukraine: 'If you can add something, the risk is worth it']
At that time, there were also rumours swirling of plainclothes Russian special forces and intelligence units that may have infiltrated Ukraine to foment uprisings behind the frontlines. This created a tricky situation for journalists at checkpoints, Starkey said.
"Some of them were very professional, well-trained soldiers, but some of them were not professional soldiers. They were keen volunteers, armed with hunting rifles and shotguns, and occasionally alcohol and fear. And that's quite a potent combination when they have been briefed that there are Russian saboteur teams around.
"As journalists, we're some of the only people driving against the tide of refugees driving towards the frontlines. I happened to be in a group of three men, often we'd be wearing body armour and helmets and driving on almost deserted roads up to these checkpoints so from their point of view, we looked incredibly suspicious. That was nerve-wracking."
Similar emotions, Starkey said, continued as he "started to see and experience and feel the death and destruction that was being unleashed". He was in Kharkiv on the second day of the war and came across a dead Russian soldier and a burnt-out Russian tank. At this point, he had no interpreter, who had left to be with his family. And then Starkey found himself sheltering from shelling coming towards him.
"This is very, very different to going on a patrol with incredibly well-trained, friendly British paratroopers or Marines who are the best in the world," he said. "I think perhaps for colleagues who had been to the Balkans or Chechnya or even Syria, they may have some more experience of this. I covered very fluid and volatile situations in Africa, but nonetheless nothing that compared to being on the wrong end of Russian artillery."
Starkey also recalled some "absurd" moments he had while staying in the southern city of Kherson in November after it was liberated from Russian forces. There was no electricity or running water and he and his team, along with the city's residents, had to collect drinking water from the river. He said he was "always just imagining what an anticlimax it would be to get shot while you were filling a bottle of water in order to basically flush your loo".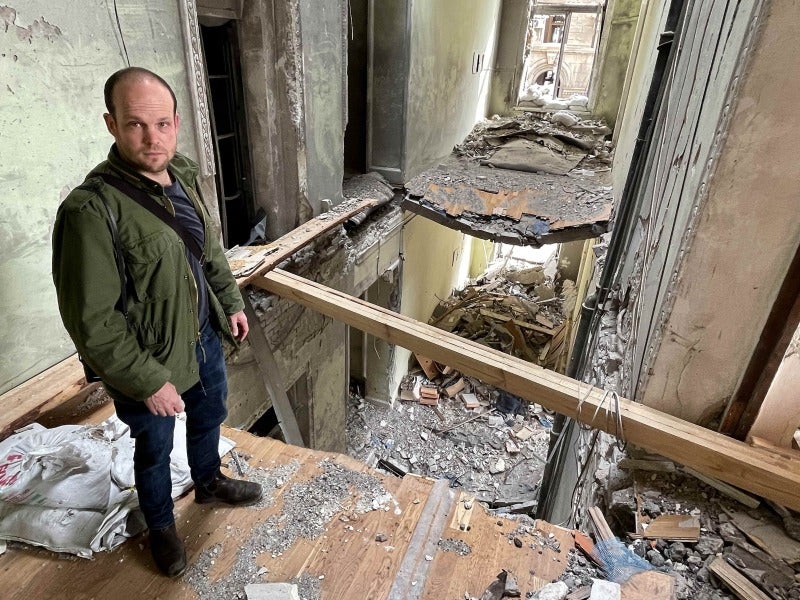 ITV's Kachroo, who has type one diabetes, also recalled being in Kherson at that time. His team had prepared supplies of hundreds of bottles of water and stockpiles of Kitkats and Twixes for the initial uncertain weeks in Kyiv that were ultimately not needed – but proved crucial in Kherson nine months later. "Some of it had gone past its sell-by date but obviously we weren't too worried about that," Kachroo said.
He always travels with two months' worth of insulin but admitted "it did cross my mind at some point what would happen if we couldn't get out and would it be unfair and unethical of me to intrude on the supplies of insulin to people [in Ukraine]?"
In terms of food, many journalists travelling Ukraine's huge road network have found themselves relying on petrol station hot dogs - though Hilsum, as a vegetarian, said she was more partial to the spinach pastries. "Every other journalist who is not a vegetarian has eaten so many Ukrainian petrol station hot dogs that it's amazing that they're not coming out of their ears," she said.
But, as several of the correspondents pointed out, international journalists are more able to retreat when things get too dangerous, uncomfortable or simply when they need a break or more varied diet. Their Ukrainian colleagues cannot.
Ukrainian journalists give 'unclouded perspective'
Katya Soldak, editorial director of Forbes' international editions, is Ukrainian herself and has been working with the Forbes Ukraine team from New York. She said they, and other Ukrainian journalists, "know Ukraine in and out and have this ability to provide the angle that is not clouded by the Western perspective".
Soldak was full of praise for how they "don't think they are brave but they are risking their lives". She recalled sending a message to Forbes Ukraine editor-in-chief Boris Davidenko in October after Russia started hitting Kyiv, where the team is largely based, with missiles again.
He responded with a message along the lines: "Yes, they're hitting us with missiles. But we're so busy. We are finishing the issue and going to print." Soldak said: "It's very surreal to hear these things. But that's how they did it... that's the mentality of the war."
The Sun's Starkey credited the Ukrainian titles Pravda, Interfax and Kyiv Independent, saying they are "phenomenal operations in extraordinarily difficult circumstances and they don't always necessarily have the same logistics chain behind them in terms of support".
[Read more: Ukraine war: Without local media, no one would have heard the cries for help]
And The Guardian's Graham-Harrison said: "I think most international journalists have tried to be supportive of their Ukrainian colleagues but however much we try, essentially we can all go home and rest and they can't really do that the same way."
She said there has been "a lot of exploration and attempt to become more aware in recent years of the complicated power and often problematic power dynamics between international reporters who come and go from other countries and local reporters who live there" and that the most important thing foreign correspondents can do for their Ukrainian colleagues is listen to what they want.
"One thing I think people have been better at in this conflict than in others – and I hope that will continue – is crediting Ukrainian colleagues' words, making sure they have bylines or reporting credits as appropriate so their labour is acknowledged," she added.
Pride in so-called 'mainstream media'
The correspondents also all expressed gratitude for the teamwork within their news organisations, including the photographers and camera operators who joined them in Ukraine, the security advisers, fixers and translators who supported them, and their newsrooms back in the UK. Two – Starkey and Graham-Harrison – mentioned Ukrainians who worked alongside them but were not journalists at all until the war broke out.
Starkey said: "It's a massive team effort at The Sun. That's really important because in a newspaper I often am the one with my name on the story or my picture in the paper, and it's the same with TV as a correspondent, but I'm massively aware that I'm really lucky I've worked with some great teams."
ITV News' Kachroo said he has never received better feedback from the public on the street in the UK.
"I'm more used to people coming up to me in the street to shout or to question something they've seen on the news or to criticise what they call the 'mainstream media' but for the first time I was hearing strangers in supermarkets, or people getting in touch that I went to junior school with, saying that they really appreciated the work that all journalists were doing in Ukraine because they sensed it was really important.
"It sometimes feels like journalists are becoming more self-involved, that many are using social media to promote their own personal brands rather than spread the information and this story felt like a reminder of the importance of what we do and how crucial it is to have journalists bearing witness to really important events.
"And so despite the horror and the tragedy of the last 12 months in some ways, I feel more positive about the good that journalism does."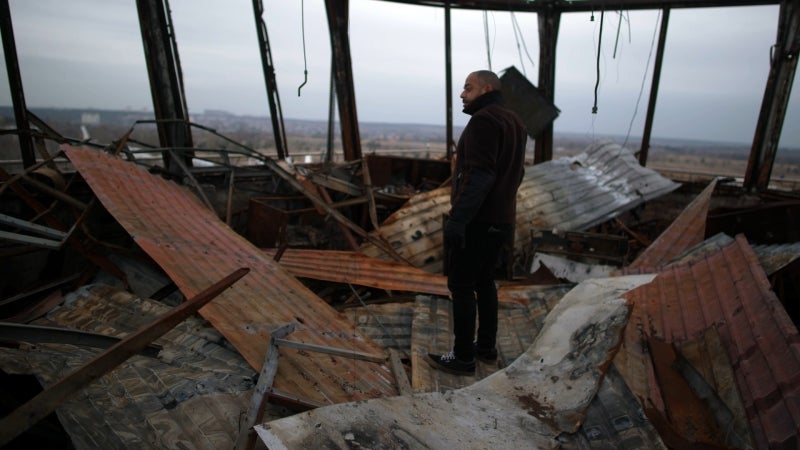 Kachroo also discussed how many of the key players of the war have put their messages out through platforms like Tiktok or Telegram, meaning that more than ever journalists on the ground could only capture a "jigsaw piece of the whole story".
For this reason, he and his team made the decision to not necessarily rush to the frontline in the first few weeks. "We were also looking first at the most interesting Telegrams," he said. "Sometimes that felt unsatisfying because we often weren't seeing the action, but the reality was we were able to get as broad a picture as possible by trying to bear witness when we could but also being that our vantage point was only a snapshot of what was going on elsewhere and a lot of this was happening online."
He added: "I think the challenges of this conflict brought a whole new skillset to the fore. Yes, brave journalists and camera operators who were willing to go close to the fighting were able to bring us the most important pieces of reporting, perhaps no more important than the Associated Press journalists who remained in Mariupol and were able to tell that story to the world.
"But we still are equally relying on individual journalists who don't work for any major news organisation who perhaps had a huge following on social media but were in the places that matter and whose contribution to the broader picture was really important.
"We no longer have the monopoly on truth. We can aggregate whatever information we can but perhaps unlike some previous conflicts reporting on this war required a different skillset."
How to be objective in 'war of aggression'
Another key difference, Hilsum explained, was that in many previous wars such as in Iraq and Afghanistan journalists have been able to tell stories from both sides more easily.
"In Syria, I often went in with a government visa," she said. "I was not on the side of the government, but I was covering it from the government side – very important distinction – and others of my colleagues would be covering it from the rebel side. So we were showing how it looked from two different sides.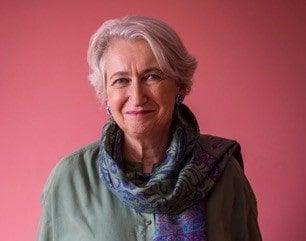 "But with this, of course, it's been extremely difficult to get access on the Russian side and, in common with most British journalists, we have not been able to get in on the Russian side at all and so that is a real challenge and one has to be constantly aware of it.
"There's no doubt this is a war of aggression. There is no doubt that Russia invaded Ukraine. One can be very clear about that. It's a fact. But you have to be very careful not to lose your objectivity in the sense of being objective about how the war is going."
However Forbes' Soldak suggested that Western media can get "sidetracked" by developments from Russia as Putin is good at "stealing the narrative of the war" and "there are a lot of editors and journalists in the West who are even still more comfortable with Russia" because, for example, many news organisations set up bureaux in Moscow after the dissolution of the Soviet Union.
"Russia is a big country and it was always more interesting for the West because it's inherited the legacy of the Soviet Union," Soldak said. "And there's still a lot of news about Russian journalists, people being evacuated from Russia... it's all great, but there is an actual country of 40 million people that have been attacked by Russia and it needs to be the centre of this narrative."
One thing Hilsum has learned is that "you never know what's going to happen", citing how few people expected the scale of Russia's invasion prior to 24 February 2022. "You think as a journalist, particularly if you've been around a bit like me, that you've seen so much and that's it and everything is repetition. Everything is not repetition. This was totally unexpected."
But when a major story like this demands blanket coverage for many months, other important stories such as the Taliban's takeover of Afghanistan and its effect on its citizens' human rights should not be forgotten, Graham-Harrison said.
She herself took a break from Ukraine to return to Afghanistan in August, and praised other veteran correspondents such as BBC News' Lyse Doucet and CNN's Clarissa Ward who have also been back. But she said: "There was a lot of focus sucked away from other conflicts... I think it's really important that the media doesn't take resources away from covering these other things that are going on in the world."
Audience interest has remained high, with the Ukraine conflict making up almost a quarter of page views to The Guardian's world news section, including more than 400 million to its daily Ukraine live blog, throughout 2022. Others such as Sky News and The Telegraph have previously told Press Gazette that appetite for regular updates from the war stays strong.
Graham-Harrison added: "Obviously there's got to be some redeployment of resources if you're staffing a conflict like Ukraine the way it's being staffed by the entirety of the world's media and that is a response both I would say to reader interest and the importance of this conflict - I'm very much in the category of people that sees this as not just a war about Ukraine, but a war about what the world order looks like and how dictatorships feel they can act in the world."
Email pged@pressgazette.co.uk to point out mistakes, provide story tips or send in a letter for publication on our "Letters Page" blog