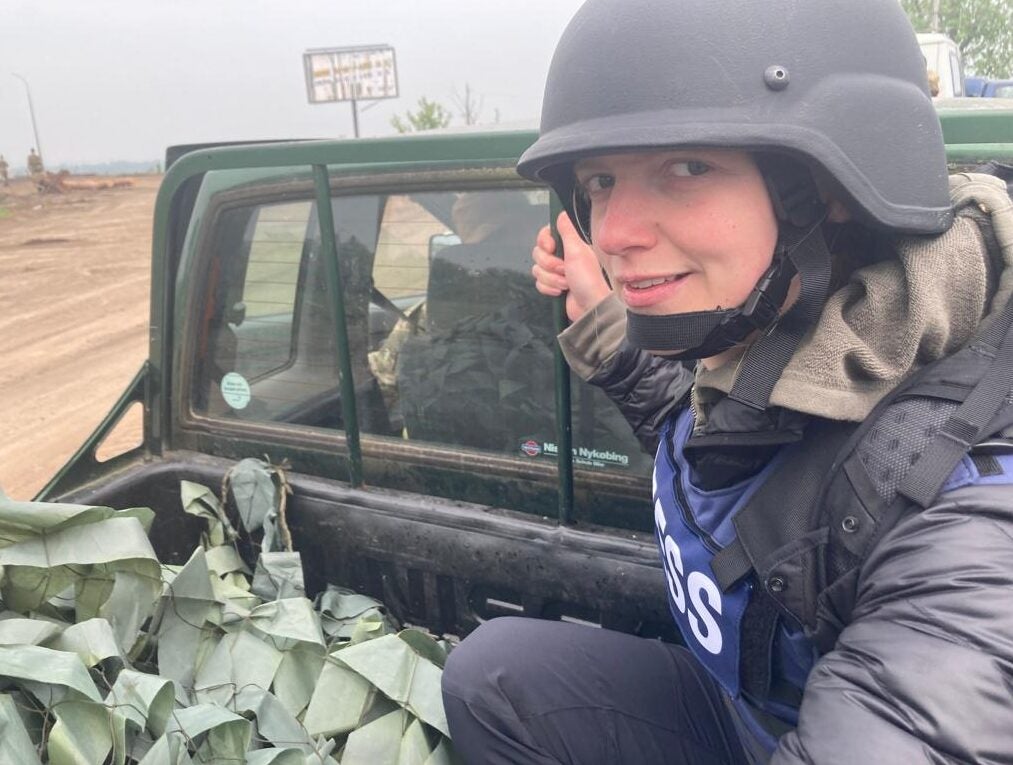 Antonia Cundy's "gumption" in travelling to Ukraine as an independent freelance journalist saw her win the Marie Colvin Award at the British Journalism Awards in December.
But her courage and commitment should not be confused with a cavalier attitude to risk.
One year ago, hundreds of journalists flocked to Ukraine at the start of Russia's full-scale invasion, many from the world's major news organisations – among them were freelance journalists making the at times dangerous trip off their own backs.
Cundy was recognised by the British Journalism Awards judges for her reporting for the likes of The Guardian, The Times and the i on fatal shortages in Lviv's hospitals, "corpse lords" hoping to buy back Ukraine's dead, and survivors who fled the under-siege Mariupol. The judges praised her for "the quality of her writing and the fact that, as a freelance, she had the gumption to get herself to Ukraine and stay there".
The Marie Colvin Award is given to up-and-coming journalists of the calibre of the late Sunday Times foreign correspondent who was killed by shelling in Homs, Syria in 2012.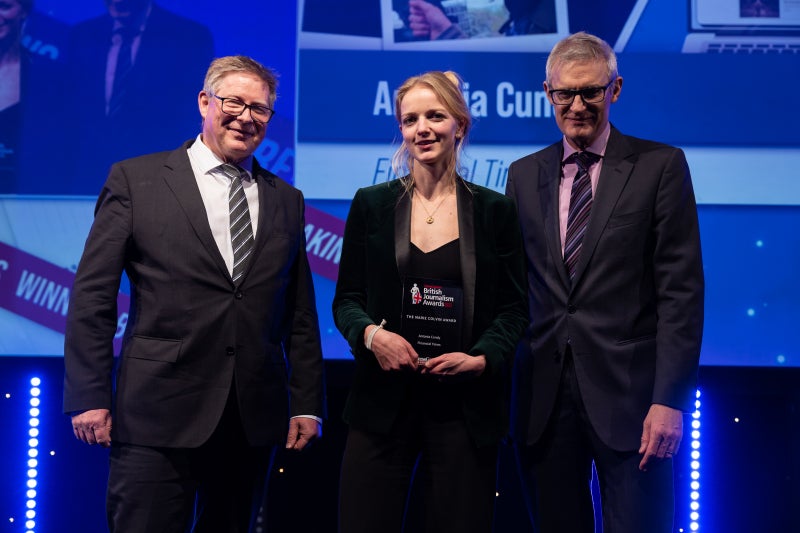 Despite her boldness, Cundy advocates a safe, responsible form of war reporting – especially among freelance journalists who, she said, can feel they have to take more risks to compete with staff correspondents.
The 28-year-old told Press Gazette she wanted to "make the point that you don't have to do that – if you do good work and if you take the time to understand somewhere more than, say, some correspondents are allowed because they've got a tight schedule to stick to, you can make yourself stand out in other ways".
Cundy was speaking about her time in Ukraine over lunch near the London office of the Financial Times, where she now works on a new special investigations desk focusing on abuses of power led by the award-winning Madison Marriage.
Before her time in Ukraine earned her recognition, Cundy spent time as an intern and on a short-term investigative contract for the FT but then began freelancing after she missed out on the grad scheme – twice, if you count the time it was cancelled by the pandemic. She then began trying her hand in Lebanon, landing there about two months before the war in Ukraine broke out.
While in Beirut, she was immediately "completely obsessed" with the idea of reporting on the war as Russia invaded. Her boyfriend was visiting from the UK at the time, and almost as soon as he left she jumped on a plane to London to then travel to the Polish border.
She asked a couple of correspondents "is this completely insane?" due to her lack of experience and knowledge about Eastern Europe, and decided going to Poland to tell humanitarian stories was a good compromise.
She thought: "I don't want to barrel recklessly into a war zone. I think that's stupid and there are a lot of cowboy journalism types out there. I didn't want to be one of those."
After a couple of weeks building contacts and knowledge on the border, Cundy decided she was ready to "go to Ukraine and do it responsibly. I wasn't going to do anything stupid, but I thought I could add value there".
She spent some time in western Ukraine, far from the frontline, and when she wanted to go closer to the action she returned to the UK for a two-week break and a hostile environment and first aid training course first.
Cundy then spent several weeks in Kharkiv in eastern Ukraine where she noticed how quickly your risk tolerance can adjust so that "something that you thought you'd never do, you do. And I think the dangerous thing is not keeping a check on that."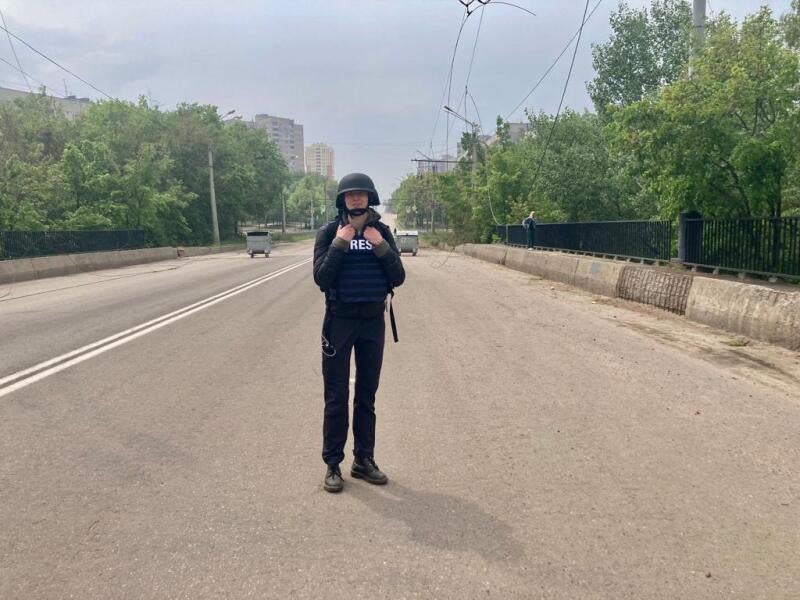 She shared some examples of her varying degrees of risk, such as the moment while she was at a military checkpoint on a quiet road when she saw a plane overhead and then shelling landing about one kilometre away, and the fact that probably a dozen people were killed by shelling in Kharkiv during her time in the city.
But she said: "I really never did anything as risky as what some experienced journalists do. I think that was part of being freelance because you have to ask yourself: 'Is this worth it? Is this really worth it?'
"Because the thing is that the BBC is going to be there already. I'm not necessarily adding any value in terms of telling more people about this if it's already covered by the main outlets, like the brilliant New York Times reporters who do these amazing frontline humanitarian pieces.
"So if you're just taking a risk for the sake of it, then you should stop. If you think you can add something – something that's not been covered, or not in the right way, something that should be – then the risk can be worth it. But if it's just that you're going out there to try and sound cool then it's about the fetishisation of war reporting, which is messed up."
Although war reporting is "never as glamorous or as impressive as it sounds", Cundy said, there remains a widespread fascination with it even among the public as it is "part of our wider culture of violence, things like war films and video games."
For example, she said, when she returned from Ukraine her friends asked questions like: "How close did you come to a bomb, or how close did you come to artillery, or how close did you come to dying?"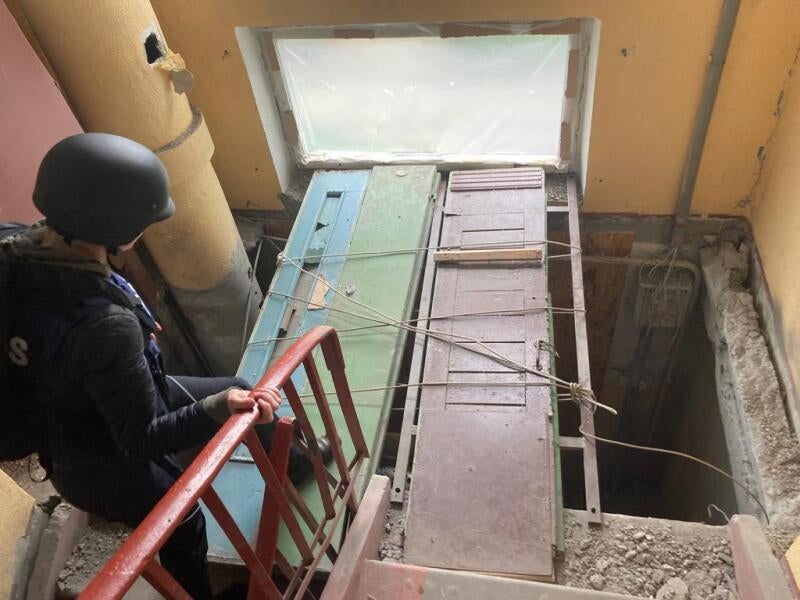 It has created a "dilemma" for Cundy, she admitted when asked to write or talk about her war reporting, such as in this interview. Her work in Ukraine won her two awards and "definitely helped" to secure her current job at the FT, she believes.
"That's all good news for me but what about the Ukrainians that I interviewed… it's quite an uncomfortable dynamic, the boost it can give to your career as a journalist versus the benefit you bring to that situation by being there," she said. "Obviously media coverage, informing and reminding the public, is hugely important, but that's something I mull over a lot."
Despite that benefit, Cundy acknowledged it would be "complete rubbish to say that it's solely an altruistic drive that sent me there. There's part of it I do find exciting… there is part of me that's also attracted to the intensity of that work and those environments, which is messed up".
Although perhaps it is good for the rest of us that the people who find it exciting do go into warzones to report, Cundy added that "you can't find it too exciting or your risk" level will shoot up.
One thing that helped keep her from doing anything too risky was her family. As recommended by the hostile environment training, she created a document each day detailing where she planned to go and who she would be with, as well as a list of emergency contact numbers. But where staff correspondents would send these to their editors, she sent them to her parents and boyfriend.
"The unfair demand that being a freelance puts on your loved ones was something I was very conscious of," she said, adding that they dealt with her daily document well but it is "quite a lot to receive".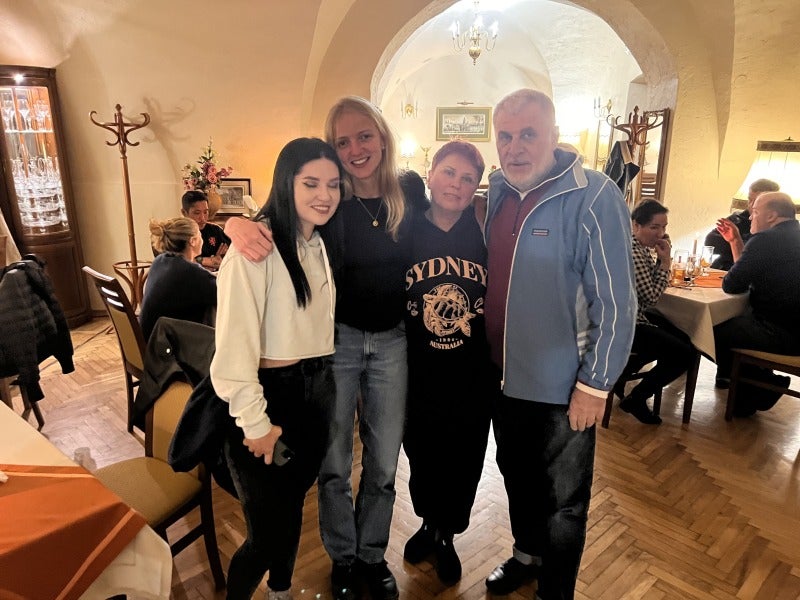 One day she sent a message to her family Whatsapp saying she was going to a Kharkiv clinic for a story in the afternoon "because that's when the shelling is the lightest". She said: "You sort of forget that that's become very normalised to you, but it's quite a weird thing to say to your family."
There are benefits to being freelance over having a staff job though, she felt – for example, she never had to try to get a good soundbite for TV or be told to move on after just a couple of days in one place.
"Some journalists don't have time to build those lasting relationships and they're under pressure to fly in, get the story and go," she said. "And the nice thing about being freelance, although it did have its frustrations with the lack of resources and things like that, was that it was nice not to have to be beholden to any of that.
"I spent weeks and weeks in Kharkiv and weeks in the same place on the Polish border and all the people I was there building a network with all commented on it. They would say 'it's so nice, we feel like you really care', that sort of thing. It was a luxury not to have those constraints and be doing someone else's bidding. To have more time to be a bit more human and be a bit deeper about these things."
She also criticised the behaviour of some of the media she saw out there – although emphasised she was not referring to the British media in particular. She said some filmed Ukrainians "like animals in a zoo", with people who had just got off a train after fleeing their homes hundreds of miles away being "bombarded by very inhuman reporting".
Freelances do have to work harder to find stories so they can pitch what correspondents are not already doing – Cundy said "all I did was work. I ate, tried to go for runs or do yoga when I could, but essentially it's just working the whole time".
But equally the war was a "constantly changing story with 1,000 angles on it to cover" and, at least at the start of the war, it was "all the British newspapers wanted".
Despite this Cundy still had rough patches where she struggled to get commissions, saying it "ebbed and flowed".
In addition, Cundy, who stayed in a mixture of hotels, rented rooms, religious housing blocks and generous locals' homes during her trips, was paid by some national newspapers as little as 25p per word.
She said: "I loved feeling that you were doing something really worthwhile and you were making a difference and impacting the people you met… and on a more practical level, I really enjoy that reporting where you're not sitting behind a desk. I really enjoy going around talking to people travelling and then sort of curling up in a bunker or some random cafe trying to write a piece.
"But I spent almost half of what I earned on being there, which no one pays for as a freelance." Organisations such as the Rory Peck Trust and Reporters Without Borders helped in some ways, with the former contributing to the cost of Cundy's hostile environment training and the latter lending her a helmet, but freelances are less likely to have a team around them with, for example, paid local fixers, drivers and translators.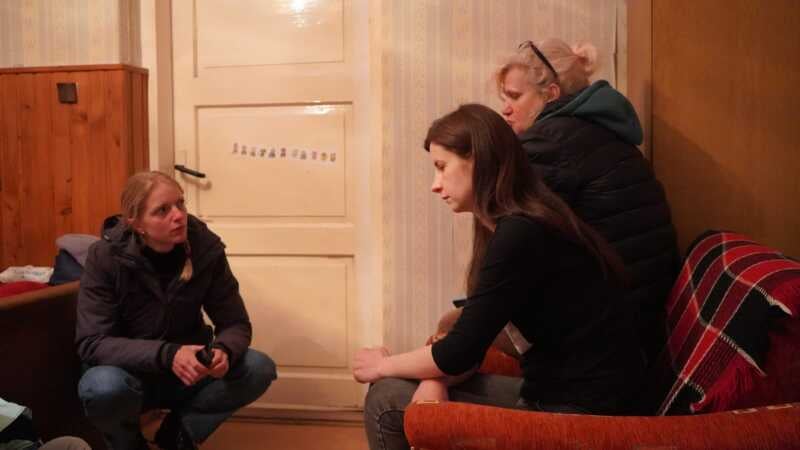 Cundy also addressed the criticism levelled at the media towards the start of the war that there may be prejudice in the way it was covered more than other conflicts in, for example, Yemen and Ethiopia. During her time in Lebanon before travelling to Ukraine, she had found she had "overestimated how much interest there was in Middle Eastern stories, which is unfortunately quite sad. That era has passed."
She later added: "I'd love us to have equitable global coverage, but I understand it's not realistic and I do understand why Ukraine gets more attention – it feels closer to a British audience… [and] access is a lot easier." She acknowledged she was "part of this flawed machine" but suggested that as she becomes more experienced it is an area she would like to have some influence in.
For now, she is happily back at the FT. The investigations desk is the "dream gig", she said, especially Marriage's special unit examining abuses of power and social injustice. "It's exactly what I'm interested in, which is spotting injustice, exposing it, hoping to change things, and giving – or amplifying – a voice to people that don't have one," Cundy said.
She still feels an "itch" to report abroad again, however. "I would love to do more work in Ukraine. I was so immersed and focused on it, and you feel very guilty when contacts message and you have to explain it's not in your remit anymore. So I'd love to somehow."
Antonia Cundy bio:
Newcastle University – BA English Literature
University of Cambridge – Mphil American Literature
2018 – First Financial Times byline – interview with author and lawyer Sergio de la Pava
Led to FT arts desk internship and then six-month contract on FT investigations desk
2020 – Six-month Marjorie Dean Internship on FT companies desk
2020 to 2021– Freelanced, including writing on arts and culture, special reports for the FT, going undercover for Channel 4 Dispatches at Davos, and work for investigative reporting non-profit The Gecko Project
January 2022 – Travelled to Beirut, Lebanon to freelance
March 2022 – Arrived on the Polish border with Ukraine shortly after Russia's full-scale invasion began before travelling into Ukraine itself for several months
September 2022 – Returned to FT as a reporter on the new special investigations desk.
Email pged@pressgazette.co.uk to point out mistakes, provide story tips or send in a letter for publication on our "Letters Page" blog