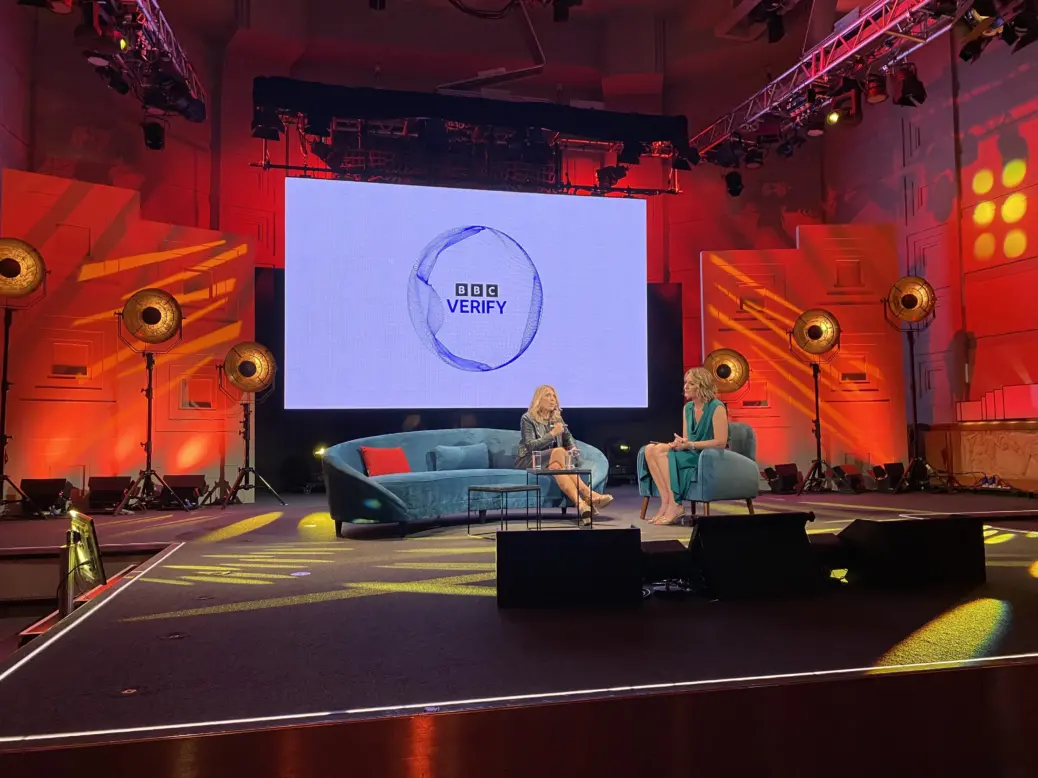 BBC News chief executive Deborah Turness has promised more investment in fact-checking and transparency brand BBC Verify as she wooed advertisers at an Internet Advertising Bureau (IAB) event.
The annual BBC Studios and IAB "upfront" event focused this year on how advertisers can access international audiences by placing ads alongside both the BBC News channel and on a soon to be revamped bbc.com – providing a rare opportunity to see how the BBC's current affairs output works as a commercial product.
The BBC is forbidden by its charter from running commercial content in the UK. Overseas, however, it is able to both sell advertising space on its own platforms and to license its content out to other broadcasters. Those sales and licences are dealt with by BBC Studios, the corporation's commercial arm, which makes most of its revenue from distributing TV content overseas.
In recent years profits from BBC Studios have grown as a share of the corporation's global revenue. In the year to 31 March 2023 it returned a record £362m in cash to the BBC (with turnover of £2bn). Licence fee income over the same period was £3.74bn, a figure which may contract in future amid real-terms cuts to the fee and a fall in the number of people paying it.
The five things BBC News audiences want from BBC News, according to its research
Turness, who joined BBC News in September 2022 as its first leader to use the title "chief executive", told the IAB event last week that the BBC had undertaken "the biggest piece of research" of her career so far to determine what its audiences want.
She said respondents had "spoken in many different languages, but with one voice" and that BBC management had identified from the feedback five main things audiences wanted: "clarity", "courage", "fairness", "respect" and "transparency".
She described clarity as the opposite of chaos, saying viewers "need to turn to a newsbrand they can trust to give them the essential information they need to make decisions about their own lives".
Courage, she said, meant conveying to audiences "that we are working really hard on their behalves to hold power to account, to ask the difficult questions, to go to the dangerous places and bring back the news to make sure that somebody is there as the eyewitness to history".
Turness said fairness and respect were linked: "Fairness is about making sure that all voices are heard, that we are hosting the debate, that we are out there protecting freedom of speech and listening to the arguments and representing them. There to report, but not to judge. 
"Respect is about integrating our audience needs… not to tell them what they need, but to ask them what they need and to respond to that."
And she linked the final point, transparency, to BBC Verify, which launched in May.
"The BBC is the one brand that [audiences] will come to and trust beyond others, but it's getting harder," she said. "And what they say is: 'If we know how it's made, we can trust what it says. Pull back the curtain on your journalism, show us the workings, and we will be able to trust more.'"
Turness said BBC Verify was "really having an impact. It's very early days. I don't think any of us expected it to take off quite the way it has. And you're going to see us pouring in more investments both here and around the world".
Asked by BBC News chief presenter Lucy Hockings what these five themes meant for advertisers, Turness said: "It's about making sure that we're matching our output to the needs of our audiences. Because if we match the needs of our audiences that will drive engagement, will become a more regular habit, they will engage more deeply with us [and] that will drive growth."
More broadly Turness, who has previously led commercial news operations ITN and NBC News International, said growing the BBC's journalism "drives commercial benefit, and that comes back in to fund more of our journalism.
"That's absolutely where we're headed here, and that's where we want to be. So we want to, together [with advertisers], really drive and build this growth and make sure that we are giving audiences what they expect."
How BBC Studios is driving commercial growth at BBC News
After Turness left the stage, some of her colleagues from BBC Studios and its content agency Storyworks spoke about specific BBC advertising campaigns.
Describing a campaign promoting tourism in Scotland, BBC News vice president for western European advertising sales Samantha Adams said: "We used first-party targeting to enable us to drive specific cohorts to each piece of content [on bbc.com, the BBC's international front page].
"And through this, we reached relevant audiences wherever they were on our site, pulling them into the content that they would identify with the most."
The BBC is set to launch a redesigned bbc.com in coming months, which Press Gazette understands will act as more of a deliberate and curatable front page for the corporation overseas than the current, more ad hoc offering.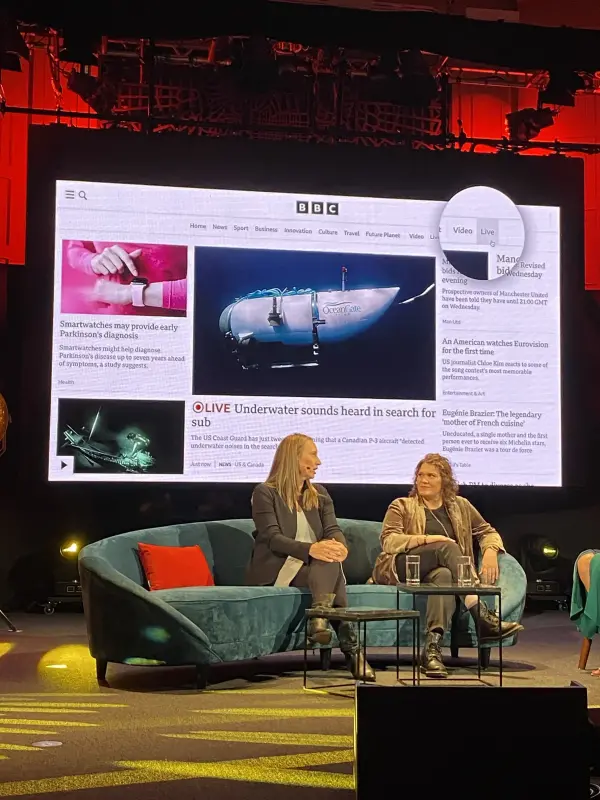 Adams added that her team had "worked with the new BBC social team to embrace a social-first mindset for our branded content. This means making sure we're creating platform-specific content so that we meet consumers where they are spending time.
"As social platforms are inherently about two-way communication, our approach is to build true community, loyalty and fandom that goes beyond just broadcasting a message. Plus, it gives us access to that all-important BBC UK audience." (Adams did not elaborate on this point, but presumably meant through organic sharing, as the BBC is barred from distributing sponsored content in the UK.)
BBC Storyworks vice president Jainnie Cho told advertisers the BBC's audience "includes business decision leaders and Gen Z leaders of the future".
To target a "sophisticated, curious and audio-savvy demographic" Cho played the audience an excerpt of a "sonic travel guide" the agency developed to drive high-end tourism to Abu Dhabi by giving listeners "an immersive and intimate sensation of walking the streets with a trusted friend".
Lori Suchcicki, SVP for commercial partnerships at BBC Global News in Europe, the Middle East and Africa, said the work Turness spoke about "has really been done with our commercial partners in mind".
"We know through research that our audience really likes branded content because we serve it up in a respectful and trustworthy and premium environment – which is the BBC. But now it's able to sit alongside our own editorial product in a really natural and organic way."
An international visitor to BBC Travel, for example, might encounter a piece of branded content developed with an airline partner.
Suchcicki said the BBC's data-driven approach had been "really helpful in providing a richer experience for our clients and the ability to engage with our audiences. And that's really exciting.  
"Essentially, what's good for audiences is good for business… Every dollar someone spends on the BBC, it works harder for them."
Suchcicki said the development she was most looking forward to was "really bringing our editorial and commercial worlds together… It's still rooted in journalistic integrity, so it's still being true to the BBC's heritage, but it's really an evolution for us that reflects our audiences' and our customers' needs".
Email pged@pressgazette.co.uk to point out mistakes, provide story tips or send in a letter for publication on our "Letters Page" blog