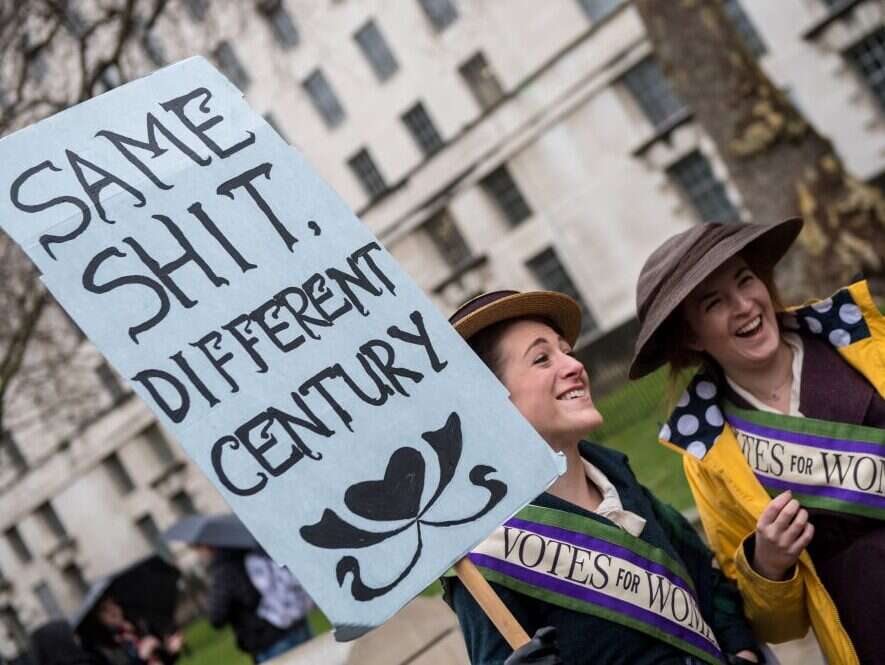 The American writer and activist Rebecca Solnit once said: "Who is heard and who is not defines the status quo…". On International Women's Day, I ask myself whose worries, stories and voices have been heard in the news in recent years.
According to the latest World Economic Forum Gender Gap Index, the UK dropped from 15th to 22nd place in the country ranking between 2018 and 2022 exposing a widening inequality between men and women in British society. In the same period, the proportion of online news stories referencing gender-related terms decreased in the UK from 0.9% to 0.5%.
A similar but less dramatic decline in coverage also occurred globally. From Outrage to Opportunity, launched in November 2022, exposed the positive relationship between how much society values women and how much the news industry amplifies their voices.
[Read more: Women of colour 'effectively invisible' in UK and US news industries]
To understand these trends further, my consultancy AKAS and I analysed the use of dozens of terms relevant to women in the news by interrogating the GDELT online news database that includes one billion news stories globally and 34 million in the UK, amassed in the last six years.
Our most significant finding is that online news coverage of issues of high relevance to women in the UK and globally has remained consistently marginal. In 2022, only 2.6% of online news coverage in the UK (vs 2.1% globally) focused on issues of importance to women such as sexual violence, childbearing, reproductive health, gender-based discrimination or gender equality. By comparison, 24% and 19% of online coverage globally was business and politics related.
2018 was a crucial year for women. UK and global coverage of the aforementioned issues reached a high at 3.3% and 2.5% of all online coverage, respectively. The #MeToo movement, which was reignited in October 2017 and peaked in 2018, was an important anchor point for women globally. The movement's ripples reverberated through news coverage, leading to more focus on violence against women and spilling over into other women-centric issues, before being pushed out into the peripheral vision of journalism again.
2020, the first year of the pandemic, saw news coverage of issues relevant to women fall to its lowest level since data collection began in 2017. Despite women's safety, reproductive health, and their work and home lives being affected by the pandemic disproportionately negatively, news stories containing terms reflecting these issues declined sharply in 2020 compared to 2018 – by 67% in the UK and by 44% globally.
During the first wave of Covid-19, women experienced a quadruple structural bind that marginalised their perspectives severely in news coverage about the pandemic.
Firstly, women's representation was marginalised in top political/governmental and science response committees. Secondly, at the start of the pandemic the news industry framed the story in war terms, and since war is traditionally seen as a "men's domain", women were pushed further out of news focus. Thirdly, the reporting of the story was shifted from health editors, more likely to be women, to political and economy/business editors, more likely to be men. Fourthly, reporters on the ground – driven by punishing filing deadlines – reverted to well-established sources who tended to be men.
In 2021 and 2022, online news coverage referencing women-centred terms in the UK and globally crept back up. However, it failed to reach its 2018 levels. Online news containing references to different forms of gender violence, gender/racial diversity, childbirth and, more broadly, gender gaps, was still lower in 2022 than in 2018. Last year, the use of major terms around these issues in the news was approximately 21% lower in the UK and 15% lower globally than in 2018.
My investigation into news coverage trends in the last six years also found a diminishing use of gender and race-sensitive terms like "gender equality", "racial diversity" or "feminism" in the UK, as well as "MeToo" and "Black Lives Matter". Might this reflect journalism's tense and eroding relationship with gender and racial egalitarianism? Testing this hypothesis would need further research, but what these trends definitively highlight is that news media is not at the forefront of the more progressive societal forces, as frequently assumed by the industry itself. News industry's attention to diversity has been dialled down in coverage and is now in need of urgent care. The research conducted for my latest report reported some backlash among news leaders against news organisations' efforts aimed at improving the representation or inclusion of people of colour in news.
There are some gender-centric topic areas which have been covered more recently. For example, in the last year, there has been a minor uplift in the use of terms like "trans", "menopause" and "endometriosis". This uplift has not been observed globally and may be pointing to a rising rudimentary interest in these topics specifically in the UK. The use of terms like "women" or "female" in conjunction with "leadership" has also enjoyed a small uplift in coverage in the UK while sustaining a global decline. This may partly be a function of the fact that two of the country's four Prime Ministers in the last four years – Theresa May and Liz Truss (albeit briefly) – have been women.
The scarce focus of news coverage on gender-sensitive topics shines a light on the lower value that news media across the globe places on issues of high relevance to women. One such striking example is the failure of global and UK news media to recognise the need to report more frequently the structural causes fuelling violence against women and its endemic nature.
Crucially, this analysis has revealed that the news industry mostly reflects, rather than challenges, lingering male-favouring social norms in British society. Perhaps we can take solace in the fact that being aware of the blind spots is the first step to a much-needed change that will give women greater prominence in news. The next step is for journalism to widen its lens.
Email pged@pressgazette.co.uk to point out mistakes, provide story tips or send in a letter for publication on our "Letters Page" blog