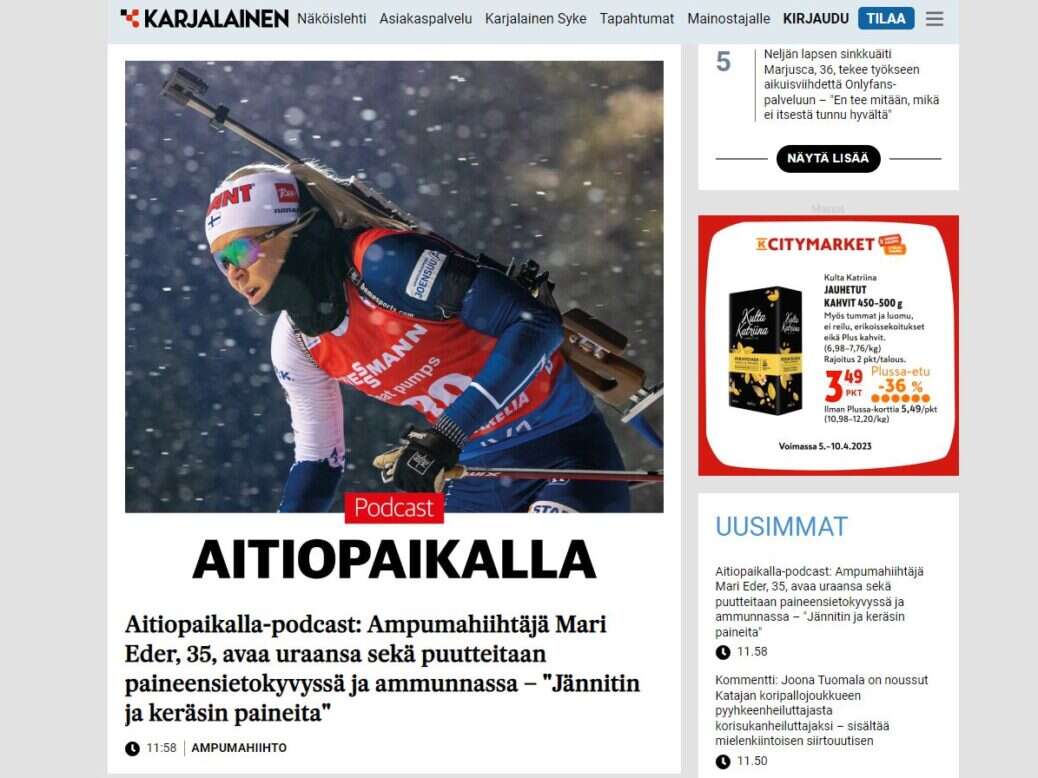 Despite publishing online content behind a hard paywall, one of Finland's oldest regional newspapers has seen web traffic grow after moving to a new content management system.
After making a strategic decision to go truly digital-first, the 148-year-old Karjalainen committed to a paid subscriber-only digital model in 2019, with 90% of its content behind a paywall. A partial paywall has existed since 2012 at the title, which first went online in 2000.
"We have seen the decline of the print edition for years, and we decided it was the proper time to start focusing on our content, not delivery channels," said Arttu Romo, technology development manager for digital services at the Karjalainen.
"The main focus had been print for years, but the world has changed drastically. The younger audience, from 35 to 55 years old, does not really care about the print edition anymore. Some of the younger generations haven't even seen a newspaper."
About Karjalainen
Romo said the title, which is based in Joensuu, North Karelia, a region in the southeast of Finland that borders Russia, had "unique local content" that couldn't be found anywhere else on the web.
Rising print and delivery costs for the newspaper also pressed the title into taking action.
Going to a digital-first publishing model
"The hard paywall was a strategic move," he said. "We changed the whole editorial process from a print-centric approach to digital first. If a customer is ready to pay for the print version, why shouldn't they be ready to pay for the digital version that is richer in content?"
The Karjalainen, which is owned by the PunaMusta Media group, was first printed in October 1874. It has a print circulation of about 24,000 and about 6,700 digital subscribers (a monthly digital subscription costs €18.20 a month). It receives up to 40,000 daily users on its website.
Between the beginning of June 2021 and the end of December 2022 – a period of 19 months – the Karjalainen grew page views by more than two thirds (68%). The traffic boost followed the title's move to Quintype Bold CMS a month earlier, in May 2021.
Quintype Bold is a headless, cloud-based content management platform. A headless CMS is one that operates as a back-end content builder and repository which can be connected to any front-end (e.g. a website, app or voice assistant) of the publisher's choosing through an API.
'Big shortcomings' with former open-source CMS
Romo said he had personally tested different content management systems throughout 2020 and the Karjalainen had been using an open-source CMS since 2010, which had "some big shortcomings", but chose Quintype Bold because "we wanted a system that is built for journalists".
"There were many content management systems that had lots of functionality and possibilities, but Bold's [content] editor was one of the reasons we chose it as we wanted a system journalists could use as easily as possible," he said.
Quintype Bold 'extremely easy' for editors to use
"Quintype Bold is extremely easy to use for our editors. It was quite easy to sell to our editorial team, because journalists have the ability to decide how the story looks online – what content is there, how it [fits in with] images, galleries, videos etc. By using different templates, it is really easy to change the way content is displayed.
"Our editors can find all related content in one system and easily implement more rich web content to stories. So, editors can focus on writing stories and creating the web view without thinking about the technical aspects or using many different components."
Romo added that with Bold the editorial team can "instantly see how an article looks" in a mobile format, something that is a priority for the title as within the week most of its subscribers read its content on mobile devices, with the number only increasing at weekends.
Romo said his team also liked that Bold was a headless CMS and so they were not "bound by a certain web framework", adding: "Bold acts as our content management system and we can then deliver the content through APIs to anywhere we wish."
Quintype offers publishers a suite of platforms for digital publishing, including native mobile apps on iOS and Android and a page builder tool to design and build websites without coding.
The Karjalainen uses React.js and Nexus.js javascript solutions for its front-end and because Bold is headless "if someday there is a better framework, we can easily change", said Romo.
Focus on quality content and analytics drove increased subscribers
Romo said that by focusing on "quality content" and "publishing stories that serve the interests of people in our area", readers were "ready to pay" for it. He said understanding the target audience – when they are likely to visit the site, what they want to read – is key to digital publishing success.
"Analytics is really important to gain knowledge of the behaviour of the readers," he said, adding it was possible to try out "what works and what doesn't".
He added: "Content is king and by enabling the vast possibilities for our editors to create quality content, we will also have more digital subscribers."
Quintype Bold CMS uses first-party data (obtained with a user's consent) to build story analytics, helping publishers boost engagement and monetisation, while also future-proofing them against the imminent demise of third-party cookies and the shift to a more privacy-focused web.
Like other media houses, the Karjalainen is facing the twin challenges of continuing to develop digital away from print and engaging with younger readers. As a subscription business, it is also looking to grow its subscriber base while reducing churn. "We are battling for user time with many other services. How can we get the user to sacrifice precious time on our site or services?" said Romo.
"As the world is changing in the way content is distributed and consumed, we also need to think of different business models."
Quintype Bold is available from $100 per month. Visit quintype.com/products/bold for more information.
Email pged@pressgazette.co.uk to point out mistakes, provide story tips or send in a letter for publication on our "Letters Page" blog