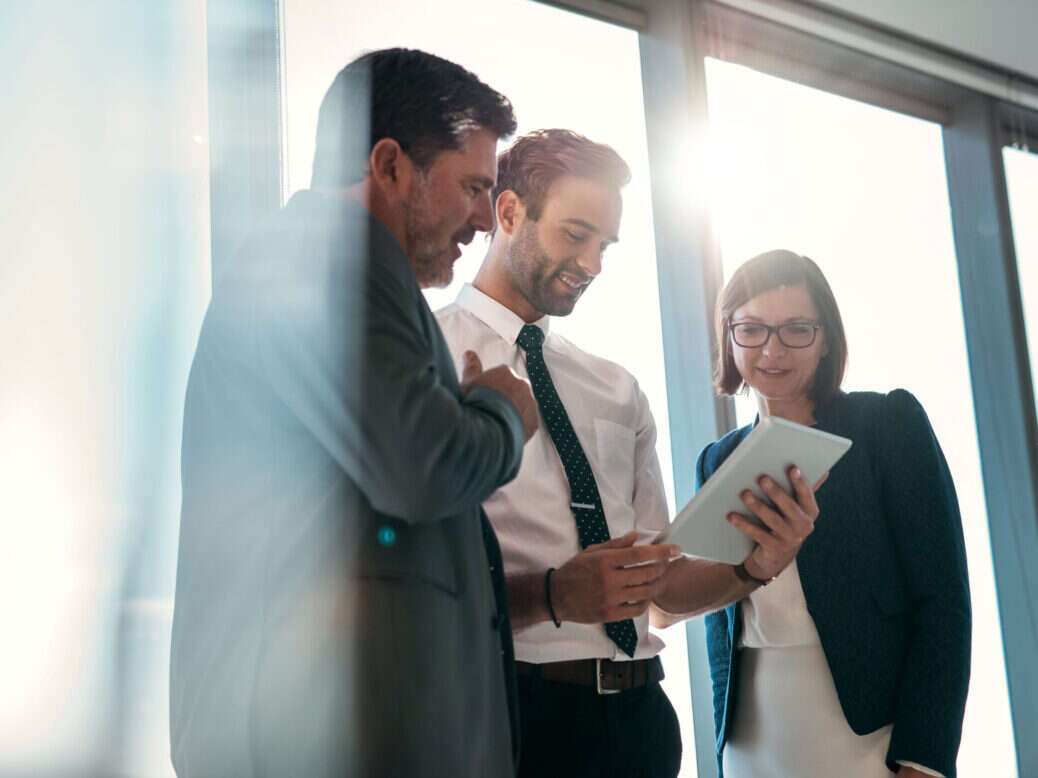 How Samsung Knox helps publishers transform their subscriber strategy and create dedicated news devices.
News and entertainment media has always been the cornerstone of how society learns, shares and thinks. However, it has also been in a constant state of flux since the advent of digital technology. Publications have gone global and instant access to a democratised news media is available to anyone with a smartphone. Between competition for readers, subscriber retention, noisy requests for app downloads and increased marketing costs, businesses are struggling to keep up.
Introducing Samsung Knox for Publishers
This is where Samsung Knox is helping media companies create digital devices and new subscription models. Samsung Knox is a suite of business tools that enables media and publishing houses to create branded smartphones and tablets, offering their readers a new way to access their content and get a new device with added value.
These devices and the applications on them can be branded and configured to create entirely new digital products. While business services on the back end make deployment easy, and secure. At the same time, you can view and manage user data and services for deep insights into who your customers are and what they love.
Free White Paper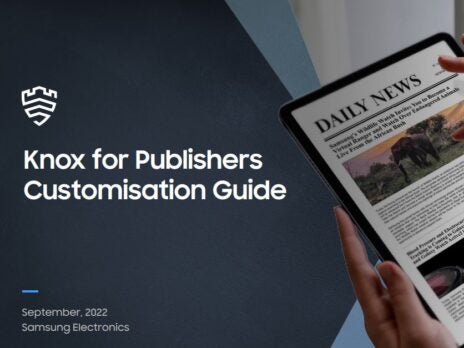 Drive subscriber growth with a customised reading experience
By Samsung Knox
Media transformation made easy
What does all this mean for a business like yours?
Simplicity is a reality. It's easier to entice new and existing customers to buy-in thanks to the additional hardware value add
Digital transformation that's fast and efficient. Samsung Knox for publishers enables your business to rapidly digitise your offering and avoid extensive operations and production costs
Easy customisation and configuration. By branding applications and gaining complete control over creating your new products, you can customise these devices to meet the needs of consumers and extend brand reach and business growth. At the same time, you stand out from the competition with novelty, value and deeper insights into what your consumers want and need
Robust features that lead to almost-instant benefits for publishers
How is this all achieved? With an array of customer-focused features that can set your business apart, along with the support of the Samsung Knox team. Here are some examples of what you can achieve with Knox.
Make it your own with smart device branding

Promote and embed the brand you want to highlight, including animated boot-up screens, customised home and lock screens, and wallpaper
Your service app is auto-installed at initial boot-up and can be located on the most visible spot of the home screen
Don't let subscribers remove the settings you applied – your service app cannot be removed or stopped by users

Create a tailored user experience:

Auto-launch your media app at every boot / specific condition
Deliver quick app launch with a simple press – hardware keys can be customised to launch your app at ease
Knox Configure allows you to limit the devices to run only predefined apps, restricted access to settings, notification control, etc.

All remotely and automatically:

Easily configure subscribers' devices on an easy-to-use web console without unboxing devices
Or automate device provisioning by accessory tagging – NFC with Knox configure-enabled accessories provides a simple and seamless customisation experience
All settings remain even after a factory reset
Real-world examples of adding value with Knox
Thanks to Knox, and the ability to configure and devise new business models, you have a range of options available to you. Some examples for strategizing your launch include:
Models and scenarios
Online subscription + tablet
Online/offline subscriptions + tablet
Single or family accounts
One newspaper or multiple services
Both local and international publishing houses are already pioneering newspaper tablets and new subscription models with big success. Could you be one of them? We only need to look at one of Germany's most wide-reaching publishers to see the potential for success. While the brand must remain unnamed, one of Europe's largest publishing houses is successfully using Samsung Knox to create dedicated news devices on a subscription/contract basis. And they aren't the only ones experiencing measurable growth.
Another leading publishing house in Asia has utilised Knox for Publishers to digitise 5 online titles on Samsung tablets. They've quickly grown their subscriber base by 50,000 over only 18 months, generating long-term revenue".
Getting started – quick steps to launch!
For the sake of understanding how your new model could roll out, let's take a high-level view of the steps to launch. As you can see these are similar to existing launch strategies plus you'll have the support of the Knox team and technology that makes it an efficient and rewarding process:
Plan. Which business and consumer needs do you want to meet with this publishing solution? You can use this thinking to establish your branding – which will become important at a later stage. This will enable you to expand your offering to add value to the lives of your readers.
Build your content ecosystem. Draw from the influence of top news and content producers, gain enhanced exposure by collaborating with media influencers and platforms, and take advantage of Samsung's robust business ecosystem.
Rebrand and customise. Rebrand white label software to make it all your own with unique wallpapers, icons, profile images and more. Replace standard booting & shutting-down animations, as well as home and lock screens with your branding. Then, Knox Configure makes it easy to customise your application and tailor it to the needs of your consumers.
Define subscription offering and launch strategy. Define and develop your news and entertainment services with a plan to go to market. Establish your tariff plan, service subscription, and the key features and benefits of your service.
Launch. With the launch of new tablet and model, you are now able to tap into additional revenue. What does this mean from a strategic perspective? Varied advertising formats and subscription models, and deeper insight into how your consumers think and feel. With enhanced analytics and access to user and behavioural insights, you're more able to target new services and products to the people who engage with your brand the most.
Samsung can support you throughout your digital transformation and mobility journey. Visit www.samsungknoxforpublishers.com and explore more ways that Samsung Knox can help you revolutionise your media business models.
Email pged@pressgazette.co.uk to point out mistakes, provide story tips or send in a letter for publication on our "Letters Page" blog