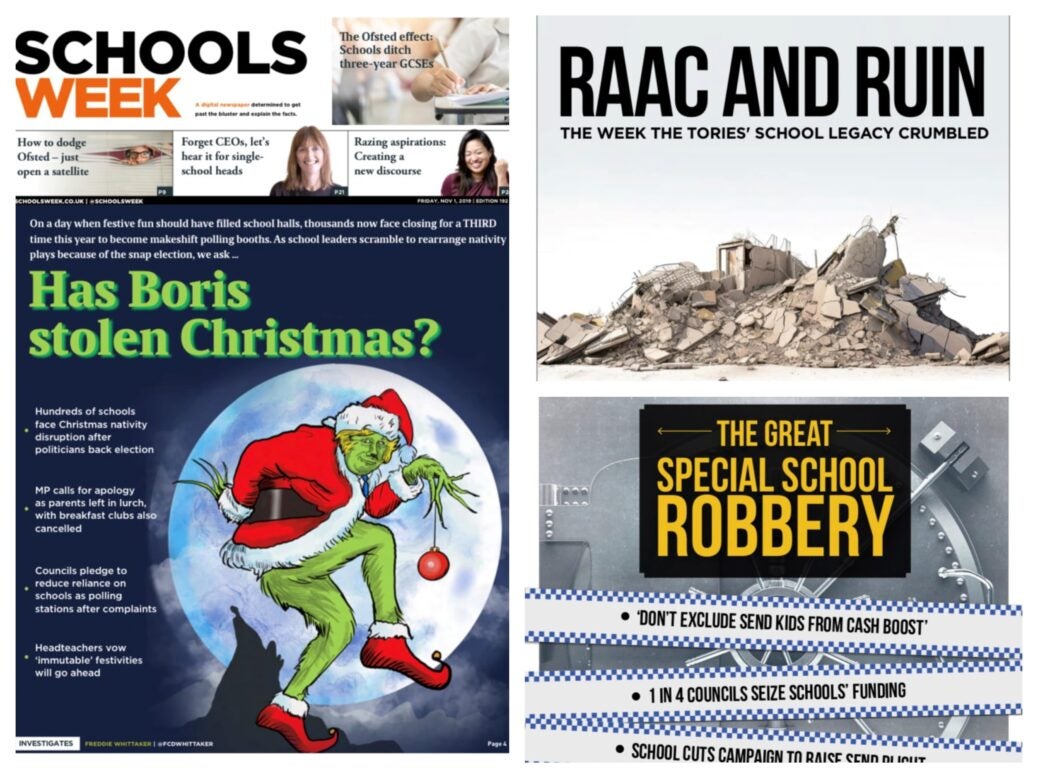 The editor of Schools Week has likened what it does to a mixture of the Financial Times and Private Eye for the education sector.
The combination appears to be helping it thrive, with subscriptions up by a fifth since January 2020 and dwell time up 14% in a year, the publisher claims.
John Dickens, who has edited Schools Week for five years, told Press Gazette the publication explains and analyses policy, champions the sector and holds governments to account.
But the style in which Schools Week does this is a "mixture of the FT maybe with a bit of Private Eye thrown in as well," he said.
It has a similar style to the FT, another specialist publication, he explained. "But then we also try to have a quite good sense of humour sometimes – a bit like Private Eye."
Dickens cited Schools Week's satirical The Week in Westminster page as well as its sometimes playful front pages. In November 2019, when the planned general election meant schools were cancelling nativity plays and Christmas concerts so their halls could be used as polling stations, Schools Week mocked up then-prime minister Boris Johnson as the Grinch as it asked: "Has Boris stolen Christmas?" Days later the Government "stepped in to ensure Christmas isn't cancelled".
Dickens later added that his aim for Schools Week is "we just continue to do really good journalism which helps influence things for the better" as he explained why the core focus will remain on its website and weekly digital edition without adding too many bells and whistles.
"I think Private Eye's a really good example of a product which is quite successful, its readers really value and it's just been doing the same thing for quite a long time. That sounds really boring and like you don't have a vision, but actually I think there's something in that a little bit.
"So we'll continue to make tweaks along the way but actually, I think what we offer is really good and we do have a small team and pulling away to do all these other things might then pull away from the quality of what we provide. So if we keep doing that – delivering really good strong journalism – then the financials fall into place."
Subscriptions growth 'safeguarding' Schools Week's future
Paid subscriptions to the weekly digital edition of Schools Week, which lands in inboxes on a Friday, are up 20% since January 2020, according to Dickens although he could not share an exact figure.
He added that subscriber revenue has grown 58% from 2022 to 2023, which he said shows their "approach is commercially sustainable and safeguarding the future of what we do". A single subscription costs £60 per year, or small group and organisational subscriptions are available.
On the website, although Dickens said he feels no pressure from management to increase clicks, page views have risen from six million in 2017/2018, the year before Dickens took over as editor, to almost ten million in 2022/23 – a figure that was up 9% year-on-year.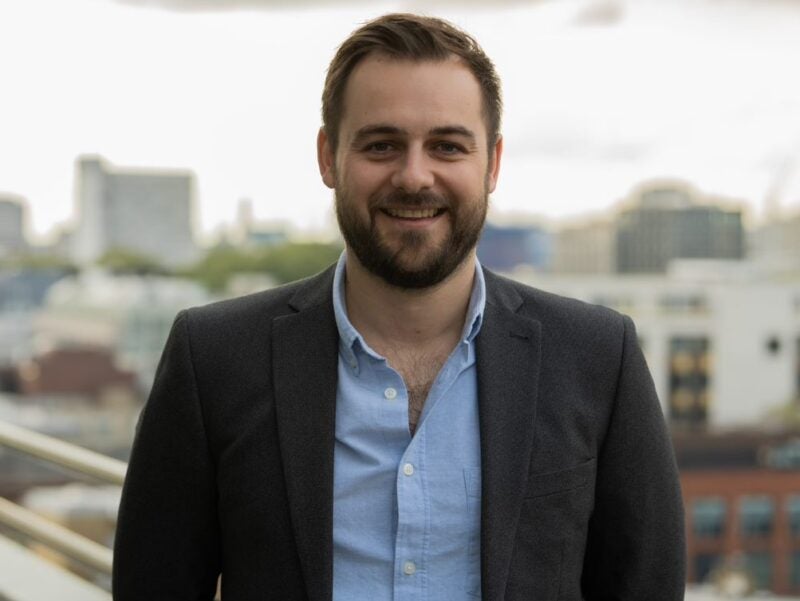 It had a peak of almost 13 million in the first year of the Covid-19 pandemic as a wider audience came to it for information – for example, parents desperate to know whether they qualified as key workers whose children could go to school – but ignoring this anomalous spike Dickens noted there has been a steady increase each year.
In addition, average time on page rose by 14% from January to May 2022 to the same period this year, reaching two minutes and 39 seconds. This is in part attributed to a redesign of the website designed to get it "on par with the journalism that we were providing" and ensuring it is easy to read since it "can be niche… really getting into the nitty gritty of policy", Dickens explained. The job advertising portal for FE Week and Schools Week was also relaunched, future-proofing that revenue.
From 'plucky disrupter' to scoop-getting sector leader
Schools Week was launched in 2014 by Learning and Skills, Events, Consultancy and Training Ltd (LSECT), founded by Nick Linford who previously set up an education think tank at the publisher Pearson. Schools Week was originally a print newspaper but went digital-only in 2018.
The title followed in the footsteps of further education title FE Week, which launched in 2011 after Linford spotted a gap in the market and had a vision for the "FT of FE", as Dickens put it.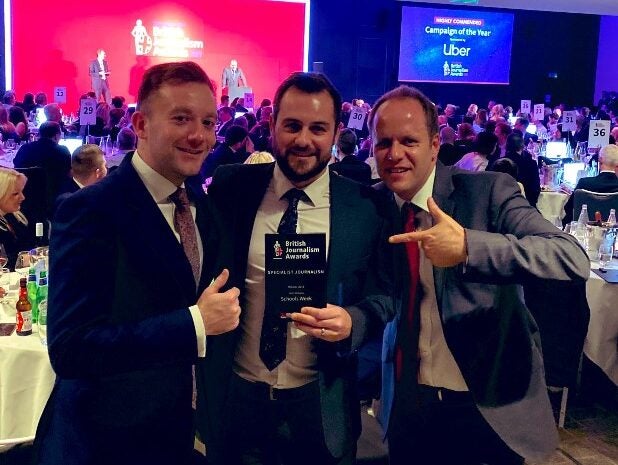 Schools Week was a "plucky disrupter" in the market, he added, with a less international focus than TES (formerly the Times Education Supplement).
Under the paper's first editor, Laura McInerney, they "managed to get some really good scoops and build a lot of momentum," Dickens said.
"I think what we're really proud of is now, if you ask somebody about a schools publication, a lot of people will say Schools Week."
Schools Week delivering 'great impact for the sector'
The title now has an editorial team of five journalists and a designer, and it shares two further journalists with FE Week, yet it is punching above its weight with awards recognition.
The title was highly commended at Press Gazette's Future of Media Awards in September in the Specialist/B2B Website category as judges praised its website for being "sleek, intuitive to use and technically brilliant – packed with clear analysis and punchy investigations".
The title has also just been shortlisted in three categories at the British Journalism Awards. Chief reporter Samantha Booth is a finalist in both the Social Affairs, Diversity and Inclusion and Specialist Journalism categories for her investigation revealing millions of pounds meant for special schools were "seized" by councils, while investigations and features reporter Jessica Hill was shortlisted for her work on the RAAC concrete "ticking time bomb" crisis months ahead of the national media.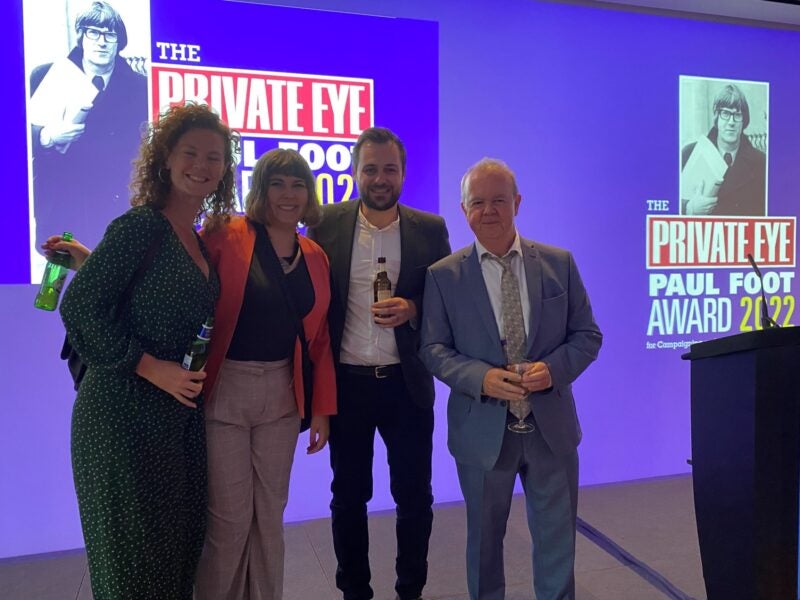 Dickens said that as well as this recognition from industry colleagues, he judges Schools Week's success by the impact stories have and whether they are changing policy for the better.
Another example he shared was analysis by deputy editor Freddie Whittaker in 2019 that found a pledge to increase school funding per pupil by Boris Johnson amounted to a 0.1% rise, or £49m, overall.
It was "really easy to do but no one else bothered to do it," Dickens said. "It was a real Schools Week thing to do."
The story led to national pick-up, pressure on the Government, and ultimately a promise from Boris Johnson to increase spending by £4.6bn a year by 2022.
"I'm not saying that Schools Week secured an extra £4bn for schools, but actually we played a really important role in analysing a promise… getting past the political spin on that, reporting the facts, which were quite embarrassing at the time, and actually it led to a really positive outcome for schools," Dickens said.
"So I think stuff like that where our journalism delivers great impact for the sector – either it improves policies or helps deliver better things from government – that's the stuff that we're most proud of in terms of impact."
A potential change of government next year would be a "really important time" for the publication with a raft of new policies that will need explaining, Dickens continued.
"There hasn't been much new policy for a while and as a newspaper that reports on policy, that can be a bit challenging.
"There's lots for us to write about with various issues in the sector to keep us busy, but if there is a new government then we would expect to see a raft of new policies, and that's when Schools Week really comes into its own."
Email pged@pressgazette.co.uk to point out mistakes, provide story tips or send in a letter for publication on our "Letters Page" blog