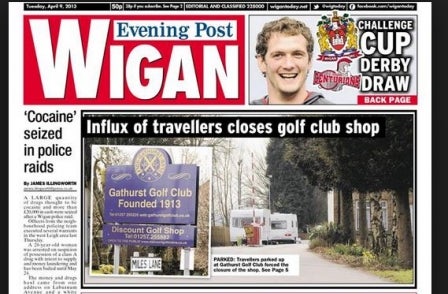 UK regional daily newspapers audited by ABC lost print sales at an average rate of 12.5 per cent year on year in 2016, according to figures released today.
The Johnston Press-owned Wigan Evening Post was the fastest faller, dropping 36 per cent year on year to an average of 2,382 copies per night.
Pro-independence Scottish daily The National was the next biggest faller, down 30 per cent year on year to 8,496. The title was launced in 2014 in the wake of the Scottish referendum vote.
Other big print fallers included: The Gloucester Citizen (down 20 per cent), Hartlepool Mail (down 23 per cent ) and the Yorkshire Evening Post (down 19 per cent).
The best performing title was the Yorkshire Post, the morning daily published in Leeds by Johnston Press, which fell 3.6 per cent year on year.
Print falls are being offset in readership terms in most cases by website growth. However, pressure on digital advertising means circulation and revenue decline is generally going hand-in-hand for regional newspaper titles – with the result that the industry continues to see widespread job cuts.
| | | | | |
| --- | --- | --- | --- | --- |
| Title | Publisher | Circulation | % change year on year | % paid-for  |
| Express & Star (West Midlands) | The Midland News Association | 54,890 | -11.9 | 82.6 |
| Aberdeen – Press & Journal | D C Thomson & Co Ltd | 51,880 | -8.1 | 99.4 |
| Manchester Evening News | Trinity Mirror plc | 46,738 | -9.9 | 56.3 |
| Liverpool Echo | Trinity Mirror plc | 43,836 | -16.3 | 97.9 |
| Belfast Telegraph | Independent News & Media (NI) | 40,042 | -6.5 | 75.1 |
| Dundee – The Courier | D C Thomson & Co Ltd | 39,324 | -8.6 | 99.5 |
| Irish News – Morning | Irish News Co | 35,073 | -5.1 | 99.4 |
| Norwich – Eastern Daily Press | Archant Ltd | 34,438 | -10.5 | 99.7 |
| The Herald | Newsquest Media Group | 28,872 | -10.2 | 100 |
| Hull Daily Mail | Trinity Mirror plc | 27,054 | -9.6 | 99.8 |
| The Sentinel | Trinity Mirror plc | 26,657 | -13.9 | 99.2 |
| Newcastle Chronicle | Trinity Mirror plc | 26,578 | -12.5 | 97.7 |
| Shropshire Star | The Midland News Association | 26,332 | -12.1 | 96.9 |
| Leicester Mercury | Trinity Mirror plc | 25,859 | -10.1 | 92.7 |
| Aberdeen – Evening Express | D C Thomson & Co Ltd | 25,744 | -10.6 | 99.7 |
| Leeds – Yorkshire Post | Johnston Press plc | 25,178 | -3.6 | 95 |
| Darlington – The Northern Echo | Newsquest Media Group | 23,971 | -10.7 | 100 |
| Glasgow – Evening Times | Newsquest Media Group | 23,696 | -14.6 | 100 |
| Daily Post (Wales) | Trinity Mirror plc | 21,802 | | 100 |
| South Wales Evening Post | Trinity Mirror plc | 21,031 | -13.5 | 100 |
| Teesside Gazette | Trinity Mirror plc | 20,973 | -11.8 | 97.1 |
| Plymouth – Western Morning News | Trinity Mirror plc | 19,842 | -10.9 | 100 |
| Portsmouth – News & Sports Mail | Johnston Press plc | 19,797 | -12.6 | 99 |
| The Scotsman | Johnston Press plc | 19,449 | -14.5 | 88.3 |
| Birmingham Mail | Trinity Mirror plc | 19,200 | -20.9 | 100 |
| Derby Telegraph | Trinity Mirror plc | 18,903 | -10.8 | 93.3 |
| Southend – Basildon – Canvey – Echo | Newsquest Media Group | 18,373 | -9.7 | 99.9 |
| Edinburgh – Evening News | Johnston Press plc | 18,362 | -15.8 | 97.5 |
| Nottingham Post | Trinity Mirror plc | 17,524 | -11.6 | 89.7 |
| The Post | Trinity Mirror plc | 17,381 | -15.9 | 100 |
| Sheffield Star | Johnston Press plc | 16,708 | -11 | 100 |
| Grimsby Telegraph | Trinity Mirror plc | 16,406 | -9.4 | 98.1 |
| Southampton – Southern Daily Echo | Newsquest Media Group | 16,369 | -12.8 | 100 |
| Plymouth – The Herald | Trinity Mirror plc | 16,350 | -13.8 | 100 |
| Leeds – Yorkshire Evening Post | Johnston Press plc | 16,108 | -19.2 | 85.1 |
| Ipswich – East Anglian Daily Times | Archant Ltd | 15,852 | -11.4 | 100 |
| Bristol – Western Daily Press | Trinity Mirror plc | 15,544 | -11.4 | 100 |
| News Letter | Johnston Press plc | 15,475 | -6.9 | 99.2 |
| Wales – The Western Mail | Trinity Mirror plc | 15,259 | | 100 |
| Dundee Evening & Weekend Telegraph | D C Thomson & Co Ltd | 14,971 | -11.2 | 99.8 |
| Coventry Telegraph | Trinity Mirror plc | 14,970 | -17.3 | 100 |
| Cardiff – South Wales Echo | Trinity Mirror plc | 14,917 | -15.4 | 100 |
| York – The Press | Newsquest Media Group | 14,608 | -12.2 | 100 |
| Bradford – Telegraph & Argus | Newsquest Media Group | 13,951 | -12.3 | 100 |
| Bournemouth – The Daily Echo | Newsquest Media Group | 13,579 | -11.7 | 100 |
| Cambridge News | Trinity Mirror plc | 12,991 | -7.7 | 80.8 |
| Sunderland Echo | Johnston Press plc | 12,825 | -15.9 | 100 |
| Newcastle Journal | Trinity Mirror plc | 12,587 | | 100 |
| Huddersfield Daily Examiner | Trinity Mirror plc | 12,046 | | 100 |
| The Argus Brighton | Newsquest Media Group | 11,079 | -8.9 | 92.3 |
| Lancashire Telegraph – Blackburn | Newsquest Media Group | 11,077 | -12.1 | 85.5 |
| South Wales Argus | Newsquest Media Group | 10,808 | -5.8 | 97.5 |
| Lancashire Evening Post | Johnston Press plc | 10,751 | -13.2 | 100 |
| Dorset Echo | Newsquest Media Group | 10,196 | -9.7 | 100 |
| Oxford Mail | Newsquest Media Group | 10,184 | -8.9 | 100 |
| Ipswich Star | Archant Ltd | 10,138 | -11.7 | 67.3 |
| Colchester – Daily Gazette | Newsquest Media Group | 9,693 | -8.1 | 100 |
| The Bolton News | Newsquest Media Group | 9,607 | -9.6 | 100 |
| Swindon Advertiser | Newsquest Media Group | 9,562 | -8.4 | 98.2 |
| Greenock Telegraph | Newsquest Media Group | 9,555 | -9.1 | 100 |
| The Gazette – Blackpool | Johnston Press plc | 9,537 | -16.9 | 100 |
| Norwich – Evening News | Archant Ltd | 9,172 | -10 | 100 |
| Gloucester Citizen | Trinity Mirror plc | 8,771 | -19.9 | 98.5 |
| The National | Newsquest Media Group | 8,496 | -29.9 | 100 |
| Gloucestershire Echo | Trinity Mirror plc | 8,124 | -17.1 | 98.4 |
| Burton Mail | Trinity Mirror plc | 7,806 | -11.7 | 96.9 |
| Barrow – North West Evening Mail | CN Group | 7,744 | -12.8 | 96.8 |
| Worcester News | Newsquest Media Group | 7,061 | -8.9 | 100 |
| Oldham Evening Chronicle | Hirst Kidd & Rennie Ltd | 6,812 | -14.5 | 100 |
| Carlisle – News and Star East | CN Group | 6,701 | -12.8 | 96 |
| South Shields – Shields Gazette | Johnston Press plc | 5,584 | -22.3 | 98.1 |
| Hartlepool Mail | Johnston Press plc | 5,070 | -22.8 | 96.1 |
| Paisley Daily Express | Trinity Mirror plc | 4,800 | -6 | 100 |
| Carlisle – News and Star West | CN Group | 2,664 | -8.4 | 92.4 |
| Wigan Evening Post | Johnston Press plc | 2,382 | -35.7 | 100 |
Email pged@pressgazette.co.uk to point out mistakes, provide story tips or send in a letter for publication on our "Letters Page" blog