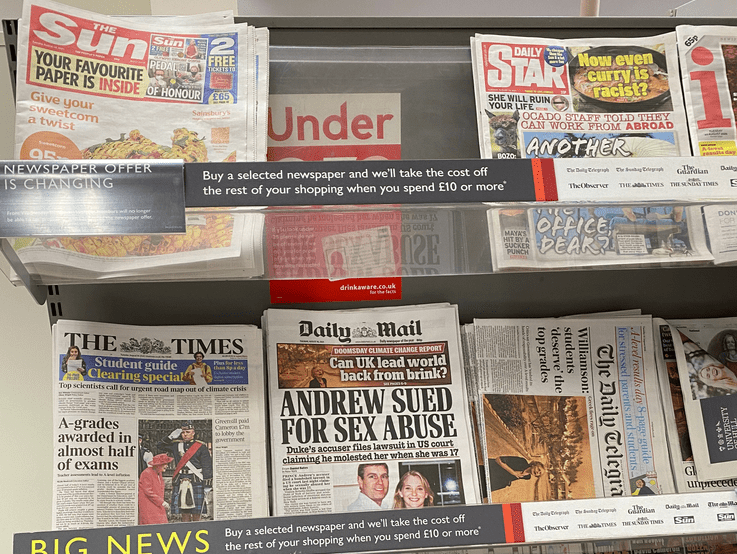 Sun and Times publisher News UK is ending its direct delivery service to retailers within the M25 after 15 years as it consolidates its print newspaper business.
The announcement comes two weeks after a proposal to combine the operations of its printing business Newsprinters with those of Mail, Metro and i publisher DMG Media.
News UK will discontinue its direct-to-retail delivery service to almost 6,000 retailers within the M25 from Monday 13 November, meaning wholesalers Smiths News and Menzies Distribution will handle its distribution as they do for other publishers.
News UK said: "This strategic move is aimed at further bolstering the retail sector, while ensuring the widespread availability of newspapers in various outlets."
Getting rid of the separate delivery charge to retailers for the Sun and Times papers, meaning shops pay once for those titles and once to either Smiths or Menzies for the main bulk of the newsstand, will put £3m back into the retail industry, the publisher said.
The Federation of Independent Retailers (the Fed) welcomed the change, with its national president Muntazir Dipoti saying: "Retailers were unhappy when News UK introduced its DTR operation in 2008 as it was deemed unnecessary and an additional cost burden on retailers.
"Fifteen years later, against a backdrop of consistent declines in both sales and retailers' profitability, it is costing members £2.34 per day to receive their supplies of News UK titles. 
"Having pushed for a change in News UK's distribution arrangements in the capital and in the southeast for years, we welcome this move, which will save members both time – with less paperwork – and money."
Tracey Hart, commercial director of Newsprinters, said: "I fully understand the cost pressures that retailers are facing in today's dynamic market.
"The decision to discontinue our direct-to-retail service is designed to alleviate some of these challenges, enabling the affected retailers to benefit from the elimination of the dual carriage charge."
The Fed did however add that it hoped Smiths and Menzies would not use the change as a reason to increase its carriage charges (the cost to retailers of deliveries).
In February Better Retailing reported that carriage charges had gone up by 40% in ten years despite a backdrop of declining newspaper and magazine sales meaning wholesalers are handling less copies and retailers are making less profit on them.
News UK no longer publishes print circulation data for its newspapers. The latest available ABC data from March 2020 had them on: 1.2 million for The Sun, 1 million for The Sun on Sunday, 647,622 for The Sunday Times and 365,880 for The Times.
The Fed's head of news Brian Murphy said: "The Fed would be extremely unhappy if the news wholesalers saw this as an opportunity to review their carriage charge templates and introduced additional costs onto our members particularly when sales levels clearly show there is no justification for this."
And its news operations manager Pete Williamson added: "We will be working closely with News UK and the two news wholesalers to ensure that current delivery times and service levels to members are, at least, maintained."
News UK also highlighted the environmental benefits of ending its own service, saying it would stop the use of 100 vans each day and therefore save 1.4 million miles and 320 tonnes of carbon dioxide emitted per year.
Hart said: "We are committed to fostering a resilient retail category and promoting sustainability in our operations."
News UK and DMG Media have announced proposals to create a joint venture and combine their printing operations. The move, which is subject to approval by the Competition and Markets Authority, would result in the closure of two DMG printing sites in England with the three sites owned by News UK's Newsprinters to remain open.
The publishers said doing this would help ensure a long-term sustainable business model for national print newspapers by making their operations more efficient.
Email pged@pressgazette.co.uk to point out mistakes, provide story tips or send in a letter for publication on our "Letters Page" blog