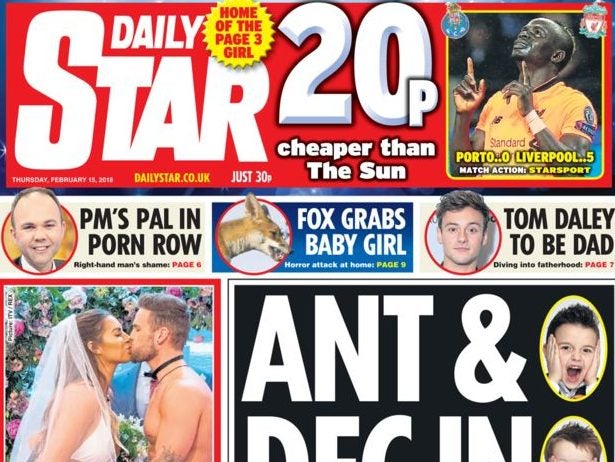 The Daily Star's print circulation has crept above that of the Daily Telegraph for the first time in more than a year, new ABC figures show.
The Star sold 391,988 copies in January 2018, down 12 per cent year-on-year, against the Telegraph's 385,346 copies, down 18 per cent year-on-year.
The Star was last selling higher than the Telegraph in November 2016. The paper sells for 30p while the Telegraph has a cover price of £1.80.
The Times, which overtook the Telegraph's print circulation for the first time ever last month, remains ahead of the broadsheet for January but only when bulk sales are included.
The Star, the Daily Star Sunday, Daily Express and Sunday Express are being sold to Trinity Mirror by current owners Northern & Shell in a £127m deal that is expected to be completed this month.
The Daily Mirror is the best-selling title within the newly expanded group, selling 583,192 copies in January.
But the tabloid, along with the Sunday Mirror and Sunday People, recorded a year-on-year circulation drop of about 19.5 per cent in January (reflecting the publisher's decision to strip out foreign and bulk sales).
The Sunday Times saw its print circulation drop by 7 per cent year-on-year to 739,845 while the Times also fell by 2 per cent to 440,558.
The Guardian recorded a 2.6 per cent year-on-year fall in circulation to 152,714 last month, despite relaunching as a tabloid half way through it.
ABC national newspaper print circulation figures for January 2018 (and online figures below):
| | | | |
| --- | --- | --- | --- |
| Publication | Total print circulation (Jan 18) | Year-on-year % change | Bulks |
| The Sun | 1,545,594 | -7.27 | 120,891 |
| Metro (Free) | 1,475,372 | -0.11 | |
| Daily Mail | 1,343,142 | -11.13 | |
| The Sun on Sunday | 1,286,859 | -6.45 | 121,256 |
| The Mail on Sunday | 1,106,067 | -12.08 | |
| London Evening Standard (FREE) | 888,017 | 0.09 | |
| The Sunday Times | 739,845 | -6.62 | 83,707 |
| Daily Mirror | 583,192 | -19.55 | |
| Sunday Mirror | 506,866 | -19.45 | |
| The Times | 440,558 | -2.37 | 87,939 |
| Daily Star | 391,988 | -11.61 | |
| The Daily Telegraph | 385,346 | -18.4 | |
| Daily Express | 364,721 | -7.08 | |
| Sunday Express | 309,958 | -7.69 | |
| The Sunday Telegraph | 298,720 | -16.88 | |
| i | 257,223 | -3.58 | 62,370 |
| Daily Star – Sunday | 236,631 | -7.85 | |
| Sunday People | 193,839 | -19.52 | |
| Financial Times | 189,579 | 0.35 | 27,942 |
| The Observer | 176,795 | -4.82 | |
| The Guardian | 152,714 | -2.58 | |
| Sunday Mail | 140,743 | -16.31 | |
| Daily Record | 134,087 | -13.92 | |
| Sunday Post | 123,393 | -13.81 | 538 |
| City AM (Free) | 90,569 | 0.28 | |
Web ABC figures for January 2018:
Website
Total daily avg unique browsers
(Jan 18)
Month-on-month % change
Year-on-year % change
Mail Online
13,738,436
10.51
-12.17
Trinity Mirror Group (Digital)
10,112,183
13.66
6.53
The Sun
5,273,610
6.36
24.15
The Independent
5,026,018
12.59
4.04
Metro
2,561,846
18.53
61.04
Evening Standard
944,143
27.35
42.01
Email pged@pressgazette.co.uk to point out mistakes, provide story tips or send in a letter for publication on our "Letters Page" blog