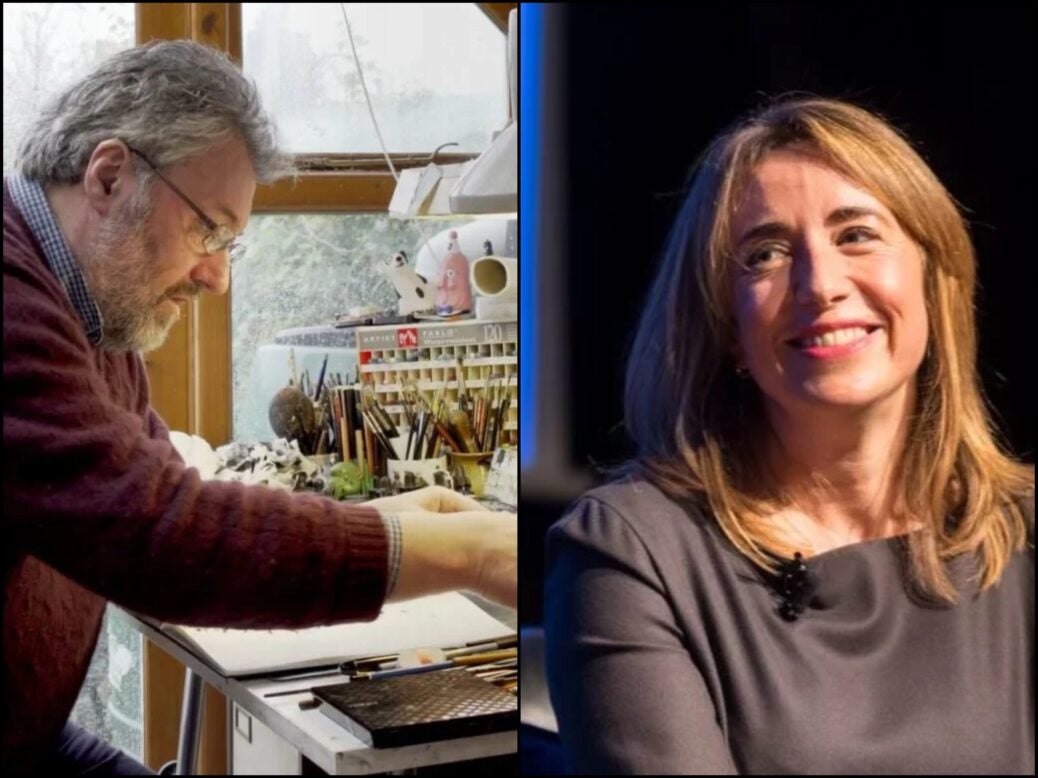 Guardian cartoonist Steve Bell's 40-year run at the paper has ended after he was sacked by editor-in-chief Katharine Viner over email.
Bell told Press Gazette his relationship with The Guardian's leadership had become "a bit strained" and the final straw was their "difference of opinion" over a cartoon he drew depicting Israeli prime minister Benjamin Netanyahu last week.
The cartoon was spiked over concerns it used anti-Semitic imagery and Bell has refused to apologise for the image, saying he believed "it works" and he "would not dream" of promoting harmful anti-Semitic stereotypes.
[Read more: Guardian 'refuses' to publish Steve Bell cartoon of Netanyahu]
Guardian cartoonist Steve Bell: 'I'm not going to apologise for the image… I think it works'
The Guardian has ended Bell's current contract, which runs until April next year, but he was told his cartoons would no longer be published with immediate effect.
Bell, whose first cartoon for The Guardian was published on 1 November 1983, told Press Gazette no explicit reason was given for his sacking, although he suspected it was due to "difference of opinion".
A Guardian News and Media spokesperson confirmed the end of Bell's tenure, saying: "The decision has been made not to renew Steve Bell's contract. Steve Bell's cartoons have been an important part of the Guardian over the past 40 years – we thank him and wish him all the best."
Bell said his relations with Guardian leadership in recent years "have been a bit strained, I think", claiming editorial interventions in his work had become "more and more petty" and "silly".
As a contracted freelance contributor, Bell said historically he would send in his cartoons by the evening before they were due to run and would not submit them for editor approval beforehand. More recently, The Guardian has asked for cartoons to be submitted by 4pm and for cartoonists to describe the idea for their cartoons to editors before 10.30am.
Bell said he complained he could not work under such timelines, which would require him to start working at 2am, but "the powers that be are very incommunicative", instead issuing "diktats".
Last week's cartoon, which Bell published to X (formerly Twitter), depicted Netanyahu preparing to cut a Gaza-shaped hole in himself using a scalpel. The cartoon bears the annotation "After David Levine", referencing a 1966 cartoon depicting US President Lyndon B Johnson, and Bell told Press Gazette it was also inspired in part by Rembrandt's The Anatomy Lesson of Dr. Deijman.
However, Bell said last week that The Guardian declined to publish it under the reasoning: "Jewish bloke; pound of flesh; anti-Semitic trope." (In Shakespeare's The Merchant of Venice the antagonist, Jewish money lender Shylock, demands "a pound of flesh" from the protagonist Antonio as security for a loan.)
Bell told Press Gazette The Merchant of Venice had "nothing to do with the cartoon", saying it was "an argument against a particular politician".
"I'm not going to apologise for the image," he said, "but I think it's a good one. I think it works."
Bell added: "There's no point apologising if you feel you've offended someone."
He said that when creating a cartoon, "you are trying to get a response and make an argument… You're going to have to expect a certain amount of negative response to something.
"It's always best to think through, and stick to, your argument."
Steve Bell: 'I don't promote harmful anti-Semitic stereotypes'
Bell has previously had several cartoons spiked by The Guardian or heavily criticised elsewhere in the media over allegations of anti-Semitism.
One 2012 cartoon depicting Netanyahu in front of a battery of Israeli flags resembling missiles and alongside puppet likenesses of William Hague and Tony Blair was accused of invoking the "Jewish puppet master" stereotype.
A 2018 cartoon was spiked by editors, Bell claimed, over allegations that its depiction of a killed Palestinian medic evoked the imagery of concentration camp gas chambers.
The cartoonist told Press Gazette the "business about anti-Semitic tropes" was "a particular bugbear of mine", saying: "If a cartoon is anti-Semitic, you should call it anti-Semitic" rather than applying the "specious notion of anti-Semitic tropes".
He argued that the question of whether a cartoon was anti-Semitic was whether it "invokes hatred against Jews", which he described as "a simple one to answer" with regard to his cartoons.
Asked whether his cartoons might nonetheless perpetuate harmful stereotypes about Jewish people, Bell said "I don't promote harmful anti-Semitic stereotypes", and challenged critics to identify any in his back catalogue.
"Never have I done such a thing, I would not dream of doing such a thing."
Bell told Press Gazette he had been "asking for trouble" by posting last week's Netanyahu cartoon on Twitter: "I should have known better, really."
He did not read the tweets about the image, instead being informed about the "pile-on" by his son.
He added: "The Guardian don't like having their editorial processes discussed in the open."
Earlier this year another Guardian cartoonist, Martin Rowson, apologised for producing a cartoon of former BBC chair Richard Sharp which was also accused of using anti-Semitic imagery.
[Read more: Guardian tells staff not to publicly slate each other on social media]
Steve Bell's departure 'a very sad day for political cartooning'
Times cartoonist Peter Brookes told Press Gazette that Bell's departure marked "a very sad day for political cartooning. He has been hugely influential over the years, and I think his ability to puncture the overblown egos of the political class has been second to none. 
"The cartoon being cited as the reason for his dismissal is a classic case of misinterpretation – over-interpretation even. I don't see it as anti-Semitic. Anti-Netanyahu, yes, and against his current and proposed policy in Gaza, which threatens the whole population and not just Hamas, the declared (and in my view obviously legitimate) target.
"Everyone is piling in on that point now, even Biden and Blinken. Steve Bell got there first, and in a febrile atmosphere has paid the price."
Dr Tim Benson, who owns the Political Cartoon Gallery in Richmond, London and publishes an annual anthology of political cartoons, said: "The Guardian has engineered the whole thing. These things are about context."
He said the Bell cartoon may have unfairly appeared anti-Semitic in the context of two previous Guardian editorial cartoons by other artists which were more even-handed, depicting the world going down an escalator and an Israeli and a Palestinian child cowering under a table with bombs exploding in the background.
Benson said: "When Hamas killed 1,300 people The Guardian produced two anodyne cartoons which said 'it's all so sad'. That doesn't say anything, it's a waste of space…
"When Steve did that cartoon it did look unfair, because there had been no balance in the days before.
"Cartoons are generally unfair, they tell a subjective truth. Steve was set up for a fall. It's disgraceful because he's the best cartoonist in the history of The Guardian. I think they wanted to get rid of him and this gave them an excuse.
"In the old days there was a symbiotic relationship between an editor and a cartoonist. These sort of things would never have happened in the past."
Asked how he rated the work of Bell, Benson said: "Apart from David Low [who worked on Fleet Street in the 1920s to 1950s] I think he has made more PMs squirm than any other cartoonist.
"From John Major in his underpants to David Cameron with a condom over his head, they really hated it. No other cartoonist has got under the skin of PMs in the way Bell did. He has probably had more impact than any other cartoonist in the last 50 years."
Bell has drawn cartoons for The Guardian for more than 40 years although his regular political strip If… ended in 2021 following Covid-19 cost-cutting at The Guardian. At his peak, when producing both If… up to six times a week alongside daily editorial cartoons, he was submitting ten pieces per week. However he was never offered a staff position and has always worked remotely from Brighton.
The 72-year-old told Press Gazette: "My relationship with The Guardian has been a strange one… almost an arm's length thing," adding that he had been "paid very well" allowing him to bring up "a large family" with a dog.
But he felt he may now find it difficult to find work elsewhere because he is "so close to the bloody Guardian".
Email pged@pressgazette.co.uk to point out mistakes, provide story tips or send in a letter for publication on our "Letters Page" blog