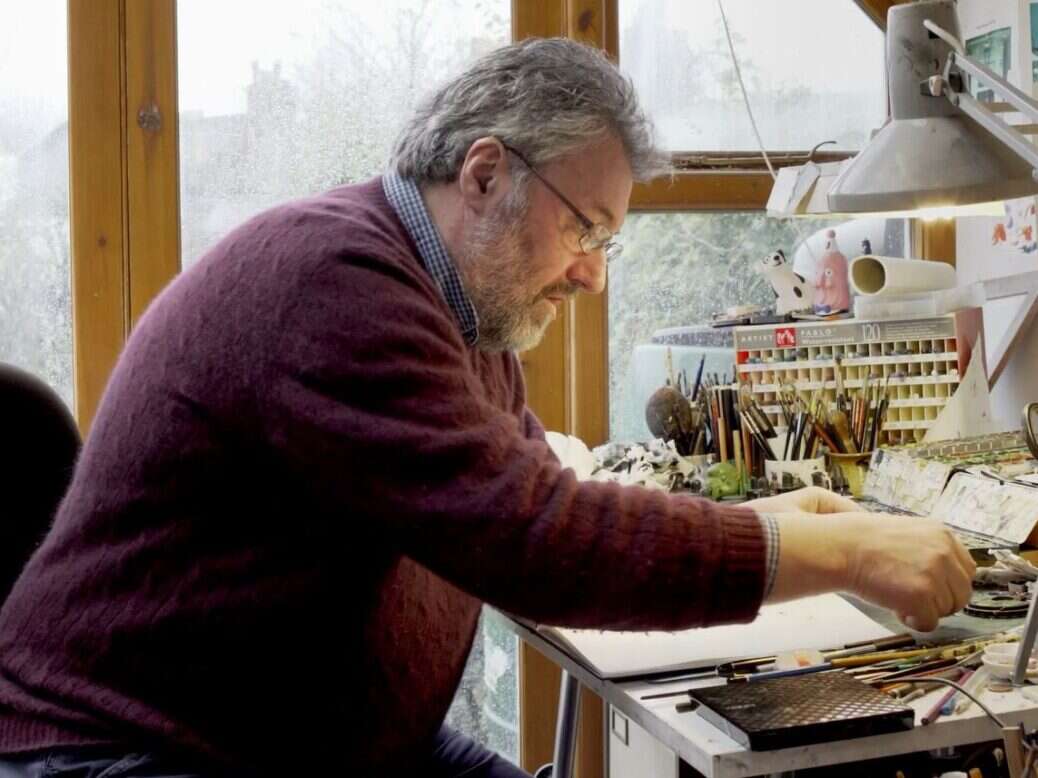 Update 16 October: The Guardian has fired Steve Bell. You can read the full story here.
[Read more: Steve Bell speaks out after being sacked by email following 40 years at Guardian]
The Guardian has apparently declined to publish a depiction of Israeli prime minister Benjamin Netanyahu by cartoonist Steve Bell, reportedly telling him the artwork perpetuated an anti-Semitic trope.
The cartoon depicts Netanyahu preparing to cut a Gaza-shaped hole in his own abdomen with a scalpel. Netanyahu has ordered a "complete siege" of the Palestinian enclave of two million after Hamas militants killed hundreds of Israeli civilians over the weekend.
Bell posted the blocked cartoon to Twitter/X on Monday, saying that after he filed it that morning he received a "cryptic message" from Guardian editors saying: "pound of flesh".
In Shakespeare's The Merchant of Venice the antagonist, Jewish moneylender Shylock, demands "a pound of flesh" as security for a loan made to his Christian rival, Antonio.
Bell said he responded to the desk saying he did not understand the allusion, "and received this even more mysterious reply: 'Jewish bloke; pound of flesh; anti-Semitic trope'".
Bell's drawing includes a note referencing a cartoon by David Levine from the 1960s, picturing then-US president Lyndon Johnston with a scar on his belly shaped like the map of Vietnam.
This is a Vietnam reference. the original drawing was of President Johnson (non jewish btw) and depicts him raising his shirt to show his gall bladder scar. Here charactered into the shape of vietnam.
i presume Bell is trying to show how Netanyahu's dilemma mirrors johnsons pic.twitter.com/SnavhoNjTR

— whatever (@dominichills5) October 10, 2023
In another tweet on Monday, Bell said: "It is getting pretty nigh impossible to draw this subject for The Guardian now without being accused of deploying 'anti-Semitic tropes'."
Bell retweeted a defender arguing that "the alleged Shakespearean analogy in the message hardly fits the political message of the cartoon, except possibly to someone who is ignorant of both" and himself added: "Exactly. And why on earth is he wearing boxing gloves?"
The Guardian declined to comment.
Dave Rich, the author of "Everyday Hate: How anti-Semitism is built into our world and how you can change it", said: "The Guardian should be applauded for refusing to publish this appalling cartoon. It's good to see that lessons have been learnt."
Conservative Heywood and Middleton MP Chris Clarkson said the image was "deeply offensive in any context".
Another Conservative MP, Workington's Mark Jenkinson, said: "It just keeps happening accidentally to these people."
And Barrister Simon Myerson KC tweeted: "I don't think [Netanyahu's] nose is curved quite enough to convey the essential message."
The incident is not the first involving Bell, The Guardian and allegations of anti-Semitism against his cartoons. In 2018 he said he was censored by the newspaper's editor, Katharine Viner, when the editorial team declined to publish a cartoon depicting a Palestinian medic shot dead by Israeli forces in a fireplace besides Netanyahu and then-prime minister Theresa May.
Bell subsequently sent the cartoon in an email to the entire Guardian editorial staff, from where it was leaked to Huffpost. Critics argued the image evoked Nazi gas chambers, which Bell responded was "the last thing on my mind when I drew it".
Viner told The Guardian's reader's editor that Bell's point "could easily have been made in a way that didn't reference fire or ovens".
In 2019, another of Bell's cartoons – this time depicting Labour deputy leader Tom Watson as a witch hunter looking for anti-Semitic tropes – was blocked. In November 2020, The Guardian received 32 complaints of anti-Semitic imagery over a Bell cartoon which did make it to print and depicted Labour leader Keir Starmer holding the head of predecessor Jeremy Corbyn on a plate, alluding to the beheading of St John the Baptist.
Bell's "If…" comic strip ended in 2021 after 40 years. He has continued providing three editorial cartoons for the leader page each fortnight, down from the previous rate of three a week.
Bell said at the time his If strip was stopped: "The Guardian's got more cautious about things and recently there's been more strips bumped back for various reasons because somebody thinks it's transgressing something or other, but I have been there a long time and have got used to it."
Email pged@pressgazette.co.uk to point out mistakes, provide story tips or send in a letter for publication on our "Letters Page" blog