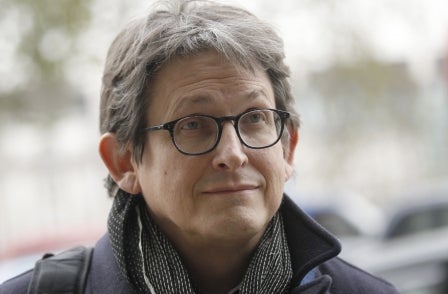 Alan Rusbridger steps down today after 20 years as Guardian editor, handing over the reins to deputy editor Katharine Viner.
Under Rusbridger, The Guardian won newspaper of the year four times at the British Press Awards and last year it became the first UK newspaper to win the Pulitzer Prize for the Edward Snowden revelations about US state surveillance.
Rusbridger took over from Peter Preston at a time when the paper's print circulation was solidly above 400,000 and it did not yet have a website.
He leaves with less than half the daily print sales (176,157, according ABC) but with a digital footprint of more than 7m daily browsers. Some 63 per cent of The Guardian's web readership now comes from outside the UK.
According to the National Readership Survey, The Guardian is the fourth most-read national newspaper brand in the UK (in print and online) with 16.3m readers a month. This puts it ahead of The Sun and a whisker behind The Daily Telegraph.
As editor-in-chief of Guardian News and Media, which includes The Observer, Rusbridger has led an "open journalism" approach, committing to free online access while raising the daily print cover price to £1.80. He took GNM "digital-first" in 2011, ruling that from that point on digital rather than print was The Guardian's main priority.
Under Rusbridger, Guardian News and Media losses peaked at £44m in 2011/2012, but after a voluntary redundancy programme this fell to £19.4m last year. Because parent company Guardian Media Group has £800m after selling its stake in car-selling website Autotrader, these losses are said to be sustainable and in line with owner the Scott Trust's core purpose to protect the journalism of The Guardian "in perpetuity".
Rusbridger is the UK's second longest serving national newspaper editor, after Paul Dacre who has edited the Daily Mail since 1992.
Former Times editor Sir Harold Evans was asked by Press Gazette last night to sum up his views on Rusbridger's tenure as Guardian editor.
He said: "Alan Rusbridger by great daring, flair, fine judgment and consistent courage has over 20 innovative years of editorship done a remarkable thing: he has enhanced the worldwide reputation of a great newspaper without apparently breaking a sweat. What's he taking? It has been very good for journalism and all of us."
Below is what some other leading journalists had to say about Rusbridger:
Former Observer editor Roger Alton:
Alan is clearly a remarkable journalist, and a brilliant and witty writer. He could also knock out a damn good splash headline at a push. In short he had everything.

He was also very kind and generous of spirit and helped to look after me in times of desuetude, both physical (a rather nasty push-bike accident involving a week or two in a plastic surgery ward), and emotional (don't ask!). On a personal note, I owe Alan for the opportunity he gave me to edit The Observer for the best part of a decade, which was one of the most enthralling and brilliant times of my life.
Rusbridger's predecessor, Peter Preston:
Alan has stood on the cutting edge of journalism for two decades of scoops, controversy and constant effort to envisage the shape of press things to come. He's been brave, innovative and sometimes visionary. And I'm proud to remember that, long ago, I hired him: twice.
Guardian investigative journalist Nick Davies:
I think Alan ranks alongside Harry Evans right at the top of the league table of editors. Like Harry, he has backed his reporters in the teeth of aggression, not just with Snowden and the phone-hacking but going right back to Neil Hamilton and Jonathan Aitken. Like Harry, he led the whole paper – features, news, sport, pictures have all improved under him. But his biggest single achievement was to see the significance of the internet so quickly and to devise a strategy which has transformed us from one of the smallest newspapers in the UK to one of the biggest in the world. That's a helluva thing.
Picture shows Nick Davies (centre left), Rusbridger (centre) and new Guardian editor Kath Viner (centre right, partially blocked)
Former Guardian investigations editor David Leigh:
Alan showed his sheer steel from the first. I shall never forget him declaring that we would fight on in the Jonathan Aitken libel trial back in 1997. The stakes could not have been higher. He, I,  and the Guardian could all have been ruined. Instead, it was Aitken who went to jail for perjury, and the newly-appointed  Alan who was launched as one of  Fleet St's most principled – and toughest – editors.
Former Guardian US editor Janine Gibson (who has now left the paper):
Alan is a brilliant and inspiring editor and a somewhat unnerving boss. The most important thing to know about him is that he uses silence as an information gathering tool. It is an even more effective way of getting the most hardened hack to spill all their secrets than a bottle of the Chablis he keeps for emergencies in his office fridge. During my first decade working for him, you'd leave any encounter head in hands wondering what the hell you'd said. During the second decade I watched the same thing happen to everyone from ambassadors to spooks.

In a career filled with journalistic triumph after journalistic triumph, he's shown tremendous courage, purpose and strategic good sense to enable the Guardian to survive, experiment and thrive. I'm sure there were some maddening times, perhaps the odd ambitious plan that didn't quite come together, but it's unpardonable to have a good memory in cases such as these.

I'm terrifically proud to have worked for him for 17 years. His Guardian was an amazing place to grow up as a journalist and a generation of us owe him a great deal.
Former BBC media editor Torin Douglas:
It is astonishing for a British medium to win the Pulitzer Prize. What it shows is that The Guardian has established itself as a good brand, particularly in the United States where its liberal perspective is quite different from a lot of the media output. So it's got a huge, great audience there, which it hasn't really been able to monetise yet because an awful lot of people are still trying to work out how you do monetise there things. But in terms of a brand and an influence and so on that I think has been his biggest achievement.

The phone-hacking story… was immensely important and very brave, and showed Alan's determination to back his reporters and stand up to the fiercest of foes.
Alan Rusbridger timeline:
1995
Named as editor after winning the staff ballot of NUJ members. He was features editor at the time having previously launched the Weekend supplement and then G2 section.
So, 20 yrs ago was editing my first Guardian. Splashed on row abt EU & immigration. Plus ca change pic.twitter.com/NBNWwkJnFf

— alan rusbridger (@arusbridger) February 13, 2015
1996
Rusbridger won the first of many high-profile libel battles he would fight as editor when former Tory minister Neil Hamilton and lobbyist Ian Greer walked away from a £10m libel suit against the paper over its "cash for questions" revelations.
The Guardian had obtained evidence that "would have blown their action out of the water" as Rusbridger put it.
1999
The Guardian website launched as Guardian Unlimited and quickly grew to claim 1m monthly users. It relaunched as Guardian.co.uk in 2008 and then TheGuardian.com in 2013. Earlier this year it was redesigned in a mobile-first format.
Rusbridger was the first national newspaper editor to devote significant editorial resources to online.
The site currently reaches 124m monthly browsers (different devices) worldwide, according to ABC.
Tidying up office, came across this, c 2003? Which sort of remains the case… pic.twitter.com/8rJi6CJNQ1

— alan rusbridger (@arusbridger) May 5, 2015
2005
The Guardian and Observer print editions underwent a comprehensive redesign and moved from standard broadsheet to Berliner size.
This involved an estimated £80m investment in new Berliner-size presses. The wisdom of the move has since been questioned because so few other UK newspapers are Berliner size it has limited The Guardian's ability to take in contract printing to use up its spare print capacity as circulation has shrunk. The redesign helped The Guardian win newspaper of the year. (Picture: Reuters)
2007
The Guardian begins what would become a major US expansion with the launch of a US-facing website, Guardian America.
2009
The Guardian began its investigation into phone-hacking with the revelation that the News of the World had paid out £1m in legal settlements to cover up the extent of phone-hacking. It would publish hundreds of stories about the issue, which was largely ignored by the rest of Fleet Street.
2010
Working with Julian Assange and Wikileaks, The Guardian published an invesigation based on thousands of leaked documents about the conduct of the US war in Afghanistan. This followed up with stories based on thousands of leaked US embassy cable communications. The investigations saw The Guardian named newspaper of the year at the Press Awards in 2011. (Picture, below: Reuters)
2011
The Guardian announced the move to a "digital-first" strategy. Rusbridger told staff GNM "would move beyond the newspaper, shifting focus, effort and investment towards digital, because that is our future".
The Guardian published a front page story revealing that the News of the World had hacked the phone of missing schoolgirl Milly Dowler. This led to the closure of the News of the World, the Leveson Inquiry and the replacement of the Press Complaints Commission with IPSO. The story was later corrected to retract the inaccurate statement that News of the World journalists and deliberately deleted voice messages thereby giving the Dowler family false hope that their daughter was still alive.
2013
The Guardian published a huge investigation into state surveillance by the US National Security Agency and GCHQ in the UK based on thousands of documents leaked by Edward Snowden.
The story initially received scant follow-up from rival Fleet Street papers which largely focused on the national security concerns about the leaks. 
oooh look "Whitehall insiders" #spooksofftherecord pic.twitter.com/WaGtYugzhd

— alan rusbridger (@arusbridger) October 8, 2013
2014
The Guardian was named newspaper of the year at the Press Awards and also received the Pulitzer prize in recognition of its Edward Snowden coverage.
Email pged@pressgazette.co.uk to point out mistakes, provide story tips or send in a letter for publication on our "Letters Page" blog