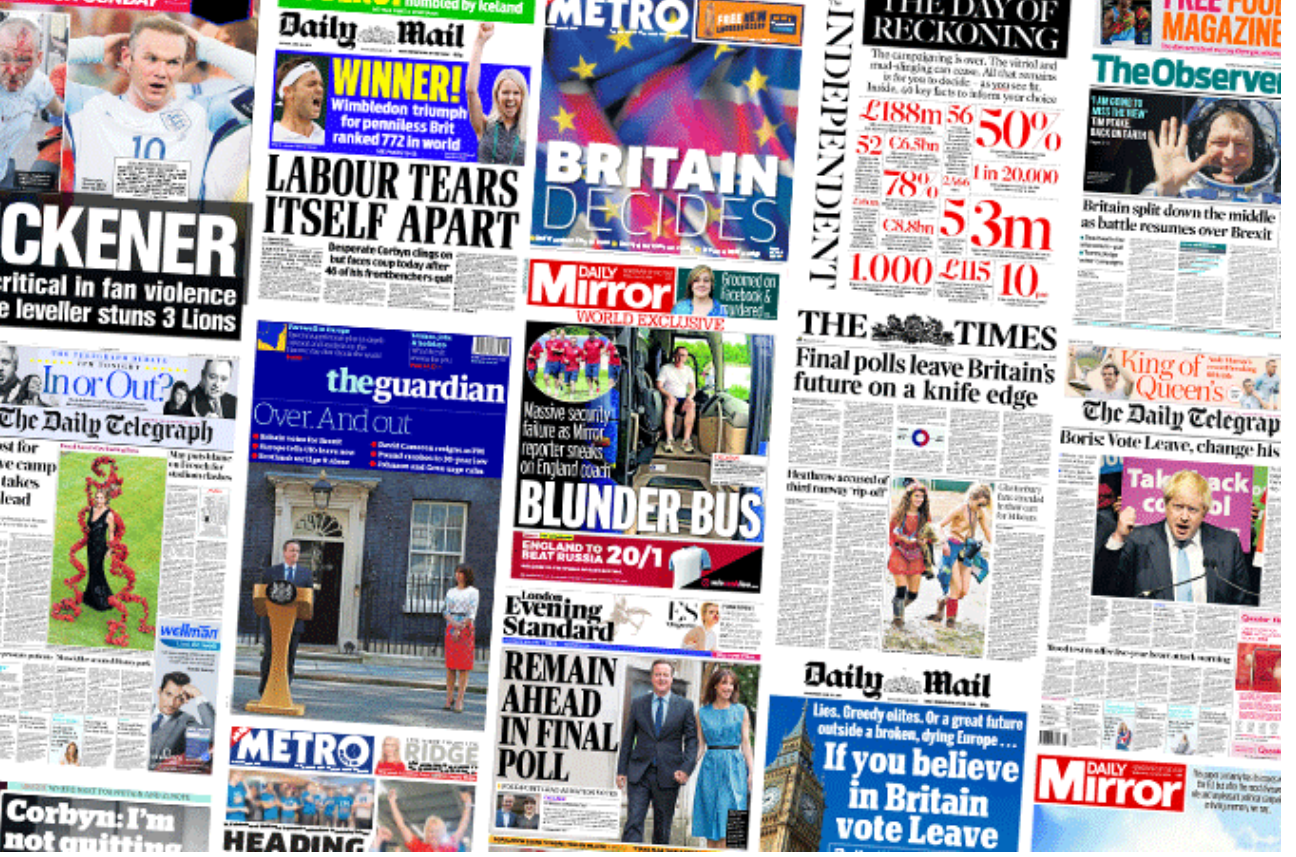 National newspapers saw a boost in both print and online readership last month before and after the 23 June EU referendum.
Mail Online was up 10.4 per cent year on year hitting a record of 15.1m daily unique browsers per day, according to ABC. It saw an average of 207m daily page impressions and 4m daily video plays.
Other national newspaper titles also had record months, with The Guardian reaching 10.3m unique daily browsers, the Mirror just over 5m and The Independent 4.4m.
National newspapers also did well in print with most registering sales increases compared with May.
(See full print and online data tables below)
The Mirror titles were the only UK-wide nationals not to go up month on month, hurt by price cutting from the 20p Daily Star (which was again the fastest grower).
The Times and Sunday Times both achieved strong year on year print circulation increases, albeit with the help of more free bulk copies.
The Sunday Times grew 5.5 per cent year on year (but with 60,000 extra bulks). The Times was up 15.3 per cent (but with the help of just over 50,000 more bulks).
Both titles reported their combined total number of subscribers up 3.4 per cent to 413,600. Digital-only subscribers were said to be up by 10,500 year on year to 182,500.
The i grew its print circulation by 7.2 per cent year on year to 294,223. It only distributed 2,000 more bulk copies more than the same time last year.
According to Newsworks (formerly the Newspaper Marketing Agency) an extra 90,000 national newspapers per day were sold in June, compared with May, meaning 2.7m copies over the course of the month.
Newspaper website ABC figures for June 2016:
| | | | |
| --- | --- | --- | --- |
| Title | Daily average unique browsers | Month on month % change | Year on year % change |
| Mail Online |                               15,053,614 | 7.88 | 10.4 |
| theguardian.com |                               10,304,181 | 15.48 | 32.59 |
| Trinity Mirror Group – Digital |                                 7,170,167 | 6.43 | 17.89 |
| Telegraph |                                 5,623,053 | 29.49 | 37.22 |
| Mirror Group Nationals |                                 5,032,799 | 8.38 | 18 |
| The Independent |                                 4,382,722 | 43.77 | 71.76 |
| The Sun |                                 2,730,920 | 15.37 | |
| express.co.uk |                                 1,851,337 | 18.69 | 80.09 |
| Metro |                                 1,346,565 | 11.49 | -11.61 |
| dailystar.co.uk |                                     818,188 | -9.02 | 6.38 |
| Manchester Evening News |                                     747,713 | 5.01 | 30.41 |
| Evening Standard |                                     725,888 | 34.45 | 49.5 |
| Liverpool Echo |                                     524,549 | -10.28 | 12.14 |
| Wales Online |                                     392,220 | 36.87 | 49.96 |
| Birmingham Mail |                                     239,863 | 16.05 | 12.66 |
| Chronicle Live |                                     237,111 | -8.33 | 8.6 |
National newspaper print circulations for June 2016 (source ABC):
| | | | | |
| --- | --- | --- | --- | --- |
| Title | Avg circulation | Month on month percentage change | Year on year % change | Bulks |
| The Sun |          1,755,331 | 2.25 | -3.5 |          95,782 |
| Daily Mail |          1,548,349 | 0.28 | -4.83 |          81,230 |
| The Sun on Sunday |          1,479,144 | 1.97 | 0.87 |          98,988 |
| The Mail on Sunday |          1,361,228 | 0.75 | -5.08 |          76,841 |
| Metro (free) |          1,348,127 | 0.17 | 0.21 | |
| London Evening Standard (free) |              910,033 | 0.78 | 2.54 | |
| The Sunday Times |              806,375 | 3.67 | 5.47 |          71,162 |
| Daily Mirror |              770,714 | -1.02 | -9.96 |          45,000 |
| Sunday Mirror |              696,504 | -1.61 | -14.62 |          45,000 |
| Daily Star |              513,452 | 0.91 | 23.31 | |
| The Daily Telegraph |              496,286 | 1.12 | 1.34 |          20,495 |
| The Times |              449,151 | 2.51 | 15.34 |          72,621 |
| Daily Express |              421,057 | 1.45 | -2.66 | |
| The Sunday Telegraph |              382,898 | 3.23 | 2.21 |          24,720 |
| Sunday Express |              372,247 | 2.75 | -1.13 | |
| Daily Star – Sunday |              336,618 | 4.92 | 30.54 | |
| i |              294,223 | 2.97 | 7.16 |          68,782 |
| Sunday People |              273,029 | 1.06 | -13.69 |            7,000 |
| The Observer |              205,007 | 8.42 | 8.31 | |
| Financial Times |              199,359 | 0.49 | -6.95 |          21,360 |
| Sunday Mail |              177,277 | -5.52 | -14.64 |            3,833 |
| The Guardian |              171,723 | 3.63 | 0.29 | |
| Daily Record |              167,865 | -2.8 | -12.13 |            4,955 |
| Sunday Post |              151,861 | -2.07 | -20.55 | |
| City AM (free) |                97,658 | 0.4 | -10.37 | |
Email pged@pressgazette.co.uk to point out mistakes, provide story tips or send in a letter for publication on our "Letters Page" blog