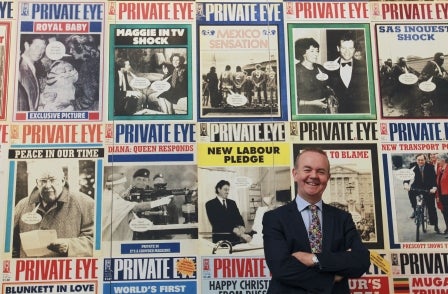 Half of the news and current affairs magazines audited by ABC increased their circulations in 2015.
Political magazine The Spectator was the best performing, up 31 per cent on 2014's figure to 71,707 in the year of the general election. This included more than 15,000 digital editions.
The New Statesman, meanwhile, was up 14 per cent to 33,395.
Private Eye was up 5 per cent on 2014 to record its best yearly average since 1986, the year Ian Hislop (pictured, Reuters) started as editor.
With an average paid-for circulation of 229,777 in the second half of 2015 – up slightly on the first half of the year – Private Eye remains the best selling UK title in the news and current affairs sector.
The Economist UK edition was up 5 per cent year on year to 235,350. This was helped by an average digital edition circulation of 73,567, up 47 per cent year on year.
UK news and current affairs magazine average circulations, 2015
Note: The figures for some magazines are based on the second half of 2015 only
| Magazine | Combine print and digital circulation, 2015 | Digital editions | YoY% | UK ROI Actively purchased% |
| --- | --- | --- | --- | --- |
| Time Magazine – EMEA (excluding BI/SA) | 292,865 | 15,291 | -7.1 |   |
| The Economist –  Continental Europe Edition | 237,092 | 40,826 | -4.6 | 99.3 |
| The Economist –  United Kingdom Edition | 235,350 | 73,567 | 5.1 | 91.5 |
| Private Eye | 229,777 |   | 4.7 | 99.9 |
| The Week | 204,128 |   | 2 | 78.1 |
| The Economist –  Asia Pacific Edition | 150,369 | 45,422 | -1.3 |   |
| Time Magazine – British Isles (BI) | 104,696 | 6,587 | -18.2 | 73.7 |
| BBC History Magazine | 97,527 | 15,551 | 5.1 | 99.3 |
| Fortune Magazine – Europe | 93,918 | 3,061 | -3.8 | 74.4 |
| New Scientist – Worldwide Sales   Excluding Australasia & US/Canada | 81,252 | 10,221 | -2.2 | 99.4 |
| Monocle | 80,187 |   | 0.2 | 93.9 |
| The Spectator excluding Australia | 71,707 | 15,335 | 30.9 | 86.2 |
| The Oldie | 46,415 | 546 | 1.9 | 96.1 |
| MoneyWeek | 45,540 |   | -13.6 | 98.9 |
| The Week Magazine (digital publication) | 34,637 | 34637 | 25.4 |   |
| New Statesman | 33,395 | 1,930 | 13.8 | 67.9 |
| Prospect | 32,123 | 1,497 | 3.4 | 64.3 |
| Time Magazine – Southern Africa (SA) | 31,896 | 1,835 | -13.8 |   |
| Investors Chronicle | 31,612 | 3,171 | -1.2 | 92.9 |
| The Economist –  Middle East/Africa Edition | 27,345 | 5,937 | 1.6 |   |
| BBC Sky at Night | 24,576 | 1,866 | 7.2 | 99.1 |
| New Scientist – Australasian Sales | 22,514 | 3,992 | 0.6 |   |
| New Scientist – US/Canadian Sales | 22,464 | 6,276 | -5.1 | 83.7 |
| History Today | 18,161 |   | -2.1 | 97.6 |
| Shares | 13,661 |   | -11.6 | 32.7 |
| What Franchise | 13,403 |   | 7.1 | 1.5 |
| The Spectator Australia | 8,112 |   | -3.5 |   |
| What Investment | 7,083 |   | -12.7 | 100 |
Email pged@pressgazette.co.uk to point out mistakes, provide story tips or send in a letter for publication on our "Letters Page" blog