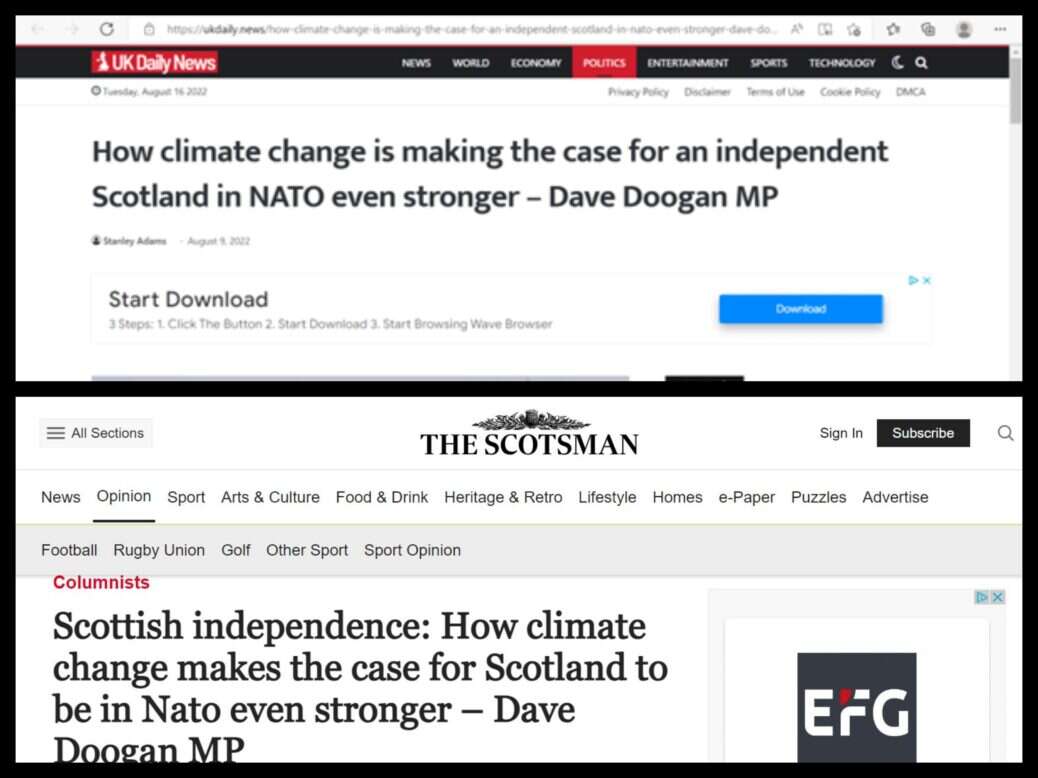 Copyright theft affecting news publishers in the UK and around the world is "through the roof" as content farmers are thought to be getting ever "more brazen".
Content licensing organisation NLA Media Access has successfully fought for the removal of around 700,000 stolen news articles in 2023 so far – up from about 20,000 in 2020 and 50,000 in 2021.
Last year's tally was around 30,000 – although it is worth noting that many of the domain and article takedowns that have taken place in 2023 so far began work in 2022, as it is often a long process.
For example, the website Ukdaily.news – which was being hosted from Moldova, where UK copyright law is not recognised – stole thousands of articles from UK publishers and it took more than a year to have these taken down, having first managed to get adverts removed.
In total, eight entirely cloned newspaper websites have been removed so far in 2023 as a result of the NLA's Text Tracker, which spots copyright infringements.
Currently, about 45 news brands in the UK, US and Australia are signed up for the service. Meanwhile, other publications are forced to play a growing game of "whack-a-mole" that is "becoming increasingly difficult for them to manage", according to Matt Aspinall, head of publisher services at NLA.
Aspinall told Press Gazette that most of the people scraping news content to create the fake sites "know what they're doing" and are "getting a bit more brazen".
"The more publishers I speak to, we're still hearing the same kind of common things which is it's a bit of a game of whack-a-mole which is becoming increasingly difficult for them to manage.
"Legal teams are too stretched to deal with these kinds of infringements. They know it's a problem that's getting bigger, but they don't necessarily have a way to address it."
Cloned articles and websites take publishers' ad revenue, affect their SEO ranking, slow their sites down, upset journalists whose work is being ripped off and take up a lot of legal time and effort. They can also affect audience trust if the fake site tries to take them to a trading platform or something similar that is designed to scam them.
Aspinall recently came across an example in his own life on his village Facebook page, when someone posted a link that turned out to be a cloned version of the Daily Mirror.
"It was a fake story, and it was another one that was designed to make you buy into a trading platform or something," he said.
Other websites that have had numerous articles removed this year include Popstar.one, which provides "celebrity news and gossip", and Starsalert.com, which features "breaking news and features about stars".
This month the NLA team have begun to work more closely with Google's copyright counsel team to remove stolen content from the search engine. Previously they had to complete the time-consuming task each time of sending every infringing URL alongside the corresponding correct URL, but now they hope to be able to move more quickly against entire domains.
They also work closely with the UK's Intellectual Property Office, which congratulated them on their busy six months in a recent post.
Email pged@pressgazette.co.uk to point out mistakes, provide story tips or send in a letter for publication on our "Letters Page" blog