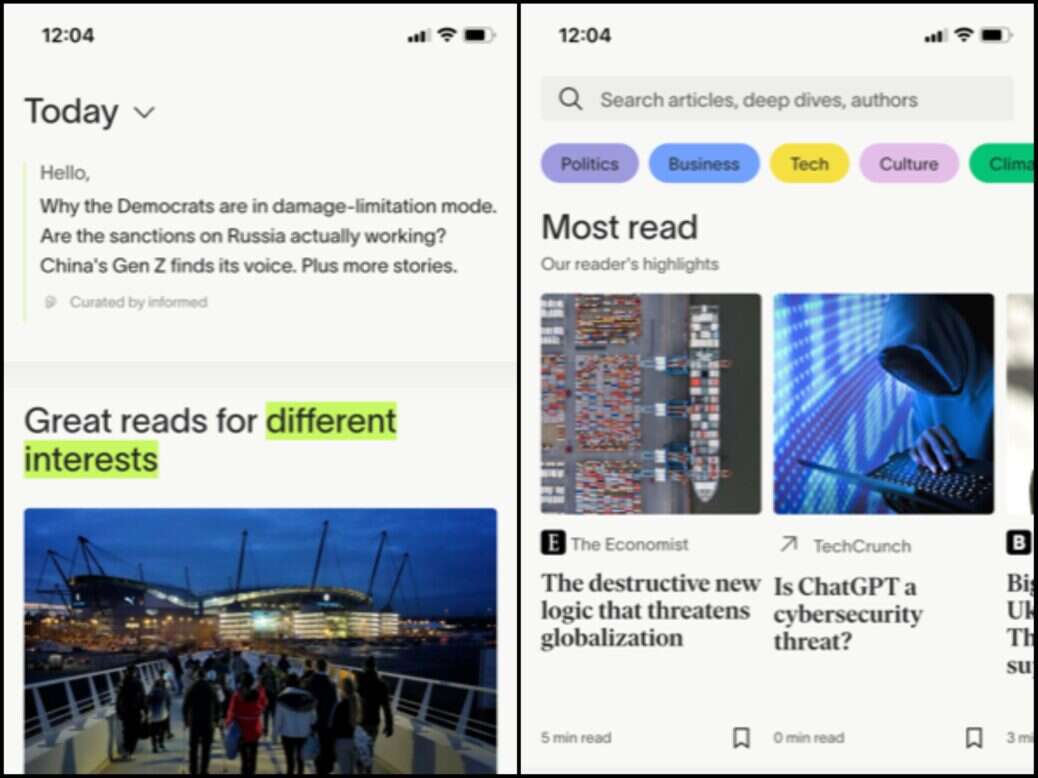 A new app bundling together curated stories from some of the world's biggest publishers is targeting consumers who, its founders believe, would never pay for a single news subscription.
The co-founders of Informed are targeting news consumers who have "not enough time, [are] not reading that many articles, overwhelmed by the sheer amount that's out there" and want the best, most important stories cherry-picked for them. So as distinct from existing news bundlers, like PressReader, Informed does not offer full access to particular titles.
Co-founder Martin Kaelble told Press Gazette their offering would not take people away from existing news publishers' subscriptions.
This means Informed is not for, as Kaelble put it, "news junkies" or "content nerds" who will prefer to have their own subscriptions and access to a full newspaper.
"It sounds a bit romantic, but we want to save quality journalism," he said. 
Informed, which went live in November and costs £51.99 per year or £6.99 per month, sells itself as allowing people to access "world-class journalism from premium publishers, curated by editors and experts".
The Financial Times, New York Times, Economist, Reuters, Wall Street Journal, Washington Post, Telegraph, Der Spiegel, The Independent and Foreign Policy have all done deals to allow their content to appear on Informed.
Free-to-read publishers such as The Guardian, BBC and Tech Crunch can also be read to enable a full curation of the day's best stories. With some, the app links out to give them traffic (and, hopefully, new audiences) rather than it being a financial relationship, whereas The Guardian for example is paid a licence fee that permits Informed to use a certain number of stories in-app per month. No tabloids appear on the app.
Kaelble told Press Gazette it would not have been feasible to create Informed just a few years ago as paywalls were at a different stage of their development and funding "was not there for media start-ups".
But now, investors felt there was "clearly a demand" for a bundled news app, he said, while people are more used to monthly subscriptions because of the likes of Spotify and Netflix. Informed raised €5 million ($5.3m) in its seed round from HV Capital and 468 Capital.
Informed has three co-founders who began envisioning the app in the summer of 2020 and all bring a relevant area of expertise.
Kaelble is a journalist who, as head of digital, led the introduction of a paywall to German business title Capital. At Informed, he is leading on editorial, content, product and strategy.
Chief executive Benjamin Mateev was lead engineer at the to-do list app Wunderlist, which was sold to Microsoft in 2015 and was praised for its simple user interface. At Informed he has a focus on product tech and fundraising as well as his operational chief executive role.
And Axel Bard Bringéus, who leads Informed's commercial side including fundraising, previously led Spotify's international growth before becoming a venture capital investor and therefore brings experience in licensing and consumer subscriptions, Kaelble told Press Gazette.
Informed also has three high-profile advisers from the journalism world – former Financial Times editor Lionel Barber, former Washington Post publisher Katharine Weymouth, and ex-Economist editor-in-chief Bill Emmott. Kaelble said the Informed team had been surprised by how "engaged" and "passionate" they were about the project.
Who is the 'mainstream news user' who wants a subscription bundle?
Kaelble told Press Gazette the co-founders started with a hypothesis that "many people, mainstream news users, were simply overwhelmed by the abundance of content out there. They want to have something that cuts the noise".
They also believed "many people nowadays simply say 'I don't have enough time to read all the great articles that are published every day'".
"It's sad for us journalists, but that's the reality, it's an inconvenient truth," he said. "And that's the mainstream news user. Not enough time, not reading that many articles, overwhelmed by the sheer amount that's out there."
Kaelble said that while he was building the paywall at Capital, he realised how subscription growth flattens for many publishers. "At the beginning, you have all your fans, they subscribe, it's growth… and then at some point, it becomes harder to have growth," he said.
At this point, he said, the next chunk of the market is "these mainstream people who often will not subscribe to only one newspaper, who would be willing to pay but unfortunately not for only one brand".
"So the only way to grow is actually to cooperate with a platform that can create the bundle and this is Informed – or Apple or Google."
The difference, Kaelble said, is that previously aggregators were "throwing content" at their users – but now we are in a "different age" with consumers complaining about being overwhelmed by choice and mis/disinformation on social media.
He said Informed is built for this new age because it filters the vast amount of content being produced and gives people the "right dose of what you need to know to not seem – I'll put this provocatively – but to not seem dumb at the dinner table".
"What we want to do is actually to monetise this huge chunk of the market which is not paying yet, again because they only want to have a bundle – something that a publisher alone can never serve," he added.
"That's why publishers, unfortunately, leave this money on the table so far because, again, these people that we are targeting, they would never subscribe to only one newspaper."
Curation: Human editors + AI
Informed's curation is done by four editors, plus some freelances and help from data and AI technology. They have also experimented with OpenAI tools like ChatGPT.
Kaelble did not want to reveal too much about how the tech side of the curation works to avoid giving away their secrets but said there is an element of data involved that helps with the story selection process and makes the process more efficient for the editors.
He said: "But the important thing is that we don't believe in a 100% purely algorithm-based curation. We always want to have this check from human beings and that's not only because we believe this is the best for the user but we also think this is the best for society.
"So it's the exact opposite of what Elon Musk is currently doing," he went on, referring to Musk slashing the content moderation staff at Twitter. "We disagree – we think sorry, but it's exactly the wrong direction to lay off all these fact-checking and curation teams."
Similarly, he has heard anecdotally in initial user surveys that some who previously used Twitter as their daily news feed now get that from Informed instead, suggesting some will prefer a "safe haven" where "you can be sure that the sources are trusted, you can ensure that our curators are experienced journalists.
"It's not just an algorithm who's steering the curation – there are checks and balances, there are editorial principles. So we really pay attention on these things like a high-quality publisher would do. And that's a bit different from Twitter."
The deals with each publisher work differently, but in general, Informed buys a certain amount of content from them – either access to their whole output to curate from or a limited number of stories.
Kaelble said they wanted to create a new revenue stream for publishers with "very clear, simple, straightforward deals".
He declined to share user numbers but said Informed has active subscribers, retention is good, and revenue is coming in and growing.
For now, they are focused on the big players – but in the future Kaelble suggested smaller and more niche publications could be approached – while they are even thinking about the possibility of featuring Substack writers.
Email pged@pressgazette.co.uk to point out mistakes, provide story tips or send in a letter for publication on our "Letters Page" blog